Featured Kindle Book Deals
Wrapped in Ink
$

15.99
The Montgomery Ink saga continues with a new series set in Boulder, where a family secret might just change everything.
The Way of the Rose
$

16.99
What happens when a former Zen Buddhist monk and his feminist wife experience an apparition of the Virgin Mary?
Two Reasons to Run
$

16.99
Police Chief Jane Hardy is still reeling from the scandal that rocked her small-town department just as she took over for her retired father - the...
Blades Of Magic
$

2.99
Game of Thrones meets Wonder Woman in this fantasy for fans of Sarah J. Maas! As an unstoppable war breaks out, Sara Fairchild enlists in the emperor's army. But secrets on both sides of the battle - and an unexpected romance - will make her question everything…
Retribution
$

4.99
The murders of two prominent attorneys have the homicide division of the Chicago Police Department scrambling for answers, but without clues, a motive, or a suspect, not even the FBI can track down the killer. At their wits' end, the police call the Washburn County Sheriff's Office with hopes of bringing psychic detective Kate Pierce in on the case. Using clues from her dreams and dogged determination, Kate steps into the killer's world and realizes he may be much closer than any of them think.
Burn For Me
$

3.99
Once upon a time, Amelia was my everything. Until I lost her. Now I have a second chance, and I want her back.She's never forgiven me for something I didn't even do. I've never forgiven her for believing the worst.One look and the years apart go up in smoke. She's all I ever wanted. A snappy attitude and the nerve to bring me to my knees.We have seven years of bitterness tangled up between us. Yet, I can't stay away.The fire burns too hot. She'll be mine. For keeps this time.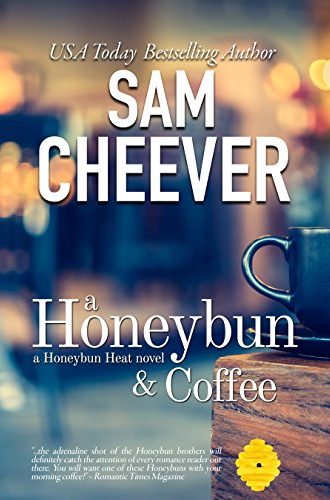 A Honeybun and Coffee
$

3.99
She heard two men talking about killing some poor guy named Alastair. She only wanted to warn him--to save his life--but she soon found herself embroiled in his mess. He might be drop dead gorgeous. She might be forming a real attachment to his dog. But is any man worth this? Running for her life with a truly delicious hero, the help of his seven equally yummy brothers and one adorable dachshund named Jaws? Okay, maybe he is worth it.
Digging the Wolf
$

3.99
It's been five months since my boyfriend was tragically killed in a climbing accident. I didn't think I was over him … until Luke walked on to the archaeological site. Tall, dark, sexy, tattooed, funny, dangerous. Everything I want in a man. But he's hiding something. He acts strangely in the moonlight. He won't tell me anything about his life. And I caught him trying to destroy an important find. My body aches for him, but my heart tells me I'm not ready to make myself vulnerable again, especially not for a guy who isn't being straight with me. If only ...
Oklahoma Christmas Blues
$

2.99
Darryl is on a quest for peace. His chance at fatherhood was taken from him long ago, and an IED in Iraq ensured he'd never get another. In Big Falls, the McIntyre brothers hire him to keep an eye on their beautiful cousin Sophie in case her criminal ex shows up. He doesn't expect to fall head over heels.
Project ELE
$

5.99
When the government enacts Project ELE to preserve the human race after a devastating epidemic, survivors like Willow must adapt to new lives in shelters. But soon, Willow and her friends acquire unusual abilities that have far-reaching consequences.
Dirty Little Secret
$

3.99
Gavin Kingsley burst into my life in a sharp and unexpected twist of fate. You know his type - arrogant, dangerously handsome and impossible to ignore. Something dark within him calls to the shadows inside me. I long for the kind of heart-wrenching passion I've only read about, and his tragic past reads like one of my favorite literary classics. Raw. Visceral. Captivating. Together, we're a perfect mess.
Winter of the Crystal Dances
$

2.99
Evy can telepathically understand horses, but she's not sure if it's a blessing or a curse. Her secret "gift" certainly seems to get her in a lot of trouble. When some starving mustangs wander close to the wilderness cabin that she shares with her hermit mother she knows she must help them. Her act of kindness quickly snowballs into a series of events that forever changes her life and the life of a very special mustang filly.
His to Protect
$

3.99
When Harper's life begins a death spiral, she does what any self respecting woman would do—she heads for the mountains. More specifically, Grizzly Ridge. A brand new—and very remote—lodge in the wilds of Montana where the last thing she expects to find is a very alpha, very sexy mountain man who's more than a little wild himself and doesn't waste any time reigniting feelings in her she'd long since buried.
The Cowboy's Lady
$

7.99
Opposites attract in this classic novel from Debbie Macomber about two people who discover romance against all odds.
Next: Afterburn
$

3.99
Five years after a devastating solar storm wipes out civilization and spawns a strange race of mutants, Rachel Wheeler and her misfit family must choose whether to hide away or fight to join other survivors. As their food supply dwindles inside their bunker, radiation from abandoned nuclear plants is altering the world around them. Not only are the mutants building their own cities and weapons, the remaining dregs of the US military are massing for an attack. In this decaying environment, hostile new creatures crawl out from the crevices and up from the waterways to threaten them all. But as a half-mutant, Rachel's choice isn't as simple as mere survival - the mutant way of life might be more promising than anything humans could hope to restore. And Rachel's next decision could tear apart her family and the entire world.
Knotted
$

4.99
I try to forget her. It's impossible. Growing up together, Conor and I shared all our firsts. First love, first kiss, first... Not all our firsts. We were 16 the night she was violently assaulted while I helplessly watched. I'll never forget the sounds of her suffering. Or my inconsolable agony when she left Oklahoma. Years later, she returns to honor our teenage pact. Except the boy she loved is gone, replaced by a ruthless cattle rancher knotted with secrets. She doesn't know my dark cravings or the trails of sin that lead to her. I don't deserve her, but one truth remains: She's mine.
Dear Maude
$

2.99
Upstate New York, 2012. Emily Stanton, a sociology major, graduates from college and is obligated to work for the mysterious company that funded her education. But a job with Evergreen Research Corporation is not what she expects. From fancy balls and operas to corsets and kid gloves, Emily learns to be a specialist in 1910 society.