Featured Kindle Book Deals
No Place to Die
$

2.99
"In NO PLACE TO DIE, Jaden Skye creates a set of characters that are very well developed, and makes you cheer for our heroine on every page. The environment and the overall description of scenes are superb, making you feel the suspense in the air the whole time. Jaden Skye is a natural story teller and the plot is intelligent and intense, developing at a nice pace. The book was well edited and is an easy read...I can hardly wait to put my hands on the second volume of this series….I recommend this book to the permanent library of all readers that enjoy a well written suspense/romance."--Books and Movie Reviews (Roberto Mattos)NO PLACE TO DIE is book #1 in a new romantic suspense series by #1 bestselling author Jaden Skye!Olivia and Todd, madly in love, fly down to Key West when Todd offers to take her on a surprise trip...
Sara's Game
Single mother, successful executive...target for revenge.*USA TODAY BESTSELLER*Previously a #2 Kindle Bestseller on AmazonOver 470,000 copies downloaded worldwide!Two years ago, Sara's husband left for the gym one morning...and never came back. His car was found. He wasn't. Unbelievably, the police report said, "No foul play suspected." There were a few unreliable sightings over the following months, but little else.Now, on the last day before summer break, her three children have gone missing from their schools, all at the same time.And the note under her windshield wiper asks one foreboding question: Are you ready to play the game?********An Interview with Author Ernie Lindsey1. What got you started with the Sara Winthrop Thriller Series?I write as if I'm reading the story as I go, so I create the type of fiction that I'm drawn to. Some of the best psychological thrillers have influenced my work recently, like Gone Girl by Gillian Flynn...
Prairie Heat
Will an Alpha cowboy find true love on the range in this sexy, small town western?"You won't want to miss this fast-paced, sexy ride." - NYT & USA Today Bestseller, Cora SetonA captivating contemporary western romance series that will appeal to fans of Vivian Arend's Six Pack Ranch, Cora Seton's Chance Creek, and Maisey Yates' Copper Ridge. The Rancher's SonCowboy Blake Sinclaire is determined not to repeat the sins of his father. That means choosing to love no one and save the settling down for his younger brothers. But one woman has thrown a wrench in those plans – Maddie Hansen, the sexy scientist who also happens to be the daughter of his family's greatest enemy.The Woman He Shouldn't WantPhysicist Maddie Hansen vows she'll never come back to the small town where she grew up - Prairie, Kansas. She'd rather stay in a dead-end job than stay trapped in a...
Magic Kiss
He'd lost his best friend…Logan Dorsey left the military and his job as an undercover detective, but he still couldn't shake the nightmares that haunted him. The only thing that had ever silenced the horrors for the chiseled former Marine was the one woman that was untouchable for so many reason…She'd lost her husband…Emma Locke wrote romantic stories for a living despite the fact that her happily-ever-after had been taken away years ago. The gorgeous, blue-eyed, twenty-six year old widow and single mom had nothing in her life to connect her with the love and heat she needed to write about. Nothing to inspire that kind of passion...except the one man that was off limits.They say time heals all wounds, but can it also be enough to grow new love?*Each Hope Falls full-length novel can be read as a stand-alone**Intended for adults 18+
Against the Dark
She hates him. And now she has to play his girlfriend. Deadly abs. Deadly aim. Deadly brilliant. Cole is one of the Association's top agents, but he's up against a clever, dangerous psycho…and he's running out of time. Until he catches Angel cracking the man's supposedly uncrackable safe and blackmails her into helping him. Why should he worry about her safety? She's just some criminal…right? But the more deeply Cole and Angel plunge into Borgola's web, the more he realizes Angel doesn't deserve being pulled into danger…and the more real those fake kisses start to feel.
Hard Fall
$

0.99
An ex-cop with a past. A case police couldn't solve. One chance at redemption...Ex-New York detective Thomas Blume hunts the streets of London for the killers that tore his family apart. For justice, for closure, for revenge.But when Blume stumbles across a case that baffled local police, he unwittingly joins a world of criminals, corruption, and cops that will do anything to stop him.Now, in a country he doesn't understand and a city stacked against him, Blume must fight to expose the truth… before it's too late.Over 20,000 copies downloaded. Discover the thrilling first book in the Thomas Blume hard boiled mystery series today! What people are saying about Hard Fall:'It reminds me of Raymond Chandler's work. It's noir, dark, full of rainy streets, seedy bars and characters with their own secrets.' - Author, Victoria Randall'I started reading it last night and didn't put it down until I finished. I...
AT Bay
She had it all. A loving family. A fulfilling career.And then the accident changed everything. But was there more to it than a simple accident? Alex needs to rest her brain. But the FBI needs her back, because a killer has struck...the cause of death so bizarre no one can make sense of it.Alex ascertains that the victims share one common trait -- in how they lived, and in how they died. Yet it becomes vividly clear that not all murders are equal. Will this one twisted murder be more than Alex can handle?Unable to decipher her family issues, Alex still has her theories on the bizarre case. And they are solid. Can Alex catch the killer before her life disintegrates? At the most stressful point in her life, with everything going wrong, it may all be too much.Will Alex survive?One woman can only keep so much…AT Bay.You'll love this...
Cream Puff Murder
$

2.99
This is Book 1 in the *new* Seagrass Sweets cozy mystery series.BONUS: Recipe included.Ashley Adams is settling back into her life in Seagrass, TX after leaving a broken heart and criminal ex-boyfriend in Paris, France. Her French sweets catering company has finally landed a major job, making Ashley grateful for all that is going right – her business, her work partnership, and reconnecting with an old friend Ryan. All that changes when Ashley overhears one of the guests arguing with a strange man in the bathroom. Things get worse when the woman is found dead the next day, poisoned by one of Ashley's cream puffs.Ashley must solve the mystery to save the reputation of her nascent business. She is thrust into the lives of people from her past who all have something to hide. Is the murderer a jealous lover? An out-of-towner with business interests? A local hero turned criminal?...
SEAL It With A Kiss
BORN TO BE THE FIRST FEMALE SEAL…Lieutenant Tabitha Chapel-Prince is determined to join the SEAL Teams. She's not about to let a little thing like gender get in her way. But her determination is tested by the only Navy SEAL capable of commanding her heart. The last thing Commander Marc Miller needs is to be her commanding officer when the only thing he wants is her…Will love conquer all or tear them apart?Let this battle of the sexes begin––get your copy of SEAL It With A Kiss today!
Beloved
(Book 1 of 2 in the Belonging Duet) Men suck.They break you. Leave you. Take everything until there's nothing left. And frankly, I'm done allowing them to make me feel insignificant. So, forget men. I'll just throw myself into my job, because at least that never fails me.Jackson has other plans, though. I refuse to be impressed by his perfect body, the cute dimple on his cheek, or the rugged stubble on his face. Jackson Cole can be resisted.But, I'm only fooling myself.He's going to wear me down. I can feel it. In the end he'll prove that once again, I'm no one's beloved.
Better Off Wed
$

3.99
**Winner of the Agatha Award for Best First Novel!**Planning weddings can be murder. But stumbling across dead bodies usually isn't on the itinerary. Can a wedding planner use her skills to discover who's killing her clients?Society wedding planner Annabelle Archer is no stranger to wedding day stress, but a dead body at her latest fete takes the cake. When suspicion falls on her best friend and caterer Richard Gerard, she knows she must find the real culprit before his career is ruined along with her reputation for solving problems. But it's no easy feat since the slain mother-of-the-bride was the most hated socialite in the city. As Annabelle navigates DC's powerful social scene to unmask the culprit, there's no telling how many more victims the killer will claim or if Annabelle and her friends will be among them.Better Off Wed is the first book in the Annabelle Archer cozy mystery...
Burn The Dead
It's a dirty job - but someone's got to do it.Robert Stephenson burns zombies for a living.It's a profession that pays the bills and plays tricks on the mind. Still, his life is routine until his four-year-old son becomes stranded in a quarantined zone, teeming with rotters.Does Rob have what it takes to fight the undead and put his broken family back together?Or will he also end up in the incinerator - burning with the rest of the dead?"If you're looking for a fast-paced zombie read, I highly recommend Burn The Dead by Steven Jenkins. (5-STARS)"K.C. FINN - Readers' Favorite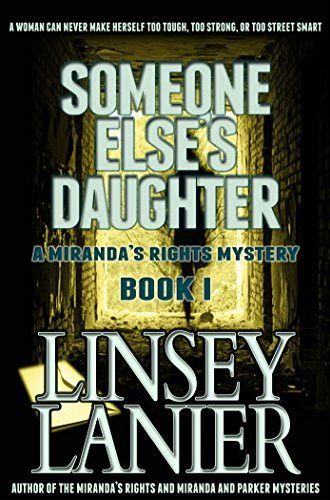 Someone Else's Daughter
$

3.99
Book #1 in the exciting mystery-thriller series from bestselling author Linsey Lanier.A woman can never make herself too tough, too strong, or too street smart.THE SEARCHING MOTHERMiranda Steele. Smart-talking, hot pepper-eating loner whose abusive ex-husband stole her baby and gave it up for adoption. She comes to Atlanta to hunt for her daughter.THE PIWade Parker. Wealthy owner of the Parker Investigative Agency, ace detective, and the most eligible forty-four-year-old bachelor in Atlanta. He still mourns the death of his socialite wife but must now solve a disturbing murder case.THE MURDERERA serial killer strangling young girls in a bizarre ritual. Why?She doesn't need a man.He needs to find a killer.Together, can they save a thirteen year old girl?********"Highly charged and emotional... Read it with tissue from the very beginning." Pamela Mason."It was a great read, honestly couldn't put it down and can't wait to read the next one." Cathie - Sydney,...
The Forever Man
$

3.99
Normally $3.99 (CAN $4.99 AUS $4.99) now FREE for a limited time only! HIGHLY RECOMMENDED by British Fantasy Award Winner & New York Times Best Seller, Michael Marshall-Smith. For fans of - Game of Thrones, Wool, Blade Runner, The Hobbit, Stephen King, David Gemmell and Robert J. Crane.The world, as we know it, has ended. One man stands resolute. A man who has been trained in the savage arts of war. A man who lives his life according to a creed. A simple man who wants none of the power thrust upon him. This man is Marine Sergeant Nathaniel Hogan, seconded to the American Embassy in London and, although he does not know it, he is – The Forever Man.The first pulse occurred in the old calendar year of 2022. A sequence of gigantic solar flares created a series of massive electromagnetic pulses that stopped the heart of our modern...
Earthrise
"The thrills are nonstop, the alien cultures and races are well developed and fascinating, and there's just the right amount of humor to keep the whole thing fizzing." — Analog Science Fiction and FactReese Eddings has enough to do keeping her rattletrap merchant vessel, the TMS Earthrise, profitable enough to feed herself and her crew. So when a mysterious benefactor from her past shows up demanding she rescue a man from slavers, her first reaction is to run for the hills. Unfortunately, she did promise to repay the loan. But she didn't think it would involve tangling with pirates over a space elf prince...Book 1 of the Her Instruments trilogy is a rollicking adventure set in the expansive Pelted universe, and kicks off an epic space opera series where the fate of worlds hangs in the balance. Fans who enjoyed Firefly or Andromeda will like this series.Rating: PG-13 for violenceTags:...