Featured Kindle Book Deals
Comes With Furniture and People
$

16.99
Comes with Furniture and People tells the story of a daughter desperate to reach a mother trapped in depression. What's more, the daughter intuits the mother has an incurable disease, one the mother hides even from herself, as she spends her days reading Greek dramas and studying the etymologies of words.
Everything All at Once
$

17.99
In the New York Times bestseller Everything All at Once, Bill Nye shows you how thinking like a nerd is the key to changing yourself and the world around you.
The Scholar
$

15.99
Anna is clearly different from others. With obvious physical differences and powerful abilities, she's never quite fit in… anywhere. Having no knowledge of her parents, she sets out to discover her true origin. On the run for most of her life, she's become a master at eluding capture, even a little cocky you might say. When a sticky situation forces her hand, she hitches a ride with a wizard, who whisks her away to another world, where, according to him, she'd been exiled from as a child.
The Happy Medium
$

16.99
The world-famous medium and star of Lifetime Movie Network's #1 rated show The Haunting Of . . . tells her story, shares some astonishing, never-before-revealed details of her celebrity readings, and teaches you how to harness your own energy and access the world beyond our own.
The Matheny Manifesto
$

15.00
St. Louis Cardinals manager Mike Matheny's New York Times bestselling manifesto about what parents, coaches, and athletes get wrong about sports; what we can do better; and how sports can teach eight keys to success in sports and life.
Tough As They Come
$

15.99
Thousands have been wounded in the wars in Iraq and Afghanistan. Five have survived quadruple amputee injuries. This is one soldier's story.
Journeys Out of the Body
$

16.95
The definitive work on the extraordinary phenomenon of out-of-body experiences, by the founder of the internationally known Monroe Institute.
How to Read the Constitution–and Why
$

16.99
An insightful, urgent, and perennially relevant handbook that lays out in common sense language how the United States Constitution works, and how its protections are eroding before our eyes—essential reading for anyone who wants to understand and parse the constantly breaking news about the backbone of American government.
The Seduction
$

5.99
Perfect for fans of Crossfire, Fifty Shades, and Penelope Sky, 'The Seduction' is a wickedly sensual series that pushes the boundaries and breaks all the rules...
The Bridge Ladies
$

15.99
A fifty-year-old Bridge game provides an unexpected way to cross the generational divide between a daughter and her mother. Betsy Lerner takes us on a powerfully personal literary journey, where we learn a little about Bridge and a lot about life.
Deliver Us
$

7.99
Critically acclaimed author Kathryn Casey delivers a riveting account of the brutal murders of young women in the I-45/Texas Killing Fields. The book that spotlighted decades-old murders and helped solve the cases, Deliver Us contains interviews with alleged serial killer William Lewis Reece, who has led investigators to the remains of young women buried in Texas.
Hashimoto's Protocol
$

29.99
Dr. Izabella Wentz, the author of the phenomenal New York Times best seller Hashimoto's Thyroiditis, returns with a long-awaited, groundbreaking prescription to reverse the symptoms of this serious autoimmune condition that is becoming one of the country's fastest growing diseases.
Naturally Tan
$

16.99
In this heartfelt, funny, and touching memoir, one of the stars of Netflix's Emmy Award-winning smash-hit Queer Eye reveals how an Englishman raised in a traditionally religious home became a fashion icon—and the first openly gay, South Asian man on television—simply by being Naturally Tan.
Awakened
$

11.59
Traumatized by her past and struggling to move on from it, Sera has spent the past three years of college hiding herself from the world and content to stay that way. A chance encounter with Liam shatters her sheltered world, leaving her stunned and shaken by the strange feelings and emotions he arouses in her, feelings she never thought she would experience and that frighten her in their intensity. Harboring a dark and deadly secret of his own, Liam knows that he should stay away from Sera, that he will only bring her more hurt, but he is irresistibly drawn to her and unable to deny himself the pleasure that only she can bring to him. But when their pasts collide with their present, and Liam's true nature is revealed, will their love for each other be enough, or will they be torn apart forever?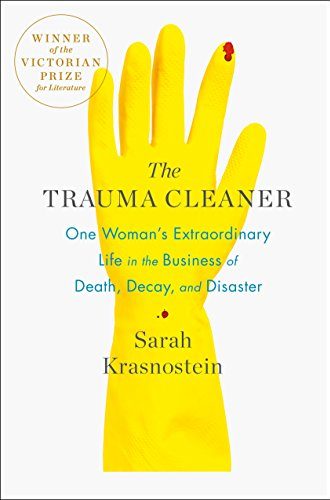 The Trauma Cleaner
$

26.99
Winner of the Victorian Prize for Literature, Sarah Krasnostein's The Trauma Cleaner: One Woman's Extraordinary Life in the Business of Death, Decay, and Disaster is the fascinating biography of one of the people responsible for tidying up homes in the wake of natural—and unnatural—catastrophes and fatalities.