Welcome, book lover! Are you looking for Kindle book deals? OHFB features limited-time sales of the best free and bargain Kindle books from the biggest publishers and bestselling independent authors. These are today's featured books:
Killer Pose (A Hollywood Murder Book 1)
by Cynthia Hickey
$

9.48
From NYT and Amazon best-selling and award-winning author.Kelly Canyon wants to be an investigative journalist and takes photos of celebrities to pay the bills. When an actress is murdered following an interview by Kelly, she and Brock Handsome, uh, Hanson are the primary suspects. Mishap and hilarity ensue as Kelly is roped into clearing her name, helping the police catch a killer, and keep herself from being another notch in the belt of Hollywood's Golden ...
KINDLE
The Beholder (A Maddie Richards Mystery Book 1)
by David Bishop
$

9.99
* AMAZON LIST OF TOP-RATED MYSTERY SERIES* AMAZON LIST OF BEST-SELLING MYSTERY SERIESMaddie Richards is an efficient and resourceful detective with a secret wish that she could handle her messy personal life as well as she handles her work life. As a homicide sergeant for the Phoenix, Arizona Police Department, she has one of the highest solve rates in America. Her success leads her chief of police to assign her a serial killer case. Some ...
KINDLE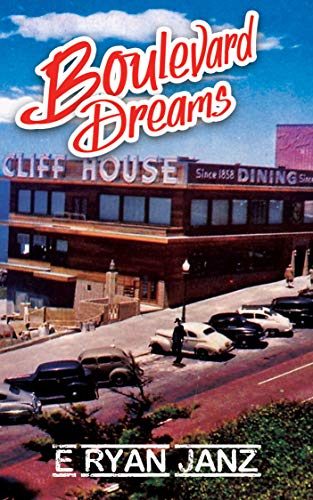 Boulevard Dreams
by E Ryan Janz
$

13.99
Private Eye, Joe Nails, has a problem. In this intelligently written, and darkly comic, anti-noir mystery set in the smoky world of 1958 San Francisco, Joe experiences a series of surrealistic yet disturbing dreams, in which his once best friend pleads for Joe's help, before turning a gun to his own head and firing. To ease his lingering doubts, Joe sets out to locate him, only to discover he disappeared without a trace weeks before ...
KINDLE
Murder at the Filmore (A Virginia Holmes Cozy Mystery)
by Zelda White
$

0.99
A murder has occurred at the Filmore Hotel, one of Madison, Wisconsin's most discreet lakeside resorts. It looks cut and dry: a suspect fleeing the scene, a scorned wife, a mythical murder weapon. But then a retired detective by the name of Virginia Holmes arrives. There's more to this mystery than meets the eye ... and the murderer might still be inside the hotel.
KINDLE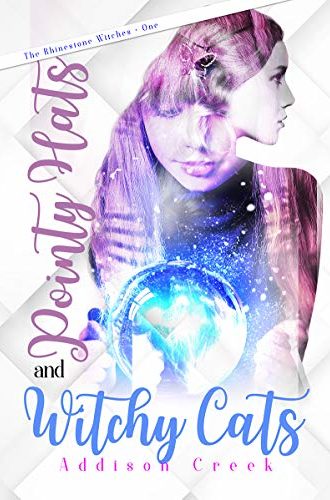 Pointy Hats and Witchy Cats (The Rhinestone Witches Book 1)
by Addison Creek
$

0.99
Jade Rhinestone is not looking forward to her stepsister's extravagant wedding. Her only consolation is that once the wedding was over, Bailey will be someone else's problem. The wedding itself promises to be incredibly dull. On the actual day, though, something incredible happens. An old woman disrupts the ceremony. Then she tells Jade that she's her long lost grandmother and asks Jade to go away with her to an unspecified destination. Now Jade has a ...
KINDLE
Deal Gone Dead: A Lily Sprayberry Realtor Cozy Mystery (The Lily Sprayberry Realtor Cozy Mystery Series Book 1)
by Ridder Aspenson, Carolyn
$

10.99
Meet Lily Sprayberry. Selling homes is her career. Solving crimes, her calling. There's money buried somewhere on Myrtle Redbecker's property, and people are dying to find it.Literally. When Bramblett County, Georgia's number one realtor, Lily Sprayberry, finds her cantankerous older client dead on the kitchen floor, she lands herself smack dab in the middle of a long-running property battle and a one-hundred-year-old rumor. Lily made a promise to sell Myrtle's land, even if Myrtle wasn't ...
KINDLE
Punish: A Dark Captive Romance (Protect Book 2)
by Vivian Wood
$

11.99
A dark tale of obsession, beauty, and lust! Wall Street Journal, USA Today, and Amazon Bestseller Vivian Wood writes dark romance as OLIVIA RYANN.Stolen and abducted… yet in the same stroke, saved.On one hand, I escaped certain death at the hands of people who have already hurt me.On the other, now I'm trapped with him.The rival of my abuser, who is every bit as terrifying. Dark and sinfully handsome, he wants me.He wants me to ...
KINDLE
Bound Through the Ashes (Bound Series Book 1)
by Danelle Nelson
$

13.99
He had managed to kill both men, and from a distance. If he wanted me dead, I imagine I would be….Lorena has found herself in the middle of a robbery, an odd one at that. The time she came from is no longer, the elder woman she ran into had sent her back. Sent her back in time. How was it possible? She didn't know. What she did know was she wasn't safe. The man ...
KINDLE
Hate Loving You
by Aubrey Wright
$

2.99
I gave him my virginity and he broke my damn heart.Now he's back in town for my big brother's wedding.And we're stuck in this chapel together.Still the same ol' Carter.Cool with a capital "C".Enough swagger to charm the panties off every cheerleader.Well, my panties aren't going anywhere.What he did to me was unforgivable.Or so I thought.He's still my enemy.But maybe we can be... frenemies?
KINDLE
No Time for Loving (Time for Love Book 2)
by Vanessa Grant
$

11.99
Since taking over the family business after the death of her father, Sarah Stellers has become a master organizer and super delegator. But when her Aunt Lori calls in a panic to say her landlord is evicting her from her apartment, delegating isn't an option. Sarah must fly to remote Elizabeth Lake and help her beloved aunt.But she's not prepared for a terrifying, white-knuckle flight through a blinding snowstorm, or for the pilot to drop ...
KINDLE