Welcome, book lover! Are you looking for Kindle book deals? OHFB features limited-time sales of the best free and bargain Kindle books from the biggest publishers and bestselling independent authors. These are today's featured books:
The Good Mood Book
by Eminence System
$

2.99
"The Good Mood Book is a must-have on every kid's bookshelf" -Readers' FavoritePerfect for ages 2 to 5, join the fun-loving Good Mood Gorki as it takes a sad girl on a magical adventure packed full of "good mood" wonders designed to bring her cheer and make her frowns disappear!With bright and colorful illustrations featuring a galaxy of sweets, a park full of puppies, a volcano that erupts fireworks, and much much more -- The ...
KINDLE
90 Day Meditation Challenge: How To Build A Daily Mindfulness Practice
by Tim Ebl
$

4.99
Have you thought of Meditating, but don't know where to start? Or do you struggle to Meditate consistently? Does the whole thing just seem too time-consuming?Then this book is for you! Meditation has a countless list of scientifically proven health benefits to help you overcome negativity, live happier and healthier, strengthen your immune system, boost your creativity, and more! It's time for you to push past those mental blocks with the 90 day Meditation challenge!Written ...
KINDLE
Red Wine and Roses (The Hamiltons Book 1)
by SJ McCoy
$

9.95
Take a trip to wine country to meet the Hamiltons in this new sweet and steamy series from SJ McCoy.Cameron Hamilton may well be the most eligible bachelor in Napa Valley. He's the CEO of Hamilton-Groves, one of the largest wine producers and distributors in the country. He lives a charmed life. Admired for his skills in the boardroom – and the bedroom—he works hard and plays harder. He's not looking for a wife, he's ...
KINDLE
His Banana (Objects of Attraction Book 1)
by Penelope Bloom
$

9.95
My new boss likes rules, but there's one nobody dares to break...No touching his banana. Seriously. The guy is like a potassium addict. Of course, I touched it. If you want to get technical, I actually put it in my mouth. I chewed it up, too... I even swallowed.I know. Bad, bad, girl.Then I saw him, and believe it or not, choking on a guy's banana does not make the best first impression. I should ...
KINDLE
On the Market (The Ballard Brothers of Darling Bay Book 1)
by Rachael Herron
$

11.99
Get ready to read all night.  International bestseller Rachael Herron gives you a stand-alone romance you won't be able to put down.  Liam's life is perfect. Or at least it's as perfect as it can be with a foster son who seems to get off on making him crazy, but otherwise, his job--buying, fixing up, and flipping houses with his brothers--is nothing but fun.  Until Felicia from a major TV network shows up in town. When she offers ...
KINDLE
The Float
by WF Waldrip
$

21.00
The abandoned desert cemetery was easy to overlook. Countless motorists drove right past it every day without realizing it was even there, utterly unaware of its existence. But Cameron had long known of the isolated graveyard and was puzzled to see a peculiar figure standing in it one night as he drove past. His curiosity piqued, Cameron investigates the cemetery, only to encounter a dearth of information regarding it: no formal records, no plats, no ...
KINDLE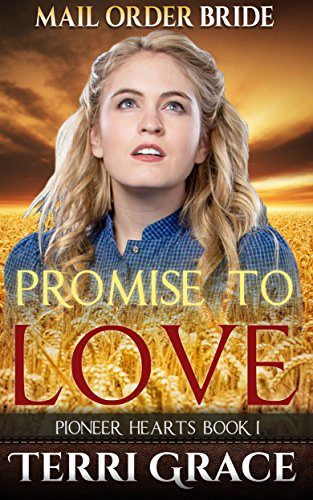 PROMISE TO LOVE (Pioneer Hearts Book 1)
by Terri Grace
$

7.00
With her father's plummeting business and health, 21 year old Josephine Hayden is urged to ease her parents burden and accept an invitation to join hands with an unknown Western man in Cowtown, Kansas. Her first sight of blue-eyed Clae McKinley and his twin brother, Harland, is encouraging, but when she is presented with a contract outlining her responsibilities as a Mail Order wife overwhelming fears of a loveless marriage besiege her tender heart.Josie's nervous ...
KINDLE