Welcome, book lover! Are you looking for Kindle book deals? OHFB features limited-time sales of the best free and bargain Kindle books from the biggest publishers and bestselling independent authors. These are today's featured books:
The Right Man: A Heroes of Fortune Valley military romance (standalone)
by Heatherly Bell
$

0.99
The wedding is off...But there's one more holiday to get through, and before the break the news to their family, Jimmy and Trish fake their engagement. After one last sizzling time together, Jimmy thinks he's found a solution to their conflict. He wants Trish back, but it has to be on his own terms. Trish never expected her dreams of the perfect wedding day would lead her to lose the right man. Other than his ...
KINDLE
Leaves of the Linden Tree
by Marydale Stewart
$

4.99
Corrie Holden opens a bookstore in Linden Grove and begins living the dream of her 30-something years——-independence and her enthusiasm for books. But the unacknowledged presence of xenophobia and racism in this idyllic Illinois farm town eventually has a devastating effect on the new bookstore.Soon after the store opens, Corrie meets Breanna Campbell, victim of domestic violence, and Jimmy Kosmatka, the manager of Long Creek Stable, taciturn and rough-edged. Long ago convicted of a victimless ...
KINDLE
Ace (High Rollers MC Book 1)
by Savannah Rylan
$

0.99
One drink too many,And I ended up married.Our marriage isn't what it seems.Neither is Sienna.She's beautiful but deadly. I can see it in her eyes.She might not be a hardened criminal like me,But there's something beneath the surface she isn't telling me.And I've seen under those clothes, it's not a silly little tattoo.No, we both have real demons.Mine? Mr. Money, the bastard who keeps trying to hurt my brothers, the High Rollers MC.But hers? No ...
KINDLE
Checkmate: This is Dangerous (Logan & Kayla, #1) (Checkmate Duet Series Book 5)
by Kennedy Fox
$

3.99
Introducing book 1 in the Logan & Kayla saga of the Checkmate series from a duo of romance authors who teamed up under the USA Today Bestselling pseudonym, Kennedy Fox! This second-chance romance will have you gasping and cheering this two on from the first to the last page! Are you ready to play the final game?***Logan Knight is a real life knight in shining armor. 
A detective godsend in a sleek black suit has ...
KINDLE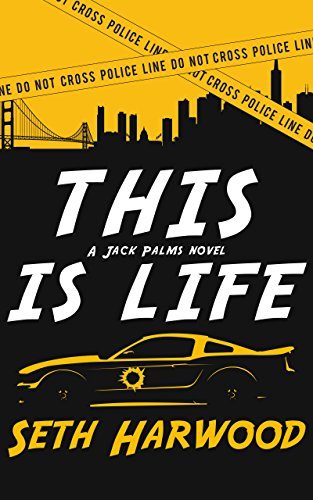 This Is Life: A Gripping Crime Suspense Thriller (Jack Palms Crime Book 2)
by Seth Harwood
$

3.99
In San Francisco's seedy red-light district, young girls are being shipped in as merchandise from the Balkans and turning up dead--victims of a deadly sniper leaving fist-sized holes.With corruption inside the vice squad, Sgt. Mills Hopkins turns to Jack Palms to investigate. But when Jack discovers a nefarious sex trade operation serving the city's elite, he finds himself on the city's most-wanted list. With a deadly gangster holding the whole city hostage, Jack must become ...
KINDLE
Fourplay: Rockstar Romance
by Taryn Elliott
$

2.99
4 super hot rockstars...4 series starters...all in an exclusive, limited bundle!Meet bassist Deacon McCoy from Oblivion:They call him Demon, and it's not just because of how he plays. But he's a gentle giant, and he won't stop until he's made tour chef, Harper Pruitt, his. Except the tour is ending far too soon...Meet guitarist Michael Shawcross from Warning Sign:Michael likes to party hard, and when his band plays Vegas, what better time to...get married? And ...
KINDLE
Damian (The Heartbreaker, #1)
by Jessica Wood
$

3.99
**From New York Times Bestselling author Jessica Wood comes Damian, book one in The Heartbreaker series.**Meet Damian Castillo. The man, the legend, the heartbreaker. As a self-proclaimed man-whore, Damian doesn't believe in love or commitment. In fact, he can't remember the last time he's had feeling for a woman that went beyond hot, no-strings-attached sex. The only things he cares about are his bar, his appearance, and his needs. But then he meets Alexis.Meet Alexis ...
KINDLE
My Father's House: a novel
by Rose Chandler Johnson
$

3.99
Growing up, life is idyllic for Lily Rose Cates due to one constant – her father's love. But in her sixteenth summer, all that changes without warning. There begins Lily's struggle to find herself and the life she's lost. . . . Marriage promises fulfillment, but her happily-ever-after barely survives the honeymoon. Her husband's sophisticated façade hides a brooding man with even darker secrets. When all illusions shatter, Lily must make hard choices – abandon ...
KINDLE
Audette of Brookraven (The Eldentimber Series Book 4)
by Shari L. Tapscott
$

4.99
Prince Irving of Primewood has finally met his match. Unfortunately, she wants nothing to do with him. When Audette pictured her wedding day, she never imagined leaving her intended at the altar. And though Irving, a prince with a reputation for trouble, never cared to picture the grand event (and had rather hoped he could avoid it altogether), he certainly wouldn't have imagined being abandoned.But when Audette receives a cry for help from the mysterious, secret ...
KINDLE
Shades of Secrecy: Prequel Novella (Raven Point Pack Trilogy Book 4)
by Heather Renee
$

0.99
Cord Rush, firstborn to an alpha, has always strived to do the right thing. So, when another pack appears to be breaking shifter laws, he's the first to volunteer in an investigation, but he has no idea just how risky of a job he's signed up for.Sent on a mission to figure out what is happening, and how to make things right, Cord quickly learns nothing will go as planned. Working under the guise of ...
KINDLE