Welcome, book lover! Are you looking for Kindle book deals? OHFB features limited-time sales of the best free and bargain Kindle books from the biggest publishers and bestselling independent authors. These are today's featured books: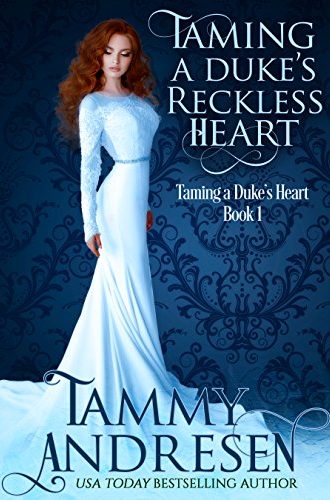 Taming A Duke's Reckless Heart: Taming the Duke's Heart (Taming the Heart Book 1)
by Tammy Andresen
$

3.99
With her mother gravely ill, Piper Baker's situation grows desperate in a world unfriendly to women. Time and money dwindle to naught, and marriage is Piper's lone option. Although potential suitors circle her skirts, none but Barrett Maddox, Duke of Manchester, captures her heart, after he saves her from a band of thieves. It is just her luck that the man Piper wants is the only one she cannot have.For wealthy, titled bachelor Barrett Maddox, ...
KINDLE
The Legacy Human (Singularity Series Book 1)
by Susan Kaye Quinn
$

3.99
What would you give to live forever? Seventeen-year-old Elijah Brighton wants to become an ascender—a post-Singularity human/machine hybrid—after all, they're smarter, more enlightened, more compassionate, and above all, achingly beautiful. But Eli is a legacy human, preserved and cherished for his unaltered genetic code, just like the rainforest he paints. When a fugue state possesses him and creates great art, Eli miraculously lands a sponsor for the creative Olympics. If he could just master the ...
KINDLE
I Don't Want to Eat Bugs (Lisbon's Misadventures Book 1)
by Rachel Branton
$

2.99
Bugs are for the birds!Lisbon is hungry and it's hard to wait for dinner. When her animal friends try to help her find something tasty to eat, the real the problems begin! Join Lisbon on her funny misadventures.Each beautiful illustration is designed to inspire the imaginations of children. An activity page at the end of the book allows for more fun as they search for special items in the illustrations.This version of I Don't Want ...
KINDLE
Never Is A Very Long Time (The Perfect Date Book 1)
by Donna McDonald
$

0.99
Cupid she's not—but she's pretty darn close. Nothing in the world feels better than finding her clients the perfect date. Of course finding one for herself might be nice, but creative bill paying is for college students—not for accomplished doctors in their forties. Satisfied customers keep the electricity on. But wait, according to all the magazines the forties are the new twenties. Now if only she felt twenty… Everything in Dr. Mariah Bates' life was perfectly fine ...
KINDLE
Nikola Tesla: Imagination and the Man That Invented the 20th Century
by Sean Patrick
$

2.99
If you want to learn about one of history's most fascinating minds and uncover some of his secrets of imagination—secrets that enabled him to invent machines light years ahead of his time and literally bring light to the world—then you want to read this book.Imagination amplifies and colors every other element of genius, and unlocks our potential for understanding and ability. It's no coincidence that geniuses not only dare to dream of the impossible for ...
KINDLE
Gut-Brain Secrets, Part 1: Good Food, Bad Food: Nutrition and Toxins in Food + GMO's and Glyphosate
by R D Lee
$

0.99
The "Gut-Brain Secrets" series tells you precisely how gut problems (bad bacteria, poor digestion, nutrient deficiency, and leaky gut) turn into mental health conditions (Attention Deficit Disorder, autism, GAPS conditions, and anti-social behavior), as well as most chronic, degenerative diseases, and autoimmune conditions.In Part 1, "Good Food, Bad Food", you'll learn how microlife in the soil gives plants the nutrients your body needs to run exquisitely, overcome disease, and resist the aging process. On the ...
KINDLE
The Master's Indwelling
by Andrew Murray
$

2.99
This book was converted from its physical edition to the digital format by a community of volunteers. You may find it for free on the web. Purchase of the Kindle edition includes wireless delivery.
KINDLE
Vikings: A Concise History of the Vikings
by Hourly History
$

2.99
VikingsThe saga of the Vikings rises and falls on the banks of history, ebbing and flowing with popular opinion and whimsical anecdotes. The Vikings are routinely typecast and labeled anywhere from bloodthirsty tyrants to valiant heroes. They have been condemned as pirates and praised as explorers. We have all heard the stories of the fierce warriors with long ships and horned helmets storming onto the shores of medieval Europe; but who were these men really? ...
KINDLE
Holisouse Plaid Scarf Cashmere Feel Pashmina Shawls Wraps Soft Cozy Light Classic Winter Scarf
by Holisouse
$

1.00
100% AcrylicMATERIAL---This cashmere feel scarf is made by 100% acrylic which is as lightweight,soft, fluffy, and comfortable as cashmere, yet won¡¯t make you feel itchy at all.MUITI FUNCTION---This scarf will not only keep you warm but also make you become more captivating with versatile usage of this scarf. You can use it as a your shawl, head wrap, hijab, stole or light scarves if you feel like to. And it is for both men and ...
KINDLE
Never Look Back (Paranormal Huntress Series Book 1)
by W.J. May
$

0.99
USA Today Bestselling author, W.J. May, brings you to a new level of fantasy. Fans of Underworld and paranormal worlds will love this story!"The wise learn many things from their enemies." My name's Atlanta Skolar, and I'm a huntress. No, not the vampire-slaying type, or the ever-brooding Winchester brothers from Supernatural. I live a relatively normal life—during the day at least. I go to school, have friends, and try my best to survive Uncle James' ...
KINDLE