Victim Zero
$

0.99
The plague was born from hope. It was meant to change the world. To cure the incurable and rebuild the broken. When the world ended, the weight of its dead fell on the shoulders of the man at the heart of it all. For Kell McDonald, survival is not enough. Alone and surrounded by enemies, he must find a way to do what only he can: find a cure, and perhaps redemption. Set in the world of Living With the Dead, Victim Zero tells the story of how The Fall began.
Hot Pursuit
$

0.99
First Book in the Hostile Operations Team Series by New York Times Bestselling AuthorHe took her innocence. He broke her heart. He's the only one who can save her life...Ten years ago Army Captain Matt Girard did something he shouldn't. His best friend offered him her virginity--and he took it. Then he left town and he's never looked back. Until now.Matt still makes Evie Baker's heart pound, but she wants nothing to do with him--especially since he's only home for a short visit. She's had enough of men who lie and promise things they don't deliver. But when her sister goes missing and her ex-boyfriend turns up dead, she's in desperate need of Matt's military black ops skills to save the day.With time running out, Matt puts everything on the line--his career, his future, his heart. Even if it means sacrificing all he's worked for, he won't let Evie down...
Mask of Duplicity
$

2.99
Awarded an IndieBRAG Gold MedallionReceived a Discovered Diamond review, and Awarded Cover of the MonthAwarded Book of the Month by Chill With A Book Readers' Award.#2 - Best 1700s Historical Fiction (Listopia) Following the death of their father, Beth's brother Richard returns from the army to claim his share of the family estate. However, Beth's hopes of a quiet life are dashed when Richard, dissatisfied with his meagre inheritance and desperate for promotion, decides to force her into a marriage for his military gain. And he will stop at nothing to get his way.Beth is coerced into a reconciliation with her noble cousins in order to marry well and escape her brutal brother. She is then thrown into the glittering social whirl of Georgian high society and struggles to conform. The effeminate but witty socialite Sir Anthony Peters offers to ease her passage into society and she is soon besieged by...
Full Moon Fever
$

7.99
Drake Callahan is a struggling horror novelist who's about to get married. He also moonlights for the LAPD as their consultant on cult murders.But the Full Moon Killings turn out to be something far worse. And then Drake finds his love life taking a weird turn...FULL MOON FEVER is a supernatural romantic comedy from the author of Memoirs of a Time Traveler.
Professed
$

0.99
At a secret masked ball at Yale, Naomi Costa is literally swept off her stiletto-blistered feet by a man with a killer jawline, a perfect body, and an even-better kiss. They bust out of an emergency exit and have axis-shaking sex. He pours whiskey in her belly button and after they run out of condoms, they have to get creative. That kind of sex.The next day, she learns that he is none other than Dr. Benjamin Beck, a brand new member of the Yale faculty and the hottest thing to happen to academia since… well, ever. She has to take his damned junior seminar to graduate, but it gets worse. He's also her College Master: her boss, her advisor, her everything. And he's just moved in, right downstairs.They can't stay away from each other. They're either fusion or fission or both. They're making out in libraries, hiding notes between stones,...
Finding the Way Back
$

2.99
A sweet, inspirational romance.Laurel thought life had dealt her its worst blow when her marriage fell apart. For almost a year, she worked to put herself back together. These efforts culminated in a new job in a new place. Away from all the reminders of pain and humiliation, she can begin again. But what if her attempt to escape doesn't take her away from Colton, but brings her to him instead?Colton is reaping the sorrow and misery he deserves. For the worst of reasons, he hurt the woman he loves. Laurel's heart won't heal easily or ever without God's help. Will she give him the chance to regain her trust? Or will he be forced to live the rest of his life without her?Other books in this series: For Better or Worse: Book 2 in the Forgiving Hearts Trilogy
Malevolent
$

5.99
From New York Times bestselling author Jana DeLeon, the first in a new thriller series.Everyone wondered about Shaye Archer's past. Including Shaye.Shaye Archer's life effectively began the night police found her in an alley, beaten and abused and with no memory of the previous fifteen years, not even her name. Nine years later, she's a licensed private investigator, with a single goal—to get answers for her clients when there aren't supposed to be any.And maybe someday, answers for herself.Emma Frederick thought her nightmare was over when she killed her abusive husband, but someone is stalking her and tormenting her with mementos from her past. With no evidence to support her claims, the police dismiss her claims as post-traumatic stress, but Shaye is convinced that someone is deliberately terrorizing Emma…playing a cat and mouse game with only one goal in mind.To kill Emma.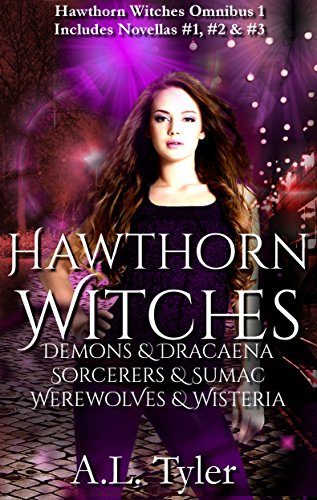 Hawthorn Witches
$

0.99
This omnibus edition of the Hawthorn Witches series includes the first 3 novellas in the series:Demons & Dracaena, Hawthorn Witches Novella #1Sorcerers & Sumac, Hawthorn Witches Novella #2Werewolves & Wisteria, Hawthorn Witches Novella #3Annie Hawthorn's life is a living hell. She's about to graduate from high school in beautiful Bellmoral, Colorado, but she's caught the eye of the campus mean girl. In order to get back at her, Annie unleashes a little hell of her own when she discovers her late aunt's grimoire. Now that there's a demon on the loose, things aren't so funny. Annie's best friend has been turned into a cat. She's doing her homework in hell. Her after school job at the greenhouse is punctuated by frequent demonic interruptions. But it's worse than that, because Charlie, the demon, claims that her aunt isn't dead, and she owes him a debt. And until Annie can find her,...
Louisiana Longshot
$

0.99
It was a hell of a long shot.... CIA assassin Fortune Redding is about to undertake her most difficult mission ever—in Sinful, Louisiana. With a leak at the CIA and a price placed on her head by one of the world's largest arms dealers, Fortune has to go off-grid, but she never expected to be this far out of her element. Posing as a former beauty queen turned librarian in a small bayou town seems worse than death to Fortune, but she's determined to fly below the radar until her boss finds the leak and puts the arms dealer out of play. Unfortunately, she hasn't even unpacked a suitcase before her newly inherited dog digs up a human bone in her backyard. Thrust into the middle of a bayou murder mystery, Fortune teams up with a couple of seemingly sweet old ladies whose looks completely belie their hold on the...
The Vince Flynn Encyclopedia
$

0.99
Everything you need to know about Vince Flynn's #1 New York Times bestselling Mitch Rapp series!Hailed as "the king of high-concept political intrigue" (Dan Brown, #1 New York Times bestselling author of The Da Vinci Code), Vince Flynn's covert agent Mitch Rapp took the world by storm in his bestselling series, fighting terrorism and treason both at home and abroad, and captivating the minds of readers all across the world. This comprehensive compilation of characters is the ultimate guidebook to the thrilling and dangerous world of Mitch Rapp. Featuring summaries, memorable quotes, and other fascinating trivia, The Vince Flynn Encyclopedia will tell you everything you need to know about all the characters you love, and the ones you love to hate.