The Suspects
$

10.99
When you're bound together by secrets and lies who do you trust? Shallow Grave meets The Secret History in this quirky psychological thriller.
Hellboy Volume 1: Seed of Destruction
$

17.99
Dark Horse presents new editions of the entire Hellboy line with new covers, beginning with Seed of Destruction, the basis of director Guillermo del Toro's blockbuster films.
Dead Straight (The Curly Fan Club Book 1)
$

14.99
What does sex lube, a murder, and a secret guild of women have in common?Kit Maguire is the link. That, and her discovery that the purple-willy-shaped tube of lube is fantastic for styling her wayward hair. A national disaster means the lube is in short supply and the hunt is on to find more before Kit's curls turn to frizz. The Women with Curls guild is desperate for a demonstration but Kit isn't keen on sharing what little she has left. When the handsome Jackson Delaney arrests her for the murder of her boss, Kit is faced with life in prison and the threat of a permanent ponytail. It's up to her flat mates to discover who really killed the lovely Mr Roy, but can the two vicars and an absent-minded scientist find the key to Kit's innocence before it's too late?Start reading this hysterically funny novel today. The queen...
WHATEVER THE COST: Assassin vs Terrorist in the Ultimate Battle (Mark Cole Book 2)
$

14.99
A Chinese cargo ship is hijacked off the coast of Indonesia by ruthless pirates; North Korea is involved in a covert plan to reunify the country by taking control of the South; and in Saudi Arabia, a terrifying new terrorist group has emerged that threatens to destabilize the entire world.Adrift and psychologically damaged after the brutal murder of his family, ex-covert operative Mark Cole stumbles across a clue which might lead him to the hijacked ship. Realizing that it offers the opportunity to give him a purpose in life, Cole sets out to find the ship in a bid to earn redemption for his past.From a gun market in the ancient jungles of Cambodia, to the teeming streets of Jakarta, Cole stumbles upon a plot far greater than the simple hijacking of a ship; and as he battles against North Korean agents and Islamic fundamentalists, he promises himself that he...
Looks That Deceive (MedAir Series Book 1)
$

17.95
Two prominent medical malpractice attorneys are dead.Can you imagine the stuff flowing downhill into Detective Lynch Cully's lap?From his lieutenant's office. From his chief's office. The mayor's office. The governor.He's already facing the toughest case of his career: a serial assailant who leaves his victims unable to testify.Are these cases related? Has the perpetrator upped his game?Amy Gibbs, RN is a newly recruited med-evac flight nurse who left the ER, its stress, and memories of a certain detective behind. On one fateful call, she hears the deathbed confession of a man whom police are seeking as a person of interest in the attacks. Within hours, the lives of Amy Gibbs and Lynch Cully intertwine in a story that unravels a web of identity theft, electronic eavesdropping, and stalking amid a confusion of identities.Can Lynch move one step ahead of this killer? Or is the distraction—of a girlfriend he regrets leaving—too...
The Morning Line: A War, A Family, A Horse Race, a Hero
$

12.95
THE MORNING LINEOn a raw winter night in Northern Ireland, a misplaced bullet from the rifle of a British Army sniper sets off a series of events that culminate a decade later on a sun-filled summer day at Saratoga Race Course in upstate New York. In the intervening years, a brother and sister are torn apart by the violence gently referred to as the Troubles. Feisty Annie McGuire seeks retribution and connects with the Irish Republican Army. Her brother, Aidan, puts a scheme into play that he hopes will accomplish more than an eye for an eye.Aidan, a highly regarded trainer of thoroughbreds, controls the great race horse, Irish Eagle. A brilliant success on the European race circuit, Irish Eagle is now pointed toward the Travers Stakes at Saratoga. Taking advantage of Aidan's ability to have Irish Eagle finish as an also-ran, the IRA now must insure which horse could...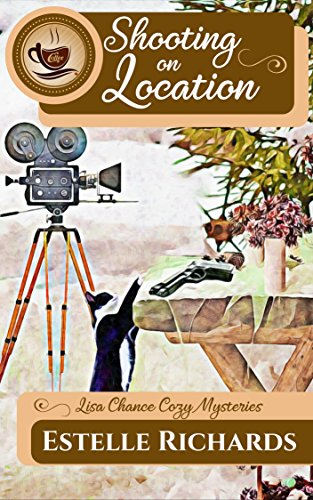 Shooting on Location (Lisa Chance Cozy Mysteries Book 2)
$

6.99
She's done with the movies, but the movies aren't done with her. Lisa Chance has it all. Her coffee shop is starting to succeed and her relationship with her new boyfriend is getting closer. She doesn't miss her old life in Hollywood at all. But when a film crew comes to town, she's roped into working on the movie set. Worse, her ex-boyfriend Dylan thinks his role in the film is the perfect opportunity to win her back. Lisa's delicate balancing act crumbles when there's a murder on set – and Dylan is the primary suspect. Can Lisa clear her ex's name? Or will Dylan get a second chance to ruin her life? Book 2 in the Lisa Chance Cozy Mystery series, a series with no graphic sex or violence and no strong language. Read it today!Books in the Lisa Chance Cozy Mystery series: Last Chance for Murder (book 1)Shooting on Location (book 2)Killer Campaign (book...
Marked for Revenge: An Art Heist Thriller (Zelda Richardson Mystery Series Book 3)
$

11.99
An exhilarating adventure set in the Netherlands, Croatia, Italy, Luxembourg, and Turkey about stolen art, the mafia, and a father's vengeance.When researcher Zelda Richardson begins working at a local museum, she doesn't expect to get entangled with an art theft, knocked unconscious by a forger, threatened by the mob, or stalked by drug dealers.To make matters worse, a Croatian gangster is convinced Zelda knows where a cache of recently pilfered paintings is. She must track down an international gang of art thieves and recover the stolen artwork in order to save those she loves most.The trouble is, Zelda doesn't know where to look. Teaming up with art detective Vincent de Graaf may be her only hope at salvation.The trail of clues leads Zelda and Vincent on a pulse-pounding race across Europe to a dramatic showdown in Turkey that may cost them their lives.- Awarded a Chill with a Book Readers'...
Fatal Flashback: A Legal Courtroom Thriller
$

10.99
When those profiting from a new migraine medication silence a whistleblower after he discovers an undisclosed side effect causing enhanced, spontaneous PTSD flashbacks, Blake Lawrence must rely on his courtroom skills to uncover how and why the FDA approved the drug.The answer is not what anyone in the courtroom expects.Andrew Hayden III is on the verge of vaulting the corporation bearing his name to pharmaceutical industry prominence pending FDA approval of Xyprotaine, a revolutionary migraine medication. That is until Darnell Young, Hayden Labs' vice president of research and development, discovers clinical trial notes summarizing potentially catastrophic side effects withheld from the FDA. These notes, suggesting enhanced PTSD flashbacks in patients taking both Xyprotaine and antidepressants, were written by Dr. Reginald Cosgrove, who is pending Senate confirmation as the next Commissioner of the Food and Drug Administration.Struggling with the loss of significant wealth his stock options could provide, Young takes the...
Promise of Malice (The Detective Kendall Halsrud series Book 3)
$

15.99
The third book in the Detective Kendall Halsrud series is here!When Kendall becomes a date rape victim, the incident triggers a series of events that send her life into a dangerous freefall. Still struggling with the remains of her relationship with ex-lover Adam Nashlund, Kendall is temporarily suspended from her job, and she joins Nash, who has been hired to locate a man's missing wife. A rape-homicide in the area leads Kendall to investigate the case of a rapist who leaves his victims tattooed with a strange symbol. Kendall's neighbor, Brynn Zellman, card reader and reformed computer hacker, identifies the tattoo as a Reiki symbol and helps Kendall unearth the truth as both cases become intertwined.