True Love at Christmas
$

0.99
"A wonderful short story of God's grace and restoration of a family. Really enjoyed it." Jennifer SMargaret and Harold had planned to spend Christmas in London with their twin daughters, Chloe and Sophie, but when Harold comes home ill from work one day, their plans are thrown into disarray. Will they be happy spending Christmas at home when they'd been so looking forward to their trip and to meeting their two small grandchildren for the first time? Will their son, Harrison, be able to make the day special by springing a few surprises on his parents? This short Christmas love story will be sure to warm your hearts during the festive season and all year round."TRUE LOVE AT CHRISTMAS" can be read as a stand-alone short story, but is best read as part of the "The True Love Seres". It sits in between Books 2 and 3.THE TRUE LOVE SERIESBook...
Towers of Somers: Flawed Majesty
$

2.99
When: During the 1930's, the American Great Depression. Where: The northwest corner of Flathead Lake (Somers, Lakeside, Kalispell). Who: The Sanders family, friends, neighbors. What: During troubled times, like today, people struggle not only financially but also personally. This story is mainly focused on the central character Sam Sanders who is growing up. However, growing up doesn't end at some magical age. We grow every day, as do Sam, his sister, mother, father, and two close friends, along with the community where they live. It's a journey. Choices are critical, but each choice has consequences. Why: Because sometimes we make magnificent choices but other times our choices are flawed. Life is an ambiguous mystery. How: You'll have to read the book to unravel the mysteries!Explanation of Title Towers of Somers: While the landmark of Somers is a water tower, also towering are the characters of this novel. They confront poverty...
LEVIATHAN
An historical crime story full of mystery, murder, suspense and romance...This historical thriller begins in the autumn of 1857, as the East End of London is preparing for the launch of Isambard Kingdom Brunel's giant iron steamship, the Leviathan - at 32000 tons, the greatest ship the world has ever seen... In Newgate prison, an innocent surgeon, Dr Jonathan Silver, is waiting in the condemned cell to be hanged for the murder of his wife, Marianne. Fate intervenes in the unlikely shape of a nineteen-year old thief, Elisa Saltash, who, in trying to break her burglar father free from Newgate on the eve of his execution, ends up freeing Dr Silver instead. Silver and Elisa end up in the riverside world of Wapping, among the seething and dangerous world of the London docks. Silver has only one clue to the identity of his wife's real killer - with her dying...
The Kindly Ones
$

16.99
A literary prize-winner that has been an explosive bestseller all over the world, Jonathan Littell's The Kindly Ones has been called "a brilliant Holocaust novel… a world-class masterpiece of astonishing brutality, originality, and force," and "relentlessly fascinating, ambitious beyond scope," by Michael Korda (Ike, With Wings Like Eagles). Destined to join the pantheon of classic epics of war such as Tolstoy's War and Peace and Vasily Grossman's Life and Fate, The Kindly Ones offers a profound and gripping experience of the horrors of World War II and the Holocaust.
Chasing Fireflies
$

14.99
"Never settle for less than the truth," she told him. But when you don't even know your real name, the truth gets a little complicated. It can nestle so close to home it's hard to see. It can even flourish inside a lie. And as Chase Walker discovered, learning the truth about who you are can be as elusive—and as magical—as chasing fireflies on a summer night.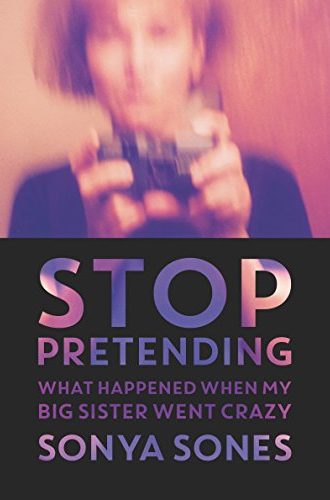 Stop Pretending
$

9.99
When her beloved older sister is hospitalized after a sudden mental breakdown, Cookie is left behind to cope with a family torn apart by grief, friends who shun her, and her fear that she, too, might one day lose her mind.  Based on award-winning author Sonya Sones's own true story, this novel explores the chilling landscape of mental illness, revealing glimmers of beauty and of hope along the way. 
Still Waters
$

4.99
On a hot July morning on Sweden's idyllic vacation island of Sandhamn, a man takes his dog for a walk and makes a gruesome discovery: a body, tangled in fishing net, has washed ashore. Police detective Thomas Andreasson is the first to arrive on the scene. Before long, he has identified the deceased as Krister Berggren, a bachelor from the mainland who has been missing for months. All signs point to an accident - until another brutalized corpse is found at the local bed-and-breakfast. But this time it is Berggren's cousin, whom Thomas interviewed in Stockholm just days before. As the island's residents reel from the news, Thomas turns to his childhood friend, local lawyer Nora Linde. Together, they attempt to unravel the riddles left behind by these two mysterious outsiders - while trying to make sense of the difficult twists their own lives have taken since the shared summer...
Death of a Scavenger
$

0.99
More than a few people in Juniper Grove want Maureen Nicholson dead, so when her body turns up during the town's annual October scavenger hunt, there's no shortage of suspects or motives. But when suspicion for the murder falls on Rachel Stowe's friend Holly, baker extraordinaire, Rachel must get to the bottom of the mystery. Convinced there's no romance in her future with the town's police chief, Rachel dives headlong into the case, ignoring his disapproval and risking her own safety. But will she uncover the truth before the killer claims another victim?