Just This Once (An F6 Novel Book 1)
$

10.99
Adopted by an international multi-governmental agency that doesn't officially exist, her only genuine identity is "F6" - the sixth female baby adopted into the program. Now she changes identities regularly, moving through the world completing top-secret missions and keeping her distance.A chance meeting with a handsome stranger tempts her to lower her guard. A second encounter turns up the heat until he finds himself in the middle of a murder investigation being conducted by one of F6's former lovers. Now F6 finds herself using her skills and training to help a friend in trouble. Something she has never done before. Something she's prepared to do just this once.
Billionaire Baby Daddy: A Second Chance Romance
$

9.99
My baby daddy is NYC's most eligible bachelor – and no one knows. Sexy, powerful and charming – the world loves Alistair Sinclair.I did too. Five years ago. But our fiery passion couldn't change his cold attitude or arrogant demands – so I left.I didn't know what he'd left me with, but when I found out…I was even more determined.I didn't want my baby girl growing up under her Daddy's hard expectations. Until now.Five years later and struggling alone – I can't live with the secret anymore. I have to tell him. I have to give him the chance to know his little girl.But I won't go back to him. I won't fall for that sexy smile, the impish suggestions and whispered promises. I won't make that mistake twice – and things are different now.I'm a Mommy. And he's…a Daddy.What I don't count on?He sees his daughter and melts.And suddenly…...
By The Mountain Man: The Complete Collection
$

14.99
BY THE MOUNTAIN MAN is rugged, untamed, and the perfect collection of Frankie's favorite mountain men!Claimed by the Mountain ManI want a wife who knows what it means to live off the grid and keep my bed warm.Ordered By the Mountain ManI need a woman who knows how to take orders in and out of the bedroom.Wife by the Mountain ManI don' want a wife. I'm looking for a mother for my baby.These stories feature mountain men who know exactly what they want.And how they want it!Don't open this book if you want a tame mail order bride story … this is a classic Frankie Love romance — steamy as hell with a HEA.
Baby Daddy: A Single Daddy Romance (Payne Brothers Romance Book 1)
$

11.00
"A perfect blend of heat and humor!" - Riveted Reader Blog"The chemistry between Remington and Cassi was so hawt that it almost gave me heat stroke!" Vee, Amazon Reviewer Remington Marshall is the kind of gorgeous who turns a smoldering glance into foreplay. He was the man of my dreams. The love of my life.Until the day he broke my heart.After Rem left town without saying goodbye, five years passed with no phone call, no visits, no explanations. Even worse—no apology.But I never needed his sensual promises. Certainly didn't miss his panty-twisting kisses. And I survived just fine without his wicked, washboard abs…Until the day he came home.Suddenly the sexiest mistake of my past careens back into my life. When his sister falls sick, the reclusive mountain man offers to take care of his two baby nieces…and he asks for my help. Rem's struggling to pay rent to Sesame Street,...
The Christmas Catch (Holiday Brides Series Book 1)
$

6.99
"A fantastic second-chance romance about a snowy accident that becomes a can't-miss love story!" ~ Kindle Fire Department, November 23, 2013THE CHRISTMAS CATCH (Holiday Brides Book 1)A struggling single mom meets a handsome bachelor in Vermont, after running him off the road during a snowstorm. A sweet, romantic tale about fate and second chances. Set in snowy Vermont! THE CHRISTMAS CATCHSometimes the best gifts are unexpected...Since the death of her military husband two years ago, single mom Christine White has struggled to get by. By throwing herself into her work as a Chicago copywriter, she's managed to keep food on the table but has gradually lost sight of what really matters, like building a bond with her four-year-old son. When Christine's best friend insists she spend Christmas in Vermont so she can get her life in order, Christine initially resists. Little does she know she's in for a memorable holiday...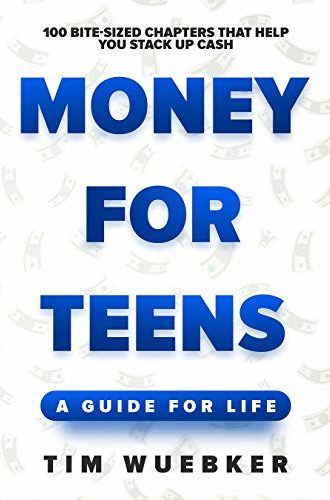 Money for Teens: A Guide for Life
$

10.95
This book grew out of teaching a class on Personal Finance. Every week, I asked teens what they wanted to learn. After they told me, I went to work: I interviewed everyone from self-made millionaires to happy couples. I scheduled over 60 guest speakers on every money and relationship topic imaginable. I read, researched, and experimented. And then I asked the teens again! And again. Result: parent and student demand for the class went up, we doubled how many teens we reach, and I wrote this book so I could give it to every graduating class as a gift.With over 100 bite-size chapters and exercises, Money for Teens: A Guide for Life discusses everything we could think of:* Budgeting* Investing with index funds, which beat 99% of everything else that's out there (if you're looking at 15+ year time frame)* Starting a business week* Relationships and money: how to make...
Snow Pup (Holiday Heartwarmers Book 2)
$

9.99
In this delightful Christmas love story, Deputy Shawna Mallory finds Billy McCrae - a runaway boy sleeping in a mound of snow with an anxious puppy guarding him. He's a sad child surviving a terrible existence until she puts a stop to it and becomes his foster parent. She's drawn to the snarky kid and just wants his life to be happier, his and the stray mutt who won't leave his side. Not that the boy cares about the dog… or her. Then she meets his father, the one who abandoned the boy when he was five.John Reid McCrae wants only one thing in his life to make it worth living. Years ago he'd lost his son to a bitter wife and now his goal is to get Billy back. He'll do whatever it takes, no matter who gets hurt. Until he meets the town's stunning deputy. Can he put...
The Billionaires Blind Date. Bad Boy Billionaires
$

0.99
Bad Boy Alpha Billionaire RomanceNewly divorced, new-to-town Dana Miller goes on a date with a guy she meets on the internet. She is not looking for love. She is looking for a playmate who will play the male role of every fantasy she's had for the length of her loveless marriage.So when she meets Jeff Edgarian, a boyishly good-looking man with a wicked sense of humor she isn't expecting anything more. As they sit down to a casual lunch in the wealthy part of town, they learn that they both have secrets that could change their game plans in ways that are not easy to absorb. Mature Audiences OnlyBonus Material Included
The R.E.M. Effect: A Thriller (The REM Series, Book 1)
$

14.95
One pill. Countless side effects.It's 2021 and Paul Freeman just landed a job with Asteria Pharmaceuticals, a world leader in revolutionary drug development. Paul knows the company's future is riding on the success of their latest product—a sleeping pill designed to interact with the human genome to deliver the perfect eight-hour sleep cycle.Just a few blocks from Asteria's Atlanta headquarters, troubled self-help guru Donny Ford is selling a different kind of drug, empowering followers to take control of their lives using a sacred meditation technique skeptics believe may have already taken his mind to a dangerous place.3,000 miles away, war-hardened journalist Claire Connor sits captive in a top-secret facility hidden deep in the Costa Rican jungle, guilty of two offenses: seeking help for a sleep disorder, and asking too many questions.When these worlds collide, the three will discover just how far some companies are willing to go to protect the...
The Witch and the Warrior: Part 1 (Witches of Ulyss)
$

0.99
She's a powerful witch being used as a pawn in a war that will decide if her world will be subjugated or ruled fairly.He is a warrior and his men have captured the witch. He needs to stop looking at her as a woman he wants so he can use her as the weapon he needs.Note: This book is sexually explicit and for adults only. It is also serial and will come in four parts.