SOUTHSIDE HUSTLE: a gripping action thriller full of suspense
$

2.99
Every tough guy has a weak spot, and Trick's is his love for his son Ex-con Patrick Halloran is trying to get a job and go straight. He missed out on his child's early years, now all he wants is to spend more time with him. Getting back with his fiery ex, Ginger, would be a bonus.In jail, Patrick concentrated on one thing: getting his head in order to do right by his son. He trained, studied and kept out of trouble; now he is hoping he can lead a normal life.When a Mexican gang threatens his son, ex-con Patrick Halloran must turn back to crime. Under pressure to pay off a debt, and unwilling to turn snitch, Patrick takes a risk, and ends up on the wrong side of a Mexican gang.Having to raise cash quickly takes Patrick straight back into Chicago's dangerous underworld where life is cheap, and...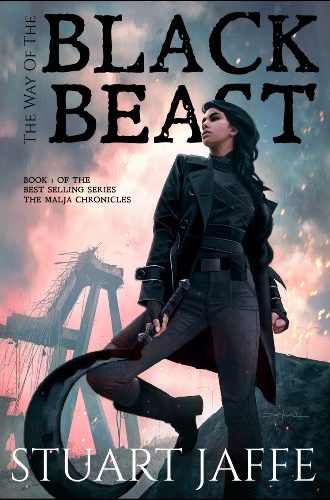 The Way of the Black Beast – A Post-Apocalyptic Fantasy (The Malja Chronicles Book 1)
$

2.99
Start your adventures with Malja in this action-packed, post-apocalyptic fantasy!In a parallel world destroyed by magic, one woman fights all odds to survive and find the answers behind her mysterious past.Malja searches for the two magicians who stole her at birth, trained her to be a killing machine, and then tossed her away at ten. She wants to know why this happened and most importantly, who she really is.But facing unrelenting challenges - crazed magicians, guitar-playing assassins, mutated beasts - she pushes through with a single-mindedness that may destroy all she holds dear.Find out why Fictitious Chronicle called The Way of the Black Beast "incredible and impressive" and Workaday Reads called it "a great start to a series, and I can't wait to see where it goes next."Interview with the AuthorQ - So, what makes The Malja Chronicles special? A - I've been a published writer for almost 20 years,...
The Extraordinary Tale of the Rebellious Governess: A Historical Regency Romance Novel
$

0.99
Changing the past is not an option, but you can always try to define the future...The poisoned needle that threatens a little child's life is the only clue for Miss Lucretia Brent to solve the puzzle of a deadly disease that comes upon the Dukedom of Breckenridge.Sampson Claridge, the fraught Duke of Breckenridge has to manage not only his dukedom but also his little sister. Completely enamored by the new governess, he needs her help to find the way out of the impending tragedy that threatens his kin.Sins of the past awake and they are all used for blackmail. As time runs short, Lucretia and Sampson have only a few hours to solve the puzzle or forever be gone.*If you like powerful Dukes, loving Duchesses and a marvelous depiction of the majestic Regency and Victorian era, then The Extraordinary Tale of the Rebellious Governess is the novel for you. Emma...
Tiny Houses: The Comprehensive Guide to Living in a Tiny House with Examples and Ideas of Designs (Tiny House Living, Shipping Container Homes Book 2)
$

2.99
Your Ultimate Guide to Living in a Tiny House with Example and Ideas of DesignsThis book is a comprehensive guide that will help you to move into your own tiny house. Because tiny living has a way of keeping you focused on what really matters to you, your life becomes richer, fuller and more meaningful. While you may own fewer possessions, your relationships, and quality of life improve dramatically. One of the results of tiny house living is the emergence of a group of people succeeding in life because they are having fun doing what they love to do. Out of this view and belief, this comprehensive guide on tiny houses was birthed. It is a means of teaching people what they need to get started in pursuing the life of tiny house living. A life where you can live fully. Leaving the past behind you to start a lifelong...
Stir Fry Cookbook: Over 255 Quick & Easy Gluten Free Low Cholesterol Whole Foods Recipes full of Antioxidants & Phytochemicals (Stir Fry Natural Weight Loss Transformation Book 18)
$

4.19
How Can You Go Wrong With Superfoods-Only Stir Fries?FACT:Way too many of us live in a state of poor health, lethargy and moderate obesity. We live with headaches, back pain, inflammation, arthritis, high blood pressure, high cholesterol, diabetes, skin problems, insomnia and cancer – they're all the byproducts of modern western diet, based on processed food. Superfoods are foods and the medicine and they can help with all these symptoms!!Stir Fry Cooking - 24th edition contains over 255 Superfoods Stir Fry recipes created with 100% Superfoods ingredients. This book contains recipes for:• Stir FriesMost of the meals can be prepared in just 10-15 minutes. Superfoods cooking for two at it's best!! Each recipe combines Whole Foods Superfoods that deliver astonishing amounts of antioxidants, essential fatty acids (like omega-3), minerals, vitamins, and more. "Our Food Should Be Our Medicine And Our Medicine Should Be Our Food." - Hippocrates 460 - 370...
A Taste of Italy: Authentic Italian Recipes
$

3.99
Do you love to eat Italian food? Discover how easy it is to create authentic Italian recipes in your own kitchen. If you enjoy Italian food, this recipe book is for you. Italian food has become a favorite with its variety, flavors, colors and easy availability of ingredients. It's kid friendly, easy to make, uses healthy fresh ingredients and you can create something that looks amazing in little time. With A Taste of Italy: Authentic Italian Recipes, you can try out a whole new range of ideas that are amazingly delicious and will have your family wanting more, with recipes for: Best Marinara Sauce Recipe Fettuccine Florentine Fresh Vegetable Frittata Pomodorie Gnocchi Chicken Marsala Torta Di Ricotta (Sicilian Cheesecake) And more...Now any mealtime can feel like you are back on that amazing vacation, where you dined on a Roman side street or in a bistro overlooking the Amalfi coastline. From...
Lord in the Shadows (A Sweet Regency Romance)
$

0.99
What do you do when you must wed, but have never been in love? Lady Jessamine, daughter of the Marquess of Hartfield, finds herself asking herself that question. Wishing she could be content, like her sister Emily, Jessamine is nonetheless different. Bold, wild and quick-witted, Jessamine longs for romance and intrigue. It seems her time for it is running out, when Emily, her younger sister, becomes engaged . . . before her. Worrying their stormy eldest daughter will be left without a husband, her mother and father quickly set down a list of suitors for Jessamine to meet and enchant. But Jessamine does not like any of them. Miserable, she goes riding. Caught in the rain, she thinks matters cannot be worse. That is, until her horse collides with a stranger, throwing her. The dark, shadowy stranger helps her – somewhat offhandedly. Soon, she cannot get him out of her...
I Warned You: A Vigilante Crime Thriller (Canine Partner) (Matt Ryan Book 1)
$

0.99
When Matt Ryan was born, he slapped the doctor.Years later, his tiny home state of New Hampshire, known mostly as a vacation state for campers and skiers, is overwhelmed by the opioid epidemic. Lives are being lost, budgets are busted, petty crime is rising, and first responders are stretched thin. Ryan gets drawn into the mêlée when his small business becomes the hiding spot of $300K in cash, stolen from one drug distributor by another.With easy money up for grabs, cold-blooded opportunists begin prowling the sleepy postcard town of Fall River, competing for the seemingly easy score.Just one problem.They weren't counting on running into a brick wall like Ryan, or his canine companion, Sharky the maniac.*This is a vigilante crime/action story with a touch of dry humor, not an addiction story or a police procedural. There is absolutely no romance. I mean none whatsoever. Unless you consider the bond between...
Matched (Galactic Battle Series Book 1)
$

3.99
Golan is pillaging the galaxy, Harvesting planets for their Synthnic, and destroying entire civilizations. The Renegade, a loose-knit band of thieves, warriors, and refugees, are the only force standing in his way.Lily is a commander in the Renegade and leads a small team that focuses on relocating civilizations before their planets are destroyed. During an ambush Lily comes face to face with Ulrick, one of Golan's strongest generals, and a fire ignites inside her that threatens to consume her. Ulrick has lived his life trying to redeem himself; to ensure that his sacrifices were not for nothing. He has grown tired of the fear he sees in people's eyes, and of the destruction, but the time has come when he will finally make his move.Ulrick had long ago given up on the idea that his match existed, until one day the stagnant markings on his arm begin to churn. While...
Emeralds Are Forever (Love on the Run Book 2)
$

2.99
The man of her dreams, and a quest to save her best friend. What could possibly go wrong?Dee has always been jealous of her best friend Carlie's adventures, but she never imagined actually going on her own. But when Carlie goes missing searching for a 300-year-old emerald, Dee is willing to do anything to get her back.Newspaper reporter by day, handler by night, Ben has plenty on his plate, which means no time for relationships. That is, until he runs into Deirdre—or Dee, as her friends call her—at the local grocery store.Together, Ben and Dee must find their friend and uncover the mystery surrounding the elusive three million dollar emerald before it's too late. Can they complete their rescue in time, or will Dee's first adventure be her only adventure?Enjoy this fun, action-packed adventure today!Read all the novels by Jaclyn Hardy:Silver Script NovelsRing of TruthA Christmas Worth BillionsFashioned for LoveChange...