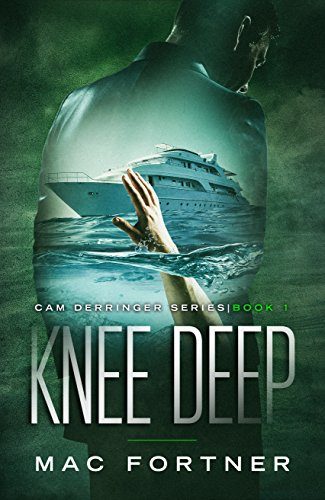 Knee Deep (Cam Derringer Book 1)
$

2.99
Cam Derringer, Key Wests wildest PI, searches for the men who murdered his wife four years ago. The trail is getting colder until a beautiful and powerful woman shows up and works her way into Cam's life. She lies to him about everything from her name to her game but seems to be guiding him toward his goal. Follow Cam through his worst nightmare to his eventual understanding of how sometimes things aren't as they seem. An action-packed adventure of love and murder.
The Deadly Art Affair (Cozy Mystery) (Daisy McDare Cozy Creek Mystery Book 1)
$

0.99
Daisy McDare wants nothing more than to find the man of her dreams and build a thriving interior decorator business. Instead she finds herself heartbroken and in the middle of a murder investigation. Daisy is in the middle of a decorating job at a famed local celebrity's mansion when the arrogant painter is found murdered in his backyard studio. Suddenly there's a house full of suspects, each with a bigger reason to want the victim dead than the next. When the local police get stumped during their investigation, Daisy realizes she'll have to take matters into her own hands. But she can't crack the case alone. She recruits her cupcake-baking best friend Samantha, wise-cracking Granny Annie, and her feisty West Highland terrier Shamus to find the killer. Daisy McDare Deadly Affair series book order: Book 1 -- The Deadly Art Affair Book 2 -- The Deadly Legal Affair Book 3...
Something Chosen (Shadow Vampire Series Book 1)
$

2.99
Death isn't always the end... sometimes it's only the beginning.Claire's trapped in a dead-end marriage, strapped for cash and getting desperate. Her chance at freedom comes in the form of a music con in Florida. Her mission? Win over a few big clients and collect a fat bonus check. It should have been easy, but Claire didn't count on a bewitched violin, its sultry Italian owner, Bette, or her dark and dangerous companions.Unfortunately, life isn't all song lyrics and seduction. Tied to darkness by blood and power, Claire must harness her abilities if she has any hope of surviving this business trip from hell.If you like Laurell K. Hamilton or the True Blood / Sookie Stackhouse series, you'll love this quirky paranormal fantasy complete with music, magic, fangs and freaks. One-click your copy today, and read the entire series exclusively on Amazon.***This book was previously published as Kill Me (Blood...
Rath's Deception (The Janus Group Book 1)
$

2.99
On the cut-throat streets of Tarkis, orphaned teens like Rath end up jailed … or dead. So when the shadowy Janus Group offers Rath a chance to earn riches beyond his wildest dreams, he seizes it. But the Janus Group is as ruthless as the elite assassins it controls. Rath will have to survive their grueling, off-world training, and fulfill all fifty kills in his contract before a single cent comes his way. And ending so many lives comes with a price Rath can't anticipate. It'll certainly cost him what's left of his innocence. It may well cost him his life.Interview with the AuthorQ - What makes the Janus Group series special?A - Growing up, I loved books like Ender's Game and the Tom Clancy Jack Ryan series. When I sat down to write the Janus Group books, I wanted to capture what I liked best about those books - sci fi thrillers or action thrillers in a fast-paced style. The series is best characterized...
The Paris Plot
$

0.99
Izzy Stone, a top Secret Service agent, is in charge of a presidential visit to Paris. Without warning, a powerful French magistrate charges the U.S. President with war crimes and crimes against humanity after an American counterterrorist strike goes awry. Now Izzy finds herself in a bloody, desperate race to save POTUS from certain death. A lethal cat and mouse chase unfolds across the City of Lights as Izzy uses her knowledge of Paris' ancient catacombs, a buried chateau fort and the great Louvre to elude their pursuers. As France and the U.S. approach an unthinkable military confrontation and the world's powers move toward DEFCON ONE, only Izzy can prevent a global catastrophe.
Powdered Murder (Bison Creek Mystery Series Book 1)
$

0.99
When small-town personal trainer Essie Stratter last saw her childhood crush, she was thirty pounds heavier and addicted to cookie dough ice cream. But Patrick isn't back in town to mess with her head. He's in town with his celebrity tart of a fiancée for a secret wedding at the Pinecliffe Mountain Resort – the very establishment where Essie works. Essie is roped into becoming a stand-in bridesmaid by her sister Joy, the resort's Assistant Event Coordinator. But Essie has more than just her resurfacing feelings for the groom to worry about when she finds one of the bridesmaids dead at the hotel spa.Essie searches for the killer, and with a list of suspects ranging from an undercover reporter to the Mayor's gossipy wife, it isn't an easy feat. Especially with a nosy landlady, and a meddling ex-in-law with a fondness for nudism. But after she becomes the killer's next...
The Boss's Secret Baby: A Bad Boy Office Romance (My Hungry Boss Book 4)
$

0.99
Money and chicks – that's all I'm interested in. And my f-list competition with my buddy.I always win. Of course I do. I'm the CEO. And hot as sin. Who could ever say no to me?The next target at the top of my list? The new PA I'm gonna hire tomorrow.She'll come on a business trip with me.Oh, and pretend to be my wife.I'll show off my fantastic abs and instruct her how to please me. Her panties will be on the floor before she knows it.And she'll want only more.Did I mention we'll be sharing a room?Piece of cake.Until I see who she is.Until I find out she has a son.With green eyes.My grandmother's eyes.Could it be?This is a second chance romance with a bad boy boss and a secret baby. It is a stand-alone story with an HEA, so no cliff-hangers! It includes lots of steam and mature...
For Finlay (For You Book 1)
$

2.99
Finlay Thatcher is a lost soul, guilt-ridden after the death of her twin brother. When Alabama's football coach gives her the opportunity to work for him, she knows it's her chance to move on, even if it means living her brother's dream. Caden Brooks is Alabama's star quarterback. He's got it all. The attention of adoring fans. A girlfriend who'd do anything to hold on to him. And a future in the pros. He's getting along just fine until Finlay steps into his life, despising him at first sight and pushing his buttons like no other. Unfortunately for Finlay, and her attempt to keep Caden at arm's length, there's nothing Caden loves more than a challenge. The problem with this challenge is she comes with a secret that has the power to destroy everything.This New Adult Romance is book one in the For You standalone series. Each book can be...
Yours to Give (New Zealand Brides Book 1)
$

2.99
YouTube sensation Laura McKinney has one goal—to live life to its fullest by accepting challenges from all around the world and filming them. She believes long-term relationships are for idiots, and marriage is ridiculous. Max Connelly reckons that makes her exactly his kind of woman.But Max is pursuing his own dream, building his mountain resort into the place to be in the southern hemisphere. He knows what her publicity could do for his resort so he issues his own challenge—to get married. After all, it wouldn't mean anything to either of them. Would it?Max and Laura first appeared in The Lakehouse Café, book 6 of The Mackenzies. For more information on Diana's New Zealand series, keep reading!--New Zealand Brides--Yours to GiveYours to TreasureYours to Cherish--The Mackenzies--The Real ThingThe PA's RevengeThe Marriage TrapThe Cowboy's CravingThe Playboy's RedemptionThe Lakehouse Cafe
Loving Laura (The Cantrelle Family Trilogy Book 1)
$

2.99
Set in the Louisiana bayou, this emotional story stars two brothers from a close-knit Cajun family, and the woman they both love. For Laura Sebastian, becoming part of the warm and fun-loving Cantrelle family would give her the kind of life she has always longed for, one filled with light, love, and joy. She could finally put the darkness of her past behind her. Yet when Norman Cantrelle, her boss and the youngest Cantrelle son, asks her to marry him, she is torn by doubt. She thinks the world of Norman, but she doesn't love him, not the way she knows she should. A tough situation becomes decidedly worse when Laura and Norman are involved in a terrible accident one rainy night as they drive home from a business trip -- an accident that causes Norman's older brother, Neil Cantrelle, to return home to Louisiana to confront his past. Neil...