10,000+ Positive Affirmations
$

16.99
Are you looking for not just hundreds, but thousands of affirmations, all organized in one place? This book contains affirmations on success, wealth, money, love, relationships, confidence, self esteem, overcoming depression/anxiety, health, energy, sleep, fitness, weight loss, healing, over 500 motivational quotes, and much more!
Enchanting Murder
$

16.99
Welcome to Desert Spell, where Coral Lake can't seem to catch a break. Her sister fired her from a magical resort. Her detective brother thinks he can solve a murder before her. And, Raven, the cranky, talking crow, wants a raise. Coral needs to find whoever killed the man who dropped dead in her coffee shop-before she's the one accused!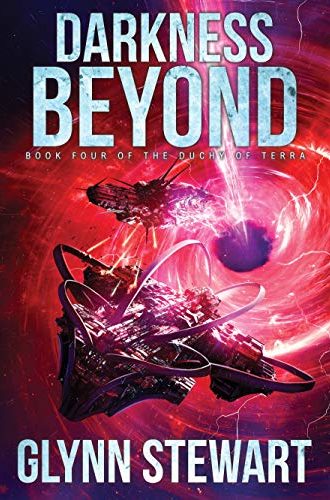 Darkness Beyond
$

16.99
The devastation of one of the newly-founded human colonies sends ripples of shock through the Imperium, and a battle fleet under Fleet Lord Harriet Tanaka is dispatched to the edge of the Imperium to find the culprits and bring them to justice. Aboard Bellerophon is Annette Bond's stepdaughter, Morgan Casimir. The recently promoted junior officer will be thrust into the crucible of war and challenged to rise to her mother's example in the face of this both new and ancient enemy…
Shopping for a CEO's Honeymoon
$

8.99
He says we never had a proper honeymoon. So, instead, he's giving me… a prepper honeymoon? Who knew billionaire preppers were a thing? I guess I'm about to find out. Julia Kent's New York Times bestselling romantic comedy series continues in Shopping for a CEO's Honeymoon as Andrew and Amanda settle in to married life… and so much more.
Alex
$

16.99
Alex Hancock needs money to salvage his career. Finn West needs a spouse to stop his aunt from sabotaging his future. Can the two men make more of the fake marriage they enter into? Discover Alex and Finn's story in the enthralling first novel in Twilight Falls, the new series by the author of the bestselling, contemporary romance series Nights.
Sex, Lies & Lingerie (Secrets and Lies Book 1)
$

12.99
A steamy, and suspenseful series from USA Today bestselling author Nelle L'Amour.Jaime:The minute I met her I wanted to make her mine—in both the boardroom and bedroom.Gloria Long, the platinum blond goddess and CEO of the world's largest lingerie empire.It's my job to unleash the power inside her. Help Gloria discover her sexuality and bring her to new heights of carnal desire.To free her life of the secrets that hold her back.Except I'm caught in a web of lies and deceit that threatens to destroy us both.Gloria:He's one of the most talented advertising gurus in the world. But I had no clue how devastating he'd be. Nor how he'd melt me.I wasn't used to a man who possessed my same confidence, intelligence, and drive. To someone else taking control.My past inhibits me. An insidious secret that follows me like a shadow. But Jaime Zander has me begging on my knees.
Tailed (Psycho Cat and the Landlady Mysteries Book 4)
$

9.03
Near the end of an almost purr-fect RV vacation to Texas, Beth, the landlady, and her Psycho Cat deal with break-ins, gun theft, and murder. Beth's brother-in-law becomes a "person of interest." It's all enough to make Beth wonder if trouble is tailing them on the way home, too. "Doubtful," Beth's hubby, Arnie, insists. "Why would anyone want to follow the RV from Texas to Kansas City?" Why indeed?At the same time, two petty crooks, Gil and Freddy, fumble about, trying to retrieve a stash of drugs that will make them rich enough to go straight. Without getting caught!Psycho Cat whizzes around the RV, yowls, and acts up in general. Beth investigates, despite Arnie's skepticism. In the end, Beth must decode Psycho Cat's signals to figure out if they are being tailed, connect the real killers to the murder, and save Beth's brother-in-law from going to prison. If she can't,...
One Last Hit: A British suspense story crammed with crime and family drama. (Jack Rutherford and Amanda Lacey Book 4)
$

9.99
DC Jack Rutherford and DS Amanda Lacey join forces with the Greater Manchester Police to investigate.A tough detective. A family on the rocks. The greatest danger may come from inside his own house…Detective Sergeant Duncan Riley has always worked hard to maintain order on the streets of Manchester. But when a series of incidents at home cause him to worry about his wife's behaviour, he finds himself pulled in too many directions at once.After a colleague asks for his help with a prescription drug epidemic in Croydon, he never expected the case would infiltrate his own family…Little does he know that his home and work lives are about to collide, and the detectives may not survive the aftermath.If you like British crime dramas featuring ordinary people in extraordinary circumstances, then you'll love this suspenseful domestic tale of deadly deceit and divided loyalties.The complete Jack Rutherford and Amanda Lacey series:Hot to...
Felicia's Food Truck One-Hour Mysteries : Bite-Sized Culinary Cozy Mysteries (Culinary Cozy Shorts Book 1)
$

2.99
Four one-hour mysteries featuring Felicia's Food Truck. Set in a small town on the Florida coast, these bite-sized culinary cozies feature a quirky cast of characters from the village of Bray Bay and Whispering Palms Senior Living Complex. These are murderless mysteries. ① Fit to be French FriedWhen an unlikeable retiree passes out while walking home from Felica's food truck, everyone dismisses the incident as a simple medical emergency, but Felicia's not convinced. Someone had a hand in Mrs. Dunn's collapse, and Felicia is determined to find out who and why.② Hamburger HeistWhen Felicia's food truck is held up by a masked robber, it's up to Felicia to find the real culprit before the wrong man is convicted of the crime.③ Pizza Pie PuzzlerWhen Antonio's mobile pizza kitchen starts poaching Felicia's customers, she's less than pleased. But then a rash of vandalism culminates in the rival food truck going up with a...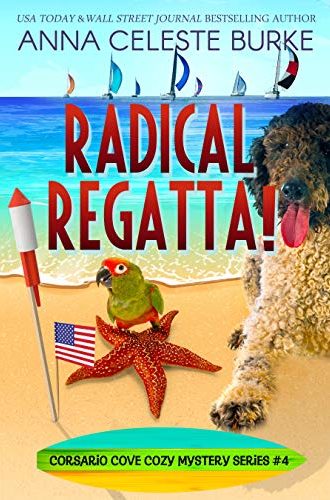 Radical Regatta! Corsario Cove Cozy Mystery #4 (Corsario Cove Cozy Mystery Series)
$

9.99
The Fourth of July Regatta is going to be a blast, but will it be Kim and Brien's last?Rescuing a dog swimming for its life draws newlyweds, Kim, and Brien into troubled waters. The dog is safe, but the owners' are missing. As a crime wave hits Corsario Cove, the area is packed with visitors for a Fourth of July Regatta. With the murder of a shadowy figure, the game afoot turns deadly. It won't be smooth sailing for anyone until these twenty-something sleuths solve the mystery behind the murder and mayhem.Grab your copy of this fun, funny, fast cozy mystery from USA Today & Wall Street Journal bestselling author Anna Celeste Burke, meet the adorable, brave dog and his raucous feathered friend. Recipes Included.Always free to read with Kindle Unlimited