The Collection Anne of Green Gables: by L. M. Montgomery
$

9.99
discover or rediscover all the classics of literature.Contains Active Table of Contents (HTML)Don't Miss a Moment with Anne Shirley in this Anne of Green Gables Bundle This bundle includes: • Anne of Green Gables • Anne of Avonlea • Anne of the Island • Anne's House of Dreams • Rainbow Valley • Rilla of Ingleside • Chronicles of Avonlea • Further Chronicles of Avonlea This Anne of Green Gables Collection has been professionally formatted for e-readers and contains a bonus book club leadership guide and discussion questions. We hope you'll share this book with your friends, neighbors and colleagues and can't wait to hear what you have to say about it.
Haven: A Stranger Magic: (A Fantasy Adventure Thriller, Brimming with Mystery, Action and Suspense) (Haven Series Book 1)
$

9.99
Is MAGIC real? Find out in this captivating BEST SELLING series that will intrigue your mind and bewitch your senses."Haven: A Stranger Magic is a fantastic introduction into an exciting new world full of action and adventure that will keep you turning pages till the very end. This short story is sewed together with all the right stuff like magic, mystery and lots of secrecy! Dare I say that some parts are even a little scary and a bit creepy, i.e., spiders!" - J.D. WardSam Dalcome thinks he is so completely average that no one ever notices him. Until he discovers a mysterious stranger outside his home. Bewildered, he tries to uncover the stranger's intentions. But Sam is sidetracked when he and his friend Travis discover a secret passageway deep in the town's quarry that leads to a hidden cavern. What they uncover next will not only change their lives...
The Mystery of Hairon Bay: Activity Book for Children: Follow the Story, Solve Anagrams, Mazes and Word Searches, Find the Differences, Connect the Dots and Color Everything You Want.
$

2.99
Original gift idea - children's bookA lost island in the Caribbean, four young friends and a map: What will happen?Your child will experience the adventure, alongside the characters of the story, with many fun activities and puzzles to solve in order to complete the story.If you are looking for an alternative to a simple coloring book - or a simple collection of mazes and crossword puzzles - this is the book for your child.A book to read, to color and to experience an adventure: a search of a lost treasure! Put your child's imagination and ingenuity into play in a fun way, spending a few hours of relaxation. Contains an original story and over 60 different activities including:LabyrinthsCryptogramsIntertwined wordsSpot the differencesAnagramsConnect the dotsHidden wordsSudokuColoring pages Perfect for children who love adventure and riddles, this book will utilize and improve logic and observation skills - and there are also coloring pictures to relax while...
Whoever Heard of a Flying Bird?: A Children's Book About Not Giving Up
$

3.99
Have you ever wanted something so bad you can almost taste it?This book is for anyone who's ever been told something was impossible... and was inspired to prove everyone wrong.Pip is a little bird who wants nothing more than to eat the fresh fruit high up in the trees. There's just one problem – on her island, birds don't fly! All the other birds think the idea of flying sounds ridiculous. After all, whoever heard of a flying bird?"Whoever heard of a flying bird, like clouds up in the sky?Don't you know? There's no such thing, as a bird that can fly."But Pip was never one to give up easily. Surrounded by birds that think she'll never succeed, Pip is determined to overcome failure and self-doubt and reach the fruit. Maybe...just maybe... if she tries hard enough, she might just succeed.Kids of all ages will adore this heartwarming children's story....
The Monster Who Came to Visit
$

9.99
In this humorous, rhyming story a little girl's attempts to befriend a monster lead from one disaster to the next. All is not lost though as this unlikely pair may have more in common than you think.
The Jumanji Cookbook: Playing the Game of Flavors
$

9.99
The adventurous series of Jumanji began with a children's book in 1981by Chris Van Allsburg, followed by a film in 1995, and two more in 2017 and 2019 respectively. There is no doubt Jumanji has been a part of the lives of so many children in different periods. Its legacy has been carried from one generation to another, evolving and improving to match the trends.In a world filled with all kinds of fantasy creations, a unique and mysterious concept, a game that holds the power to transform itself from a board game to a video game, characters whose strengths, weaknesses, and quirks we might fall for, the 'Jumanji' series, and whether it is the movies or the book, It has given us so much to involve ourselves in.To celebrate this adventurous and fantastic creation, here is a collection of recipes, specially curated to give you the feels of Jumanji, through...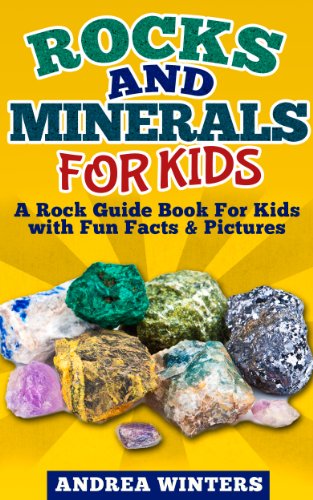 Rocks and Minerals for Kids – Fun Facts & Pictures About Crystals and Gemstones, Geology & Much More (geology book)
$

2.99
Children's author Andrea Winters presents: "Rocks and Minerals for Kids - Fun Facts & Pictures About Crystals and Gemstones, Geology & Much More". This informative kids book includes great pictures & well chosen words to help children learn more about Rocks and Minerals.Aside from the amazing pictures Miss Winters presents in her Rocks and Minerals Book for Kids, she also covers some interesting facts and insights about crystals and gemstones, how rocks form, the different kinds of rocks that exist, and plenty more fun facts for kids. The pictures within this book are accompanied by small bits of easy to understand text while making it an exciting read about Rocks and Minerals. Therefore, this Rock Book for Kids is a great educational book for children ages 7 years and older (or for parents that want to read this book with their children). Currently set at a wonderfully low promotional price,...
Relic: The Relic Trilogy: Book I
$

17.99
A fatal job. A deadly jewel. How long will Kaylan survive?Snatched from her life as a blacksmith, Kaylan Rove is forced to become the Shadow: the personal servant of a ruthless and powerful lord.But Lord Rennard himself isn't the threat. It's the Relic he wears around his neck – a stone that protects his bloodline, but poisons everyone else in its proximity. Kaylan's life becomes a waking nightmare as the Relic slowly destroys her body and mind. But just as hope begins to fade, she discovers a rebel plot that might put an end to Rennard's rule… If you like dark fantasy, strong heroines, slow-burning tension and plot twists that will leave you reeling, check out Relic, the first book in the addictive YA fantasy series The Relic Trilogy.Buy your copy of Relic to embark on this dangerous adventure today!
Zachary and the Great Potato Catastrophe: A Fun Family Read-Aloud & an Adorable Rhyming Picture Book For Kids / Children
$

11.99
A charming rhyming tale of friendship and sharing! "A clever rat named Zachary lives a quiet life under the floorboards of a bakery -- until a new delivery causes unexpected trouble! A charming rhyming tale of friendship and sharing." –BookbubDo you want to encourage friendship and inspire sharing in your little one today?Here's an adorable rhyming tale featuring a clever little rat named Zachary, who lives a satisfied life under the floorboards of a small bakery… until a sackful of delicious potatoes appears.Will Zachary be able to resist such a delectable treat? And, more importantly, will he share some with his friends? Your little one will be captivated by this engaging story and delight in Zachary's very important discovery – that life is much sweeter when he learns to share with friends. With beautifully drawn illustrations by Italian illustrator Giulia Lombardo, this children's rhyming picture book, along with its witty and engaging story line, will surely appeal to its young readers and become one of those books that will be read and enjoyed time and time again.A fun family...
Basics for Believing Kids: A Discipleship Quiet Time Workbook
$

2.99
How can we help children, who have accepted Christ as Savior, grow in their faith? What are the basic things they need to know?*What does it mean to be a Christian?*Why pray?*Why go to church?*How to tell others about Jesus*How to have assurance of salvation*Who is God, Jesus, and the Holy Spirit?*How to be separate from the world*How to have the character of ChristBecause reading the Bible and praying every day are so important, this is designed as a Quiet Time workbook with daily devotions for twelve weeks. Each week starts with a Phil and Ashley story--a brother and sister who apply these truths.This can be used by one child on his own, by an adult working one-on-one with a child, as a Bible study for a group of children, or taught as a discipleship class.It is designed for third-sixth-graders to use independently, but can be used by younger children...