Welcome, book lover! Are you looking for Kindle book deals? OHFB features limited-time sales of the best free and bargain Kindle books from the biggest publishers and bestselling independent authors. These are today's featured books:
Ghost in the Wires
by William L. Simon
$

17.99
Ghost in the Wires is a thrilling true story of intrigue, suspense, and unbelievable escapes -- and a portrait of a visionary who forced the authorities to rethink the way they pursued him, and forced companies to rethink the way they protect their most sensitive information.
KINDLE
Tested by Fire: He Sought Revenge – He Found Life (Medic 7 Series Book 1)
by Pat Patterson
$

14.99
In this medical thriller, Paramedic Jim Stockbridge responds to an EMS call in the ghetto and finds his best friend brutally stabbed and shot. Consumed with rage he hunts down Sid Drake's killers and renders his own form of justice. But he soon finds himself lost, tangling with his own demons, and a vicious street gang and its ruthless warlord, William "J-Rock" Jackson. So begins a long, dark journey that pushes Jim deep into his ...
KINDLE
Every Reasonable Doubt (Vernetta Henderson Series Book 1)
by Pamela Samuels Young
$

16.99
When attorneys Vernetta Henderson and Neddy McClain are tapped to take on the biggest case of their careers, they are less than thrilled about working together. Their strained relationship, however, is the least of their problems. Their socialite client—charged with the brutal murder of her husband—is demanding an immediate dismissal of the case. But a ruthless prosecutor is determined to make sure that doesn't happen. Forced to fight a common enemy, the two women close ...
KINDLE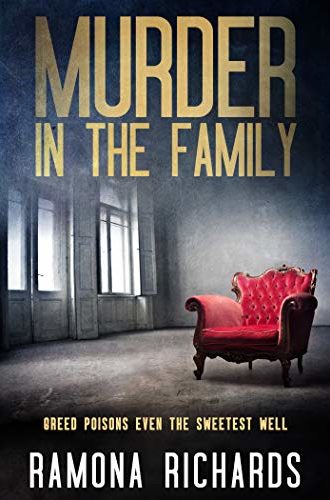 Murder in the Family
by Ramona Richards
$

12.99
Greed Poisons Even The Sweetest WellStorm chaser Molly McClelland must return to her small Alabama hometown when she unexpectedly inherits her hoarder aunt's house . . . and all of its contents. Despite her suspicions that her aunt was murdered, Molly wants nothing more than to sell everything and get back to the life she loves. Especially once her homecoming reignites the decades-old family conflict that drove her away in the first place. But when ...
KINDLE
Damaging Evidence: A Novel
by Al Macy
$

14.99
Attorney Garrett Goodlove never thought he'd prosecute a medical malpractice case. Doctors swear an oath to help people, and those cases are usually honest mistakes blown up by ambulance chasers.But when he learns of a woman bodybuilder who went into the ER with a case of heartburn and came out in a wheelchair, he starts paying attention. It appears the doctor who saw her frequently orders open-heart surgery for patients who don't need it, sometimes ...
KINDLE
The Cozy Corgi Cozy Mysteries – Collection One : Books 1-3 (Cozy Corgi Cozy Mysteries Collection Book 1)
by Mildred Abbott
$

27.99
Estes Park, Colorado: picturesque mountains, charming shops, a cozy bookstore and bakery… and murder. Cruel Candy: Book OneWinifred Page and her corgi, Watson, move to Estes Park to hit the Reset button on life. Fred is about to open her dream bookshop, but before she can begin her new life and put her plans into action, Fred and Watson have to clear her stepfather of murder.Traitorous Toys: Book TwoThe Christmas holidays in charming Estes Park ...
KINDLE
The Cassidy Project (Sam Reilly Book 5)
by Christopher Cartwright
$

14.99
A secret project is about to be reactivated...In the middle of the Pacific Ocean in 1962, at the height of the cold war, the U.S. military experimented with electromagnetic pulses created by detonating high atmosphere nuclear bombs. The project was code named Starfish Prime. The primary objective was to develop the ability to produce an EMP with enough force to knock out an entire nation's communication systems. The secondary objective, along with its consequences, was ...
KINDLE
Thunder in the Capital (Capital Series Book 1)
by Rob Shumaker
$

8.99
An up-and-coming politician. D.C. secrets. Will those in power succeed in silencing him forever?When Anthony Schumacher decided to run for the congressional seat of the retiring Representative Theodore Milhous Johnson, his meteoric rise through the political ranks was all but assured—he was a young, articulate lawyer with a beautiful wife and family. Nothing could stop him from one day becoming President. But when he uncovers some of D.C.'s darkest secrets, he soon finds himself in ...
KINDLE
Shot Through the Tart (Apple Orchard Cozy Mystery Book 7)
by Chelsea Thomas
$

12.99
***Star Actor Shot Dead During Performance*** Everyone thought the murder was part of the play at first……but the actor never stood up to take a bow. The killer planned the murder well. Except for one tiny detail... Miss May and Chelsea were in the audience. Now they're hungry for justice. So they grab their wacky friend Teeny and pursue the case. The clues the girls find are shocking. Could this murder have something to do ...
KINDLE
What Has Mother Done? (Thea Browne Mystery Book 1)
by Barbara Petty
$

3.99
"Barbara Petty has written a riveting mystery reminiscent of Psycho. Somewhere, Hitchcock is smiling. And to think, this is just the first of the Thea Browne Mysteries."—J.M. LeDuc, author of the Sinclair O'Malley series"A gripping drama unfolds as Barbara Petty explores the tensions between a woman with Alzheimer's accused of an unspeakable crime, and her daughter, an investigative reporter determined to clear her mother's name. Well worth the read."—Sheila Lowe, author of the Forensic Handwriting ...
KINDLE