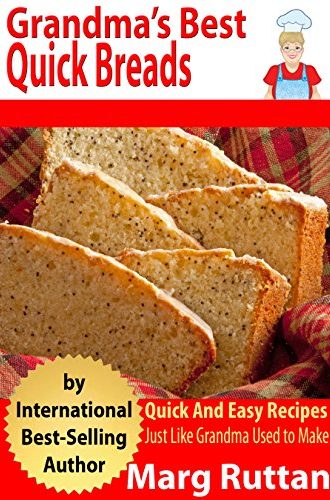 Grandma's Best Quick Breads: Grandma's Best Recipes
$

2.99
There is nothing that is much easier to make than a quick bread or loaf. Just mix up the ingredients, put the mixture in the pan, set the timer for around an hour and go do some other things. Come back when the timer goes and you have a lovely, fresh, home-made treat that everyone will love. I often make a loaf/quick bread and once it is well cooled slice it. I then freeze it and if I want a slice or two for a lunch for my husband I just go to the freezer and get a couple of slices. Having a frozen loaf is also great if you end up with unexpected company. Just take several slices out of the freezer, wrap them in paper towel and defrost them in the microwave. Works a treat.As I have said in all my other books, I come from a long...
Slow Cooking Recipes: 50 Delicious All-time Favorite Slow Cooking Recipes
$

2.99
A simple a way to make delicious Slow Cooking meals. A taste you'll never forget - People's choice Top All Time favorite Slow Cooking Recipes. Set and Forget Slow Cooking Recipes Today Only, Get this Slow Cooking Recipes cookbook for just $2.99. Click the "Buy" button and Start Making Your Own Delicious Slow Cooking Recipes If You Don't Have Kindle You Can Still Read This Book on Your Web Browser using Amazon Free Cloud Reader.You'll Find The Following Main Benefits in This Slow Cooking Recipes Cookbook=> Each recipe in this cookbook is healthy, tasty and easy to prepare. => Each recipe is accompanied with captivating, beautiful and colored picture of the final outcome recipe. => Step-by-Step directions for preparing each of the recipes that makes the process of cooking much easier and quicker. => Ingredient for every recipe is clearly written and measurements are given in very simple and easy...
Essentials of Celiac Disease and the Gluten-Free Diet: Living Gluten Free with Celiac / Coeliac Disease & Gluten Sensitivity
$

0.99
The University of Chicago Celiac Disease Center's mission is to cure celiac disease. As we focus on research toward a cure, we also strive to raise awareness and diagnosis rates through education and advocacy.Celiac disease is an autoimmune disorder, which means the body "attacks itself", rather than attacking a foreign substance as in an allergy. The medical treatment for celiac disease consists of strict adherence to a gluten-free diet.With this guide you will learn the basics of celiac disease: signs and symptoms, genetic and antibody testing, diagnosis and required follow-up testing. You will learn what gluten is, where gluten is found and how to avoid it. It will help you make healthy food choices while grocery shopping and preparing foods inside your home to manage your gluten-free diet. You will be able to identify gluten free grains, meal options and snacks for safe eating anytime. You will learn how to...
Let's Eat: Elly Pear's Home Fridge Deli
$

2.99
Do you ever wish you had a deli in your own home?In this exclusive e-short, Sunday Times bestselling author Elly Pear shows how you can have loads of delicious food ready and waiting, fabulous packed lunches zipped up in minutes, and weeknight dinners ready on the table in less time than it takes for a pizza to arrive.In Elly Pear's Let's Eat!, Elly proves that with a little organisation and some batch cooking know-how, you can create simple, delicious food to fit your lifestyle. Elly provides 11 recipes to give you a flavour of her upcoming second book – from simple salads to homemade tortilla chips and a delicious freezable stew, get a taste of how a well-stocked fridge and some pre-planning can transform the way you eat.
Clean Eating Diet: Amazingly Delicious Recipes To JumpStart Your Weight Loss, Increase Energy and Feel Great! (Clean Eating Cookbook Book 1)
$

0.99
ARE YOU READY TO CLEAN UP YOUR DIET AND DRASTICALLY IMPROVE YOUR HEALTH?DISCOVER THE AMAZING HEALTH AND WEIGHT LOSS BENEFITS OF A CLEAN FOOD DIET Today only, get this Amazon bestseller for one great low price. Read on your PC, Mac, smart phone, tablet or Kindle device. LEARN HOW TO AVOID PROCESSED FOODS AND HAVE INCREASED ENERGY AND AMAZING HEALTH! Eating processed food and junk food can have a negative impact on your overall health and life. Over time your body will become sluggish and fail to operate at its peak potential. Improper diet can lead to weight loss, disease, and declining health. If you are ready to live a healthier life and have amazing amounts of energy then join the crowd who have started to embrace a clean food diet. Inside I will give you my top recipes for for those who want to eat clean and get healthy....
Fermented Foods for a Healthy Gut: 9 Traditional Fermented Foods that Boost Digestive Health
$

3.00
For centuries, people have known that fermented food is one of the keys to gut health through natural probiotics—and a healthy bodyTraditionally used as a way to preserve food for longer and over cold winter months when little grows, fermented food had a double benefit: encouraging the growth of good bacteria and improving the nutritional value of this real food. In this book, you'll discover why fermentation is so good for you—and also how you can make your own fermented food in the comfort of your own home!You'll learn how to make the following traditional foods—and just why they're so good for you in the first place:Yoghurt—a staple in any kitchen, you can make your own with just a little time and some key ingredientsSoft cheese—tasty and good for you, soft cheese is also surprisingly easy to makeSauerkraut—traditionally buried underground, these days you can make this German staple indoorsBeverages—kombucha and...
Salads To Go
$

0.99
Salads To Go7 Delicious Salad Recipes Made For On The Go ConvenienceIf you are like me, you probably have a busy lifestyle to keep up with which makes eating healthy pretty difficult.   We all know that a good hearty salad is good for you.  However, due to everyones busy demanding schedules, finding the time to prepare a good salad isn't always possible.Yes, you can get salad in many fast food restaurants; unfortunately, most fast food salads are either not fresh, contains processed fillers, or their dressing contains more calories than their burgers.  What most people don't know is that many fast food restaurants actually spray their salads with a substance made of propylene glycol to make their lettuce and other vegetables appear fresh, when they could actually be up to 3 days old!  So all these reasons really defeat the purpose of trying to eat healthy.Lucky for you, I am...
How to Bake: The Art and Science of Baking
$

9.99
Hi, I'm Dennis Weaver and I would like to share my baking book with you, How to Bake. It's free. It's illustrated. It's 300 pages. It's the most comprehensive downloadable home baking guide you'll ever see.If you study the material in this book, you won't just be a better baker; you'll be an expert baker. I'm going to teach you what I know—what you would learn in a culinary school—and not charge you a dime. That's a pretty good trade I'd say, since culinary school would cost you thousands of dollars. I want to share what I've learned over the years and in my training. I want to make you a better baker. I'll explain things in a way that you'll understand and learn even if you're a beginner. And even if you're an expert, I promise you'll still learn.Save it, print it, add it to your kitchen library. Share...
Vegan Bar Food: 20+ Delicious Crowd-Pleasing Vegan Recipes (Dumb Vegan Recipes Book 1)
$

2.99
Burgers, buffalo wings, chicken tenders, nachos. These are just a few of the dishes that new vegans dearly miss. Until now, they had to stare jealously at the plates of their meat- and cheese-eating friends.Paul Jones, known as the Dumb Vegan, has compiled over 20 recipes in his new book, Vegan Bar Food. He provides easy-to-follow recipes that will show you how easy it is to make vegan versions of your favorite comfort foods.These recipes make a great complement to the recipes you will find in classic vegan recipe books like Veganomicon and Thug Kitchen. Here are just a few of the recipes Paul includes in his book:• Creamy Vegan Spinach Dip• Cauliflower Buffalo Wings• Stacked Nachos• Tofu Tenders• Creamy Mac and "Cheese"• …AND MUCH, MUCH MORE!So buy your copy of Vegan Bar Food today, gather some friends, fire up the game, and enjoy some of the tastiest vegan dishes...