Superfoods Broccoli Recipes: Over 30 Quick & Easy Gluten Free Low Cholesterol Whole Foods Recipes full of Antioxidants & Phytochemicals (Natural Weight Loss Transformation Book 119)
$

2.99
How Can You Go Wrong With Superfoods-Only Diet?FACT:Way too many of us live in a state of poor health, lethargy and moderate obesity. We live with headaches, back pain, inflammation, arthritis, high blood pressure, high cholesterol, diabetes, skin problems, insomnia and cancer – they're all the byproducts of modern western diet, based on processed food. Superfoods are foods and the medicine and they can help with all these symptoms!!Superfoods Spinach Recipes contains 30 Broccoli recipes created with 100% Superfoods ingredients. Most of the meals can be prepared in under 15 minutes. Each recipe combines Broccoli or Cauliflower and other Superfoods ingredients that deliver astonishing amounts of antioxidants, essential fatty acids (like omega-3), minerals, vitamins, and more. "Our Food Should Be Our Medicine And Our Medicine Should Be Our Food." - Hippocrates 460 - 370 BCThe best thing about Superfoods Diet is that it will keep your appetite and cravings under...
The Ultimate Soup Diet Cookbook: Over 50 Delicious Homemade Soup Recipes
$

2.99
If you are looking for a book to teach you how to make the most delicious homemade soups and broths, then this is certainly the book for you! The Ultimate Soup Diet Cookbook: Over 50 Delicious Homemade Soup Recipes contains all of the information that you need in order to make the most mouthwatering homemade soups and broths. In this ultimate soup diet cookbook you will find a ton of helpful information such as what tools you need in order to make homemade soups and broths, helpful soup making tips to make the best homemade soup recipes and what the benefits of soup making really are.What is a soup diet cookbook without delicious soup recipes? In the Ultimate Soup Diet Cookbook: Over 50 Delicious Homemade Soup Recipes, you will find only the most delicious and healthy soup recipes available today so you can become a master soup maker in your...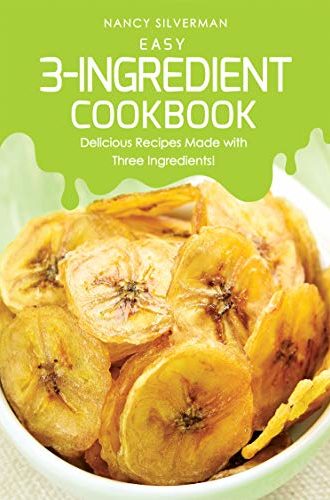 Easy 3-Ingredient Cookbook: Delicious Recipes Made with Three Ingredients!
$

3.96
Are you tired of spending hours in the kitchen following time-consuming recipes, with lots of expensive ingredients that are difficult to source? Are you looking for healthy and delicious meals to put on your family's menu? If you answered 'yes' to any of these questions, then this cookbook is the one you need! With 40 easy recipes requiring only 3 ingredients, you can create snacks, light meals, desserts, and drinks that are stress-free, simple, and quick to prepare with the Easy 3-Ingredient Cookbook.Check out a few of the mouth-watering 3 INGREDIENT recipes below!- Sweet: Banana and Pecan Cookies, Buttery Almond Bars, Raspberry Cheesecake- Savory: Broccoli and Cheddar Muffins, Roast Beef and Horseradish Fries, Teriyaki Chicken and Pineapple Skewers- Drinks: Blueberry Prosecco Granita, Watermelon Cooler, Cookies n' Creme Hot Cocoa
Jams and Jellies Recipes for Everyday Use: 30 Canning and Preserving Recipes for The Best Spreads
$

2.99
The solution to finding the right flavor and ingredients for my jams and jellies was to make them myself. This cookbook is a mixture of these recipes I found simple to make and scrumptious to eat. Most of these entries are for small batches that won't take up a lot of space in the refrigerator and will last for a few weeks to a few months. Most of these recipes mention pouring the jam or jelly into sterilized jars and storing them from that point. I use a simple canning method called the 'boiling water method' and is available to anyone with limited equipment.
Plant-based diet cookbook. The solution for boosting your energy level.: Nutritious & delicious plant-based recipes.
$

0.99
The plant-based diet might seem quite complicated to keep. But there is nothing to worry about. The plant-based nutritionist really easy way to follow the healthy way of life. Our amazing plant-based diet cookbook will guide you through this. You will learn about the plant-based eating benefits and what food exactly belong to the plant-based products and hat food you should exclude.The variety of plant-based recipes in this cookbook lets you have the delicious dishes for whole the time. Check the wonderful morning breakfasts, smoothies & shakes, scrumptious soups & stews, nutritious salads, vegetable sides & snacks, wholesome mains and do not forget delicious desserts & drinks in the best plant-based cookbook. Chose favourite ones to make own plant-based diet plan. The plant-based cooking does not require any special knowledge, so everything you need is to follow the instructions given in the plant-based book.The plant-based diet is a solution for...
Keto Diet Instant Pot Cookbook: Delicious and Easy Ketogenic Recipes for Your Electric Pressure Cooker to Lose Weight and Live a Healthy Life! (Ketogenic Instant Pot Book 1)
$

5.99
Can you imagine that eating high-fat dishes would be healthy?The ketogenic diet is the best one for losing weight, reducing the risk of diabetes and heart disease. If you want to lose weight and improve your overall health and well-being, this book is for you!Keto Diet Instant Pot Cookbook: Delicious and Easy Ketogenic Recipes for Your Electric Pressure Cooker to Lose Weight and Live a Healthy Life contains proven information and strategies on getting the best from the ketogenic diet using an Instant Pot.With this book, you will be able to learn more about the ketogenic diet that will enrich your lifestyle. You will understand about the Instant Pot and find 80+ delicious ketogenic recipes that are made using it:Soups and StewsMeat recipesPoultry recipesFish and SeafoodSide dishes and VegetablesDesserts and SmoothiesYou also find some benefits in the book include:What is the ketogenic diet?Benefits of the keto dietDos and Don'ts of the ketogenic...
Keto Bread: Low-Carb Bakers recipes for Ketogenic, Paleo, & Gluten-Free Diets. Perfect Keto Buns, Muffins, Cookies and Loaves for Weight Loss and Healthy Eating
$

2.99
Finding it hard to give up carbohydrates? This keto bread cookbook makes the switch much easier, easily being able to still have sandwiches and toast.If you want to follow the keto bakers way, then this book is definitely for you. Here you will find delicious ketogenic recipes which allow you to once again enjoy eating bread without all the carbohydratesFor your satisfaction, Keto Bread book includes:Over 55 sweet and savory recipes with colorful images, guidelines for portion control and nutritional informationSimple bread and buns ideas, amazingly flavorful muffins, pizza, tortilla and even cookies recipesIdeal food for Low-Calorie High Fat, Ketogenic, and Paleo diets, and are also a great alternative to sugary treatsGuide to low carb flours and sweeteners used in bakingeasy to prepare recipes with commonly found ingredientsPlease note! Two options of the Paperback are available:Full-color edition - Simply press See all formats and versions above the price. Press left...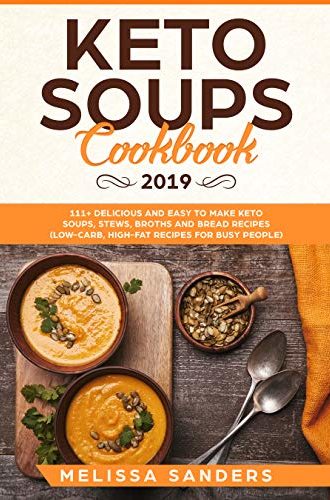 Keto Soups Cookbook 2019: 111+ Delicious and Easy to Make Keto Soups, Stews, Broths and Bread Recipes (Low-Carb, High-Fat Recipes for Busy People)
$

0.99
A stew is made when vegetables and meat are cooked at a low temperature or it can also be said that in a stew there is a combination of solid contents which are cooked on a low temperature in liquid contents that results in a gravy like textures. Stews are very much alike soups, but usually soups have more liquid while stews are thicker in consistency and cooked for a longer period of time, the serving of stews might also be done differently than soups, s soups are always served in the bowl stews can be served on a plate where the gravy can be poured all over the solid contents. For stewing less tender pieces of meat are more appropriate as they are cooked on low heat and becomes juicy and tender. Stew is a tasty and healthy meal, it is enriched with a lot of nutrients which are...
Canning and Preserving for Beginners: The Essential Canning Recipes Guide(canning for dummies,canning cookbook)
$

2.99
★★Buy the Paperback Version of this Book and get the Kindle Book version for FREE ★★Canning and preserving is a great solution to get seasonal and budget-friendly food in your kitchen. But unless you learned how to do it , it can be difficult to know where to start. Canning & Preserving for Beginners is a great resource for your home canning with step-by-step directions and easy, flavorful canning recipes. Experience how enjoyable and delicious it can be to eat seasonally with this simple and straightforward reference.Canning & Preserving for Beginners will help you quickly become an expert in home canning with:•Step-by-Step Guidelines for canning techniques, such as water bath canning and pressure canning•100 Easy Recipes for canning and preserving the perfect pickles, relishes, jams and jellies throughout the year•Tips and Tricks saving time and safely canning your favorite fruits and vegetablesCanning recipes include: Pickled,Jamming,Jellies,Sweet Friut sauces,syrups and relishesThrough this...