Easy Casserole Recipes: 50 Favorite Kids Meal Ideas (Family Cooking Series Book 1)
$

6.99
Here is what we've included in the cookbook:Making homemade sauces for your casseroles and skip the canned soups!Making casserole tips50 easy recipesA wide variety of casserole recipes including:Chicken casserolesBreakfast casserolesHam VegetableBroccoliPastaTurkeyBeefThese recipes are sure to speed up family meal time and put a little less stress on you, in regards to feeding your family.****Please note: Our paperback version has no pictures included within the book to keep the cost of the cookbook below $10.
Mediterranean Diet Cookbook for Beginners: 501 Recipes to Lose Weight – Speed Up Your Metabolism and Boost Your Heart Health. Try the 21-Day Meal Plan Challenge
$

17.89
Delicious AND Nutritious!Want to get in shape? Don't want to sacrifice your favorite foods…or spend hours cooking every night? Lucky for you, the Mediterranean Diet Cookbook for Beginners is the ULTIMATE weight loss plan you didn't even know you needed! The Mediterranean Diet is praised as one of the most delicious and nutritious food regimens in the world, giving your body a little bit of everything with exciting variety and versatility. BUT - it's not just a diet. It's a lifestyle, recommended by nutritionists and dieticians worldwide for its ability to contribute to improved health for the long-haul. This cookbook will introduce you to the enchanting world of Mediterranean cuisine, putting a delectable range of fruits, vegetables, nuts, herbs, beans, dairy, whole grains, meat, and poultry on your table. Boost your heart health, speed up your metabolism, and keep your taste buds entertained with 501 inventive meals that are easy...
Optavia Diet Cookbook: 555 Mouth-Watering Healthy Recipes, 21-Day Meal Planner And Budget- Friendly Grocery Lists For Rapid Weight Loss.
$

15.89
Tired of complex meal plans and expensive ingredients?Looking for a weight loss method that LASTS?The hugely successful Optavia Diet has been endorsed by over 1 million clients worldwide and continues to rank in the top 30 Best Diets in the United States today. But learning a new repertoire of recipes can be time-consuming and willpower-busting when you're in the first stages of a lifestyle overhaul.With the Optavia Diet Cookbook, you can supercharge your weight loss with done-for-you shopping lists, a targeted 21-day meal plan and over 500 Optavia-friendly recipes that won't break the bank!Enjoy delicious, fat-blasting and healthy meals, such as:Cajun Spiced Lemon-Shrimp KebabsMoules MarinieresWhite Chicken ChiliBasil Cheese Pork RoastLamb CacciatoreGrilled Avocado Caprese CrostiniBeef StroganoffBread Dough & Amaretto DessertAnd many, many MORE!These varied, tasty and waist-trimming meals are sure to keep your motivation high and the numbers on the scale low, so you're more likely to commit to your weight...
101 Quick & Easy Pasta Recipes
$

9.95
Do you love pasta? Would you like a cookbook full of delicious pasta recipes that will make cooking pasta easier?There's nothing simpler and tastier than a steaming bowl of pasta with a delicious sauce to accompany it, covered in Parmesan shavings or sprinkled with black pepper. For hundreds of years pasta has been a staple food for millions and now you can learn some of the simplest and quickest dishes for yourself.Inside the pages of 101 Quick & Easy Pasta Recipes, you will discover delights such as: Bow Ties with Artichoke SauceMacaroni and GarbanzosLasagna RollsItalian CasseroleSteak ItalianoTortellini BakePasta and Bean SoupAnd many more...Making great pasta dishes has never been simpler and with 101 recipes to choose from in this quick and easy pasta cookbook, you will never be stuck for an idea for any mealtime, whether it's for a quick midweek fix or something grander for the weekend.Buy a copy...
Lebanese Recipes: From Beirut to Tripoli; Discover Lebanese Cooking at Home with Easy Lebanese Recipes (2nd Edition)
$

8.99
Mediterranean Cooking, Lebanese Style.Get your copy of the best and most unique Lebanese recipes from BookSumo Press!Come take a journey with us into the delights of easy cooking. The point of this cookbook and all our cookbooks is to exemplify the effortless nature of cooking simply. In this book we focus on Lebanese. Lebanese Recipes is a complete set of simple but very unique Lebanese dishes. You will find that even though the recipes are simple, the tastes are quite amazing.So will you join us in an adventure of simple cooking?Here is a Preview of the Lebanese Recipes You Will Learn:Lentil Feta Salad Chickpea Falafels Homemade Lebanese Pita Bread Spicy Bread Crispy Sumac Eggs Mediterranean Spicy Shawarma Spicy Chicken and Nutty Rice Skillet Spicy Beef and Spinach Rice Stew Broken Hearts Salad Red Bean Salad Navy Beans Soup Lebanese Meatloaf Rolls Lemon Lentils Soup Nutty Lebanese Kebaa Homemade Oregano Pizza...
Pies and Mini Pies
$

9.99
Join the mini pie explosion! Bite size mini pies are all the rage.Pies are great for any day of the week. Their versatility means they can be a filling snack, a meal on their own or even be the main dessert in a dinner party.Now, with Pies and Mini Pies, you have a book with over 150 pie recipes that will tickle the fussiest of taste-buds, with ideas that include:Apple Crumb Pie and Mini PiesFudge Pecan Pie and Mini PiesButterscotch Cream Pie and Mini PiesFrench Silk Chocolate Pie and Mini PiesSweet Potato Chiffon Pie and Mini PiesFrozen Raspberry Pie and Mini PiesAnd many more...With helpful tips, Pies and Mini Pies is a cookbook that provides you with the answers to the perfect pastry as well as what goes inside. Get a copy of Pies and Mini Pies today and see for yourself how quick and easy it is to make a delicious mini-pie or pie!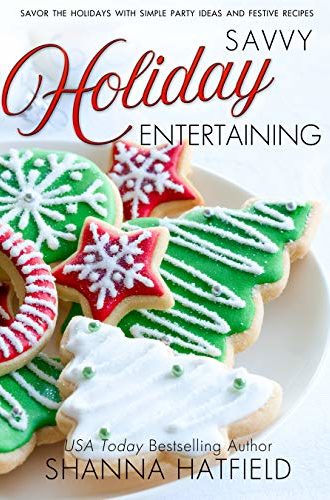 Savvy Holiday Entertaining (Savvy Entertaining Book 1)
$

0.99
Enjoy your happiest holiday season!Savor the holidays with simple party ideas and festive recipesTips, tricks and guides every savvy host needs for amazing holiday celebrations! Savvy Holiday Entertaining includes holiday hints and secret weapons for fuss-free Christmas gatherings.From tips on good enough housekeeping to ideas on menu planning, gift giving and table settings, this book is full of great ideas to simplify the season. Several easy holiday recipes are sure to wow guests.˃˃˃ Collect the entire Savvy Entertaining SeriesSavvy Spring EntertainingSavvy Summer EntertainingSavvy Autumn EntertainingSavvy Holiday EntertainingOrder your copy today!
OPTAVIA DIET COOKBOOK: +100 Easy And Mouthwatering Recipes To Burn Fat And Lose Weight Quickly And Efficiently
$

0.99
Are you one of those people who don't love and enjoy cooking? Do you struggle to find the time to cook your meals?Would you like to eat meals that you and your family enjoy while getting in shape and losing weight at the same time?Get ready for what you are about to read!The Optavia diet is created to help people lose those annoying fats by lowering the number of carbs and calories through portion-controlled snacks and meals. This eating plan enables you to lose weight even without continuously craving for foods. Isn't it amazing?By only cooking less than ten minutes once every day or each other day, this Optavia diet cookbook will enable you to accomplish your weight goals. That's especially true even if you are always in a hurry. Inside this book, we will show you everything you should learn about this revolutionary diet plan. These include the foods you...
The Mediterranean Slow Cooker Cookbook for Beginners: 250 Quick & Easy Recipes for Busy and Novice that Cook Themselves | 2-Week Meal Plan Included
$

10.98
Would you combine the health benefit of the Mediterranean Diet with the convenience of a Slow Cooker?Then your search is over, as we have just the book you've been looking for. This delectable Mediterranean cookbook alongside the slow cooker, gives you 250 simple and filling meals packed with fresh vegetables, fruits, fish, whole grains and heart-healthy fats traditional to Greece, Italy, and Spain. By making Mediterranean cookbook recipes in your slow cooker, you will not only save time in the kitchen, but you will also create savory and wholesome meals fit for the whole family. This handy Mediterranean cookbook will show you how to easily create healthy slow cooker meals, even on a busy weeknight. All these flavorful recipes come with a detailed list of ingredients, cooking and preparation times, number of servings, easy to follow step-by-step instructions, and nutritional information per serving. Here's a peak into what you'll find...