The Big Book of Keto Diet Cooking: 200 Quick & Easy Ketogenic Recipes and Easy 5-Week Meal Plans for a Healthy Keto Lifestyle (Lose Up to 40 Pounds in 5 Weeks)
$

10.99
The Big Book of Keto Diet Cooking is the ultimate bible to maintain a healthy keto lifestyle with biggest selection of recipes, meal plans, nutritional information, and more!Do want to lose weight quick and easy?From this cookbook you will learn:Basic rules to follow on a keto dietHow to make keto a sustainable lifestyleWhat you can and can't eat on the keto dietAffordable ingredients: save money cooking budget friendly recipes.Easy to find ingredients: cook with ingredients easily found at your local grocery store.Servings: cook the right amount of food for your diet. Cooking times: save time in the kitchen. 5 week meal plan: lose up to 40 pounds. Exclusive offer: Buy the paperback, keto diet for beginners, and get the Kindle edition for FREE!If you have been on the same route as me, trying all sorts of diets, popping expensive weight loss pills but end up finding that the weight keeps coming back, then...
The Complete 5-Ingredient Diabetic Cookbook: Simple and Easy Recipes for Busy People on Diabetic Diet with 4-Week Meal Plan
$

11.95
If you have diabetes, watching what you eat is one of the most important things you can do to stay healthy. With the help of this book, The Complete 5-Ingredient Diabetic Cookbook offers 100+ healthy, diabetes-friendly recipes and meal planning ideas–without sacrificing taste. Plus, this provides expert tips on the types of food you should keep stocked in your kitchen, advice on healthy cooking techniques, ways to lower fat and cholesterol, and most importantly, what to eat with diabetes.The Complete 5-Ingredient Diabetic Cookbook offers:Make more than 100 tasty recipes, all are 5 ingredients or lessHandy nutritional information for all recipes, including carb counts Tips for cooking together and meal planning A 4 Week Meal Plan to keep you healthyMore and moreGrab Your Copy Now!
The Complete LOW-FODMAP Diet Cookbook for Beginners: Easy and Healthy Low-FODMAP Recipes to Soothe Your Gut Relive the Symptoms of IBS and Other Digestive Disorders
$

11.98
Are you constantly asking yourself "What can I eat?" It's time to stop worrying!If you have the pain and stress of digestive problems and just trying to watch your FODMAP intake this collection of low FODMAP recipes is for you!As we all know, eating a diet that is lower in FODMAP is important for most of us but especially important for those who have digestive problems.This "The Complete LOW-FODMAP Diet Cookbook for Beginners " is filled with amazingly easy LOW-FODMAP recipes that will make your daily life hassle-free. In this cookbook, you will learn:The science behind of Low-FODMAPWhat are FODMAPs?What Foods Should We avoid on Low-FODMAP Diet?What is Low-FODMAP Diet?What Foods should We eat on Low-FODMAP Diet ?Important Tips for Making the Low-FODMAP easierMore than 80 Easy and Delicious Low-FODMAP Recipes5 Different Meal Plans for Different DietersAnd much more!Making great cooking choices has never been easier! Get a copy of this...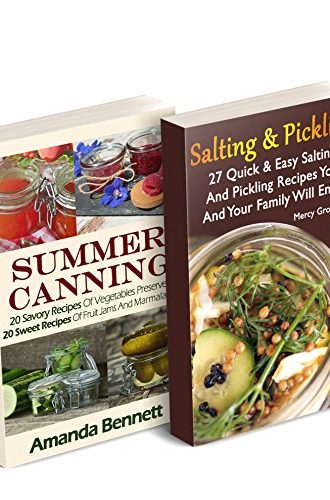 Canning And Pickling: 47 Savory And Crunchy Canning Recipes + 20 Sweet Fruity Canning Recipes: (Confiture Pot, Preserving Italy)
$

10.78
Canning And Pickling: 47 Savory And Crunchy Canning Recipes + 20 Sweet Fruity Canning RecipesBook 1: Salting And Pickling: 27 Quick & Easy Salting and Pickling Recipes You And Your Family Will Enjoy"Salting and pickling: 27 Quick & Easy salting and Pickling Recipes you and Your Family will enjoy" is a book with detailed information on diverse salted and pickled recipes. Each recipe has its all its ingredients listed, together with the exact measurements you need to use for your pickles to be as delicious and as crunchy as they need to be. What you will see in the book is that there are many ingredients used in the recipes that are ordinarily highly perishable. However, as you will see as you read through the book, salting and pickling gives the ingredients a much longer life, so that foods that would otherwise go bad in a couple of days end...
Diabetic Cookbook For Two: Over 330 Diabetes Type 2 Recipes
$

4.29
How Can You Go Wrong With Superfoods-Only Diet?FACT:Way too many of us live in a state of poor health, lethargy and moderate obesity. We live with headaches, back pain, inflammation, arthritis, high blood pressure, high cholesterol, diabetes, skin problems, insomnia and cancer – they're all the byproducts of modern western diet, based on processed food. Superfoods are foods and the medicine and they can help with all these symptoms!!Diabetic Cookbook for Two - 12th edition contains over 330 Superfoods Diabetics recipes for Diabetes Type 2, created with 100% Diabetic Superfoods ingredients. All recipes are prepared for diabetic cooking for two. This 415+ pages long book contains recipes for:• Soups • Condiments • Breakfast • Salads • Grilled meats • Crockpot recipes • Casseroles • Stews • Stir fries • Diabetics Sweets Most of the meals can be prepared in just 10-15 minutes. Each recipe combines Diabetic Superfoods ingredients that deliver...
Festive Dishes for The Whole Family: 40 Christmas Recipes That Include Sweet and Savory
$

12.98
Are you up for some last-minute Christmas cooking? This cookbook is here to save your life. With having so many spectacular recipes, you will be able to amaze your family in no time. Here you have everything to make the best festive feast ever.From Seasonal Salmon to Apple Cider-Glazed Pork Tenderloin, you can choose the one you like better for a main course. Also, don't forget to wish a warm welcome with the classic starters such as Bloody Mary Crab Cakes and a warm bowl of Chestnut and Madeira Soup. You can serve the tastiest side dishes, such as Roasted Brussels Sprouts and Honey-Glazed Carrots. One thing is sure: everyone will have a smile on their face.Cooking for Christmas has never been easier! Grab your cookbook right now!