Something Witchy This Way Comes (Being the Victorian Tales of Tellehandra Murry, Witch and Private Detective-to-be: The Victorian Witch Chronicles
$

3.99
Murder is a dish best served in a foreboding Victorian castle!Tellehandra McMurry is a cheeky young woman with a severe governess. When her father dies, she is sent to live with her Uncle Reginald in a far off corner of County Cork. Deeply in debt, Uncle Reginald has found an interesting way to erase his gambling problems --by murdering his debtors. When his young niece Tellehandra arrives, he finds a more enterprising way to seek his fortune. If he can press his niece into marrying his son, then the family fortune will roll down to him. And if can't press her into marriage, then there is always another way to obtain what he seeks.But Tellehandra won't give in so easily, she's made of different stuff. Years earlier, Tellehandra's mother was sent away from the family home, and Tellehandra is beginning to understand why – because her mother was a witch....
VENGEANCE BLIND: A nail-biting suspense thriller
$

7.99
Cruelly imprisoned in her own home, a successful novelist must use all of her imagination to stay alive. Recovering from a road accident that has left her half-blind and in a wheelchair, Belle Hammer is alone in her secluded house set in a sprawling ten-acre plot, deep in the forests beyond Perth, Australia.Her husband having left on a work trip, and living miles away from urban centres, Belle has only a few neighbours. And one of them, the creepy retired lecturer Arthur Howell, she doesn't trust one bit .Was it Howell who was seen in the grounds of her house? Did he make the noise she hears in the inaccessible first floor of her home?Unable to travel, Belle is cut off from the world. Her only hope is the home care assistant her husband arranged for her.But all is not as it seems. Left to the mercy of a woman...
Fragile Nights (The Way of Wolves)
$

17.99
Violence is a disease that hollows the mindTyyr is a member of Valsair's secret police. As part of the House of Ravens, she is the first to gather information for her king. She's a killer, a spy; efficient and self-reliant.Rumors of a dissenting lord passes through the Houses, and Tyyr is sent to investigate. The heart of the matter is a mysterious jewel known as the Dragon's Tear. Tyyr must take the gem back to the capital, but the mission becomes a game of cat-and-mouse when the new owners want their possession to remain a secret.Inside Valsair, a killer is leaving a trail of bodies in his wake. The corpses of two missing girls and a knight send Warden Zaka and his guardsmen on a mission to find the killer responsible.The fates of Tyyr and Warden Zaka intertwine as they seek their truths, and fight for survival against the secrets...
Fat Vampire: (A Comedy Horror Series)
$

7.99
The SMASH HIT SERIES now being developed at SYFY channel -- coming soon from NBC/Universal!Death Has a Brand New Appetite...When overweight treadmill salesman Reginald Baskin finally meets a co-worker who doesn't make fun of him, it's his own bad luck that tech guy Maurice turns out to be a two thousand-year-old vampire.And when Maurice turns Reginald to save his life, it's just Reginald's further bad luck that he wakes to discover he's become the slowest, weakest, most out-of-shape vampire ever created … doomed to "heal" to his corpulent self for all of eternity.But as Reginald struggles with the downsides of being a fat vampire (too slow to catch people to feed on, mocked by those he tries to glamour, assaulted by his intended prey and left for undead), he discovers rare powers in himself that few vampires have … and just in time, because the Vampire Council wants him destroyed...
The Picture of Dorian Gray: The Uncensored 13 Chapter Version + The Revised 20 Chapter Version
$

9.99
This carefully crafted ebook: "The Picture of Dorian Gray: The Uncensored 13 Chapter Version + The Revised 20 Chapter Version" is formatted for your eReader with a functional and detailed table of contents. The Picture of Dorian Gray, the only novel by Oscar Wilde, was first published in 1890. A substantially revised and expanded edition was published in April 1891. For the new edition, Wilde revised the content of the novel's existing chapters, divided the final chapter into two chapters, and created six entirely new additional chapters. Whereas the original edition of the novel contains 13 chapters, the revised edition of the novel contains 20 chapters. The 1891 version was expanded from 13 to 20 chapters, but also toned down, particularly in some of its overt homoerotic aspects. Also, chapters 3, 5, and 15 to 18 are entirely new in the 1891 version, and chapter 13 from the first edition...
Disenchanted: Book One (The Celtic Vampyre Saga 1)
$

9.99
Disenchanted: Book One (The Celtic Vampyre Saga)238 pages (print length)Faelynn LeCroix is a woman hell-bent on finding those responsible for the brutal murder of her mother and the abduction of her father. She's on a quest for revenge and, in her opinion, the bloodier the better. The arduous trail that she has been doggedly following for three years has led her directly into the path of Nathaniel Valour, an Irish vampyre who rules over the territory of New England. At first, she sees him as nothing more than one of the fiends she disposes of on a nightly basis, but something tells her that Nathaniel is different from every other vampyre she has ever encountered on her trail of retribution. The truth is, Nathaniel Valour is different—he is a vampyre with a secret. Upon looking into the eyes of Faelynn, Nathaniel realises that she is the one he has unknowingly...
A True Story from a Parallel Universe (The Poe Detective Agency Book 1)
$

9.99
So, it turns out the fantastical creatures that come from the creative imaginations of writers and live in our books, movies, and myths are absolutely real – on another planet in another universe. One night, in that universe, Romeo Taylor, a detective of The Poe Detective Agency, which happens to be the most successful detective agency in the world, survives an attempt on his life. That same night 37 apparently unrelated people are murdered in his city. He has to dig deep into his own past to discover what the relationship between himself and the 37 murdered is. While he's digging, whoever tried to kill him shows that he believes in the motto 'if at first you don't succeed, try, try again' by trying again and again. Obviously Romeo must stop him in order to go on breathing but he soon finds there is more at stake than just his...
Blood Claws: A Bethany Black Supernatural Thriller (New York Paranormal Police Department Book 1)
$

9.99
Don't kidnap a weretiger unless you're ready to have your ass kicked...Bethany Black is a rookie cop in the New York Paranormal Police Department (PPD). She's fast as hell, tougher than nails, and she's got no problem with blowing up stuff. She also turns into a ferocious tiger when she gets sufficiently pissed off.New York City is where the supernatural mob snagged its foothold back in the day. Goblins had poured in from the Netherworld and taught locals how to properly manage the criminal climate. They sold protection, rattled cages, and raked their fingers across the back of honest society.It took years and tons of Paranormal Police Department officers to gain back control.But now the city is on the brink of falling apart.The PPD lost half its uniformed cops during an all-out war with a nasty mage, and the latest mob boss is looking to capitalize.Translation: Blood, blood, and a...
The Phantom of the Opera
$

3.94
Rumours that a ghost stalks the dark passages and cellars of the Paris Opera House, wreaking havoc, have long been rife among staff and performers. This Phantom also haunts the imagination of the beautiful and talented singer Christine Daaé, appearing to her as the 'Angel of Music' - a disembodied voice, coaching her to sing as she never could before. When Christine is courted by a handsome young Viscount, the mysterious spectre, who resides in the murky depths of the building, is consumed by jealousy and seeks revenge.With its pervading atmosphere of menace, tinged with dark humour, The Phantom of the Opera (1910) offers a unique mix of Gothic horror and tragic romance that has inspired film, stage and literature since its publication.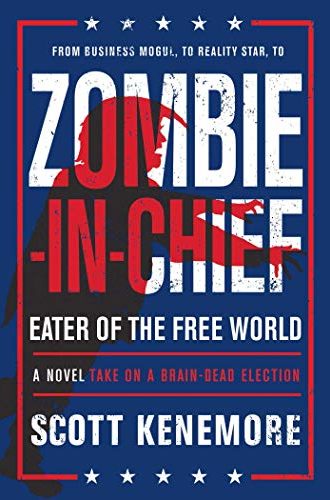 Zombie-in-Chief: Eater of the Free World: A Novel Take on a Brain-Dead Election
$

14.99
Bestselling author Scott Kenemore is back with a hilarious, over-the-top, and bloodthirsty send-up of the 2016 political season. In the tradition of Joe Klein's Primary Colors and Richard Condon's The Manchurian Candidate, Zombie-in-Chief: Eater of the Free World is a compelling and dramatic story with characters and events that may resemble familiar, real-life elections a little too closely! After all, who better to perform an autopsy of the American political system than an expert on the undead? When a tycoon and reality TV star improbably wins his party's nomination for the presidency, pundits and analysts are as baffled as they are certain that he will never win the general election. What can a man who already lives at the top of a golden skyscraper with a supermodel wife still want? Absent entirely from their prognostications is the possibility that it could be to gorge upon the brains of the living!...