In one fell swoop
$

17.99
Every now and then Mother Nature likes to show us who is boss. On a hot day in June, two groups of campers disappear in the Green Swamps of Florida. The wood is still burning in the bonfire, all their belongings are abandoned, and there is blood at the campground. But not a single body is found. Patty McGee, the grandmother to one of the missing campers, sets out to find out what happened to her grandson, thinking his father might have kidnapped him. However, soon she realizes she is up against a force way more powerful than that. It's a battle even she can't win. From the Queen of Scream comes a scary, yet humorous tale of man's battle against nature. In One Fell Swoop is a compelling and clever story, as only Willow Rose can deliver.Fans of Stephen King, Blake Crouch, Paula Hawkins, Kendra Elliot and Robert Dugoni...
Blood and Shadows (The Shadow Trilogy Book 1)
$

0.99
They came from the shadows. They came to destroy us.Twenty years ago, bloodthirsty assassins turned an innocent girl into a monster. Most of her humanity perished. She fell into darkness.Now she steps from the shadows. Now she destroys the light. Now she brings the rise of the assassin king.Dawyn Darklance was thrust into war. After mysteriously arriving on Tar Ebon he joined the Kingdom of Tar Ebon's army. Dawyn rose to the rank of commander of the king's guard and now has been chosen to find and destroy the assassin king.Against the assassin onslaught, Tar Ebon stands alone. But Dawyn and his allies, a druid, mage, and bard, will rise and fight. They will win, or they will die.
Frankenstein
$

2.99
Mary Shelley began writing Frankenstein when she was only eighteen. At once a Gothic thriller, a passionate romance, and a cautionary tale about the dangers of science, Frankenstein tells the story of committed science student Victor Frankenstein. Obsessed with discovering the cause of generation and life and bestowing animation upon lifeless matter, Frankenstein assembles a human being from stolen body parts but; upon bringing it to life, he recoils in horror at the creature's hideousness. Tormented by isolation and loneliness, the once-innocent creature turns to evil and unleashes a campaign of murderous revenge against his creator, Frankenstein.Frankenstein, an instant bestseller and an important ancestor of both the horror and science fiction genres, not only tells a terrifying story, but also raises profound, disturbing questions about the very nature of life and the place of humankind within the cosmos: What does it mean to be human? What responsibilities do we have...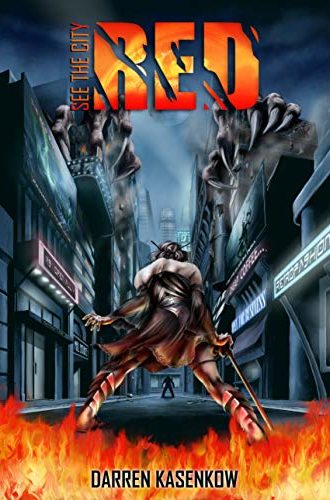 See The City Red: A Dystopian Horror Thriller
$

12.99
When the Antichrist comes to town, bad things can happen.In a bustling metropolis verging on the edge of chaos, all Peter Gold wants is the chance for a simple life with his wife and young daughter in the safety of their apartment. When two strangers appear at the door one evening however, his world is thrown into turmoil when a sudden act of sickening violence destroys everything he has ever loved.Hunted by the police and desperate to find out why his life was destroyed, his quest takes him into the dark heart of the city streets where pieces of the blood soaked puzzle begin to lead him to a confrontation beyond anything he could have imagined, and will leave him no choice but to discover the price he's willing to pay for justice.Drawn into this labyrinth is Special Agent Anna Sloan, whose role in front line government sanctioned religion control...
Till Midnight (Reversed Retellings Book 1)
$

14.99
Can a poor shoe cobbler save twelve princes from a terrible curse?The twelve princes of Savony are a mystery. They rarely go out, refuse to marry, and disappear every fortnight, only to reappear with bruises and cuts. When Alix, a poor shoe cobbler, is enlisted to help mend the princes' boots, she is asked to investigate the princes' mystery in exchange for extra coin. Soon, she finds that the greatest danger isn't getting caught by the handsome eldest prince, Theo, but the unspeakable terror that will threaten the safety of the entire kingdom.
HAPPY DOWNEY & ABYSS
$

5.00
My elementary versus zombies in the vein of a Sega Genesis game, and if anyone gets scratched or bitten they rapidly age into elderlies with purple skin.
Stay Dead 3: The Condemned
$

6.99
DEATH IS A KINDNESS.Sequestered away in the Mount Weather Special Facility, Scientists Rachel Lucas and Gregory Tran turn to dreams for answers to the horrendous nightmare their lives have become.Acting Secretary of Defense William T. Pymn II dispatches a special military unit to secure a nearby prison as part of their scientific efforts to destroy the living dead scourge.First Sergeant John Torrent leads his team of specialists into a combat situation unlike anything they've ever experienced. In an effort to secure the prison, they must fight not only a horde of marauding incarcerates, and their reanimated corpses, but a self-proclaimed prophet of The Unwinding capable of getting into their minds.STAY DEAD 3: THE CONDEMNED is a blend of zombie pulp fiction and fantastic supernatural terror.
El demonio Buziraco (Spanish Edition)
$

19.00
EL DEMONIO BUZIRACO, NARRA LA HISTORIA DE LA LLEGADA DE LOS DRAGONES AL CONTINENTE AMERICANO Es una novela basada en hechos históricos reales, pero con ingredientes del género fantástico, cuyos sucesos comienzan durante la época de la llegada de los españoles a América y el establecimiento de la colonia en el norte del territorio suramericano, donde en Cartagena de poniente, actual Cartagena de Indias en Colombia, se creó el Palacio de la Inquisición en 1613 y se llevó a cabo el comercio de esclavos más grande del mundo. Esta historia fantástica, dividida en tres grandes volúmenes, en éste primer libro, describe la vida de los esclavos en la época de la colonia, el maltrato a los habitantes nativos y cómo algunos logran fugarse de la inquisición, para luego invocar la presencia del gran dragón Buziraco, quien acude en su ayuda y los liberará lanzando el fuego de sus fauces. Este...
The Nightblade (Tales of Delfinnia)
$

10.00
When darkness rises, the Nightblade is never far behind.It came from the forest. A creature not seen in the peaceful lands of Mid-lake for millennia. A Fell Beast. A farmer disappears and strange sounds are heard in the nearby forest prompting Alther, an old man with a mysterious past to investigate.Meanwhile, on the BlackMoor, the Nightblade Ferran stumbles upon a mystery of his own, one that reveals a sinister plot that could threaten the entire Kingdom of Delfinnia.The Nightblade is a tale of adventure, mystery and magic that casts light on the events leading up to the Sundered Crown Saga.
From Cellar to Throne: Zen's Quest for Immortality 12: The Fate To Lead The World Of Chaos (Tempered into a Martial Master: A Cultivation Series)
$

3.99
All the martial artists wanted was to earn a spot in history.Some blended in the crowd, and some didn't. Some worked their way to the top and some became nothing but heaps of dust on the ground. Some were born into riches and jewels, and some were born with nothing but a strong mind and a great talent, like Zen Luo.However, when he saw just how unfair the world was, he couldn't stay put and set out on a journey towards greatness, with only two goals in mind: To witness the world from the very peak of martial arts and to provide a safe and happy future to the people he cared about.Falling from nobility, Zen Luo became a humble slave and served as a human punchbag for his former cousins. Inadvertently, he found a way to refine himself into a weapon and a legend started because of that.With a...