Earthrise
"The thrills are nonstop, the alien cultures and races are well developed and fascinating, and there's just the right amount of humor to keep the whole thing fizzing." — Analog Science Fiction and FactReese Eddings has enough to do keeping her rattletrap merchant vessel, the TMS Earthrise, profitable enough to feed herself and her crew. So when a mysterious benefactor from her past shows up demanding she rescue a man from slavers, her first reaction is to run for the hills. Unfortunately, she did promise to repay the loan. But she didn't think it would involve tangling with pirates over a space elf prince...Book 1 of the Her Instruments trilogy is a rollicking adventure set in the expansive Pelted universe, and kicks off an epic space opera series where the fate of worlds hangs in the balance. Fans who enjoyed Firefly or Andromeda will like this series.Rating: PG-13 for violenceTags:...
Wild Irish Heart
$

0.99
It is time…An ancient book, a power untouched, and a heart unloved lead Keelin O'Brien from her graduate studies in Boston to a small village on the coast of Southern Ireland. Determined to unearth the secrets lying hidden in the enchanted waters of the cove, Keelin has little time for a surly Irishman who infuriates her during the day and haunts her fantasies at night. Inexplicably drawn to the woman who has stepped from his dreams and into his world, Flynn fights a stubborn battle against his increasing attraction for Keelin. Forces unknown have better plans for the two. Only the secrets of the cove can show Keelin who she really is, the beauty of her mysterious power, and a love that will break the bounds of what she knows. From New York Times Bestselling author, Tricia O'Malley, comes a new romance series set on the rocky shores of Ireland.Wild...
Miracles: The Listener & The Gifted 2-in-1
In a world of doubt, disillusionment, and disbelief--it's time for miracles!For all who believe in the unseen comes this gift of Miracles--two stand-alone stories now together for the first time. You'll savor these stories from award-winning, best-selling author Terri Blackstock that reveal how thin the wall really is between heaven and earth . . . and how God remains a God of miracles even today.The Listener--Something strange happened to Sam Bennett this morning. He is hearing the thoughts of other people. The waitress at the coffee shop. The elevator operator in Sam's office building. His wife, his secretary, even his pastor. Simply by looking at them, Sam can hear their hearts' deepest needs. Is he going crazy . . . or about to experience a miracle beyond his wildest dreams?The Gifted--Three friends rescued from the rubble of an earthquake are just glad to be alive. They soon realize, however, that...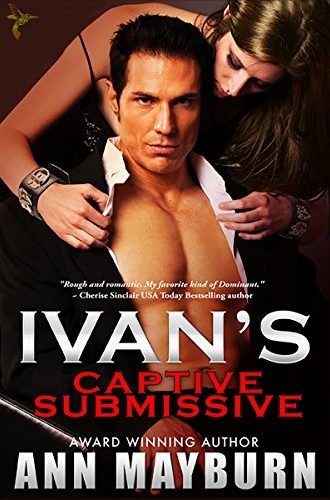 Ivan's Captive Submissive
$

2.99
When Gia Lopez signs up for the Submissive's Wish Charity Auction she has no idea that she's about to be bought by a Russian Dom who will do anything to make her fantasies come true. Including staging an elaborate kidnapping that Gia believes is real. Ivan is instantly drawn to Gia and he wants to be the best Master she's ever had. As he spends time with Gia he begins to have intense feelings for the strong, independent, and sexy American woman. He's only won a week of her service but wishes to keep her forever. Unaware of Ivan's true feelings, Gia fights her growing emotional attachment to him. All she wants is to settle down with a nice Dom in the United States, continue her career, and live a normal life. However, Ivan sets a plan into motion that will push Gia to all of her limits and take...
Omega Days
$

15.00
"Readers who enjoyed The Strain Trilogy, by Guillermo Del Toro and Chuck Hogan, will find plenty to satisfy them here."—San Francisco Book Review When the end came, it came quickly. No one knew where or exactly when the Omega Virus started, but soon it was everywhere. And when the ones spreading it can't die, no one stands a chance of surviving.San Francisco, California. Father Xavier Church has spent his life ministering to unfortunate souls, but he has never witnessed horror like this. After he forsakes his vows in the most heartrending of ways, he watches helplessly as a zombie nun takes a bite out of a fellow priest's face…University of California, Berkeley. Skye Dennison is moving into her college dorm for the first time, simultaneously excited to be leaving the nest and terrified to be on her own. When her mother and father are eaten alive in front of her, she...
Revelation Space
$

8.99
The highly-acclaimed first novel in the Revelation Space universe When human colonists settled the Amarantin homeworld, few of them bothered to question the disappearance of its native population almost a million years before. But in the year 2551, one man, Dan Sylveste, is convinced that solving the riddle of the Amarantin is vital to human survival. As he nears the truth, he learns that someone wants him dead. Because the Amarantin were destroyed for a reason. And if that reason is made public, the universe—and reality itself—could be forever altered. This sprawling operatic novel ranges across vast gulfs of time and space to arrive at a terrifying conclusion. Alastair Reynolds, who holds a Ph.D. in Astronomy, has written a vivid and action-packed story that will linger in the minds of its readers. "[A] tour de force…ravishingly inventive." —Publishers Weekly "Best science fiction novel of the year" —Science Fiction Chronicle
The Invisible Library
Collecting books can be a dangerous prospect in this fun, time-traveling, fantasy adventure from a spectacular debut author.   One thing any Librarian will tell you: the truth is much stranger than fiction...   Irene is a professional spy for the mysterious Library, a shadowy organization that collects important works of fiction from all of the different realities. Most recently, she and her enigmatic assistant Kai have been sent to an alternative London. Their mission: Retrieve a particularly dangerous book. The problem: By the time they arrive, it's already been stolen.   London's underground factions are prepared to fight to the death to find the tome before Irene and Kai do, a problem compounded by the fact that this world is chaos-infested—the laws of nature bent to allow supernatural creatures and unpredictable magic to run rampant. To make matters worse, Kai is hiding something—secrets that could be just as volatile...
Midnight Crossroad
$

9.99
Get ready for the new drama Midnight, Texas on NBC with the first book in Charlaine Harris' paranormal mystery series about a small town where only outsiders fit in...Welcome to Midnight, Texas, a town with many boarded-up windows and few full-time inhabitants, located at the crossing of Witch Light Road and the Davy highway. It's a pretty standard dried-up western town.There's a pawnshop with three residents. One is seen only at night. There's a diner, but people stopping there tend not to linger. There's a newcomer, Manfred Bernardo, who just wants to work hard and blend in. But Manfred has secrets of his own...
January
$

2.99
"Fresh, fun, and unbelievably hot, Audrey Carlan's Calendar Girl series will have you falling in love over and over again and craving the next installment." ~ Meredith Wild, #1 NYT Best Selling Author of the Hacker Series. SynopsisIt's really simple. I needed money. A lot of money. One million dollars to be exact. The amount didn't matter. All that mattered is that at the end of that price tag held my father's life.No money. No life.The time limit was one year. On January 1st I had to pay up or my Father was going to be killed.When you're faced with an ultimatum like this, you do whatever you have to do.And that's exactly what I did.The job…Exquisite Escorts. My role, serve as high priced arm candy to anyone that can afford the $100,000 price tag for a month of my company. Sex is optional (for me) and a 20% increase...
Dead Until Dark
$

0.00
The first novel in the #1 New York Times bestselling series that gave life to the Dead and inspired the HBO® original series True Blood. Sookie Stackhouse is just a small-time cocktail waitress in small-town Bon Temps, Louisiana. She's quiet, doesn't get out much, and tends to mind her own business—except when it comes to her "disability." Sookie can read minds. And that doesn't make her too dateable. Then along comes Bill Compton. He's tall, dark, handsome—and Sookie can't hear a word he's thinking. He's exactly the type of guy she's been waiting for all her life... But Bill has a disability of his own: he's a vampire with a bad reputation. And when a string of murders hits Bon Temps—along with a gang of truly nasty bloodsuckers looking for Bill—Sookie starts to wonder if having a vampire for a boyfriend is such a bright idea.