Killer Pose (A Hollywood Murder Book 1)
$

9.48
From NYT and Amazon best-selling and award-winning author.Kelly Canyon wants to be an investigative journalist and takes photos of celebrities to pay the bills. When an actress is murdered following an interview by Kelly, she and Brock Handsome, uh, Hanson are the primary suspects. Mishap and hilarity ensue as Kelly is roped into clearing her name, helping the police catch a killer, and keep herself from being another notch in the belt of Hollywood's Golden Boy. She never intended to star in a movie. Nope. Nada. Yep.Yet, here she is acting in a movie, falling for Brock, and running from someone who very much wants her to stop trying to solve the murder, even if by doing so guarantees Kelly her job back.
The Beholder (A Maddie Richards Mystery Book 1)
$

9.99
* AMAZON LIST OF TOP-RATED MYSTERY SERIES* AMAZON LIST OF BEST-SELLING MYSTERY SERIESMaddie Richards is an efficient and resourceful detective with a secret wish that she could handle her messy personal life as well as she handles her work life. As a homicide sergeant for the Phoenix, Arizona Police Department, she has one of the highest solve rates in America. Her success leads her chief of police to assign her a serial killer case. Some sicko the press calls the Beholder is killing beautiful women. Her chief describes the case as "a career maker or breaker, get me?" She has an ex-husband she still cares for, but who was bad for her and her ten-year-old son. Her widowed mother who lives with her is both a blessing and a trial. And, oh yes, her ex-husband has married an extremely wealthy and politically connected woman who cannot give birth. So, Maddie's...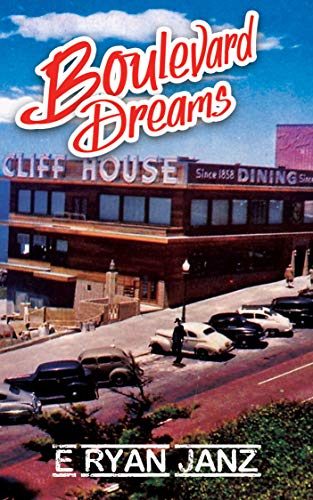 Boulevard Dreams
$

13.99
Private Eye, Joe Nails, has a problem. In this intelligently written, and darkly comic, anti-noir mystery set in the smoky world of 1958 San Francisco, Joe experiences a series of surrealistic yet disturbing dreams, in which his once best friend pleads for Joe's help, before turning a gun to his own head and firing. To ease his lingering doubts, Joe sets out to locate him, only to discover he disappeared without a trace weeks before the dreams began. But Joe now wants answers, and thereby becomes embroiled in an encircling noose of confusion, passion, anguish, and deception. Joe Nails has a problem all right, an entire shopping list of them, but as he speeds down an unrelenting road of murder and desperation with no off-ramps, he just may solve a few…providing the approaching .357 yearning for another victim allows it.
Murder at the Filmore (A Virginia Holmes Cozy Mystery)
$

0.99
A murder has occurred at the Filmore Hotel, one of Madison, Wisconsin's most discreet lakeside resorts. It looks cut and dry: a suspect fleeing the scene, a scorned wife, a mythical murder weapon. But then a retired detective by the name of Virginia Holmes arrives. There's more to this mystery than meets the eye ... and the murderer might still be inside the hotel.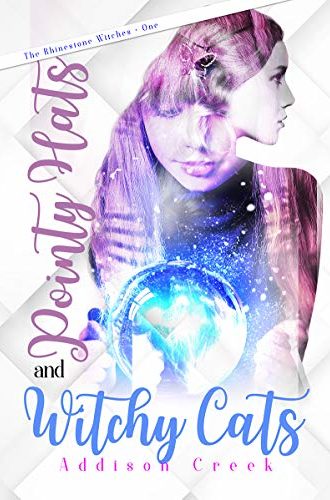 Pointy Hats and Witchy Cats (The Rhinestone Witches Book 1)
$

0.99
Jade Rhinestone is not looking forward to her stepsister's extravagant wedding. Her only consolation is that once the wedding was over, Bailey will be someone else's problem. The wedding itself promises to be incredibly dull. On the actual day, though, something incredible happens. An old woman disrupts the ceremony. Then she tells Jade that she's her long lost grandmother and asks Jade to go away with her to an unspecified destination. Now Jade has a choice to make.As it turns out, there really isn't much time for choosing, and off Jade goes to the magical town of Twinkleford, where witches mix with vampires and chameleons are as common as they are . . . anywhere. But not everything is as it seems, and as Jade learns more about who she truly is, what that means, and who she has already lost, she realizes that keeping her newfound family might be...
Deal Gone Dead: A Lily Sprayberry Realtor Cozy Mystery (The Lily Sprayberry Realtor Cozy Mystery Series Book 1)
$

10.99
Meet Lily Sprayberry. Selling homes is her career. Solving crimes, her calling. There's money buried somewhere on Myrtle Redbecker's property, and people are dying to find it.Literally. When Bramblett County, Georgia's number one realtor, Lily Sprayberry, finds her cantankerous older client dead on the kitchen floor, she lands herself smack dab in the middle of a long-running property battle and a one-hundred-year-old rumor. Lily made a promise to sell Myrtle's land, even if Myrtle wasn't alive to sign the papers. But whoever wants that money is determined to keep the property from selling and will do whatever it takes to stop Lily from closing the deal. Including murder. Now that Lily's got the killer's eyes on her, can she keep her promise to her deceased client, or will she wind up another victim in this deal gone dead? If you like charming, small town, Southern cozy mysteries, you'll love book...
Punish: A Dark Captive Romance (Protect Book 2)
$

11.99
A dark tale of obsession, beauty, and lust! Wall Street Journal, USA Today, and Amazon Bestseller Vivian Wood writes dark romance as OLIVIA RYANN.Stolen and abducted… yet in the same stroke, saved.On one hand, I escaped certain death at the hands of people who have already hurt me.On the other, now I'm trapped with him.The rival of my abuser, who is every bit as terrifying. Dark and sinfully handsome, he wants me.He wants me to turn my back on the religion that has raised me.He wants me to spread my legs for him and him alone.He wants to punish me. He wants to teach me to like his lessons.Or else he'll kill my little sister and turn me over to the men who controlled me before.Either way, I will have to make sacrifices. Sacrifices that have lasting consequences.I walk on the knife's edge between falling prey again and completely losing...
Bound Through the Ashes (Bound Series Book 1)
$

13.99
He had managed to kill both men, and from a distance. If he wanted me dead, I imagine I would be….Lorena has found herself in the middle of a robbery, an odd one at that. The time she came from is no longer, the elder woman she ran into had sent her back. Sent her back in time. How was it possible? She didn't know. What she did know was she wasn't safe. The man before her, Alexandre, had arrived just in time. She had a decision to make, an important one. Should she try to find her way home, or should she go with the man who'd saved her life?Bound Through the Ashes is the first book in Danelle Nelson's Bound Series. Join Lorena on an adventure of a lifetime, navigating through uncharted territory. Love, adventure, and time travel awaits, scroll up to start reading today. Disclosure: Bound Through...
Hate Loving You
$

2.99
I gave him my virginity and he broke my damn heart.Now he's back in town for my big brother's wedding.And we're stuck in this chapel together.Still the same ol' Carter.Cool with a capital "C".Enough swagger to charm the panties off every cheerleader.Well, my panties aren't going anywhere.What he did to me was unforgivable.Or so I thought.He's still my enemy.But maybe we can be... frenemies?
No Time for Loving (Time for Love Book 2)
$

11.99
Since taking over the family business after the death of her father, Sarah Stellers has become a master organizer and super delegator. But when her Aunt Lori calls in a panic to say her landlord is evicting her from her apartment, delegating isn't an option. Sarah must fly to remote Elizabeth Lake and help her beloved aunt.But she's not prepared for a terrifying, white-knuckle flight through a blinding snowstorm, or for the pilot to drop her off in the middle of nowhere. She's also not prepared for Aunt Lori's sexy landlord, Alex Candon, who is also the town mayor, hockey coach, and master of the laid-back lifestyle. Alix is friendly, easy-going, and endlessly reasonable, until it comes to Sarah's Aunt Lori, whom he accuses of creating chaos in his version of paradise.