Taking Civility Out of the Box: The Insanity of Incivility and What Can Be Done About It
$

8.95
Offering a thorough, yet concise discussion of the epidemic of incivility afflicting America, the author challenges readers with simple, practical suggestions at the end of each chapter that can have an impact on the problem. Her granular examination of the thought processes feeding this plague of incivility and disrespect invites serious reflection. The author's perspective is based on Christian principals and pulls the effectiveness and practicality of Jesus' teachings on relationships into sharp focus. The author offers no apologies for calling on the Christian community to reassess their perceptions on issues facing our country. For those of us who are disturbed by what's going on, she makes her case for an about-face attitude adjustment in the way we relate to others, especially those who are "different" or think differently from us. The book warns of the impending danger to our society if we accept the status quo of contempt and...
Blood Hunger (Deathless Night Series Book 1)
$

11.99
Book 1 of L.E. Wilson's Deathless Night series. Series Complete!"The sexual chemistry between Nik and Emma is super hot. And Nik's bromance with Aiden is freakin' adorable and hilarious." - Romance Rehab"In the world of paranormal romance, there aren't many new plots. But this blurb managed to stand out from the unwashed masses, and surprise, surprise: so does the book." - Knockin' Books"I am so in love with these vamps!!" - Amazeballs Book Addicts"Oh, man! Holy chocolate fudge - what did I just read?! I may not be a vampire fanatic - in fact, I prefer shapeshifters to those blood suckers - but wow! L. E. Wilson just proved there's hope yet for their kind with the first book of her Deathless Night series, Blood Hunger! And let me tell you, this statement is very heavily based on her talent!" - Online Book Club ReviewsDescription:A vampire must claim his mate or die.Nikulas Kreek...
Billionaire Seeking Bride #1 (BBW Alpha Billionaire Romance)
$

0.99
Vicki Loom works as a janitor in a large office building. It's a lonely job made bearable by the company of her cantankerous old coworker, Tom. She dreams of a better life in the arms of a sensual lover, but has little hope with her line of work and hefty appearance. All that changes when a flier floats her way about an open secretary job in the upper echelons of the office building. She is interviewed for the job by the CEO of the company and finds herself the object of his lust-fueled needs. Her mind tells her it can't be true, but her body aches for her lustful dream to become reality.** Billionaire Seeking Bride #1 is a stand alone, steamy romance with no cliffhanger. **
The Sea's Rough Magic
$

15.99
Captain Aaron Johnson of the Saucy Maid loves his matelot Henry the Lash Stern. When the ultimate treachery aboard a pirate ship happens, Aaron is shocked. Worse are the actions of the new captain, former first mate Angus McSwain. Broken and lost, Aaron is desperate to get free of the mutineers when they take captive Lieutenant James Dunbar of the Royal Navy. Over the few days they have him, Aaron and James fall for each other. When James escapes, he vows to return for Aaron as soon as he can. Unfortunately, years pass. When James finds Aaron and the Lash's adult son Ike, he keeps his word. But will a vow fulfilled mean he loses the love of his life? Can Aaron overcome the years of abuse he suffered and a broken heart to find love again? And will ghosts from Aaron's past bring them both to ruin?
HOW TO GROW MARIJUANA: INDOORS AND OUTDOORS 6 BOOKS IN 1
$

34.99
Do you want to learn how to become a professional indoor or outdoor grower in the realm of Cannabis Cultivation?Are you ready to learn and implement advanced Cannabis Techniques to maximize your yields?Do you want to comprehend what it takes to grow big buds growing indoors or outdoors?If your answer is yes to any of the above questions, this book is for you!                            >>>   6 BOOKS IN 1 DEAL   <<<This bundle deal contains 3x Indoor & 3x Outdoor Growing Books as follows:Book 1 - Access the Secrets to Grow Top-Shelf Buds (Indoor)Book 2 - Advanced Cannabis Growing Tips (Indoor)Book 3 - High-Risk Cannabis Boosting Techniques (Indoor)Book 4 - Guerrilla Growing Techniques & Strategies (Outdoor)Book 5 - How to Identify & Fix Issues To Maximise Yield (Outdoor)Book 6 - Step-By-Step Guide for Successful Harvest (Outdoor)BUY THIS BOOK NOW,...
Keto diet , 3 weeks ( change your body )
$

14.99
Ketogenic diеt givеѕ you, thе hеаlthу wау to burn fаt аnd kеер it off real. This book has all that you needed to make it happen or get started, we have discussed all in here. You will find this book interesting and easy to understand, all your answers are in here, so go get it for yourself and start enjoying your life. Remember a keto diet offers a healthy way to burn fat, experience weight loss within weeks, and most importantly, the weight that is lost will stay that way.★★Also, buy paper version, kindle version will be free for you !★★
The Lost and Found Journal of a Miner 49er: Vol. 2
$

11.95
In 2017, Jack Dublin released the first volume of 19th Century journals unearthed from the Grand Canyon. Now, the Miner 49er returns in Vol. 2, revealing a past that may force historians to rewrite their books! Brace yourself for adventures stretching from the Sea of Job to a vast world beneath the American continent where life is familiar but nothing is what it seems. Meet Dino Garosello, a carnival barker bound to a ghost town with a terrible secret; and Jason Kittridge, a bandit so ruthless his name was blotted out of every history book. Is it truth stranger than fiction, or fiction stranger than truth? You decide on this epic quest!
Hercules Finds His Courage: early reader book for kids ages 6-8 (Taki & Toula Time Travelers 1)
$

8.99
Two modern-day children. A pair of old shoes. And a time-traveling adventure.Join Taki and Toula as they're launched back to the days of Ancient Greece. When an angry bull shows up and threatens to ruin their experience, Taki and Toula panic. Coming face-to-face with an angry bull was not part of their plan. They're so relieved when Hercules the Great shows up. But it turns out he is more scared than they are. How will Taki and Toula help Hercules find his courage and tame the Cretan Bull?Laugh along as Taki and Toula create history. Greek mythology has never been this much fun!A full-color Easy Reader book ideal for children aged 6-8 years old. Or a great read-aloud book for younger children.A wonderful story to help children learn how to be brave and believe in themselves. A great introduction to Greek mythology for younger children. It also helps children recognize​...
Mommy, Where Does Tiger Live?
$

12.00
Mommy, Where Does Tiger Live? is a rhyming story of a curious, little boy who asks his mom many questions about Tiger. He learns all the wonderful things Tiger likes to do. The young boy plans to invite her over to play.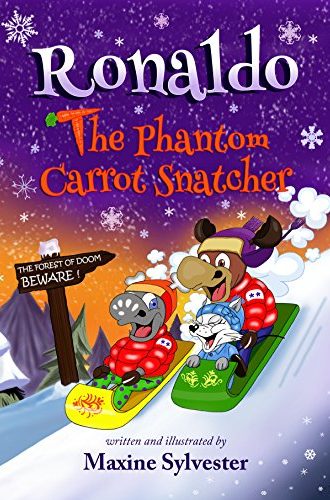 Ronaldo: The Phantom Carrot Snatcher (Ronaldo the Flying Reindeer Book 2)
$

2.99
"An amusing and enchanting tale of friendship and sacrifice." Top flying cadet, Ronaldo, and best friend, Rudi, embark on a superhero mission to help a lost wolf cub find her family.Rudi comes up with a brilliant plan to locate the wolf pack during the next speed test at flying school. But Ronaldo doesn't like the idea. He's desperate to break the speed record... and become the fastest flying cadet in history!Will Ronaldo fly for fame and glory - or will he realise the importance of friendship? "This is a charming children's book that will entertain your little ones and tickle their funny bones." "A heart-warming story, full of action and adventure." "Sylvester has created a lovely winter wonderland with interesting characters."