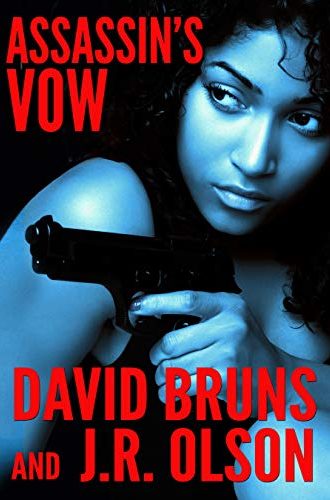 Assassin's Vow: An Espionage Thriller Novella (Standalone Suspenseful Short Reads Book 4)
$

0.99
Her first vow was "I do."Her second vow was to hunt down her husband's killer.Rachel Jaeger planned to become a linguist, not an assassin, but it works for her. For the first time in her life, she has true love, meaningful work, and a bright future.That bright future explodes when her husband is captured on a mission. Heartbroken and lost, Rachel throws herself into her work, becoming the angel of Death to those unlucky enough to cross her path.Finally, Rachel has a chance to go after her husband's killer. But first she must face a much more formidable opponent.Herself.Follow the roller-coaster origin story of covert agent Rachel Jaeger as she battles her inner demons and murderous terrorists in this stand-alone prequel to The Pandora Deception, a national security thriller from the two US military veterans.
The Omega Sanction: A mystery crime thriller (Ben Drummond Book 1)
$

11.26
A bank vault beneath London stores a secret more precious than gold. When ex-soldier and security specialist Ben Drummond receives a late-night phone call from Britain's National Crime Agency requesting his aid, he finds himself pitched into a deadly investigation: six tonnes of gold is missing from one of London's biggest bullion banks and a guard brutally murdered. How the gold was stolen from one of London's most secure vaults, deep beneath the River Thames, is a baffling mystery.As Drummond and a high-ranking NCA agent, Alex Fern, begin to sort through the bizarre series of clues left behind, they soon discover that the bank vault beneath London stores a secret more precious than gold: a conspiracy bigger and more dangerous than they could ever have imagined. A secret that people will kill to protect.The Omega Sanction is a fast-paced mystery thriller with more twists than the London Underground.
The Snowman Killer (Alaska Cozy Mystery Book 1)
$

7.99
A new small town. A new cozy life. And a new beginning.Sarah Garland, a retired homicide detective who's gone through a painful divorce, seems to have found her peace at last, as a coffeeshop owner, in the sleepy (and freezing) small town of Snow Falls, Alaska. What she didn't expect, was for her past life to catch up with her. Or, for her new life as a mystery writer to inspire a deadly killer to target her.Yet, when the killer leaves a frightening clue-a creepy snowman, donning a leather jacket and eating a peppermint candy cane, left in front of her cabin-Sarah begins to suspect Conrad Spencer, the new detective in town, who is pursuing a murderer of his own. Soon, it becomes obvious that the sleuths would have to join forces, in order to catch the killer.Sarah and Conrad must put their tragic pasts behind them and find out...
Sliced Up: A Cozy Murder Mystery
$

0.99
All Piper Carson wants is a fun night out on the blind double-date her friend Aria arranged. A chance to unwind and spice up her boring life of all work and no play. Instead of the hoped-for heat of a jalapeno, she gets a shocking dose of cayenne when murder shakes up her world.When Piper's date ends up at the top of the suspect list, she's torn between her sizzling feelings for him and fear of what she might discover as events pull her into a mission to clear his name. But he doesn't make that mission easy. It's a recipe for disaster.And Piper's family doesn't make it any easier on her, laying down responsibility after responsibility. She feels like she's been placed under the broiler with their unending demands as she struggles to sift through the clues.And when Piper gets too close to the killer, the temperature rises from...
The Desiderata Gold (The Blind Sleuth Mysteries Book 9)
$

11.50
A Mystery Spanning Millennia — In 1992 Daisy Hayes had inherited Bottomleigh House and was struggling to keep it afloat financially. Then she got a letter from an archaeologist asking her to help make sense of a mysterious message that had just been dug up in Rome. Time to hook up again with Morag, her deaf friend from the 'project' in 1964, and to go back to the Eternal City.In AD 64, after Feli's death, Desiderata had scores to settle and a 'twin sister' to bury. Her new friends the Christians gave her sanctuary, but her relationship with them was a bit strained. Soon the 'Community' and their blind protégée had to part company. Eventually, assisted by her uncle Balbus, ex-centurion of the X Fretensis legion, she found a path out of her troubles, and helped him search for a stolen treasure.So, 1928 years later, Daisy went looking for a...
Meant to be Kept (Meant To Be Series Book 1)
$

14.99
One night. One too many drinks. One mistake. That's all it took to derail my marriage. Now, all I can do is beg for a second chance. To try and redeem myself in a bid not to lose the love of my life. I'm determined to use every second, every moment I have to show my wife how much she means to me—to rebuild the trust I shattered.But the harder I try, the more I start to realize our marriage had fallen into a routine of complacency and misplaced priorities long before my indiscretion. Isabelle is a strong, passionate, beautiful woman—a wife who has sacrificed so much for me. I just hope it's not too late for us, and that I'll be able to convince her that our love is meant to be kept.
Designer Dirty Laundry: A Fun Fashion Mystery (Style in a Small Town Mystery Book 1)
$

15.00
She expected the fashion industry to be ruthless. She wasn't prepared for it to turn deadly.Ready to redesign her life, style expert Samantha Kidd accepts a job in her Pennsylvania hometown as a trend specialist. But her first day goes completely A-line when she stumbles across her legendary boss dead in the elevator. And after the body disappears, she can't help but pull on the mystery's thread and unravel an entire wardrobe of suspects.Supervising her deceased employer's vogue competition, Samantha tries to hem in a sexy shoe designer and countless ego-driven creatives to stitch together the clues. But when her own name appears on the police's suspect list, the sleuthing fashionista's days on the catwalk could be numbered.Can Samantha put a killer in the spotlight before she's sewn up for a crime she didn't commit?Designer Dirty Laundry is the first book in the feel-good Style in a Small Town cozy...
The Viscount and the Vixen: A Steamy Historical Romance (The Somerton Scandals Book 1)
$

12.99
Viscount Somers is Desperate.All the work that he's done is ruined.One little indiscretion and his family is the laughing stock of the ton.Again.The Deadly Debutante Returns.Rose has agreed to one last Season. The gossip sheets will eat it up, but she doesn't care anymore.If Gideon Somers hadn't come crashing back into her life, everything would have gone as planned. Now, it's a disaster. A disaster she is expected to put to rights.Sometimes the Only Way to Avoid Scandal is to Behave Scandalously.If you like passionate romance with plenty of steam and a sweet happily ever after, you will love The Viscount and the Vixen, Book 1 in "The Somerton Scandals trilogy"Get it now!
Tell Me a Story (The Claire Goodnite Series Book 1)
$

15.99
George Washington Township, New Jersey has seen its fair share of crime and tragedy. Most recently, a young boy is missing from his home and the tenacious Detective Claire Goodnite is eager to find him.But the case is stirring up old memories best left forgotten. When a blast from her own past, FBI Special Agent Wesley O'Connell, turns up, Claire finds it hard to keep old ghosts at rest. And even harder to keep the sexy SAIC out of her case and her bed.Claire Goodnite is the best damn detective in the state of New Jersey and you better believe she's coming for you.
Now and Forever 2, The Book of Danny
$

2.99
Can the newest professor at Kensington State escape his previous life as a killer? Leaving the Army didn't mean the war left him. Scars to his body, heart, and soul haunt him. Capt. Danny Maine seeks a normal life. He struggles to free himself from crippling war memories and dangerous men, hoping that love and a new Glock will bring him peace. Eliza Baines, widowed dean at the university, finally has life exactly the way she wants it, doesn't she? When Danny Maine blows into town, he fires up her hunger for love and affection. Can she throw aside convention to build a life with a much younger man?An engrossing, tale of love, loss, mind-blowing surprises, and facing off against insurmountable obstacles, the Book of Danny will touch your heart. Caution: Occasional cursing. NOW AND FOREVER SERIESCallie's Story (prequel)Now and Forever 1, a Love StoryNow and Forever 2, The Book...