Enemy of Man (The Chronicles of Kin Roland Book 1)
$

3.99
Kin Roland is being hunted across the stars. And some of the monsters that want him are human.Once, Kin Roland was legendary in Earth Fleet. A trooper without peer, a warrior without equal. He led the men and women of his unit across the war-torn world of Hellsbreach against humanity's most feared enemy, the Reapers. Until the day he took a stand. Captured, tortured, and sentenced to death by Void Burial, he escaped and fled to Crashdown, a lost planet lying in the mouth of an unstable wormhole. Now, hidden among the castaways of Crater Town, he's a fugitive, wanted by Earth Fleet and the Reapers alike.A distant space battle propels a ravaged Earth Fleet Armada through the wormhole and a Reaper follows, relentless hunting the man who burned its world. Kin fights to save his new home and learns there are worse things in the galaxy than the nightmare...
It's a God Thing: The Powerful Results of Ministry Evangelism
$

0.99
He who has two tunics, let him give to him who has none; and he who has food, let him do likewise (Luke 3:11 NKJV).A bold leader decided to follow Jesus' teachings, resulting in a powerful ministry that has every member in his congregation serving the poor, the downcast, and the naked. Through this obedience to Scripture, his church grew from a small fifty-member congregation to a thriving, life-filled body of Christ-followers that is active in an astounding seventy ministries today.Learn how your church can follow Jesus today, no matter your budget or how stale your current ministry "programs," and in spite of opposition. Dr. Roesel overcame the overwhelming odds and proved that Jesus' teachings are still valid today.In this book:•Dr. Roesel's ministry – an incredible testimony of Ministry Evangelism•Importance of discipleship – Jesus knew how to build a good foundation•Leadership first – leaders must be pioneers, examples, and overcomers•Money...
Bearly Rivals: BBW Bear Shifter Romance (Bears of Southoak Book 1)
$

0.99
When two rivals fall for the same woman, she must make a choice that will shape the future of their clan.Bailey has given up on ever finding love. So when her best friend sets her up on a blind date, she's more than just a little skeptical. But all doubt is pushed aside after she meets Jaxon, a bear shifter who is everything she could ask for—strong, handsome, and kind.But Jaxon has a rival for leadership of his clan, another bear shifter named Levi who is thrilling and mysterious with an air of danger that draws Bailey in. Levi also becomes a rival for Bailey's affections. She tries to resist him, but the allure is too strong.Things become even more complicated when she discovers the two of them have a romantic history. With passions on the rise, they find themselves tangled up in a vicious battle for leadership and Bailey....
Close
$

2.99
When people think of '60s Britain they think of The Beatles, Twiggy and Michael Caine womanising his way through London. But miniskirts and The Who didn't mean anything to the working man in Scotland. The shipyards are failing, sectarianism still holds sway, and the only thing you have to rely on along the banks of the Clyde is your work, your creed and your family. But with the first two failing and the last one slipping away, what's left to cling to? Close is a story of family and belonging that begins in Glasgow and ends in Australia. It's the story of Jimmy Baxter, a working-class husband and father, a failed footballer and a middling boxer. He wants out of the city – out of his own skin – but his shameful past as an illegitimate child holds him back. Looking for a place in the world he befriends two...
Saving Heirloom Seeds: Saving Seeds Saves Our Heritage
$

2.99
Heirloom Seed SavingGenetic diversity of food crops on earth is eroding and accelerating at an alarming rate. We are losing thousands of years of genetic selection and adaptation. Each diverse genetic strain developed it's own resistance to diseases and local pests. Just how dangerous is this? This is the only resource which stands between us and catastrophy. Learning how to collect and save seeds is easy and fun. In this guide you will learn step by step in the seed saving process. You will also get some great advice on harvesting, proper storage and caring for this seedlings. This guide is great for gardeners at any experience level, this information is sure to keep your plants healthy for generations. More likely than not, you only have a week's supply of food in your home. Only a small percentage of people are more prepared. Even they are not prepared to survive long...
Spice It Up!: The Best Spice Mixing Recipes from Around the World
$

2.99
Spice Up Your Life! A Tour Of our Best Spices Mix from Around the WorldDownload FREE with Kindle Unlimited!How wonderfully clever nature is in that within its very seeds, roots and barks lie hidden an orchestra of flavors and when used efficiently provide us with an array of tantalizing tastes. In Spice It Up, we have collected spice blend recipes representing distinct regions around the world. The great thing about these recipes is that for the most part there aren't too many wild, unusual ingredients, but rather it is the combination of ingredients that the flavors differ.Inside find the basics of using spices, including: •what are spices•a description of the most common spices with the best uses and pairing,• a brief history of spices, •The many health benefits, •how to buy spices, •how to store spices, •how to mix spices.Create the best spices mixes from: •Africa like the Egyptian Dukkah...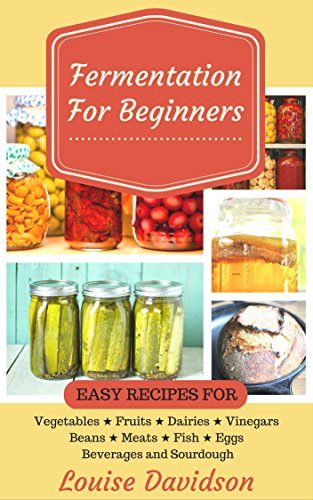 Fermentation for Beginners: Easy Recipes for Vegetables, Fruits, Dairies, Vinegars, Beans, Meats, fish, Eggs, Beverages and Sourdough
$

2.99
Fermentation at home made easy to reap all the health benefits of fermented food and beveragesFermentation has been used for thousands of years as a mean of preserving food longer. But fermentation is much more than food preservation! Fermentation facilitates the breakdown of food making it easier for our digestive system to absorb the nutrients. There are many advantages of including fermented foods and drinks in our diet. These include: increasing the good bacteria into your digestive track, aiding digestion, alleviate several ailments and more.Fermenting food at home is easy. All you need is a good recipe to follow and some time to let the flavor develop. Plus, fermenting food at home requires little equipment and is budget-friendly. Inside this book, learn:•How fermentation works and why ferment at home•The health benefits of fermented foods and beverages•The key elements for a successful fermentation•Lots of fermented food and drink classic and new...
Jams and Jellies Recipes for Everyday Use: 30 Canning and Preserving Recipes for The Best Spreads
$

2.99
The solution to finding the right flavor and ingredients for my jams and jellies was to make them myself. This cookbook is a mixture of these recipes I found simple to make and scrumptious to eat. Most of these entries are for small batches that won't take up a lot of space in the refrigerator and will last for a few weeks to a few months. Most of these recipes mention pouring the jam or jelly into sterilized jars and storing them from that point. I use a simple canning method called the 'boiling water method' and is available to anyone with limited equipment.
Deception: Missing … Presumed Dead (When Darkness Falls Book 2)
$

2.99
Their parents paid the ransom — the kidnappers released one child.Haunted by her sister's desperate cries, Tess Howard spent twenty-four years searching for Rhona. Now, reunited at last, the sisters unearth a mystery that could cost them their lives . . . and the life of the one man who knows their dark secret.Written for the General Market (G) (I): Contains little or no; sexual dialogue or situations or strong language. May also contain content of an inspirational nature.