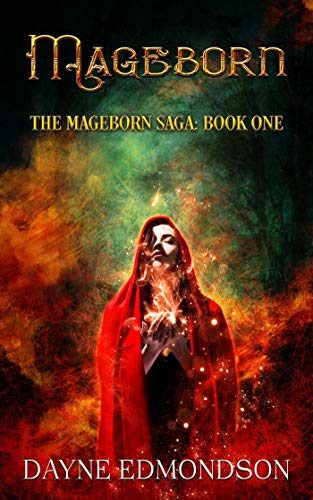 Mageborn (The Mageborn Saga Book 1)
$

14.99
Emma was a normal teenage girl before her twin nearly burned her to death. When Emma and her brother discover they have magic, they are visited by an archmage of a school for mages. They embark on a journey, but it becomes fraught with peril as a deranged cult captures them. Using every trick in their book, and with the help of unexpected allies, they struggle to not only survive in the wilderness but foil a dangerous plot involving a world-ending artifact. Can Emma and her allies overcome overwhelming odds and stop the cult before it's too late?The first book in a new series by author Dayne Edmondson, "Mageborn" takes place twenty years after "Shadows Fall" and features cameos from characters past.Read now to jump into the adventure.
Orson: The Lucid Chronicles
$

9.42
In a world of dwindling natural resources and looming Mega Corporations. Orson Blake, a miner, a single payroll number amongst billions wins the relocation lottery. A one way ticket to the simulated off world paradise that is the Jupiter Eclipse. Living out the rest of his days with the rich and famous isn't quite on the cards for Orson just yet. The lottery holds a dark secret and our miner soon finds himself not fighting for his spot on the Eclipse, but fighting for his very life…
The Time Machine (Enriched Classics)
$

2.69
The Time Traveller (for so it will be convenient to speak of him) was expounding a recondite matter to us. --This text refers to an alternate Kindle Edition edition.
The Eden Paradox
$

9.99
In 2063, Earth's overheated climate and war-ravaged cities are near breaking point. A new habitable planet is discovered within reach, but the first two missions have failed to return. This is the story of the third mission to Eden.What really awaits the crew of four as they make the long journey to this supposed uninhabited virgin planet, and what is the link to the secret 900 year old sect known as Alicians back on Earth? While Blake leads the Eden mission, a young researcher named Micah discovers a terrible truth that threatens the very existence of humanity. Editorial Reviews:A science fiction thriller with terrific images and revelations. SF Author Gary GibsonThe reader is pulled into an all too real future, with memorable characters, leaving the reader craving more. Lydia Manx, Piker PressAmazon Reviews:★★★★★ Superb, well-crafted, quality Scifi. I immediately bought book two in the series!★★★★★ This is Orson Scott Card...
Small Orange Fruit
$

7.03
If reincarnation were fact, would you be guaranteed rebirth on the same planet? The Department of the Afterlife on Aleya has a lengthy history of reincarnation errors, and for a 23-year-old waitress named Suzan, death didn't go as expected. In fact, it went downright wrong; she found herself being redirected in a "go towards the light—no wait, actually not that light, go down the hall to the left and go to that one, past the fountain" scenario and ended up on planet Earth. Gilbert Chalk's new neighbor isn't exactly your average girl next door; she's from the universe next door. Until the auditors of the afterlife correct their mistake, Suzan is left with nothing but time to find out what it means to be alive, to be dead, and to use a West Texas food truck as an interplanetary mobile phone. Gilbert discovers a bizarre connection to Suzan's home planet,...
The Queen of Xana
$

10.95
The Queen of Xana is an adult fairy story, not for children, and a political allegory.  In the mythical land of Xana, Queen Julia governs as a typical medieval monarch in which the country's vast wealth is concentrated in a tiny aristocracy. Her daughter, and heiress to the throne, Princess Agatha, is champion of the impoverished commoners. The evil sorcerer Magi comes to Xana, kills the queen, and ravages aristocrats and commoners alike. Princess Agatha is protected by her fairy godmother, who declares that she can save her people only if she identifies her handsome prince incognito in the crowd on her very first try and makes love to him. She will not have a second chance. She succeeds by being alert when an extraordinary event happens. Then she asserts her right to rule instead of disappearing into pampered obscurity like most fairy tale princesses.  Queen Agatha now concocts one...
The Quantum Door (The Quantum Worlds Book 1)
$

12.35
Discover what lies beyond the Quantum Door. The mysterious woods behind Brady and Felix's house have been deserted for years. But things change when a fence goes up and the brothers notice strange things happening at night. From the moment they dare cross the fence, the brothers enter a world of dark technological secrets that will rock the foundation of everything they know to be true. And once they enter, there's no turning back. Some places are better left alone...
Amanda's Eyes (A.J. Gregson Novel)
$

13.99
Waking up is the pits when you come to in a hospital with a broken arm, a colorful assortment of abrasions and contusions, and a face swathed in bandages. It's even worse if you can't remember what hit you.The bad and the ugly are crime reporter Amanda "A.J." Gregson's business. But learning she had a ringside seat for an explosion that vaporized two federal agents, incinerated an entire block of warehouses, and peppered her eyes with so much shrapnel they had to be surgically removed? Well, that gives the darker side of life a whole new meaning.Haunted by will-o-the-wisp nightmares, A.J. waits for her transplant and struggles to remember the events leading up to the fateful night of September 4, 2075. She isn't the only one who wants that information. Special Agent Jack "Iceman" Eagan is as determined to get the facts as she is to remember them. When memory...
Cast In Blood: Revelations Series Book 1:
$

12.95
An unknown force threatens Heaven and Hell, along with every soul on Earth. Three unlikely heroes join together to restore universal balance. Will their shared adversary initiate an Apocalypse before they're able to uncover the truth, or will they rise to a calling that has, from the beginning of time, been Cast in Blood?
In one fell swoop
$

17.99
Every now and then Mother Nature likes to show us who is boss. On a hot day in June, two groups of campers disappear in the Green Swamps of Florida. The wood is still burning in the bonfire, all their belongings are abandoned, and there is blood at the campground. But not a single body is found. Patty McGee, the grandmother to one of the missing campers, sets out to find out what happened to her grandson, thinking his father might have kidnapped him. However, soon she realizes she is up against a force way more powerful than that. It's a battle even she can't win. From the Queen of Scream comes a scary, yet humorous tale of man's battle against nature. In One Fell Swoop is a compelling and clever story, as only Willow Rose can deliver.Fans of Stephen King, Blake Crouch, Paula Hawkins, Kendra Elliot and Robert Dugoni...