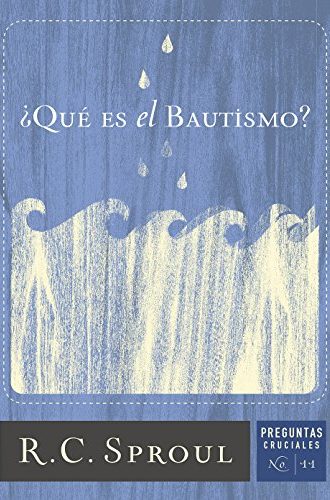 ¿Qué Es el Bautismo? (Spanish Edition)
$

0.99
El bautismo es una enseñanza bíblica y ha sido practicado por siglos; con todo, las interrogantes acerca de su modo y su relevancia han ocasionado que incluso muchas iglesias evangélicas subestimen su significación. El Dr. R. C. Sproul afirma que esto no debería ser así. En este librito de Preguntas Cruciales, él sostiene que el bautismo, uno de los dos sacramentos de la iglesia cristiana, es un signo y una señal del pacto de gracia, y por lo tanto es una práctica necesaria y significativa que debe ser valorada en la iglesia.
¿Puede la oración cambiar las cosas? ` (Preguntas Cruciales) (Spanish Edition)
$

0.99
¿La oración marca alguna diferencia? ¿Cambia realmente las cosas? En este libro de Preguntas Cruciales el Dr. R. C. Sproul dice "sí". Aun cuando no podemos esperar que nuestra oración haga que Dios cambie de parecer, obligándolo a actuar contra su voluntad, podemos estar seguros de que la oración efectivamente cambia las cosas, incluido nuestro propio corazón. Además, es uno de los principales medios por los cuales Dios lleva a cabo su voluntad en el mundo. Por estos motivos, aduce el Dr. Sproul, la oración ocupa un lugar vital en la vida del cristiano. En breves capítulos envueltos en sabiduría práctica, él descubre el propósito, el patrón, la práctica, las prohibiciones, y el poder de la oración, llamando a los cristianos a venir ante la presencia de Dios con gozo y esperanza.
¿Cómo debo vivir en este mundo? (Spanish Edition)
Los cristianos anhelan hacer lo que es correcto. Pero en ocasiones puede ser difícil saber qué es lo correcto. Además, no son solo las grandes peguntas con las cuales debemos enfrentar los dilemas éticos las que nos confrontan cada día en cada aspecto de nuestra vida. ¿Sobre qué se fundamentan esas decisiones? En este libro de Preguntas Cruciales, el Dr. R.C. Sproul sostiene que la Biblia es la fuente suprema para la orientación ética. Lo anterior no significa que esta contiene un "Haz esto" … o un "No hagas esto" para cada situación, pero sí provee principios éticos. Con su marca de sabiduría y minuciosidad, el Dr. Sproul explica cómo podemos descubrir y aplicar estos principios.
A Dance of Dragons: Series Starter Bundle
$

0.99
**More Than 500 5-Star Reviews for A DANCE OF DRAGONS On Goodreads!**"If you want to set out on a journey, read this." - We do Write"Mind. BLOWN." - Spiced Latte Reads"Wow. My more extensive review: Just wow." - Brooke BlogsAn ancient evil awakens.Three unlikely heroes rise.An age of myth is reborn.Try the A DANCE OF DRAGONS series today, perfect for fans of Sarah J. Maas, Kristin Cashore, and Tamora Pierce! This bundle includes the prequel novella, The Golden Cage, as well as the first full-length novel, The Shadow Soul.~~~THE GOLDEN CAGE (A Dance of Dragons #0.5)In the land of Ourthuro, cruelty is a way of life. The king rules with an iron fist and no one dare defy him--no one except his daughter. Princess Leena is keeping a dangerous secret, she has fallen in love with a soldier and it would mean both of their lives if her father ever...
Soul (Chaos Series Book 1)
$

0.99
A novel inspired by the short story collection, One Night with the Fae. Soul is the first in a brand new series by Claire Farrell.Cara Kelly's life is going nowhere when she's lured to a faery festival. There she sees darkness and magic, madness and lust, and she comes out the other side with new eyes and an addiction to the fae.When the faery who saved her life returns to her, Cara knows there's something wrong. Two souls exist in one body, and both need her, but to help one, she'll end the life of the other. At first, her mind is made up, but both souls know how to charm her.As the days pass, it becomes clear that the faeries need a leader, and Cara finds herself sucked into a world where morals don't exist. The truth of her past is hidden in the magic, but all Cara needs...
¿Puedo conocer la voluntad de Dios? (Spanish Edition)
$

4.99
En este libro de Preguntas Cruciales, el Dr. R.C. Sproul expone principios eternos que te ayudarán a descubrir y aplicar la voluntad de Dios en las decisiones cotidianas. Él ilustra cómo estos principios deben influenciar dos de las decisiones más significativas que enfrentamos en la vida ─La elección de una carrera y la elección de un cónyuge. Este libro es una guía valiosa para aquellos apasionados por seguir a Dios.
How To Build Your Successful Online Teaching Business (Online Entrepreneurship Book 1)
$

2.99
Free video training for would-be online teaching business owners – get the secret online teaching strategies I used to generate over $50k teaching what I love without spending money on ads. => yourfirst1kstudents.com (copy and paste that into your browser)(The Content Is Updated For 2017)Do you want to monetize your knowledge? Chances are, you have knowledge in your head that's worth tens of thousands of dollars.Do you want to turn your passion into passive income streams?Do you want to build an online teaching business with little to no investment up front?Do you want to become an entrepreneur?Do you want to work from home?If you've answered "yes" to even one of these questions then reading this eBook may turn out to be the best decision you've made this year!The ultimate purpose of this training (eBook, PDF files, 3 in-depth video sessions) is to teach you how to start your online teaching...
The Daily Walk Bible NLT: 31 Days with Jesus
$

2.99
Most people agree that Jesus was an amazing teacher and someone we could all learn from. At the same time, most of us have spent little time actually reading his story. The Daily Walk Bible NLT: 31 Days with Jesus is an open invitation to do just that. In just one month you will read through all four gospels, seeing Jesus and gaining insight into his purpose and message for us.This special eBook, taken from the pages of The Daily Walk Bible, includes a simple reading plan to help you through. Each day includes an Overview that provides a bird's-eye view of that day's reading, an inspirational and practical My Daily Walk devotion, and an Insight that offers an interesting fact about the passage. Every seventh day you will be invited to pause and reflect—looking back over what you have read, looking forward to what is coming, and most importantly...
Pink Little Lady Amigurumi Crochet Pattern
$

0.99
Crochet pattern to create a pink little girl doll. The doll can be made using any yarn you wish. Choose a hook size that matches the yarn. Materials which you can use: (not included): 1) 3.00 mm hook2) 4 ply yarn (cream, pink, dark pink and red) 3) Mohair yarn (light pink for hair) 3) Black embroidery floss4) Polyester fiberfill5) Two 4 mm black beads for eyes or other eyes as desired6) Tapestry needle8) Sewing needle and thread for attaching eyes Size: Pink Little Lady is 4.5 inches/ 11.5 cm high (excluding the rabbit ears)Disclaimers:- Please note that with the Kindle the pattern cannot be printed. If you use Kindle for PC on a desktop computer this might be inconvenient. Also note that this pattern is available for free on my blog. It's sold in the Kindle store as a convenience for those who like to download it onto their...
Minecraft: Battle of Legends Book 1 (An Unofficial Minecraft Book)
$

2.99
MINECRAFT - BATTLE OF THE LEGENDS Wanna see some nail biting, pulse racing action!! Don't wait. Grab this book!!This is the ultimate saga where 'Minecraft Ninja' & 'Minecraft Agent' series merge together. It is one of the rarest adventure that happened in the world of Minecraft.Get ready for jaw dropping, exhilarating, fast paced story with enough twist & turns to keep you interested till the end and on top of that this is just the beginning!!