Children of Blood and Bone Sneak Peek
Download a FREE sneak peek of CHILDREN OF BLOOD AND BONE!Tomi Adeyemi conjures a stunning world of dark magic and danger in her West African-inspired fantasy debut.They killed my mother.They took our magic.They tried to bury us.Now we rise.Zélie Adebola remembers when the soil of Orïsha hummed with magic. Burners ignited flames, Tiders beckoned waves, and Zélie's Reaper mother summoned forth souls.But everything changed the night magic disappeared. Under the orders of a ruthless king, maji were killed, leaving Zélie without a mother and her people without hope.Now Zélie has one chance to bring back magic and strike against the monarchy. With the help of a rogue princess, Zélie must outwit and outrun the crown prince, who is hell-bent on eradicating magic for good.
The Testing Guide (The Testing Trilogy)
$

1.12
In the scarred and war-battered United Commonwealth, ten-year-old Cia Vale watches her older brother Zeen dream about being chosen for The Testing. He's graduated at the top of his class, and being chosen, like his father was before him, means a chance to attend The University and help lead the effort to revitalize postwar civilization. Cia is conflicted—she hopes Zeen is chosen, but dreads him leaving home. She also realizes that one day she too must set her mind on being chosen. But does she realize the deadly path she will have to take?   THE TESTING GUIDE is the short story prequel to The Testing, the first novel in the stunning and epic Testing trilogy.
Shadow Hunters (Shadow Hunters Trilogy Book 1)
$

2.99
Alex Garretty is forced to start over– new town, new school, and new name. This much she knows. It's what she doesn't know that could destroy her. Alex is yanked from her home in the middle of the night. Her entire family is moved across country and given new identities. Just when she thinks it can't get any worse, she meets Daniel– her mysterious, charming classmate. It isn't long before she learns that she isn't the only one keeping a big secret, but Daniel's secret could cost Alex her life.When a visitor from her past arrives in town, Alex must quickly learn who she can trust. As she discovers the truth about her destiny, Alex must find a way to accept it and even more importantly, a way to survive.***Shadow Hunters was previously released as The Shadows under the pen-name H.J. Keane
Grimm's Fairy Stories
This book was converted from its physical edition to the digital format by a community of volunteers. You may find it for free on the web. Purchase of the Kindle edition includes wireless delivery.
Celt: The Journey of Kyle Gibbs (A Kyle Gibbs Action Thriller – Book 1)
$

0.99
The race for the last of the planet's resources has begunLord Francis Butler ruthlessly leads a group of billionaire businessmen in their quest to control the last of the planet's resources. Driven on by the discovery of a methane release that could alter the world's sea-level, with catastrophic consequences, they will stop at nothing to secure their wealth and fortunes. Will their actions help the world to preserve the remaining resources, or are their motives more sinister?Sergeant Kyle Gibbs is a disgruntled Scotsman, who after serving as an SAS team leader for a disintegrating British Government, jumps at the opportunity to become a mercenary for this secret Billionaires Club. After a failed incursion into an oil-rich country, Gibbs, and his team are left at the mercy of the African Continent as they scramble to get back to England and find out which one of their paymasters set them up to...
The Forbidden Army (The League of Planets Adventure Book 1)
$

0.99
For fifty years the Human Alliance and the Krokator Star Empire have been locked in a cold war, neither side willing to return to the open conflict that raged for centuries. Though uneasy, the peace has been amicably maintained--until terrorist attacks against both powers, leaving the Alliance's capital shattered and the Emperor dead, threaten to reignite hostilities.From the Alliance, the task of hunting down the perpetrators falls to intelligence officer Major John Gresham, whose background offers not only insight into galactic terror cells but also anonymous access to the labyrinthine defense establishment. The Empire sends Akgu Zurra, unquestioningly loyal and determined to hunt down those who murdered his sovereign. Their investigations lead in the same direction, forcing the two into unwelcome cooperation as they try to disrupt the network of their common enemy.But that enemy, known only as the Forbidden Army, isn't just a well-organized group of malcontents from the...
The Envelope (Texas Hearts Book 1)
$

0.99
Two teachers…a five-year-old girl…an old envelope. All intricately connected, answering prayers that they don't realize they've been praying…*********************Sheila is determined to follow the call of God on her life. But in her heart of hearts, what she most wants is peace about a tragic situation that tore her family apart several years ago.Then Hank shows up as the new teacher at the school where Sheila works. They are an unlikely match…until one of Sheila's students disappears without a trace. When Hank volunteers to help to find her, the two become fast friends – and eventually, more.But when Hank discovers that Sheila is hearing the very same call that Hank has rejected, he pulls away. But a mysterious envelope that Hank has forgotten about turns out to be an intricate and shocking connection between both their tragic paths. Will this connection be enough to bring them back together?This is the first...
The Spider Diaries (Book 1): The Eight-legged Monster (An Unofficial Minecraft Book for Kids Ages 6 – 12 (Preteen)
$

0.99
GENRE: Children's Adventure (An Unofficial Minecraft Book for Kids Ages 9 - 12 (Preteen) You could say that is hardly possible for a Spider to be lonely or bored – all those legs and eyes – there must be something interesting you could do with it! Well, my story is different and I just might happen to be the loneliest Spider ever to be spawned in the world of blocks. That is why I've started writing a diary, yes! It gives me a feeling that I am not that alone and maybe someone will even read it someday! Until then I am using it as to-do-list and to write about occasional interesting mobs I stumble upon. Oh, yes! I also decided to leave the place where I was spawned and take a little adventure – I am not afraid, of course! I am an eight-legged monster. That is exactly how...
Into the Darkest Fire
$

0.99
In early 1500s, seventeen year-old Arianna founded the White Sisterhood, a powerful coven for the good witches hiding from the Brotherhood. But the Brotherhood doesn't want any witches alive, not even good ones. Since she's the most powerful of all, Arianna is high on their list.While the witchhunts burn through Europe, Arianna works with a king, helping him to make his kingdom peaceful and strong again. In return, he promised to protect her against the Brotherhood.Into the Darkest Fire is a short-story about the Arianna's death. The Midnight Test is a novella featured in the collection Midnight Kiss: Four New Adult Paranormal Romances, releasing October 1st.The Midnight Test is set 500 years after Into the Darkest Fire. Being the weakest witch of her generation, nineteen-year-old Hazel is convinced she's supposed to live a normal, human life—except for the occasional ghost hunting. When Hazel moves to New Orleans, the most powerful...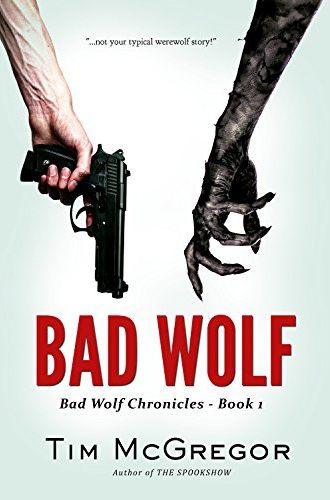 Bad Wolf (Bad Wolf Chronicles Book 1)
$

2.99
Audiobook out now!Detective Lara Mendes's hard work pays off when she finally gets to join the homicide detail. There's only one catch; she has to partner up with a cop no one wants to work with. John Gallagher is a veteran homicide detective who wants nothing more than to work alone. When the Lieutenant partners him with Lara Mendes, his first reaction is to ditch her but a call comes in about a body on the river bank and the rotation says they're up. What they find are human remains, mutilated and partially devoured. Their investigation reveals a killer stalking the city with a pack of vicious, feral dogs. And the suspect believes he is a werewolf. But this is Portland, where crazy bastards outnumber normal ones ten to one. Except there's another catch. The crazy werewolf guy? He isn't crazy...Author's note: Bad Wolf is my first novel and remains...