Fallen Crest Extras
$

0.99
These were written for a promo tour I did for Fallen Crest Home's book release. I added a few extra surprises in here, and wanted to make them available for everyone. This is done as a thank you to the readers.
The Deepest Cut (MacKinnon Curse novel Book 1)
$

0.99
Sixteen-year-old Riley Williams has been able to see ghosts since the car crash that took her mother's life and shattered her family. Guilt-ridden over the belief that she's somehow responsible for her mom's death, Riley is desperate to see her mother's elusive spirit to gain her forgiveness. When her father moves the family to Scotland so they can all start over, Riley believes her life couldn't get worse––that is until the ghost of nineteen-year-old Ian MacKinnon catches her purposely cutting herself. An uneasy truce quickly turns into friendship, and soon Riley's falling hard for Ian. Riley believes her gift could help Ian end the curse that has kept him tied to the land for centuries, but that would mean letting him go forever and she's not sure she is strong enough to do that. As if her life wasn't complicated enough, the malevolent spirit of the woman who killed Ian...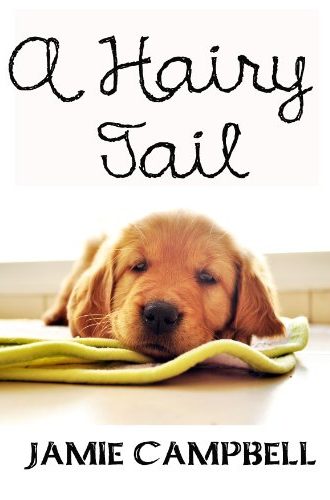 A Hairy Tail (The Hairy Tail Series Book 1)
$

0.99
Hannah needed a project to get her through the long summer. Signing up at the local animal shelter, she finds exactly what she needs in the sad, lost dog Basil.She sets her sights on finding his owner, promising him he would be reunited with his family. What she didn't anticipate was being distracted by her gorgeous co-volunteer, Harry.Overcoming her inner shyness, Hannah needs to reel in Harry the hottie, find Basil's owner, and try to be a normal teenager for her mother. And do all this before the summer ends.Love, paws, and fur balls abound in this fun short story that is bound to make your tail wag.Also in the Hairy Tail Series:A Hairy Tail A Hairy Tail 2 A Hairy Tail 3 A Hairy Tail 4 A Hairy Tail Collection (All 4 stories in one place) Another Hairy TailAnother Hairy Tail 2Another Hairy Tail 3Another Hairy Tail 4Another Hairy...
Stormy Love: Steamy Fake Boyfriend Fiance Romance (Wet & Wild Series Book 1)
$

0.99
USA Today Bestselling Author, Lexy Timms, weaves a story of betrayal, deceit, and risking it all for love. In the end, we only regret the chances we didn't take. On her wedding day, Ava finds her fiancée messing around with his best man's wife. Stranded at the altar, she manages to collect herself. Humiliated and angry, she decides to go on her honeymoon—alone. It's already paid for, so why not. She swears off rich men for the rest of her life.The hunk offering scuba lessons seems the perfect distraction. Short term. No Strings.Why shouldn't she spend her honeymoon making love? It may not be with her husband, but then again, she isn't wearing a ring.Wet & Wild SeriesStormy LoveSavage LoveSecure LoveNote: This story does end on a cliff hanger. It's part 1 of a 3 book series.
Rae of Hope: Clean Paranormal Fantasy New Adult/Young Adult Novel (The Chronicles of Kerrigan Book 1)
$

3.99
Fans of new adult mystery or paranormal romance series will love this book and the entire series by USA TODAY BESTSELLING Author, W.J. May! How hard do you have to shake the family tree to find the truth about the past?Fifteen year-old Rae Kerrigan never really knew her family's history. Her mother and father died when she was young and it is only when she accepts a scholarship to the prestigious Guilder Boarding School in England that a mysterious family secret is revealed.Will the sins of the father be the sins of the daughter?As Rae struggles with new friends, a new school and a star-struck forbidden love, she must also face the ultimate challenge: receive a tattoo on her sixteenth birthday with specific powers that may bind her to an unspeakable darkness. It's up to Rae to undo the dark evil in her family's past and have a ray of...
Phoenix Child: Book One of the Children of Fire Series
$

0.99
There should be a law, a Universal Rule, as to how much weirdness can happen to a person.Fifteen-year-old Sara walks into the San Francisco Center for the Circus Arts determined to ignore the freaky things happening to her. As powers she doesn't want and can't control overwhelm her, Sara must decide if she can trust the strangers who say they are her family ... descended from a common ancestor four thousand years ago.Sara clings to her contented and well-planned life as a foster kid, successfully working the system, as dreams, powers, and magical creatures drag her towards her destiny. When the ancient evil that killed her parents comes to San Francisco, Sara is forced to choose between her fears and her desire to protect those she loves.Sometimes great things are thrust upon us. Sara wishes this supposed 'greatness' didn't include a new name, unicorns, and catching on fire.PHOENIX CHILD is the...
Crown of Insight: Godly Games (Web of Hearts and Souls Young Adult Romance #1) (Insight series)
$

4.99
Spellbinding lyrically crafted fantasy series. Magic, action, and romance offer an escapism that will engross readers. —the story stays with you, unforgettable. Cursed with the chains of a supernatural empath insight, Willow Haywood has learned to survive life, mostly on the defense. Her world shatters when a demon stars in a nightmare, then leaves behind a mark—a chain—as she wakes. The omen forces her family to reveal the fantasy hushed behind the reality of her life.Willow learns beautifully dark secrets written in the lore about her coming fate. The twilight of her youth has arrived—she has no choice but to flee to unknown dimensions. Mystery lurks in the magical mythology laid before her. Danger haunts the shadows. To survive the shock waves of her life she focuses on him—the angel who came to every dream, every night. She'd fallen for him. The love of her soul, a mate for existence—a...
Dark Siren
$

0.99
Lovely, enchanting, and dangerous, sirens of Greek mythology lured countless numbers of sailors to their deaths with their beautiful appearances and melodious voices.Seventeen-year-old Kalista guards a dark secret that has never allowed her to fit in. She is a siren.Instead of luring men to shipwreck, Kalista sucks the very life force from their souls. From day to day she never knows from where her next meal will come, but resists the urge to feed for as long as possible. Having a boyfriend is no help--a single human has never been able to sustain her--and the guy she is dating possesses a darkness within him that stains her soul, filling Kalista with evil urges whenever she feeds from him.And then Kalista meets Rhane. Strange and familiar all at once, she immediately forms a smoldering connection to this handsome young man with otherworldly eyes, and feeding from his life force begins to...
Furyborn: Chapter Sampler (The Empirium Trilogy)
$

0.99
"Epic feminist fantasy."—Melissa Albert, New York Times bestselling author"Truly not to be missed..."—Kendare Blake, #1 New York Times bestselling authorExperience the epic start of 2018's must-read YA fantasy series in this 4 chapter sampler featuring two fiercely independent young women, centuries apart, who hold the power to save their world…or doom it.When assassins ambush her best friend, Rielle Dardenne risks everything to save him, exposing herself as one of a pair of prophesied queens: a queen of light, and a queen of blood. To prove she is the Sun Queen, Rielle must endure seven elemental magic trials. If she fails, she will be executed...unless the trials kill her first. One thousand years later, the legend of Queen Rielle is a fairy tale to Eliana Ferracora. A bounty hunter for the Undying Empire, Eliana believes herself untouchable—until her mother vanishes. To find her, Eliana joins a rebel captain and discovers that...
Marti Talbott's Highlander Series 1 (Anna, Rachel & Charlet)
$

0.99
ANNA -- In love with a woman he had only seen once and could not find, the Highlander, Kevin MacGreagor was growing older and needed a wife to give him sons. No other woman pleased him, not even the daughters of other lairds, so he finally settled for Anna sight unseen. But when his men went to meet her guard, she was all alone and badly beaten. Who could have done such a thing and why? RACHEL -- had a dark secret and even she didn't know what it was. She was seventeen, determined to become as good a warrior as any Highlander, and was firmly against taking a husband. Connor had other ideas. He loved Rachel and when a rival clan took her, he thought he would lose his mind. How would he ever get her back and if he did, would her dark secret separate them forever?CHARLET --...