The Aurora (Aurora Saga Book 1)
$

0.99
"This book is simply amazing.""A brilliant read!""Excellent SciFi tech opera.""Young scifi readers will enjoy this book. They will identify with the characters and enjoy the action.""Interesting plot line nice twist at the end."Londuo is an eighteen-year-old Qinant teenager, who is stranded in Colorado, USA, after the spaceship Aurora is destroyed. The year is 1964. Fifty-five years later, seventeen-year-old James is living in the English countryside and thinks he is just a normal teenager. However, his mother has kept a secret from him, one that will change his life and ultimately the fate of his race.As teenagers, Londuo and James' paths have crossed before, in a timeline where every world in the galaxy is under threat from the Treitans. Time was supposed to have been rewritten, but yet it seems, in a war-torn galaxy, they are destined to meet again...Other books in the Aurora Saga.Immortality for Life (Book 2.)Kalrea's Legacy (Bookn...
What Comes of Eating Doughnuts With a Boy Who Plays Guitar (Gem City Book 1)
$

2.99
Courtney Ross has lived her whole life doing everything by the book. She's a top student, the captain of the cheer squad at Scottsdale High School, and a nervous wreck most of the time.For summer vacation before senior year, she finally has her chance to relax: spending it with her best friend Vanessa, in her tiny hometown of Gem City, Ohio. Courtney's hoping for a chance to breathe, and maybe even for some of Vanessa's carefree nature to rub off on her.What she doesn't expect is Ethan Fisher. Courtney knows she's in trouble the minute she sees him holding a guitar at her Welcome Back party. The more she gets to know him, the more she finds her head spinning.What will this mean for the girl who always plays by the rules?
The Bride's Bear Fate: A Fated Mate shifter romance: Family secrets (Secrets of Bear Peak Book 1)
$

3.99
The smoking hot shifter found his Fated MateCan she accept the love he needs to give her?Dante is giving up on his dream to find his fated mate on Bear Mountain. Until, that is, he spies the curvy figure and unforgettable eyes of a sad and sassy stranger. Tawny's life has just dropped down a well on a bright spring Monday morning. As, you know, it can. She is fleeing for the refuge of her aunt's mountain cabin and has no time for tales of shifters or fated mates. She doesn't plan to be anyone's fated mate, and she doesn't believe in shifters. Even a pant-meltingly hot shifter like Dante. She fights to resist the attraction of opposites.Tawny is a fish out of water in the mountain community. Catching the attention of more predatory mountain males, sassy Tawny becomes a damsel in distress and quickly learns how much she needs...
Unwilling (The Unwilling Series Book 1)
$

2.99
Neely McIntire's dreams warn her about the future but will not protect her from the danger hiding in plain sight. On graduation night, she plans to tell her best friend, Hayden Nelson, that she's in love with him. Instead, they argue. Neely's hurt feelings leave her vulnerable, giving her secret admirer, Andrew Huckley, the opportunity to put his mother's monstrous plan into motion. When Neely gives into her broken heart and pushes him away, Hayden knows he must fight to recapture the spark he felt in their last kiss. But will he find her in time to reverse the damage or will she be changed forever?
Dark & Broken Souls (Dark Souls (Soul Hunters) Book 1)
$

2.99
An enemy that will stop at nothing. A love that will risk everything.Kaylie Hart was born into a Hunter family. She grew up in a world filled with monsters and supernatural beings. Two years ago, her entire family was massacred by a group of vampires. Since then, Kaylie has turned her back on her family's legacy, choosing instead to lead a normal life. But life has different plans for Kaylie.Two Hunter brothers, Rafe and Ethan, force themselves into her life, determined to protect her from what's coming. Just as Kaylie begins to accept that she can't run from her destiny, she learns that secrets are being kept, lies are being told, and promises are being broken. Kaylie's two worlds have collided and she must face both of her deepest fears- love and loss.*Dark & Broken Souls was originally published as two separate stories: Dark Souls & Broken Souls.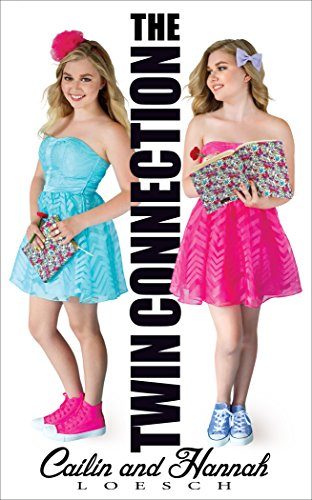 The Twin Connection
$

4.99
What's it like to be an identical twin?Twinhood can be thrilling, frustrating, terrifying, and hilarious—all at the same time! Inspired by seventeen years of daily questions from strangers, teen journalists Hannah and Cailin Loesch are giving the world a peek into their lives as twins. Going beyond the bond that only identical twins know, Hannah and Cailin hope their stories are inspiring, entertaining, and relatable to all who read them—twins, tweens, teens, parents of twins, and anyone looking for interesting anecdotes written from the perspectives of two very unique, albeit identical, teenagers.
The Actuary: A Rural English Mystery (The Calculated Risk Book 1)
$

0.99
A girl on the run. Two men trained to hunt, and an innocent caught in the middle.Emma's stayed successfully hidden for six years because of a promise. But when she runs into the handsome Russian by accident, she senses the game will take a disturbing twist. Rohan Andreyev always knew where she was. He just didn't want to make contact. What he sees during their chance meeting gives him a reason to track her down and what she's hiding forces him to get involved. Someone else is watching. Someone with their own agenda. Emma is still not safe and she doesn't know it. Rohan's arrival confuses her and his news causes devastation. Because the help she's waiting for is no longer coming and she has only one thing worth losing.Readers say, "This was hard to put down."If you like strong, mysterious men and plucky, female sleuths, you'll love The Actuary.Download...
Beasts of Prey (The Feral Sentence Book 2)
$

3.99
Women convicted of murder are being sentenced to the wild.A fast-paced, award-winning action-packed thriller.One year has passed since Lydia Brone was convicted of murder and sentenced to serve time on remote Kormace Island—the Island of Killers—for accidentally killing her mother's abusive boyfriend.After a slow and painful integration into a brutal, self-sustaining society of women, she was assigned the prestigious title of Archer, attracting both friends and enemies.But now, none of that matters. Everything she cares about is gone.Beasts of Prey, the gripping second book in The Feral Sentence serial, continues where the first book left off—in the chilling aftermath of a violent massacre.All that remains is Brone's relentless will to survive and her hope for a better tomorrow.This book is the compilation edition of the second book in The Feral Sentence serial and contains all four episodic parts / novellas found in Book 2.
The Necklace of Goddess Athena: A Greek gods fantasy novel for the family
$

2.99
Looking for inspiration? Treat yourself to this highly-praised Greek myth fantasy that will transport you to Greece with its vivid descriptions and intrigue you with its dark secrets. The perfect HEA will leave you feeling on top of the world!"A stunning masterpiece . . . so well-written that I couldn't put it down."~Readers' Favorite"A rare gem." ~Fantasy & Scifi NetworkPhevos, an ancient Greek, remembers very little from his childhood. What's more, his mysterious father never explained how his mother disappeared years ago. When Phevos turns twenty, his father sends him on a time-traveling journey to modern-day Athens without telling him the reason. There, Phevos finds new friends, romantic love, and a trail of clues that lead to shocking revelations. Excited, he continues to unravel his family's mysteries and soon realizes his father has set up an ingenious plan so their family can be whole again. This plan involves two Olympian...
War of the Dragons: An Epic Dragon Fantasy Adventure (Dragon-Born Book 4)
$

2.99
Dragons. Magic. War. In a mystical world where Dragons reign, one mysterious duo of wizards rise from the shadows to even the battlefield.New York Times bestselling author, K.N. Lee presents the fourth installment in the fast-paced, thrilling epic fantasy adventure that swept the world away with the #1 international bestseller critics are comparing to Rick Riordan's young adult novels, Half-Blood Dragon.The lines are set. Wizards versus Dragons, and as queen of Withrae, Rowen finds herself faced with the fate of the kingdom in her hands.Her crown binds her to the palace, even someone she loves dearly is kidnapped by the Trinity brothers who rule in the southern islands of the human realm. She must find a way to protect her family without abandoning her duties. There's one young man who can help her, the scribe who once worked for her father. Together, they hatch a plan to stop the war,...