Beyond The Shallows: A Tidal Kiss Short Story
$

7.00
When English beauty and avid poetry lover Ophelia is holidaying with her two sisters in19th century Blackpool, she finds herself unmistakably called to the water. Will she flee in horror at what lies beneath the waves, or can she learn to look beyond the shallows?This teen and young adult mermaid fiction is a perfect blend of high fantasy world building mixed with historically authentic characters, Lovecraftian monsters, and fast-paced action. Perfect for fans of Jaymin Eve, Catherine Jones Payne, Frost Kay, and Anna Banks.This story is a short prequel to The Queens Of Fantasy Saga-THE QUEENS OF FANTASY SAGABOOKS IN THIS SAGATRILOGY ONE- THE TIDAL KISS TRILOGYTHE KISS THAT KILLED METHE KISS THAT SAVED METHE KISS THAT CHANGED METRILOGY 2- THE ASHEN TOUCH TRILOGYTHE OPAL BLADETHE ONYX HOURGLASSTHE OBSIDIAN SHARDTHE AETHERIAL EMBRACE TRILOGY (COMING 2019)INDIGO DUSKVIOLET DAWNLAVENDER STORMBOOK 10- CONCLUDING NOVELQUEENS OF FANTASY for more information on this saga and...
The Quantum Ghost (The Quantum Worlds Book 2)
$

10.35
On a cold autumn night, twelve-year-old Remi Cobb makes a startling discovery—a mysterious object floating on the pond in her backyard. With no idea where it came from, or how it got there, Remi is compelled to unravel its secrets. Her quest for answers takes her on a perilous journey across realities, where she finds a crumbling world—and the dark forces behind its ruin. Here she learns the truth about her connection with the strange object, and of those that will stop at nothing to destroy them both. But even if she can find a way to survive, can she find a way home?"Ballagh brings another perspective to his Quantum Worlds, immersing us further into this believable dual reality." - Daniel Arthur Smith, author of Spectral Shift"A dynamic and original high-tech adventure that will take you to the edge of your seat—and beyond." - Eamon Ambrose, author of Zero Hour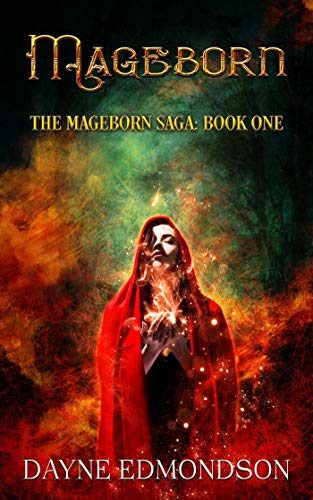 Mageborn (The Mageborn Saga Book 1)
$

14.99
Emma was a normal teenage girl before her twin nearly burned her to death. When Emma and her brother discover they have magic, they are visited by an archmage of a school for mages. They embark on a journey, but it becomes fraught with peril as a deranged cult captures them. Using every trick in their book, and with the help of unexpected allies, they struggle to not only survive in the wilderness but foil a dangerous plot involving a world-ending artifact. Can Emma and her allies overcome overwhelming odds and stop the cult before it's too late?The first book in a new series by author Dayne Edmondson, "Mageborn" takes place twenty years after "Shadows Fall" and features cameos from characters past.Read now to jump into the adventure.
Spiked Snowballs & Flaming Cats: the true story of a precarious life
$

9.99
Can a single kiss, a few spoken words, or a redheaded cheerleader alter the course of your life? Confronted with his own mortality, a crumbling economy, and the loss of everything he holds dear, a husband and father of three fears that his troubles are retribution for the sins of his youth—the wrath of consequence. In this thoughtful, funny, and heart-wrenching memoir of bullying, teenage angst, lost innocence, cancer survival, and the triumph of courage over fear, John Daly transforms an ordinary life growing up in 1970's New Jersey into something extraordinary.
The Princess and the Fangirl
$

16.99
The Prince and the Pauper gets a Geekerella-style makeover in this witty and heartfelt novel for those who believe in the magic of fandom.
Autumn Unlocked (Summer Unplugged Book 2)
$

4.99
After a summer grounded from technology, Bayleigh is back home and rebuilding her relationship with her mother. Her boyfriend Jace keeps his promise and stays in Texas, where he works at a local motocross track.Knowing her relationship with Jace is something special and not like all the guys before him, Bayleigh is determined to keep their love strong, despite his notorious fame in the motocross world and the dozens of girls throwing themselves at him in his new job.Note: This book may contain language and suggestive situations that aren't suitable for younger readers.Also available: Part 2 - Autumn UnlockedPart 3 - Winter UntoldPart 4 - Spring UnleashedPart 5 - The Beginning of Forever - A full length novelPart 6 - Autumn AdventurePart 7 - Winter WonderfulPart 8 - The Girl with my Heart (a novel from Jace's point of view) Part 9 - Autumn AwakeningPart 10 - Winter WhirlwindPart 11-...
The Dragons of Wyvern Hall
$

11.95
Danger, romance and magic entwine in this timeless battle of good against evil. Following the death of her grandmother. sixteen year old Kate Mallory comes from New York City to live at Ashley Manor in England, a rambling mansion full of buried secrets. Grief stricken and lonely, she seems an unlikely heroine, yet as she unlocks Ashley's untold history, her eyes are opened to all manner of wonders and sorcery. Who are the enchanted beings in the gardens of Ashley who walk only at full moon? What is the dark and deeply evil magic emanating from Wyvern Hall, a seemingly abandoned nearby castle? And how does this relate to the legend of the ancient and long-forgotten dragons? With an unseen world within her grasp, she embarks upon a dangerous adventure, aided by the unlikely new 'family' of mystical and magical misfits she meets along the way, whose love and support...
Gil's World (Wanderers Book 1)
$

9.99
The first book in the Sci-Fi Wanderers series by James Murdo.Three hundred million years of war.A galaxy littered with ruins – some more dangerous than others.Rising from the ashes, the machine-led Wanderer civilisation searches for answers.***A lone Wanderer ship has found something on an innocuous world, something inexplicably connected to the mysterious entity that started the war. Has it found a power that even the Ascended Biologicals did not possess?***While working the commune's land, Gil senses danger. Outsiders are coming, with ancient minds unlike anything she has known before. Their presence awakens something deep and powerful within her. As her abilities grow, she battles for the future of her commune, and possibly, far more.
Camp Lenape: It's supposed to be a fun summer… (A Kahale and Claude Mystery Series Book 1)
$

9.99
It's supposed to be a fun summer… then a girl goes missing.When a girl goes missing, and none of the adults can give a straight answer, a childhood game suddenly turns into a real, secret mission. Phone lines are down. Strange men roam the campgrounds. Financial documents indicate something's amiss. And hidden security cameras point to a mysterious cottage in the woods. With heightened suspicions, junior camp counselors Marcus and Alissa recruit their friends to help find the missing girl. In their search, the teens will learn to rely on each other, especially when they encounter a terrible and dangerous secret. Book 2: Shadows of Doubt will be released on May 20, 2020
Pippa of Lauramore (The Eldentimber Series Book 1)
$

11.99
Thirty Knights. Five Events. One Determined Princess.In order to avoid a loveless arranged marriage to a man she cannot stand, eighteen-year-old Princess Pippa of Lauramore makes a bold move: she begs her father to hold a marriage tournament.Knights travel from far and wide for a chance to win the princess's hand, but she immediately sets her sights on one—Galinor of Glendon. He's strong. He's handsome. He's a girl's dream come true.But as the events progress, Pippa learns her valiant knight is prettier than he is capable. Left with no other choice, the princess enlists the help of the one man with the power to shatter the fragile balance of the tournament—a man she should keep at arm's length.A man who calls her like a moth to a flame.Pippa knows she plays a dangerous game, but when the stakes are this high, she's not sure if she can afford to walk...