The Little Yellow Llama
$

3.49
The Little Yellow Llama just wants to play. Too bad the other little Llama are afraid to play with her. Can the Little Yellow Llama stand strong against the gossip and show all the other Llama's that its better to be friends than to live in fear?
The Amazing Kid Book of Things That Go
$

7.99
A great reference book that will help young readers to learn about transports and things that go. This book has a bunch of vibrant and colorful pictures of cars, motorcycles, trucks, planes, trains… that your children will love. The letters are large and the story line is catchy. A very sweet and informational bedtime story gift book for your youngsters or toddlers. The book is full of short sentences, interesting pictures, lots of basic words that would be great for a child. It does a great job making things understandable for preschoolers.
Sascha Martin's Rocket-Ship: A hilarious sci fi action and adventure book for kids (Sascha Martin's Misadventures 1)
$

7.50
The audiobook of Sascha Martin's Rocket-Ship is free when you download this Kindle book!Eight year old Sascha Martin is always inventing things, so he knows how they work. Mostly. For class news time he brings in a rocket that towers over everyone, including the teacher … but he's written "Don't touch!" on the rocket, so what could possibly go wrong?"The story is 'poetry in motion' for rocket ships! Manuela Pentangelo has visually interpreted John's verse with all the best icons from rocketry and science in the gorgeous illustrations." Samantha Ridgway, scientist, mother, and record-holding Australian rocketeer.This children's picture book is ideal for kids age 8-10, but readers of all ages, from beginners to preteens to adults, will love this wild, funny, deliciously silly adventure wrapped in verse that rhymes and Manuela Pentangelo's beautiful full colour artwork. Inside, you'll find a link to the free audiobook, so if you lose your...
The Lost and Found Journal of a Miner 49er: Vol. 2
$

11.95
In 2017, Jack Dublin released the first volume of 19th Century journals unearthed from the Grand Canyon. Now, the Miner 49er returns in Vol. 2, revealing a past that may force historians to rewrite their books! Brace yourself for adventures stretching from the Sea of Job to a vast world beneath the American continent where life is familiar but nothing is what it seems. Meet Dino Garosello, a carnival barker bound to a ghost town with a terrible secret; and Jason Kittridge, a bandit so ruthless his name was blotted out of every history book. Is it truth stranger than fiction, or fiction stranger than truth? You decide on this epic quest!
Hercules Finds His Courage: early reader book for kids ages 6-8 (Taki & Toula Time Travelers 1)
$

8.99
Two modern-day children. A pair of old shoes. And a time-traveling adventure.Join Taki and Toula as they're launched back to the days of Ancient Greece. When an angry bull shows up and threatens to ruin their experience, Taki and Toula panic. Coming face-to-face with an angry bull was not part of their plan. They're so relieved when Hercules the Great shows up. But it turns out he is more scared than they are. How will Taki and Toula help Hercules find his courage and tame the Cretan Bull?Laugh along as Taki and Toula create history. Greek mythology has never been this much fun!A full-color Easy Reader book ideal for children aged 6-8 years old. Or a great read-aloud book for younger children.A wonderful story to help children learn how to be brave and believe in themselves. A great introduction to Greek mythology for younger children. It also helps children recognize​...
Mommy, Where Does Tiger Live?
$

12.00
Mommy, Where Does Tiger Live? is a rhyming story of a curious, little boy who asks his mom many questions about Tiger. He learns all the wonderful things Tiger likes to do. The young boy plans to invite her over to play.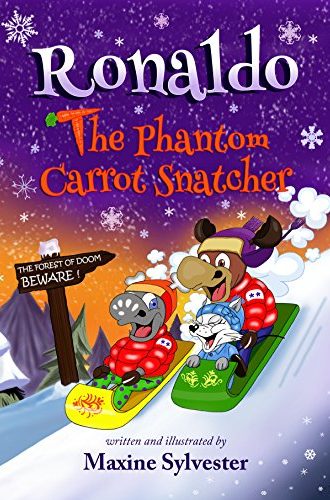 Ronaldo: The Phantom Carrot Snatcher (Ronaldo the Flying Reindeer Book 2)
$

2.99
"An amusing and enchanting tale of friendship and sacrifice." Top flying cadet, Ronaldo, and best friend, Rudi, embark on a superhero mission to help a lost wolf cub find her family.Rudi comes up with a brilliant plan to locate the wolf pack during the next speed test at flying school. But Ronaldo doesn't like the idea. He's desperate to break the speed record... and become the fastest flying cadet in history!Will Ronaldo fly for fame and glory - or will he realise the importance of friendship? "This is a charming children's book that will entertain your little ones and tickle their funny bones." "A heart-warming story, full of action and adventure." "Sylvester has created a lovely winter wonderland with interesting characters."
My Grandma Says the F-word
$

3.99
"My Grandma Says the F-word" is a hilariously funny children's book for both kids and adults alike. This loving Grandma speaks her mind, no matter where she is, who is around, or even if it's a special day. A comical play on words, this story pokes fun at what it might be like to have an unconventional grandma in your life. Because let's face it, nobody fits a perfect mold, but the people who stand out the most, are well remembered.
Minecraft Handbook: Unofficial guide to ultimate secrets, tips, tricks and all you need to know to become a better Minecrafter
$

0.99
Have you ever wanted to be the greatest Minecraft player in the world?Possibly you are playing Minecraft and all of your friends are laughing at your builds.Is it possible you just want a quick shortcut to success and greatness in the world of the craft?Are you tired of being blown up by creepers? Do you stay awake at night looking out your window as skeletons and zombies as they rule the dark hours? Are you afraid to go down deep into the mines where all those monsters truly are mean? Do you know that your mud hut is constructed with the whims and look of a child?Don't you just want to get over all of that and become a super Minecrafter?Well, look no further. We have exactly what you are looking for in your gaming experience. All of this and more is contained within these pages.Amaze and astound your friends...
A Zombie Summer School Diary (Book 1): My Teacher Is A Skeleton (An Unofficial Minecraft Book for Kids Ages 9 – 12 (Preteen)
$

5.99
Have you heard of a zombie going to a summer school? Do zombies go to school in the first place? Apparently, they do attend classes with other monsters and they have a skeleton for their history teacher! If you think summer school is L-A-M-E and D-U-L-L like Ugh the zombie, you better think again! Join Ugh at the start of his classes and discover what summer school has in store for him!An Unofficial Minecraft Diary Book for Kids Ages 9 - 12 (Preteen / Thrilling Minecraft Adventure / Minecraft NovelTHIS MINECRAFT ADVENTURE STORY IS A MUST READ FOR MINECRAFT FANS ESPECIALLY FOR KIDS AGE 5-7 , 6-8 , 8-10 , 9-12 , THIS EXCITING MINECRAFT BOOK IS MADE for ages 6, 7, 8, 9, 10, 11, 12 and older. MOTIVATE YOUR 8 YEAR OLD BOYS AND GIRLS OR MINECRAFT KIDS AGES 9-12 TO READ WITH THIS EXCITING STORY.GET YOUR COPY NOW!!!This unofficial Minecraft book is not...