Baby Moses: The Brick Bible for Kids
$

12.99
The Israelites were living in Egypt for some time before the new pharaoh decided to enslave them to weaken their power and numbers. It was a terrible time for the God's chosen people, and was made even worse when Pharaoh decreed that any baby boy born to an Israelite should be killed. Jochebed, an Israelite slave, had a baby boy named Moses. In order to save her son, she placed him in a basket and set him floating down the Nile River, with his older sister, Miriam, watching over him. The baby was saved, however, by an Egyptian princess, who gave him the name he'd carry into the desert, leading his people out of bondage and up a mountain to receive God's laws for his people.The story of baby Moses, his journey down the Nile, and his growth into a man who would lead God's chosen people out of Egypt...
The Little Unicorn That Had No Horn: A Unicorn Book for Kids
$

9.95
"I promise that you'll grow up, so treasure each and every day. Never wish one second of your precious time away." An impatient little unicorn can't wait to grow up and get its horn, but wise Mother Unicorn lovingly guides her little one to appreciate time and not wish it away. This is a heart-warming story of a mother's love and guidance in helping her child see beyond the uncertainties of childhood and cherish each and every moment.
Where Do You Go When You're Wearing A Mask?
$

7.99
Where do little bears go wearing masks? Whether they're headed to the grocery store or on an imaginary journey to a magical destination, the little bears are keeping it adorable and wearing masks. Join these precious bears as they bring fun and whimsy to our new normal.
Early Man: The Junior Novelization
$

6.99
The official novelization of the major stop-motion children's movie!Based on the hotly anticipated new stop-motion feature film Early Man, from director Nick Park (Shaun the Sheep, Wallace and Gromit, Chicken Run) and Aardman Animation, coming to U.S. theaters this February.Meet Dug, a scrawny but cheerful caveman who loves his valley and just wants the best for his tribe of misfits. Accompanied by his faithful pig sidekick Hognob, Dug is a dreamer—why settle for hunting rabbits when you can hunt a mammoth?! Then there's Dug's tribe, led by the cautious Chief Bobnar. Bobnar wants the best for the tribe, too, but he sees things a little differently from Dug.Then Dug meets the evil Lord Nooth. He's the leader of the Bronze Age City. When the Bronze Age City invades the valley and the cavemen have to fight to save their home, Dug strikes a deal with Lord Nooth. The tribe can...
The Unofficial Holy Bible for Minecrafters: Old Testament: Stories from the Bible Told Block by Block (Unofficial Minecrafters Holy Bible)
$

19.99
Minecraft has taken the gaming world by storm. Parents of children who play Minecraft will love this fun, educational collection of Bible stories. With the world of Minecraft as a backdrop using vivid, full-color screenshots, this book allows children to experience the Bible as never before.Authors Christopher Miko and Garrett Romines are teachers who have used Minecraft to create imaginative worlds in their classrooms. Now, they have created Bible stories with virtual blocks to produce vibrant, 3-D worlds filled with adventure and astonishing imagination.With fascinating scripture and narrative simplified to teach young readers the most powerful stories ever told, this is the perfect gift. The images created feature not only magnificent, vast terrains often found in Minecraft but also artfully re-created Bible characters, such as Adam and Eve, and superb designs of Noah's ark. Engaging stories including the Tower of Babel and the story of David and Goliath are here....
Petey and the Bee: A Dog's Tale
$

8.95
Petey loves to help his family, but he can't climb trees, so while the family builds a playhouse Petey tries to keep busy and ends up in some big trouble, soaking his best friend, Vesters the cat who hates water, and tangling with a big yellow bumble bee named Charlie who ends up losing his temper. Come along with the Lamb Family pets for some rip-roaring fun.
Noam's Monsters: Helping children to cope with anxiety, behavioral functions and shyness
$

9.95
There are monsters living inside Noam's tummyNobody knows that, not even Mommy…Their names are raging Furiel, worried Fearona, spiteful Blames, shaming Embarrassitis and Lonely Bones; and boy oh boy, do they give Noam a hard time in challenging moments of his everyday life! Will Mommy and Daddy believe him?A perfect read-together for grownups who do not believe in monsters, and their children who do… this lovely picture book is first and foremost fun, with colorful illustrations, rhyming verse and loads of imagination.Written by a Clinical Psychologist, it is also an effective tool for teachers, therapists, and caretakers of all types, who work with young children, to use as an icebreaker or discussion stimulator about delicate issues such as anxiety, behavioral functions, shyness, and empowerment.
Curriculum For Heaven: Diary
$

13.20
This diary will be your confidential friend by your side when you want it, always ready to listen to you and without judging you.Your book of gratitude that will remember your worth.Your life is full of experiences, emotions, opportunities for you and your loved ones, but also to help others, that is, those people who meet every day when you go to school, to work, to the office, to do the shopping, in hospital, on vacation, in short, wherever you go there is someone who is waiting for a good soul willing to offer his hand to offer him help, a word of comfort, a caress, a smile.In your new diary suitably designed to last a long time, and to be purchased on any day of the year, you can take note of those wonderful moments that should not be forgotten in a life that goes too fast and leaves...
The Runaway Mitten: A Michigan Adventure Story
$

15.99
One day a little mitten decides he wants to take an extraordinary adventure across the state of Michigan. His mother, ever watchful of her sweet little mitten, wants to help prepare him for his journey around the mitten state!The little Michigan mitten is going to start his exploration by climbing to the very top of the Sleeping Bear Dunes. Then he will cross the Mackinac Bridge, journey through the Upper Peninsula, swim Lake Michigan, ferry to Mackinac Island, and paddle down the Au Sable River. There are lighthouses to explore and cherries to be eaten! Filled with Michigan facts—sand dunes reach as high as 524 feet, the Mackinac Bridge is 6.2 miles long, and the Upper Peninsula has over 200 waterfalls!—this is a must-have for anyone who loves the mitten state. Anne Margaret Lewis and Aaron Zenz capture the best of Michigan in this sweet story of adventure and unconditional...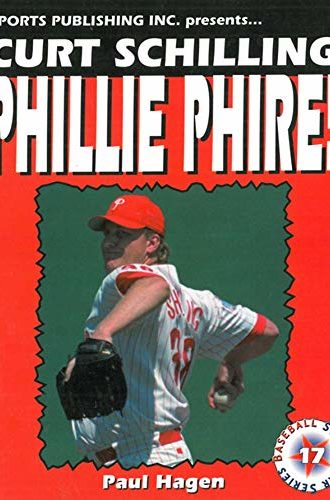 Curt Schilling: Phillie Phire!
$

11.49
Author Paul Hagen tells the story of how Curt Schilling of the Philadelphia Phillies developed into one of baseball's best pitchers. His success did not come easy, as he had to deal with off-the-field problems and being traded several times. As Hagen writes, Schilling turned his once difficult life as a professional athlete into league-leading strikeout totals, All-Star Game appearances, and the chance to pitch for the Phillies in the World Series.