The Lazy Rabbit: Startling New Grim Modern Fable About Laziness With A Rabbit, A Vole And A Fox.
$

8.99
An adorably illustrated sensational animal tale in which lazy Rabbit and sensible Vole join up to travel through a barren land where savage foxy bandits lurk. Follow their journey to find out the very real and grim consequences of bullying and laziness.A cautionary new fable about indolence and intimidation for ages 6-8, it is also an allegorical tale where the powerful ignoring all warnings about impending disaster that come from the small and weak, no matter how reasonable and true, and the dire consequences that result. Dyslexia friendly edition.If you like the original fables of the Brothers Grimm and Aesop, you'll love the horrifying The Lazy Rabbit by Wilkie J. Martin.
Who's Not Sharing? 誰不是在分享?
$

3.05
Sharing is an important life skill … and your child can join two young brothers as they learn all about it!Big Brother and Little Brother experience some unhappy things because one of them didn't share. In the end, they discover the greater benefits when they share.What happens to the brothers? What made them finally want to share?As children read this book, they explore items unique to Chinese families, such as pork buns, house slippers, and a rice cooker – these add an extra fun layer of familiarity for Chinese-Western families.This story is written in English and Traditional Chinese. If you need help with reading the text, read along in English and Cantonese on YouTube!
High Protein Plant-Based Diet: Increase Energy and Strenght Without Affecting the Natural Environment. Healthy Recipes for Cooking Quick and Easy Meals. … guide and Nutritional information
$

9.99
Do you want to increase health while respecting nature?Are you ready to know how you can harness the power of the plant based diet?Many people think that animal meat is the only rich source of protein. This is a myth.The fact is, a vegetarian diet can also work for muscle building and in a much healthier way. For one, the risk of contracting heart disease, hypertension, diabetes, and other serious health conditions that are usually associated with consumption of meat products are definitely lessened.This book will show you how you can whip up recipes that are not only healthy but are also easy to prepare; saving you a lot of precious time. In today's busy world, the ability to prepare quick and healthy meals will give you a decided advantage when working on your goals.You can attain all the protein your body needs without ever worrying about compromising the health...
Shapes! Shapes!
$

8.99
Jump into learning with this book about Shapes. With little African American children presented throughout the book, learninga bout shapes creates a positive learning experience. Great for Kids ages 0-5.
SHORT BEDTIME STORIES FOR KIDS: CLASSIC FAIRY TALES, MORAL STORIES, TALES TO FALL ASLEEP THEM AND HAVE A PEACEFUL SLEEPING CHRISTMAS EDITION
$

4.99
The art of telling a good bedtime story goes quite a long way back. ♥★This remarkable discovery speaks volumes about the importance of telling your child stories during bedtime. Parents have told versions of the stories told today for literally thousands of years. It is a highly crucial oral tradition and one that all parents should do. Not only is it a fun and soothing bedtime story, but it's also an efficient and vital way of getting closer to your kid.Reading your children a bedtime story is a great way to connect with them. In an intimate setting, it brings the family closer, which makes the child feel special too. ★Memories are made in the way they tell stories. ★Your child will be looking forward to sitting with them before going off to sleep. It's something they'll always cherish this time together. Those precious moments help everyone involved, and you...
A Bedtime for Bear (Bear and Mouse)
$

6.99
When the impish Mouse comes to spend the night, Bear is in for a rude--and very funny--awakening in this irresistible new story starring the unlikely pair. (Ages 5-7)Bear must have absolute quiet when he goes to bed. He likes to set out his glass of water, adjust his nightcap, fluff his favorite pillow, and then drift peacefully to sleep. But the effervescent Mouse, small and gray and bright-eyed, finds it terribly hard to be as quiet as a . . . well, you know. With masterfully paced slapstick humor, droll repartee, and comic visual details, the curmudgeonly Bear and his irrepressible friend Mouse return in a third wry adventure that will have readers of all ages laughing in recognition.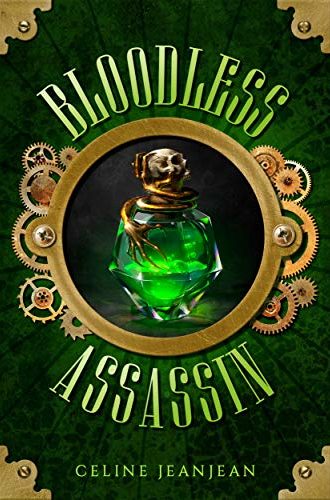 The Bloodless Assassin: A Quirky Steampunk Fantasy Series (The Viper and the Urchin Book 1)
$

12.99
An assassin with a fear of blood.A mouthy street girl.Are they really the city's only hope?Being Damsport's most elegant assassin is hard work. There are devilish poisons to concoct, secret identities to maintain…and tailoring to consider. But most importantly Longinus must keep his fear of blood a secret or his reputation will be ruined.When Rory discovers Longinus's blood phobia, she makes him a deal. Train her, and she won't ruin his reputation. What she doesn't expect is that her new master has more eccentricities than a stray dog has fleas. And that in aligning herself with him, she now finds herself in the crosshairs of another, far more dangerous assassin. Now, not only does Rory have to keep herself and Longinus alive, she has to stop a conspiracy that threatens to bring the city to its knees.An impossible task? It's even harder with Longinus under the delusion that he's the...
Fresh Ereba: A Collection of Caribbean Bedtime Stories for Children
$

9.99
Fresh Ereba is an enthralling anthology of ten bedtime stories for children told in the style of traditional Caribbean folk tales. This must-have anthology includes illustrations as well as the popular stories Dawn in Yurumein, How Cassava Came to Have a Bitter Taste and How Fish Learned to Fly. In this revised edition several stories have been enriched with dialogue and ten fun educational activities for kids have been added. Fresh Ereba is a perfect storytelling resource for parents and grandparents alike seeking to entertain as well as stimulate the enquiring minds of children aged four to ten years old.
Little Black Boy (Black Kid Magic)
$

4.00
Little Black Boy celebrates the contributions black men have made to the world past and present and encourages little black boys to leave their mark in the future!