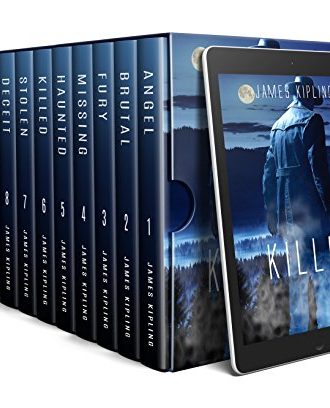 Killed: A Mystery Box Set
$

9.99
A mystery thriller collection you will not forget.11 gripping novels full of action, suspense, mystery, plot twists.Do you love stories that are packed full of mystery, suspense, twists and turns? Then you will love all 11 mystery thriller novels in this box set. These books are readers' favorites with over 350 rave reviews.. This collection is put together for a short time only for your reading pleasure.Almost half a million words of tense, gripping mystery thrillers. Enjoy these gripping stories with enough twists to keep you turning the pages.If you enjoy gripping crime thrillers full of twists, be sure to check out other books by best-selling author James Kipling.Scroll up to the top of this page and hit the orange 'Buy now with 1-Click' button to grab the box set and get 11 novels you won't want to put down!
The Good Mood Book
$

2.99
"The Good Mood Book is a must-have on every kid's bookshelf" -Readers' FavoritePerfect for ages 2 to 5, join the fun-loving Good Mood Gorki as it takes a sad girl on a magical adventure packed full of "good mood" wonders designed to bring her cheer and make her frowns disappear!With bright and colorful illustrations featuring a galaxy of sweets, a park full of puppies, a volcano that erupts fireworks, and much much more -- The Good Mood Book is a quick and uplifting bedtime story to help end your child's tough day with a smile!If you like this book, be sure to check out John's multi-award winning storybook, Off the Hook: A Christmas Ornament Adventure, and his rollicking new picture book, Neat Freaks.
The Terry Treetop & Abigail Book Collection
$

49.99
A collection of Tali Carmi's best-selling children's books!Terry Treetop is a freckled, red headed boy who loves climbing trees, making new friends, visiting new places and helping out friends in need.Abigail is a little girl with a magic bicycle. She loves exploring, going on adventures and meeting boys and girls from different parts of the world!In each book, they go on incredible adventures in nature and learn interesting things! Join them on 10 different adventures that teach kids about animals, places in the world, the environment and love for all creatures. This collection will encourage your kids to be helpful, kind and considerate, to think for themselves in face of trouble, and to actively pursue their dreams.This marvelous kids' book collection is written especially for you! It's a suitable read-aloud for pre-schoolers and a great self-read book for beginner readers. A fun collection for youngsters, with a simple vocabulary, colorful...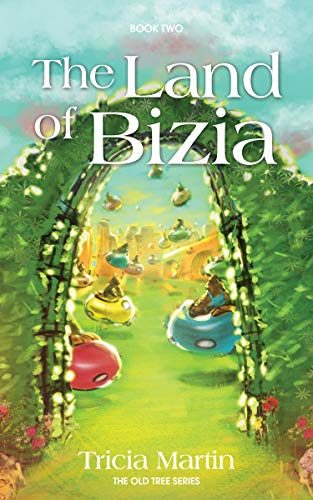 The Land of Bizia (The Old Tree Series Book 2)
$

7.00
A VERY BUSY LAND The Old Tree...a doorway to a busy land, an evil lord, beautiful, underground caverns, and a sinister plan waiting to be discovered. Mike and Mari find themselves in a world that's on the verge of destroying itself through busyness. With the help of their loving and powerful friend, Joshua, can they rescue the people of Bizia and bring them back to the values, peace, and fun they once knew?
The Shadows Come Alive at Night
$

0.99
A chilling, illustrated poem (ages 8 to adult) that embraces the truth of the shadows and their nefarious work of devouring human light. Also of the dimness of adults who have forgotten how it all works. And of the only true defense for children.Mom and Dad, best move on to the next happy title if you're still insisting to the youngsters that there's nothing bumping underneath the bed at night. Nothing knocking around in the closet. Oh, because this will undermine your every effort to bury the truth.But for the child suspicious about why Mom and Dad can't see and hear the shades of night, or for parents seeking the only children's book to explain the darkness, well this is a fortunate find indeed.Now let's be clear about the term "children's book" -- by this, we should mean "book for the untainted." And you, dear adults, who have kept your...
A Good Summer
$

0.99
Mystery shimmers in the summer air...Mr. and Mrs. Cutlass are anticipating a hot, dull summer on the ranch, but when their niece and nephew arrive from the city with a young guest, all fear of dullness evaporates. The children are charmed with ranch life and intrigued by the mysterious recurring puddle under the pump and some strange findings in the hayloft. Will they discover a friend or an enemy at the end of the trail?
Book For Kids: The Goodnight Kiss: (Children's book about a Rabbit Who Can't Fall Asleep, Picture Books, Preschool Books, Ages 3-5, Baby Books, Kids Book, Bedtime Story)
$

2.99
Are you ready for a bedtime story? Simple rhymes, cute animals in adorable settings, and sweet, comforting addition to your child's nighttime routine. Here's what readers are already saying about this amazing, inspiring story:"This is very helpful for us mommies. Great illustrations and is an easy, fun read.." -- Liz "There's a reason this book is a bestseller. It's so cute!...The story is sweet, simple and perfect for bedtime" -- Jen "Most highly recommended! My son loved this story!" -- Steve Welcome to a cozy, sweet little bunny family. Mom is putting her little son Ben to bed, but she's not quite successful. Little boy still wants to play games and stay up late. Ben also likes to keep his mommy in his room at bedtime. Mrs. Bunny tries milk, warm blankets, books, and finally a kiss…what will work? Warning: Cuteness Overload!This book contains illustrations of cute animals. Lots of...
An Onomatopoeia Adventure
$

2.99
AN ONOMATOPOEIA ADVENTUREby Teacher/Author, Dawn Beck.This engaging teacher created book is for early childhood - 3rd grade. Teach young children about Onomatopoeia in a fun, engaging, and interactive way.Ono and Mato, pronounced as "On-oh and Mah-toh", have been best pals since they were young. They love going on different adventures. Ono, a wise turtle, and Mato, a fun-loving dog, go on an onomatopoetic adventure running from an unknown character. Find out who they are running from in this crazy Onomatopoeia Adventure! *This book is perfect for a kinesthetic learning environment!For more details, click on the Onomatopoeia Adventure promo video:https://www.youtube.com/watch?v=GOE4k5-jlP0&t=21sLearning Activities Resource Packet ALSO available here: https://www.teacherspayteachers.com/Product/Onomatopoeia-Packet-for-An-Onomatopoeia-Adventure-4608730Much Gratitude, Dawn Beck, Teacher & Children's Book Authorhttps://www.facebook.com/dawnbeckteacherauthor
The Bayshore Mysteries: Mystery on Mound Island (Book 4)
$

7.99
Something strange is happening on Mound Island!First, Jeff heard strange stories about the island. Then, Grandpa Douglas said it might be cursed, or even haunted. Next, Jeff and his pals plan an overnight campout on the island. What is going on there? Is it haunted? Is it cursed? Could the strange stories be true? Jeff knows he has to find out.Jeff Douglas and his pals solve another mystery when they go to Mound Island, once the home of an ancient group of Indians who built earthen mounds there. A climb up an Indian Mound, missing artifacts, a strange man, a ghostly figure, a scary night search, and a run-in with some dangerous thieves reveal the island's amazing past and teach the kids valuable lessons about courage, self-reliance, and respect for others. Mystery on Mound Island is the fourth book in The Bayshore Mysteries. Be sure to watch for the fifth...
The Bayshore Mysteries: Mystery at Fort Mims (Book Six)
$

7.99
A Mysterious Stranger at Fort Mims! First, Jeff reads stories and accounts about historic Fort Mims. Then, he learns about a mysterious man who appeared there days before the Indian massacre. Next, Jeff has a dream that he and his pals go back in time to Fort Mims. What will happen to them at the fort? Will they meet the strange man? Will Jeff and his friends escape the terrible massacre? Jeff and his pals solve another mystery when he has a dream about going to Fort Mims, the site of one of the largest and most brutal Indian massacres in American history. An exciting trek to the fort, a strange presence, a threatening storm, a narrow escape from Creek Indians, and a first-hand view of the terrible massacre are all part of their scary adventure. As they embark on their perilous journey, they learn valuable lessons in friendship, trust,...