Welcome, book lover! Are you looking for Kindle book deals? OHFB features limited-time sales of the best free and bargain Kindle books from the biggest publishers and bestselling independent authors. These are today's featured books:
Bane of the Innocent
by Oliver Phipps
$

5.99
"There's no reason for them to shoot us; we ain't anyone" - Sammy, Bane of the Innocent. Two young boys become unlikely companions during the fall of Atlanta. Sammy and Ben somehow find themselves, and each other, in the rapidly changing and chaotic environment of the war torn Georgia City. As the siege ends and the fall begins in late August and early September of 1864, the Confederate troops begin to move out and Union ...
KINDLE
Abi of Cyrene
by Mary Lou Cheatham
$

19.95
In the Bible this character has no name, but we know who she is. In the last chapter of Romans, the Apostle Paul sends her a greeting because he loves her like his own mother. Simon, her husband, is the last person who performs an act of kindness for Christ before the crucifixion. Her two sons, Alexander and Rufus, appear to be leaders in the early church. It seems she spends her later years in ...
KINDLE
Kelly The Mail Order Bride: An anthology of Mail Order Bride and Christian Romance
by Terri Downes
$

17.95
Kelly always did what her parents said...until they line her up to marry one of Boston's most eligible bachelors...Eligible to every one but Kelly. She leaves her husband to be at the altar and heads out to Montana of all places...only to be mistaken for a rancher's mail order bride. And Bryce is a loner. He doesn't want a wife and disdains the fact that his own brother saw fit to set him up. But ...
KINDLE
A Little Amish Romance: An Anthology of Amish Short Stories
by Byron Anderson
$

17.99
AN ANTHOLOGY OF AMISH SHORT STORIESA LITTLE AMISH ROMANCERebecca Esh watched as the familiar hills and plains of her small Pennsylvania community fell into view. It had been a long buggy ride; they had been travelling for half a day.She felt a small stab of excitement, at the thought of finally coming home. She had been staying with some friends of her family, who were English, for the past month. It was all part of ...
KINDLE
Quest for Light – Adventure of the Magi
by Byron Anderson
$

9.95
Quest for Light brings the Magi to life as we join in their harrowing adventure across Persia in search of the one, true God. Appealing to the Magi through His star, God called upon these warrior priests to be among the first people to learn of the Messiah's birth. Our journey takes us along The Silk Road, the first century's information super-highway, where we meet the soldiers, merchants, and other travelers whose lives intersect with ...
KINDLE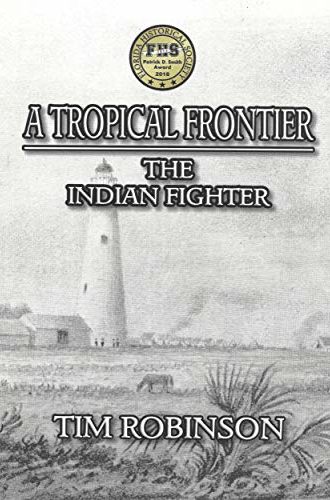 A Tropical Frontier: The Indian Fighter
by Tim Robinson
$

25.00
Best Fiction, Florida Historical Society, Patrick D. Smith Award, 2018. [Rating: PG-13] The Ninth novel in the "Tropical Frontier" series, The Indian Fighter is, in addition, the First novel in the "Indian Fighter" sub-series.In war people die, and they kill. The Second Seminole War would be the longest and most costly of all Indian conflicts in the United States in both lives and national treasure. In 1842, Colonel William J. Worth, commander of the Florida ...
KINDLE
The Earl's Dangerous Passion: Historical Regency Romance Novel
by Ginny Dye
$

2.99
He is her only hope of escape, she is his only prospect of happiness...Lady Amy Hartley is in danger. Her incredible beauty has engaged the attention of a lunatic admirer who sends her obsessive and threatening letters. After expressing their admiration for her, all her suitors are found dead. Amy is terrified for the safety of everyone around her, as well as for her own life.Her only hope to escape from this miserable situation is ...
KINDLE
Storm Clouds Rolling In (#1 in the Bregdan Chronicles Historical Fiction Series)
by Ginny Dye
$

19.99
#1 in The Bregdan Chronicles by BestSelling Author, Ginny Dye. Review: Best Historical Fiction series I have ever read! Keep them coming! ~ DottiReview: I expected to like this book. I did not expect to be hooked! This series is, quite simply, the best historical fiction I have ever read. I've read all 14 books so far and can hardly wait for the rest. I'm in love with the characters, I can't sleep because I'm too busy reading, I have ...
KINDLE
Daliah: A Needful Bride (Brides of Needful Texas Book 1)
by Roan , Danni
$

9.99
Orphan Daliah Owens has been working for the Smithfield bank for two years without a problem at least until the new manager arrives and her drawer suddenly comes up short. Dismissed from her job and disgraced by a crime she didn't commit, Daliah seeks a second chance with an elderly couple heading to Texas on a wagon train. Facing the hardships of the trail with bravery, compassion, and faith Daliah quickly endears herself to not ...
KINDLE
A Bend in the Stars
by Rachel Barenbaum
$

28.00
A bestselling, riveting literary delight for fans of All the Light We Cannot See and The Nightingale: an historical novel that is at once an epic love story and a heart-pounding journey across WWI-era Russia, following an ambitious young doctor and her scientist brother in a race against Einstein to solve one of the greatest mysteries of the universe.
KINDLE