Welcome, book lover! Are you looking for Kindle book deals? OHFB features limited-time sales of the best free and bargain Kindle books from the biggest publishers and bestselling independent authors. These are today's featured books:
The Extraordinary Tale of the Rebellious Governess: A Historical Regency Romance Novel
by Cobalt Fairy
$

0.99
Changing the past is not an option, but you can always try to define the future...The poisoned needle that threatens a little child's life is the only clue for Miss Lucretia Brent to solve the puzzle of a deadly disease that comes upon the Dukedom of Breckenridge.Sampson Claridge, the fraught Duke of Breckenridge has to manage not only his dukedom but also his little sister. Completely enamored by the new governess, he needs her help ...
KINDLE
Emeralds Are Forever (Love on the Run Book 2)
by Jaclyn Hardy
$

2.99
The man of her dreams, and a quest to save her best friend. What could possibly go wrong?Dee has always been jealous of her best friend Carlie's adventures, but she never imagined actually going on her own. But when Carlie goes missing searching for a 300-year-old emerald, Dee is willing to do anything to get her back.Newspaper reporter by day, handler by night, Ben has plenty on his plate, which means no time for relationships. ...
KINDLE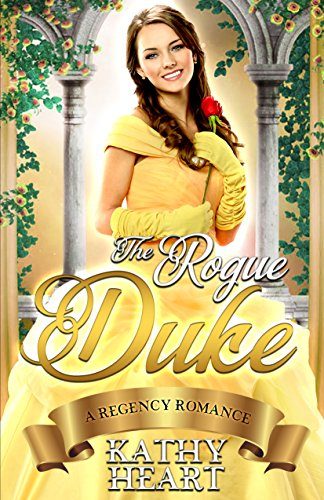 The Rogue Duke: A Regency Romance
by Kathy Heart
$

0.99
Lady Madalene James does not want to be in Scotland. When her family's carriage is waylaid by brigands, she thinks that that will be the most exciting thing to happen to her for the summer. Until she meets Andrew Dunn, Duke of Annadale, and her whole world is turned upside down. He is the son of noble houses in both England and Scotland. He has a great deal of influence and a large circle of ...
KINDLE
The Duke and His Scoundrel: A Regency Romance (Clean and Wholesome Series Book 1)
by Eliza McGrey
$

0.99
A long-lost son.An elderly Duke.The chance to inherit everything.Thomas Copper is a man struggling to survive. When he hears about an elderly Duke looking for his long-lost son, he decides to throw caution to the wind and try to wheedle his way into the Duke's graces.When things go better than expected, Thomas is quite content to continue with his new life as the heir to the Dukedom. He is easily able to ignore the stab ...
KINDLE
Hearts Stolen (Texas Romance Series Book 2)
by Caryl McAdoo
$

4.99
Unbeknownst to loved ones, a headstrong young wife is snatched off the prairie by two Comanche braves, carried north of the Red River, and traded to their war chief for ponies. After five years, a small detail of Texas Rangers rides into camp, and she determines that day will bring freedom or death. She'll remain captive no more. Sassy Nightengale almost gives up hope until a company of Texas Rangers rides into Bold Eagle's peace ...
KINDLE
Phoebe The Mail Order Bride: A collection of Mail Order Bride & Christian Romance
by Vanessa Sarlson
$

9.95
Tales of historical sweet romances...The 19th century isn't a kind place for newly widowed mothers and Phoebe is no different. She answers a mail order advertisement from Luke who seems like a good enough fellow. He owns a farm in California but with the Gold Rush in full bloom, decent women are hard to find. Phoebe arrives but doesn't tell Luke about her pregnancy. He falls in love with her but soon realizes that she's ...
KINDLE
The Tiger Temple: A Hiram Kane Adventure (The Hiram Kane Adventure Series Book 1)
by Steven Moore
$

2.99
A betrayed criminal. A kidnapped child. A deadly race against time. On the Island of the Gods, expedition leader Hiram Kane is on holiday after a long season guiding in the Peruvian Andes.When a good friend's greed leads him to betray Bali's most notorious gangster, their peaceful community is left shell-shocked after the six-year-old daughter of its leader gets kidnapped in a vicious and violent raid. What follows is a whirlwind race across the paradise ...
KINDLE
Adela's Prairie Suitor (The Annex Mail-Order Brides Book 1)
by Elaine Manders
$

0.99
A clean, Christian romance novella about a Victorian era, western mail-order bride.Most of the ladies attending the Harvard Annex hope to attain a quality education and advance the status of women--except Adela Mason. All she wants is marriage and a home of her own. After corresponding with Byron Calhoun, a Kansas farmer, for several months, she's convinced he's the man God has chosen for her. She accepts his invitation to visit the farm so he ...
KINDLE
The Amazing Adventures of Kavalier & Clay
by Michael Chabon
$

18.00
A young escape artist and budding magician named Joe Kavalier arrives on the doorstep of his cousin, Sammy Clay. While the long shadow of Hitler falls across Europe, America is happily in thrall to the Golden Age of comic books, and in a distant corner of Brooklyn, Sammy is looking for a way to cash in on the craze. He finds the ideal partner in the aloof, artistically gifted Joe, and together they embark on ...
KINDLE