Welcome, book lover! Are you looking for Kindle book deals? OHFB features limited-time sales of the best free and bargain Kindle books from the biggest publishers and bestselling independent authors. These are today's featured books:
The Suspects
by Katharine Johnson
$

10.99
When you're bound together by secrets and lies who do you trust? Shallow Grave meets The Secret History in this quirky psychological thriller.
KINDLE
Hellboy Volume 1: Seed of Destruction
by Mike Mignola
$

17.99
Dark Horse presents new editions of the entire Hellboy line with new covers, beginning with Seed of Destruction, the basis of director Guillermo del Toro's blockbuster films.
KINDLE
Dead Straight (The Curly Fan Club Book 1)
by K T Bowes
$

14.99
What does sex lube, a murder, and a secret guild of women have in common?Kit Maguire is the link. That, and her discovery that the purple-willy-shaped tube of lube is fantastic for styling her wayward hair. A national disaster means the lube is in short supply and the hunt is on to find more before Kit's curls turn to frizz. The Women with Curls guild is desperate for a demonstration but Kit isn't keen on ...
KINDLE
WHATEVER THE COST: Assassin vs Terrorist in the Ultimate Battle (Mark Cole Book 2)
by J.T. Brannan
$

14.99
A Chinese cargo ship is hijacked off the coast of Indonesia by ruthless pirates; North Korea is involved in a covert plan to reunify the country by taking control of the South; and in Saudi Arabia, a terrifying new terrorist group has emerged that threatens to destabilize the entire world.Adrift and psychologically damaged after the brutal murder of his family, ex-covert operative Mark Cole stumbles across a clue which might lead him to the hijacked ...
KINDLE
Looks That Deceive (MedAir Series Book 1)
by Braxton DeGarmo
$

17.95
Two prominent medical malpractice attorneys are dead.Can you imagine the stuff flowing downhill into Detective Lynch Cully's lap?From his lieutenant's office. From his chief's office. The mayor's office. The governor.He's already facing the toughest case of his career: a serial assailant who leaves his victims unable to testify.Are these cases related? Has the perpetrator upped his game?Amy Gibbs, RN is a newly recruited med-evac flight nurse who left the ER, its stress, and memories of ...
KINDLE
The Morning Line: A War, A Family, A Horse Race, a Hero
by Tom Kenny
$

12.95
THE MORNING LINEOn a raw winter night in Northern Ireland, a misplaced bullet from the rifle of a British Army sniper sets off a series of events that culminate a decade later on a sun-filled summer day at Saratoga Race Course in upstate New York. In the intervening years, a brother and sister are torn apart by the violence gently referred to as the Troubles. Feisty Annie McGuire seeks retribution and connects with the Irish ...
KINDLE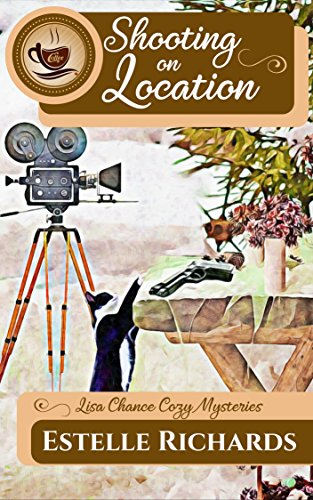 Shooting on Location (Lisa Chance Cozy Mysteries Book 2)
by Estelle Richards
$

6.99
She's done with the movies, but the movies aren't done with her. Lisa Chance has it all. Her coffee shop is starting to succeed and her relationship with her new boyfriend is getting closer. She doesn't miss her old life in Hollywood at all. But when a film crew comes to town, she's roped into working on the movie set. Worse, her ex-boyfriend Dylan thinks his role in the film is the perfect opportunity to win her ...
KINDLE
Marked for Revenge: An Art Heist Thriller (Zelda Richardson Mystery Series Book 3)
by Jennifer S. Alderson
$

11.99
An exhilarating adventure set in the Netherlands, Croatia, Italy, Luxembourg, and Turkey about stolen art, the mafia, and a father's vengeance.When researcher Zelda Richardson begins working at a local museum, she doesn't expect to get entangled with an art theft, knocked unconscious by a forger, threatened by the mob, or stalked by drug dealers.To make matters worse, a Croatian gangster is convinced Zelda knows where a cache of recently pilfered paintings is. She must track ...
KINDLE
Fatal Flashback: A Legal Courtroom Thriller
by Tom Berreman
$

10.99
When those profiting from a new migraine medication silence a whistleblower after he discovers an undisclosed side effect causing enhanced, spontaneous PTSD flashbacks, Blake Lawrence must rely on his courtroom skills to uncover how and why the FDA approved the drug.The answer is not what anyone in the courtroom expects.Andrew Hayden III is on the verge of vaulting the corporation bearing his name to pharmaceutical industry prominence pending FDA approval of Xyprotaine, a revolutionary migraine ...
KINDLE
Promise of Malice (The Detective Kendall Halsrud series Book 3)
by Marla Madison
$

15.99
The third book in the Detective Kendall Halsrud series is here!When Kendall becomes a date rape victim, the incident triggers a series of events that send her life into a dangerous freefall. Still struggling with the remains of her relationship with ex-lover Adam Nashlund, Kendall is temporarily suspended from her job, and she joins Nash, who has been hired to locate a man's missing wife. A rape-homicide in the area leads Kendall to investigate the ...
KINDLE