Welcome, book lover! Are you looking for Kindle book deals? OHFB features limited-time sales of the best free and bargain Kindle books from the biggest publishers and bestselling independent authors. These are today's featured books:
Iron Goddess: A Shea Stevens Thriller
by Dharma Kelleher
$

4.99
It ain't easy being clean.Eight years after getting out of prison, Shea Stevens has her own business building custom motorcycles. But when her niece is kidnapped and an employee shot, Shea launches herself back into the criminal underworld of Arizona's high desert and joins forces with her father's old biker gang. But not everything is as it appears. Shea finds herself torn between competing loyalties where the wrong move could cost her more than her ...
KINDLE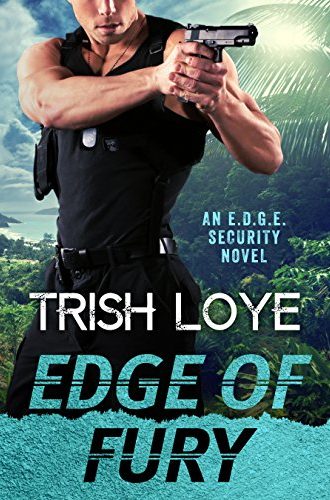 Edge of Fury (Edge Security Series Book 7)
by Trish Loye
$

3.99
E.D.G.E. Security is a covert international organization that handles jobs most governments won't. The operators are the elite of the elite, soldiers and spies, chosen for their skills and secrecy, and their ability to go beyond the edge.In the jungles of Colombia one spy meets another…Tell No One Quinn Sinclair has worked hard and sacrificed much to become one of the only female operatives with the British Special Reconnaissance Regiment. Undercover as a medic in ...
KINDLE
The Pirate's Tempting Stowaway (Dukes of War Book 6)
by Erica Ridley
$

8.99
Enjoy another witty, emotional book in New York Times and USA Today bestselling author Erica Ridley's fan-favorite Dukes of War regency romance series! Captain Blackheart leads a simple life of roving the seas, wenching and treasure-hunting. He steers clear of romantic entanglements that could tie him to land. He shouldn't have any trouble keeping his hands off the gently-bred lady he's commissioned to abduct — except his cargo turns out to be feisty and passionate! ...
KINDLE
Battlefield Z The Collected Adventures: Volume One (Battlefield Z series)
by Chris Lowry
$

15.99
A father hunts for his children after world war Z in this post apocalyptic science fiction comedy.Dad doesn't have a lot of wit. A little lacking on charm and in the looks department. But what he does have is grit and will power.That's got to be enough to fuel his cross country trek from Florida to Arkansas to hunt for his children lost after the zombie plague. It's time to chew bubble gum and kick ...
KINDLE
Z-Minus I
by Perrin Briar
$

9.97
The post-apocalyptic series readers are describing as "one of the best post-apocalypse stories I've ever read."Once infected, the virus shuts down organs, kills nerve impulses and even reprograms the way we think. The virus becomes us.But the process takes eight hours.If you only had eight hours left to live, what would you do?For Chris Smith, that decision has been made for him. He's infected, and returns home to find the rest of his family undead ...
KINDLE
Seven Slightly Sadistic Stories
by Jeremiah Cress
$

5.99
WARNING: These stories contain scenes of violence that may shock or disturb some readers. With a mixture of dark humor and creepy storytelling, this collection of bloody and disturbing tales is both entertaining and downright chilling. Each story, with its creepy tone and terrifying set of events, exposes a real and terrifying fact; that no one is ever safe.
KINDLE
Momma Grizzly (The Nexus Nebula Saga Book 1)
by Kevin Hensley
$

9.99
Never come between a mother and her cub.Grunwald is a sleepy Texas town steeped in legend and superstition. For generations, tall tales about a cursed forest and its giant guardian bear were passed down in whispers and songs until they became town lore. Kelly never put much stock in these stories when she first moved to town… but then children start to go missing.When her best friend's daughter disappears into the forest, something awakens in ...
KINDLE
Waking the Demon Within (Hell's Wrath Book 1)
by Alexis Taylor
$

0.99
Death came for me and brought the chance for revenge. She says I alone can unite the sins and restore Hell to its former glory. All I need to do is wreak havoc on those who have wronged me. Blood will Flow. Earth will Fall, and Hell will rise again. For I am Wrath, and Vengeance shall be mine.TRIGGER WARNINGVIRGIN SACRIFICE
KINDLE
Sorcery & Warlocks: Six Dark Fantasy Novels
by Kylie Quillinan
$

2.99
Six complete dark fantasy novels.Fire & Ice - Patty JansenDarkness Rising - James E. WisherRequiem For The Wolf - Tara SaundersThe Prince's Man - Deborah JayThe Ring And The Flag - William L. HahnMuse - Kylie Quillinan
KINDLE
Bad Girl Blues (Magnolia Sisters Book 2)
by Brenda Barrett
$

10.99
Brigid Manderson had the blues. She wanted to go to medical school but she couldn't afford it. When her mother, an ex prostitute, invited her to work for her escort business she didn't want to but circumstances forced her hand. Her most recent customer was the wealthy record producer, Thomas Kellier. He wanted her and he was willing to pay for the privilege of having her. Would Brigid succumb to his wealth and charm, or ...
KINDLE