Welcome, book lover! Are you looking for Kindle book deals? OHFB features limited-time sales of the best free and bargain Kindle books from the biggest publishers and bestselling independent authors. These are today's featured books:
The Magnolia Sisters
by Michelle Major
$

7.99
Avery Keller arrives in Magnolia, North Carolina, with one aim: collect her inheritance and quickly put the quirky town in her rearview mirror. But the father who didn't acknowledge her when he was alive has left Avery a mess to sort through—along with two half sisters she's never met and a gorgeous single dad living next door. Soon her plan to keep this colorful, close-knit community at a distance gets complicated….
KINDLE
The Book of Unknown Americans
by Cristina Henríquez
$

15.00
A boy and a girl who fall in love. Two families whose hopes collide with destiny. An extraordinary novel that offers a resonant new definition of what it means to be American.
KINDLE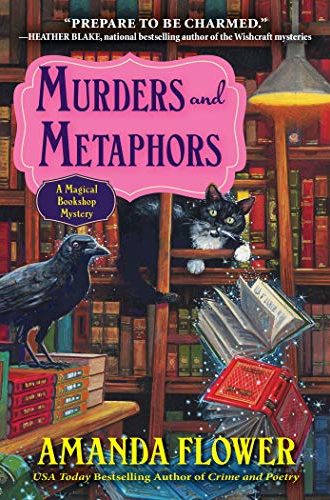 Murders and Metaphors
by Amanda Flower
$

7.99
Niagara region booksellers Violet Waverly and Grandma Daisy sleuth the slaying of a sommelier whose book signing turned into her sayonara.
KINDLE
State of Lies
by Siri Mitchell
$

16.99
Months after her husband, Sean, is killed by a hit-and-run driver, physicist Georgie Brennan discovers he lied to her about where he had been going that day. A cryptic notebook, a missing computer, and strange noises under her house soon have her questioning everything she thought she knew. Georgie quickly finds herself tangled in a web of political intrigue that has no clear agenda and dozens of likely villains. Only one thing is clear: someone ...
KINDLE
The Gym-Less Workout
by Milo Kemp
$

16.99
There is a secret no gym wants you to know; you can get the body you want without paying for a gym! With 558 million being wasted on unused gym memberships last year it is no surprise they do not want you to know. But you have no other choice if you want a ripped body than to go to the gym, right? Well there is an old workout style that is getting newfound popularity. ...
KINDLE
Target Practice Mysteries 3 & 4 (Target Practice Mysteries Boxset Book 2)
by Nikki Haverstock
$

3.99
Book 3 & 4 in a series set at the fictional Westmound Center for Competitive Shooting Sports in rural Wyoming. The series includes competitive archery, a Great Dane named Moo and lots of murder. Target Practice Mysteries 3 & 4Death at the Trade ShowWhen Di grabs a last minute invite to a trade show, she discovers a surprise: a dead body at the host hotel.The Outdoor Industry Trade Show has vendors from archery and firearm ...
KINDLE
Aimpoint: A US Army Detective Regan Chase Thriller (A Deception Point Military Thriller Book 1)
by Candace Irving
$

9.99
How far would you go to stop a terrorist?US Army CID Special Agent Regan Chase thought she knew the answer--until her target changed and her case blew up in her face. "Your suspect is Special Forces."The tip is from a Stateside colleague. With it comes the chilling reality: Regan's latest mission just might be her last. Has one of the Army's elite soldiers turned terrorist? It's happened before--with deadly results.Not only is this soldier more lethal ...
KINDLE
The Watcher (Acid Vanilla Series Book 1)
by Matthew Hattersley
$

9.99
They trained her to kill. Erased her past. Now they want her dead. Acid Vanilla is a hired killer facing an existential crisis. She's about to take a holiday, won through sheer sweat and blood, when her boss demands she off a notorious Paris-based hacker. But when the eccentric female target shares a startling secret about Acid's troubled past, she can't pull the trigger.Tangled in a blossoming love/hate relationship with her spared victim and a bounty on both ...
KINDLE
Special Agent Rylee (Undercover FBI Book 7)
by Mimi Barbour
$

12.99
Rylee couldn't believe her rotten luck…Being chosen as one of the agents to play bodyguard to a spoiled billionaire while sailing on a Caribbean cruise depresses her... a lot. The dude – so important to the government that they're willing to provide the best to protect him – won't even know they're in place. The big question – why her? She prefers work that matters, the dirty jobs, on the streets, in the trenches, and ...
KINDLE
The Fiona Mason Mysteries: Books 1 to 3
by Judith Cranswick
$

7.72
Travel can be murder…Fiona's new career as a tour manager for a coach company provides her with plenty of unexpected challenges, including tracking down murderers and terrorists before they harm her passengers.This box set includes the first three books in a series of cozy mysteries each set in a different country. If you like your crime with a touch of humour, beautiful locations, and plots that keep you guessing to the end, then this is ...
KINDLE