Welcome, book lover! Are you looking for Kindle book deals? OHFB features limited-time sales of the best free and bargain Kindle books from the biggest publishers and bestselling independent authors. These are today's featured books:
Aquaman's Cookbook: Recipes for Surface Dwellers and Atlanteans Alike
by Luke Sack
$

12.96
Aquaman is one of the most brilliant and popular superheroes to have ever been created by the famous DC comics, to be a part of the DCU. He made his first appearance in 1941 and was brought to life by Mort Weisinger and Paul Norris. The current latest version of him does have several differentiating features from the initial version. But what they have in common is that they took charge of their heritage and ...
KINDLE
Feta Cheese is a Yummy Cheese: A Cookbook Helping You to Use It in Many Ways!
by Ivy Hope
$

12.95
Why is feta cheese so unique and so good at the same time! It is honestly one of my favorite types of cheese. What is yours?It may be due to a few reasons. The texture to me is fabulous. It is squeaky, milky and just so tasty. The taste is usually due to a mixture of sheep milk and/or goat milk. That is why! It is made with sheep milk and not cow milk! Also, ...
KINDLE
A Nutella Recipe Book: Recipes for Nutella Spread Paramours and Hazelnut Connoisseurs
by Sharon Powell
$

12.95
Applying some chocolate spread to your bread is not as new as you think it is! Just like various jam and marmalade lovers, the practice of applying chocolate spread to bread-based dishes have always been around. It just wasn't as popular before the 20th century since cocoa has always been an expensive ingredient to be processed. To turn it into a spread would've taken more effort without the machines required, so it was a luxurious ...
KINDLE
Happy Valentine's Day Recipes: Make the Day Special with Delicious Meals & Treats!
by Allie Allen
$

12.95
Have you heard that the way to a person's heart is through their stomach?Would you enjoy preparing meals for or with the one you love?Isn't Valentine's Day the best time to make that happens?Whether you are a single person, currently looking for someone special, or in a committed relationship, there is numerous food that can bring a romantic feeling to your Valentine's Day meals and treats. Seafood like oysters, shrimp and salmon is excellent choices ...
KINDLE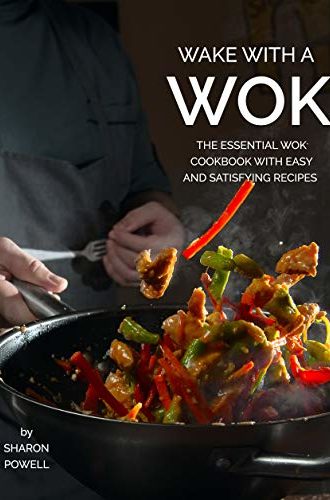 Wake with A Wok: The Essential Wok Cookbook with Easy and Satisfying Recipes
by Sharon Powell
$

12.95
The quick and easy recipes in this cookbook will give you the exotic Asian feeling as they are prepared solely in a wok with Asian ingredients. Each recipe has a unique taste of sweet, tangy, and spicy which will explode your taste buds and make you crave more!This book not only tells you about the tastes of the food but also the health benefits of the various ingredients that have been used. So, don't wait ...
KINDLE
The Cottage Cheese Prepared Many Ways: A Cookbook That Tells All!
by Ivy Hope
$

9.99
Cottage cheese is one of these cheeses you either love or you do not. I think often there is no middle and you may need to run some tests with your loved ones before you start preparing some outrageous meals with this lovely cheese.However, I think like any other food, of course, it is all about how you serve it. You must find ways and ingredients to match it with pleasing your family members. It ...
KINDLE