Welcome, book lover! Are you looking for Kindle book deals? OHFB features limited-time sales of the best free and bargain Kindle books from the biggest publishers and bestselling independent authors. These are today's featured books:
The Magnolia Sisters
by Michelle Major
$

7.99
Avery Keller arrives in Magnolia, North Carolina, with one aim: collect her inheritance and quickly put the quirky town in her rearview mirror. But the father who didn't acknowledge her when he was alive has left Avery a mess to sort through—along with two half sisters she's never met and a gorgeous single dad living next door. Soon her plan to keep this colorful, close-knit community at a distance gets complicated….
KINDLE
The Book of Unknown Americans
by Cristina Henríquez
$

15.00
A boy and a girl who fall in love. Two families whose hopes collide with destiny. An extraordinary novel that offers a resonant new definition of what it means to be American.
KINDLE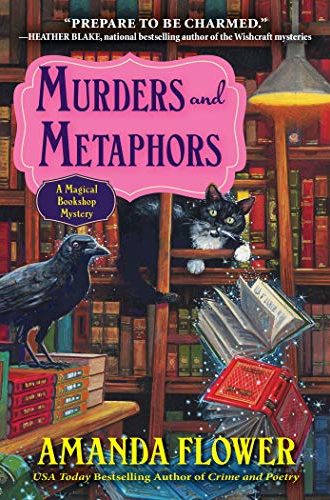 Murders and Metaphors
by Amanda Flower
$

7.99
Niagara region booksellers Violet Waverly and Grandma Daisy sleuth the slaying of a sommelier whose book signing turned into her sayonara.
KINDLE
State of Lies
by Siri Mitchell
$

16.99
Months after her husband, Sean, is killed by a hit-and-run driver, physicist Georgie Brennan discovers he lied to her about where he had been going that day. A cryptic notebook, a missing computer, and strange noises under her house soon have her questioning everything she thought she knew. Georgie quickly finds herself tangled in a web of political intrigue that has no clear agenda and dozens of likely villains. Only one thing is clear: someone ...
KINDLE
The Gym-Less Workout
by Milo Kemp
$

16.99
There is a secret no gym wants you to know; you can get the body you want without paying for a gym! With 558 million being wasted on unused gym memberships last year it is no surprise they do not want you to know. But you have no other choice if you want a ripped body than to go to the gym, right? Well there is an old workout style that is getting newfound popularity. ...
KINDLE
Fur Coat No Knickers
by C.B. Martin
$

12.99
Hurtling through her thirties, Tara is still yet to find her perfect man, despite gruelling efforts to transform herself into the perfect woman. Tara's prayers appear to have been answered when she miraculously falls into the arms of Travis Coleman - the famed, silver-tongued sex demon.
KINDLE
Love's Prayer
by Melissa Storm
$

9.95
If you love tales of faith, hope, and finding home, then don't miss your chance to fall in love with Ben, Summer, and the entire town of Sweet Grove, Texas, in this heartwarming romance.
KINDLE
A Christmas Visitor
by George Samerjan
$

9.99
Determined to restore the Christmas spirit to their home, shrouded in grief since the death of their son, George Boyajian and his family encounter a stranger who forever changes all of their lives with a special message of love and hope.
KINDLE
Monster, She Wrote
by Melanie R. Anderson
$

16.99
Meet the women writers who defied convention to craft some of literature's strangest tales, from Frankenstein to The Haunting of Hill House and beyond.
KINDLE