Welcome, book lover! Are you looking for Kindle book deals? OHFB features limited-time sales of the best free and bargain Kindle books from the biggest publishers and bestselling independent authors. These are today's featured books:
Blood Lust: A Reverse Harem Paranormal Romance (Devil's Gate Book 1)
by Grace White
$

10.00
An ancient dark power. Three species at war. A witch to unite them all. Life in Devil's Gate is hell on earth. With no Regent to maintain order between the species, humans live in fear of what lurks in the shadows while the vampires, wolves, and fae that inhabit Devil's Gate battle for territory and power.And nineteen-year-old Estelle Cotillard is caught up in the middle.Harboring a dark secret, Estelle tries to stay out of trouble, ...
KINDLE
The Savage King: A Qurilixen World Novel (Lords of the Var Book 1)
by Michelle M. Pillow
$

15.99
Cat-Shifter Paranormal Sci Fi RomanceBook one of the bestselling series by NYT Bestselling Author Michelle M. Pillow.5 stars! "I love how they treat their women."​Cat-shifting King Kirill knows he must do his royal duty by his people. When his father unexpectedly dies, it's his destiny to take the throne and all of the responsibility that entails. What he hadn't prepared for is the troublesome prisoner that's now his to deal with.Undercover Agent Ulyssa is no man's ...
KINDLE
Blood Innocente: Venetian Vampires Book 1
by Mia O'Sullivan
$

14.97
Young ballet student Ama Coleman moves with her father Dante, her younger brother Kofi, and her Italian stepmother Paloma, back to Paloma's birthplace of Venice, Italy and soon settles into life in the beautiful Italian city. Enrolling in dance school, Ama quickly discovers that Venice's population is far more…species diverse… than she would have ever dreamed. Embracing the alternative scene, Ama quickly befriends the irreverent Bianca, the androgynous Ohni, and the quiet Luca, feeling a ...
KINDLE
Line of Fyre
by Cara Bristol
$

4.99
You know things are bad on Earth when you're the president's daughter and becoming a concubine to an alien dragon shifter seems like your best option…
KINDLE
Ascending: A Paranormal Love Story
by Kenna McKinnon
$

7.99
After a marriage fraught with abuse and infidelity, Scarlett Kane's husband is suddenly killed in a motorcycle accident.Conflicted by feelings of love and hate, she struggles to build a new life, but a paranormal presence prevents her from moving on. Haunted by the past, all she wants is to have a happier future.When Scarlett discovers an incredible secret about her husband, it seems like the inconceivable burden of her past is finally gone. On a ...
KINDLE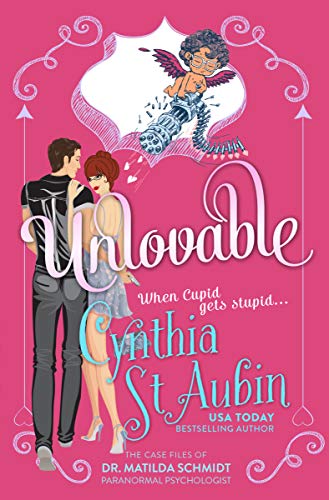 Unlovable: The Case Files of Dr. Matilda Schmidt, Paranormal Psychologist #1
by Cynthia St. Aubin
$

6.99
It isn't every day a sexy demigod throws a pissed-off Cupid onto psychologist Matilda Schmidt's couch and informs her the fate of the world depends on her ability to get him off his diapered ass and back to helping people fall in love.Just when Matilda convinces herself she's not hallucinating, in walks a Vegas hit man with a big gun and a bigger threat: pay back the million dollars she owes a notorious casino mogul, ...
KINDLE
Alpha's Mate: A Steamy PNR Shifter & Fantasy Romance Collection (Hot Shifters Book 3)
by Casey Morgan
$

8.99
I want to use all my power as an alpha wolf shifter on her.I thought I'd never find my mate.Then I literally ran into Ava in the woods.She thinks she's only a human, fleeing her strict parents.But I begin to suspect she's so much more than she even knows.The magic between us cannot be denied.As the full moon rises, it pulls at me to make my mate my one true love.Only she can calm the ...
KINDLE