Welcome, book lover! Are you looking for Kindle book deals? OHFB features limited-time sales of the best free and bargain Kindle books from the biggest publishers and bestselling independent authors. These are today's featured books:
Axxeon King's Captive: A Sci Fi Alien Romance (Mates for Axxeon 9 Book 1)
by Liz Paffel
$

12.99
Alora Church, scientist extraordinaire, is used to being valued for her mind, not her womb. She barely leaves her lab long enough to see the effects of the aliens that have invaded Earth. When her best friend is Summoned to become an Axxeon breeder, Alora is prepared to help her run. Until two huge Axxeon warriors show and take Alora captive instead. She thinks there's nothing worse than being taken as an alien incubator... but she's ...
KINDLE
Shards Of Glass: An Urban Fantasy Action Adventure (Mage Hunters Book 1)
by Eric Michael Craig
$

11.99
Magic. Monsters. Mayhem. SWAT teams versus rogue wizards... it's all in a day's work.In a world where magic is mainstream, somebody's got to deal with the mages that break bad. That somebody is Cass Wheeler, the leader of a specialized SWAT team tasked with bringing justice to those who use their magic towards nefarious ends. Now, she and her team of mages and shooters will face their most dangerous opponent yet: a master level wizard ...
KINDLE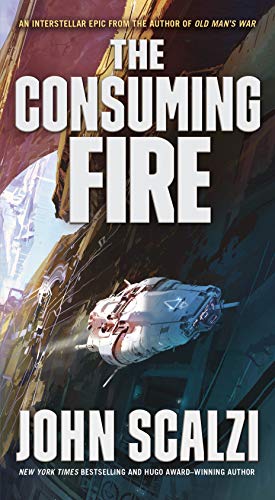 The Consuming Fire
by John Scalzi
$

9.99
The Consuming Fire by John Scalzi is the dazzling follow-up to The Collapsing Empire, the second in the Interdependency series – a space opera in a universe on the brink of destruction.
KINDLE
Wicked Fox
by Kat Cho
$

10.99
Eighteen-year-old Gu Miyoung has a secret--she's a gumiho, a nine-tailed fox who must devour the energy of men in order to survive. Because so few believe in the old tales anymore, and with so many evil men no one will miss, the modern city of Seoul is the perfect place to hide and hunt. But after feeding one full moon, Miyoung crosses paths with Jihoon, a human boy, being attacked by a goblin deep in ...
KINDLE
Rise of the Forgotten Sun (The Sun and the Raven Book 1)
by Jon Monson
$

19.99
Best Indie Book Award for Fantasy, 2019!A young prince seeking adventure with his alcoholic best friend and a giant lizard. A power so ancient that it has been forgotten by mankind. A secret society bent on unleashing the Undergods from their prison. When Aydiin shirks his duties to search for ancient ruins in the Soulless Desert, he unleashes the power left behind by a god over a thousand years ago. Upon his return home, he is faced ...
KINDLE
Worlds Away
by V. E. Bolton
$

11.68
Overpopulation has pushed planet Earth to breaking point: the Expansion is taking up every available resource, or at least according to the Panel. Luckily, they have the perfect solution. Their rigorous intelligence test will sort people into Supplementary Humans, who exist only to serve, and Betters, who lead the Cause.Many believe the Cause to be lost, but Charlotte Dobson alone has the answer, and it lies at the heart of the fabled planet, Oscar 70. ...
KINDLE
20,000 LEAGUES UNDER THE SEA (With All Original Illustrations)
by Jules Verne
$

4.99
This eBook edition of "20,000 Leagues Under the Sea" has been formatted to the highest digital standards and adjusted for readability on all devices.Twenty Thousand (20,000) Leagues Under the Sea (French: Vingt mille lieues sous les mers) is a classic science fiction novel by French writer Jules Verne published in 1870. It tells the story of Captain Nemo and his submarine Nautilus as seen from the perspective of Professor Pierre Aronnax. As the story begins ...
KINDLE