Welcome, book lover! Are you looking for Kindle book deals? OHFB features limited-time sales of the best free and bargain Kindle books from the biggest publishers and bestselling independent authors. These are today's featured books:
Now That I've Found You
by Bella Andre
$

14.99
World-renowned artist Drake Sullivan doesn't paint women. Ever. Not when he knows all too well just how destructive painter/muse relationships can be. But on the day Rosa Bouchard walks onto the cliffs outside his Montauk cottage, Drake is so captivated that he can't stop himself from bringing her life on canvas.
KINDLE
A Tangled Summer
by Caroline Kington
$

5.99
In the West Country village of Summerstoke, the family at Marsh Farm are too preoccupied with living their lives to notice the farm sliding into ruin.Charlie Tucker dreams of victory in a motocross race, little sister Alison is determined to dispense with her virginity before the end of the summer, and their brother Stephen is hopelessly in love with the local am-dram star. Meanwhile mother Jenny dreams of escaping to Weston-super-Mare in the arms of ...
KINDLE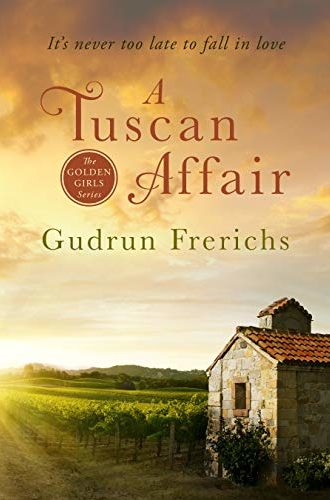 A Tuscan Affair
by Gudrun Frerichs
$

3.99
Anna King isn't even dreaming of a new man in her life. Not after a holiday romance went all wrong thirty years ago. Her career, her beautiful home, and most of all her twins are all she wants and needs. Who needs a man if you have fantastic friends? Not this well respected Auckland lawyer.Vineyard owner Antonio Falcone has only one goal. Fly to Auckland, help his elderly father getting divorced, and zap back home ...
KINDLE
Blue Midnight
by Tess Thompson
$

16.95
A recent divorcee finally faces the consequences of having denied her destiny, following her heart to her blissful second chance in this mature standalone love story by USA Today bestselling author Tess Thompson.
KINDLE
Elly in Bloom
by Colleen Oakes
$

15.00
Surrounded by lush flowers and neurotic brides, Elly Jordan has carved out a sweet life for herself as the owner of Posies, a boutique florist in St. Louis. Not bad for a woman who drove away from her life two years earlier when she found her husband entwined with a redheaded artist. Just when she feels that she is finally moving on from her past, she discovers that an extravagant wedding contract, one that could ...
KINDLE
The Way We Fall
by Cassia Leo
$

12.99
I've loved my best friend's brother, Houston Cavanaugh, since I was eleven years old. But my friendship with Hallie Cavanaugh meant too much to me to risk taking a chance with Houston. Until one snowy afternoon, Houston and I find ourselves thrust together by the grief of Hallie's death. Our passionate and toxic relationship will test the boundaries of our loyalty to each other and to Hallie's memory, ultimately, leaving us in ruins. Five years ...
KINDLE
That Thing You Do
by Maria Geraci
$

13.29
Once upon a long time ago, he broke her heart. Good thing she's too smart to fall for him a second time.
KINDLE