Welcome, book lover! Are you looking for Kindle book deals? OHFB features limited-time sales of the best free and bargain Kindle books from the biggest publishers and bestselling independent authors. These are today's featured books:
Captive in the Dark (The Dark Duet Book 1)
by CJ Roberts
$

9.99
BOOK ONE OF THE DARK DUET:Caleb is a man with a singular interest in revenge. Kidnapped as a young boy and sold into slavery by a power-hungry mobster, he has thought of nothing but vengeance. For twelve years he has immersed himself in the world of pleasure slaves searching for the one man he holds ultimately responsible. Finally, the architect of his suffering has emerged with a new identity, but not a new nature. If ...
KINDLE
Claimed (Brides of the Kindred Book 1)
by Evangeline Anderson
$

9.99
Brides of the Kindred Book One—Claimed Olivia Waterhouse has just graduated from nursing school and has her whole life ahead of her—until she gets drafted. Problem is, she isn't being forced into the Army, she's been chosen as a Kindred bride. The Kindred are huge alien warriors—a race of genetic traders whose population is ninety-five percent male. After saving Earth from the threat of invasion they demand a reward—the right to find brides among the ...
KINDLE
Incandescent: Knights Rebels MC
by River Savage
$

9.99
Phoenix 'Nix' Knight thought pulling his club out of the illegal shit his Pops got them into was difficult. Until he meets Kadence. Kadence Turner has no business lusting over a student's father, especially the president of the Knights Rebels MC. Nix is crass, obnoxious and dangerously sexy and for some reason, Kadence can't seem to hate him for it. The bossy biker breaks down her defenses, but unlike the old Kadence, the woman she ...
KINDLE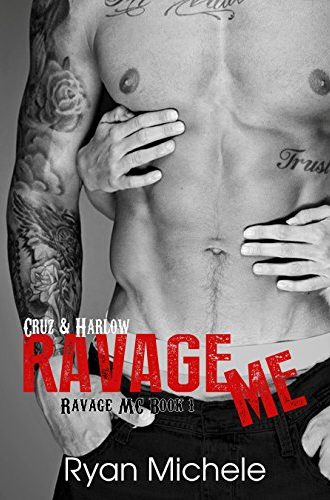 Ravage Me (Ravage MC#1)
by Ryan Michele
$

9.99
After spending the last two years stuck behind bars for a crime she didn't commit, Harlow 'Princess' Gavelson's time inside has finally come to an end, and she's ready for revenge. Unfortunately, being the daughter to the Vice President of the Ravage Motorcycle Club cuts into her plans, as orders must be followed. Trying to settle back into this life is proving difficult when the tables are turned and the woman who framed her is ...
KINDLE
Throttle Me (Men of Inked Book 1)
by Chelle Bliss
$

9.99
Suzy's a control freak and has her life mapped out - work hard, find a man with a stable job, and live happily ever after. She's content with the status quo, but her plan comes to a screeching halt when he enters her life and turns it upside down.City gave up on love when his heart was crushed in college, preferring to be the typical bachelor. He spends his nights hopping from one bed to ...
KINDLE