Welcome, book lover! Are you looking for Kindle book deals? OHFB features limited-time sales of the best free and bargain Kindle books from the biggest publishers and bestselling independent authors. These are today's featured books:
The Alpha's Concubine (Romantic Shifter Fantasy) (The Moon People Book 1)
by Claudia King
$

4.99
Taken from her people. Claimed by an alpha. Forced into a new life. In a time before tools of metal and houses of wood, tooth and claw rule the wild places of the world.The Moon People have been enemies to Netya's kind for as long as the stars can remember. They are monsters, demons, men and women who take the shapes of beasts. The murderers of her father. An outsider taken as a prize by ...
KINDLE
Reckless: Book 1 of the Mia Kazmaroff Mysteries (Mia Kazmaroff Mystery Series)
by Susan Kiernan-Lewis
$

3.99
Mia Kazmaroff has a gift nobody wants. She's able to tell the story behind any object simply by touch. It's a gift that comes in handy when her only brother, a detective with the Atlanta Major Crimes Division, is murdered. Determined to find his killer, Mia reaches out to the one person in Atlanta she believes can help her—Dave's partner, Jack Burton. Unfortunately, Burton is also the prime suspect.Together, Mia and Jack create a partnership ...
KINDLE
The Change (Unbounded Series Book 1)
by Teyla Branton
$

3.99
Death, Life, or Love—Unbounded Always Play for KeepsThere are only two ways to kill Unbounded, and fire isn't one of them—as law school dropout Erin Radkey learns the hard way. By fluke of a recessive gene, she has become Unbounded, a nearly immortal being with paranormal abilities.Erin's Change separates her from her loved ones and alters everything she believes to be true. A week earlier she was considering a marriage proposal; now she contemplates the ...
KINDLE
Dagger – The Light at the End of the World – A Dark Fantasy Adventure: free
by Walt Popester
$

2.99
"Walt is a unique writer, unafraid to trip into wild arenas of incredible concepts and still keep his reader reeled into the story at hand" - Grady Harp, Amazon top 100 reviewer, Hall of Fame, Vine Voice."Dark and violent just how I like my fantasy!" - KRT.Born as a god. Raised as a rogue.Dagger is a street kid, growing up in a city ruled by a brutal totalitarianism. He came into the world through a ...
KINDLE
AlterWorld (LitRPG: Play to Live. Book #1)
by D. Rus
$

2.99
A page-turning debut in the tradition of Nam Heesung, Legendary Moonlight Sculptor, and Ernest Cline, Ready Player One. Bestseller #1 in Russia for years 2013, 2014 and 2015. Bestseller #1 at Audible in 2016. Translated to English, German, Polish and Czech languages. A new pandemic - the perma effect - has taken over Earth of the near future. Whenever you play your favorite online game, beware: your mind might merge with the virtual world and ...
KINDLE
¿Puedo estar seguro de que soy salvo? (Spanish Edition)
by R.C. Sproul
$

2.99
Muchas personas en la iglesia hoy están llenas de dudas acerca de la salvación. Satanás susurra que es imposible que pecadores como ellos puedan ser receptores de gracia, y algunas iglesias agravan el problema al enseñar que los creyentes pueden perder la salvación. Lo cierto es que es posible tener seguridad de salvación en esta vida. De hecho, como el Dr. R. C. Sproul argumenta en este libro de Preguntas Cruciales, los cristianos deben asegurarse ...
KINDLE
Christmas at Pebble Creek (Free Short Story) (The Pebble Creek Amish)
by Vannetta Chapman
$

2.99
This free short story e-romance is an exclusive bonus from The Pebble Creek Amish Series by Vannetta Chapman. Fans of the series will enjoy this chance to briefly revisit Pebble Creek, and new readers will be introduced to an Amish community that is more deeply explored in the three full novels, A Promise for Miriam, A Home for Lydia, and A Wedding for Julia. As a bonus, this free eBook also includes Amish homestyle recipes ...
KINDLE
Out of a Dream (Sandy Cove Series Book 1)
by Rosemary Hines
$

0.99
Michelle Baron should be reveling in her new life in Sandy Cove, Oregon. From the outside, it all looks idyllic. A newlywed settling into a quaint coastal town, her husband establishing himself as a junior partner in a law firm—what more could she want? But a series of disturbing nightmares haunts Michelle. Her quest to understand these dreams leads her to the New World bookstore, where she begins a spiritual journey that will challenge her ...
KINDLE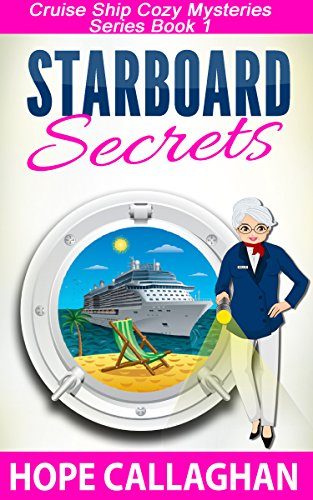 Starboard Secrets: A Cruise Ship Cozy Mystery (Cruise Ship Christian Cozy Mysteries Series Book 1)
by Hope Callaghan
$

2.99
~~ Click the "Buy now with 1 click" button at the top of the page To Read For FREE~~ "If you like cruise ship mysteries, you'll love Hope Callaghan's Cruise Ship Cozy Mysteries Series"Starboard Secrets Is Book 1 In The Cruise Ship Christian Cozy Mysteries SeriesBONUS - RECIPE INCLUDED!Millie Sanders' happily ever after is suddenly destroyed when her husband of 35 years comes home one day and informs her that he is leaving her for ...
KINDLE