The Bilbao Looking Glass
$

16.99
A couple finds an antique mirror that isn't broken, but still brings bad luck—"MacLeod can be counted on for a witty, literate, and charming mystery" (Publishers Weekly).
The Brutal Telling
$

8.99
Chaos is coming, old son. With those words the peace of Three Pines is shattered. As families prepare to head back to the city and children say goodbye to summer, a stranger is found murdered in the village bistro and antiques store. Once again, Chief Inspector Gamache and his team are called in to strip back layers of lies -- exposing both treasures and rancid secrets buried in the wilderness.
The Eva Rae Thomas Mystery Series: Books 1-3
$

26.99
Crazy deal! Multi-million-copy bestselling author Willow Rose's new mystery series ensnares ex FBI profiler Eva Rae Thomas in some confounding murder cases. Every Parent's Worst Fear! A 12-year-old girl goes missing at camp, and her body is found months later in a sleeping bag. When a second child is kidnapped, FBI profiler Eva Rae Thomas is determined to get to the bottom of the tragedies, but the closer she gets to the truth, the more dangerous it gets for her - and everyone she loves…
Just A Happy Camper (Hetta Coffey Series, Book 11)
$

13.50
Hetta Coffey is a sassy Texan with a snazzy yacht, and she's not afraid to use it.She's cruising Mexico's hauntingly beautiful Sea of Cortez when she gets a job offer she can't refuse. Not only is the project located in her old stomping grounds in Texas Hill Country, but comes with an RV for living quarters. She has no problem driving a forty-five foot yacht, but RVing is new to her.And as will happen, life throws her a major curve ball, and then smack dab into a nefarious plot back across the border.Join up with Hetta's posse—her dog, Po Thang and Trouble, her parrot—as they teach some bad guys not to mess with Texas.Scroll Up and Grab Your Copy Today!
Blatant Lies: An absolutely gripping crime mystery (A Reece Cannon Thriller Book 1)
$

12.99
Suspense. Action. Mystery. This electric thriller keeps you page turning all the way to the heart-stopping ending."I absolutely loved Reece's character. She listens to her gut and follows it. Love a strong character." —reader review ⭐⭐⭐⭐⭐Rookie Reece Cannon is driving down an old town road, wishing for some action on another uneventful patrol. You know what they say about being careful what you wish for.Suddenly, the rookie is forced to save a woman from her fiancé.Reece races to find the truth and bring the liars to justice. Caught in a web of deceit, she has to stay one step ahead of the double agents, the abductors, and the man who will stop at nothing to shut her down.There's every reason to fail.Ill-equipped and unprepared, will Reece stay alive long enough to solve this twisted investigation and find a killer? Can she sort the unbelievable truth from...blatant lies?Knox's debut is perfect...
Her Bear to Keep (BBW Paranormal Shapeshifter Romance) (Second Chance Shifters)
$

2.99
Tyson and Jordan were friends growing up, and although Jordan always had a crush on Ty, he didn't see her in that light until he finally came into his birthright. A late bloomer, it only took one look at Jordan after his first shift, to realize his mate had been right there next to him for years.Their love was young, strong, and true, but when Jordan became sick and could no longer be the woman she believed Ty deserved to be with, she pushed him away. Now Jordan will stop at nothing to find happiness for Tyson, even if her heart has to continuously break in the process.Frustrated with Jordan's antics, but realizing her heart is in the right place, Tyson plays along with Jordan's plan, even as he knows in his heart and soul, that she's the only woman for him. Ty will do anything to get his mate...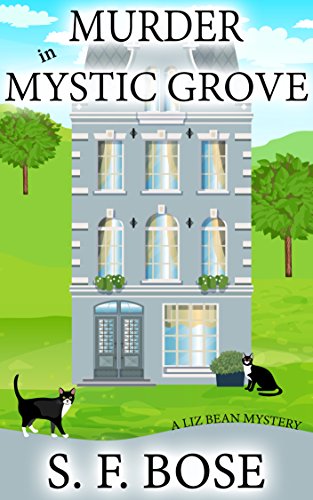 Murder in Mystic Grove (A Liz Bean Mystery Book 2)
$

19.99
Can a young, female protagonist solve a murder mystery in her small town and clear her mother's close friend, who is a key suspect? Or will it all explode in her face and cause deeper problems with her family?A murder mystery by S.F. Bose featuring Liz Bean, woman sleuth and aspiring private investigator..Murder in Mystic Grove Liz Bean has a new job as a private investigator intern for Sam Nolan Investigations in her hometown of Mystic Grove. When a longtime Mystic Grove resident is murdered, fear cuts through the village. Liz is shocked when she learns that her divorced mother's boyfriend, Ben, is a key suspect in the murder. When her mother calls to hire Liz and Sam to clear Ben's name, Liz hesitates. Her demanding mother has never asked for her help before.After a debate, Liz and Sam take the case. They chase down leads, following the evidence as...
The Snowman of Zanzibar (A Brutal International Crime Thriller. Jason Green Series)
$

15.99
Note : The books in the Jason Green series are stand alone novels and can be read in any order.The azure waters of a serene tropical paradise hide a sinister and murderous criminal undercurrent. A dark secret exposed leads to appalling bloodshed and chaos. How did it all go so dreadfully wrong? Ex soldier Jason Green was depressed and had been drinking far too much. The endless London winter had been bitterly cold. The freelance insurance fraud work was mundane, but this changes early on a frozen February morning.The wealthy client was desperate.Just how was his high flying young son making so much money?It sounded like a dream assignment. An escape from the city and a bit of travel.And for a while it was.But on an idyllic island utopia, someone is watching, and a dangerous criminal cartel operates quietly in the shadows.As Green digs deeper he uncovers the truth, but...
Witches' Brew: Cozy Mystery (Witches and Wine Book 1)
$

13.99
A B&B that doesn't serve breakfast, a dead body, and something strange in the room at the end of the corridor . . . Pepper knew moving back home wasn't going to be easy.Pepper Jasper moves from Sydney to the cozy town of Lighthouse Bay, answering a desperate plea from her aunts to help with their failing Bed and Breakfast business.She discovers her aunts are more eccentric than she remembered, the Bed and Breakfast does not serve breakfast, and the cottages for lease have strange themes. And what's more, within minutes of her arrival, she stumbles across a dead body.Pepper soon has her hands full, contending with a murder mystery, irritating guests including the enigmatic Lucas O'Callaghan who is convinced every woman wants to fall into his arms, and her aunts, who are hiding more than one deep secret.Who - or what! - lurks in the forbidden room at the...
Witch Hits the Beach: (A Paranormal Witch Cozy Mystery) (Main Street Witches Book 5)
$

2.99
The Banshee Creek Witches are headed to the beach! It's not all fun and games, though. Fortuneteller Luanne de la Rue is organizing the Diviners' Association's yearly convention in the quirky coastal town of Mystic Bay, and she's a nervous wreck. Herding black cats has nothing on managing high-maintenance mystics, especially when a star fortune-teller dramatically announces that their idyllic beach weekend will be tainted by...murder.