Tested by Fire: He Sought Revenge – He Found Life (Medic 7 Series Book 1)
$

14.99
In this medical thriller, Paramedic Jim Stockbridge responds to an EMS call in the ghetto and finds his best friend brutally stabbed and shot. Consumed with rage he hunts down Sid Drake's killers and renders his own form of justice. But he soon finds himself lost, tangling with his own demons, and a vicious street gang and its ruthless warlord, William "J-Rock" Jackson. So begins a long, dark journey that pushes Jim deep into his own personal world of bitterness and revenge, and ultimately to the brink of disaster. Haunting nightmares ensue. Endless nights. A brutal biker gang tries to have him killed and an angry detective wants him behind bars. His girlfriend leaves him, J-Rock is out for blood, and suddenly his entire world seems to be falling apart. Jim Stockbridge becomes a man truly tested by fire. He set out to seek revenge, but found something totally unexpected--forgiveness.
Every Reasonable Doubt (Vernetta Henderson Series Book 1)
$

16.99
When attorneys Vernetta Henderson and Neddy McClain are tapped to take on the biggest case of their careers, they are less than thrilled about working together. Their strained relationship, however, is the least of their problems. Their socialite client—charged with the brutal murder of her husband—is demanding an immediate dismissal of the case. But a ruthless prosecutor is determined to make sure that doesn't happen. Forced to fight a common enemy, the two women close ranks and, in the process, develop a bond that sees them through the uncertainties of trial, the pain of betrayal and pressures neither could have imagined.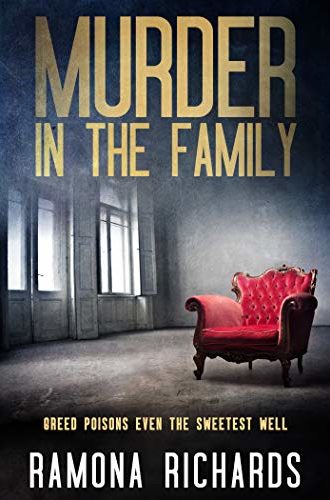 Murder in the Family
$

12.99
Greed Poisons Even The Sweetest WellStorm chaser Molly McClelland must return to her small Alabama hometown when she unexpectedly inherits her hoarder aunt's house . . . and all of its contents. Despite her suspicions that her aunt was murdered, Molly wants nothing more than to sell everything and get back to the life she loves. Especially once her homecoming reignites the decades-old family conflict that drove her away in the first place. But when Molly uncovers caches of cash, journals revealing secrets-and a body-amongst the stockpiles, she finds herself locked in a cat-and-mouse dance with a deadly endgame.Molly teams with local sheriff, Greg Olson, to find the truth. But will her determination and his skills be enough, or will the killer-or killers-put an end to their efforts once and for all?
Damaging Evidence: A Novel
$

14.99
Attorney Garrett Goodlove never thought he'd prosecute a medical malpractice case. Doctors swear an oath to help people, and those cases are usually honest mistakes blown up by ambulance chasers.But when he learns of a woman bodybuilder who went into the ER with a case of heartburn and came out in a wheelchair, he starts paying attention. It appears the doctor who saw her frequently orders open-heart surgery for patients who don't need it, sometimes leading to disability or death. And the doc knows exactly what he's doing. Garrett is convinced: The surgeon must be stopped.Teaming up with his daughter, a new law school graduate, Garrett must clear the reputation of their prime witness while battling the doctor's team of elite attorneys who are always one step ahead. The expenses are adding up, but it's too late to back out.If he doesn't prevail, not only will the surgeon continue harming...
The Cozy Corgi Cozy Mysteries – Collection One : Books 1-3 (Cozy Corgi Cozy Mysteries Collection Book 1)
$

27.99
Estes Park, Colorado: picturesque mountains, charming shops, a cozy bookstore and bakery… and murder. Cruel Candy: Book OneWinifred Page and her corgi, Watson, move to Estes Park to hit the Reset button on life. Fred is about to open her dream bookshop, but before she can begin her new life and put her plans into action, Fred and Watson have to clear her stepfather of murder.Traitorous Toys: Book TwoThe Christmas holidays in charming Estes Park lulls Winifred Page and her corgi, Watson, into thoughts of spiced chai and gingerbread as they settle into their new home. The toy store beckons Fred and her friend Katie, who dash in out of the cold, during a shopping spree to discover handmade toys, cuddly stuffed animals… and a dying man on the floor.Bickering Birds: Book ThreeAs Fred and Watson get pulled into the murder of a member of the Feathered Friends Brigade Bird...
The Cassidy Project (Sam Reilly Book 5)
$

14.99
A secret project is about to be reactivated...In the middle of the Pacific Ocean in 1962, at the height of the cold war, the U.S. military experimented with electromagnetic pulses created by detonating high atmosphere nuclear bombs. The project was code named Starfish Prime. The primary objective was to develop the ability to produce an EMP with enough force to knock out an entire nation's communication systems. The secondary objective, along with its consequences, was deemed too important to national security to ever be released.In the present day, in the Weddell Sea off the coast of Antarctica, a woman wakes up on a cruise ship to discover she's the only person left aboard, despite no apparent fault with the ship. . .. . . and Sam Reilly may be the only person standing in the way of The Cassidy Project.
Thunder in the Capital (Capital Series Book 1)
$

8.99
An up-and-coming politician. D.C. secrets. Will those in power succeed in silencing him forever?When Anthony Schumacher decided to run for the congressional seat of the retiring Representative Theodore Milhous Johnson, his meteoric rise through the political ranks was all but assured—he was a young, articulate lawyer with a beautiful wife and family. Nothing could stop him from one day becoming President. But when he uncovers some of D.C.'s darkest secrets, he soon finds himself in the crosshairs of the most powerful people in Washington. And they will stop at nothing to keep their secrets safe. Faced with sex scandals and assassination attempts, whether Schumacher survives depends on whether he can expose those who are trying to kill him before it's too late.Thunder in the Capital is the first book in the Capital Series thriller novels. If you like pulse-pounding action, political intrigue, and on-the-edge thrillers, then you'll love Rob Shumaker's...
Shot Through the Tart (Apple Orchard Cozy Mystery Book 7)
$

12.99
***Star Actor Shot Dead During Performance*** Everyone thought the murder was part of the play at first……but the actor never stood up to take a bow. The killer planned the murder well. Except for one tiny detail... Miss May and Chelsea were in the audience. Now they're hungry for justice. So they grab their wacky friend Teeny and pursue the case. The clues the girls find are shocking. Could this murder have something to do with Chelsea's past? Why are there mysterious junk removal guys destroying evidence all over town?And what will happen during the second performance of the play?As Chelsea and Miss May get closer to the truth they realize their own lives are in danger. Will they survive an attack by the killer? And will Chelsea finally get closure on her turbulent childhood? You'll love book seven in the apple orchard cozy series because it features delicious food,...
What Has Mother Done? (Thea Browne Mystery Book 1)
$

3.99
"Barbara Petty has written a riveting mystery reminiscent of Psycho. Somewhere, Hitchcock is smiling. And to think, this is just the first of the Thea Browne Mysteries."—J.M. LeDuc, author of the Sinclair O'Malley series"A gripping drama unfolds as Barbara Petty explores the tensions between a woman with Alzheimer's accused of an unspeakable crime, and her daughter, an investigative reporter determined to clear her mother's name. Well worth the read."—Sheila Lowe, author of the Forensic Handwriting Mystery seriesIn a small Midwestern town, on a cold, blustery March day, a man plunges to his death off a high, rocky cliff, setting in motion a string of events that lead to murders and rips open the long-hidden secrets of the town's most prominent family…The man is George Prentice, and the woman the police suspect of murdering him is his wife, Daphne. But Daphne has Alzheimer's and, as she is likely to be incompetent...
Enigma
$

9.99
The highly anticipated twenty-first FBI thriller by #1 New York Times bestselling author Catherine Coulter presents Agents Savich and Sherlock with two baffling mysteries. Working with Agent Cam Wittier (Insidious) and New York-based former Special Forces agent Jack Cabot, they must race against the clock to catch an international criminal and solve the enigma of the man called John Doe.