Fireworks, Forensics and Felonies (The New Orleans Go Cup Chronicles Book 7)
$

3.99
Fireworks on the 4th of July are not the only sparks flying.When Brandy and Jiff get invited to a 4th of July barbecue they don't bargain for the host and hostess to get blown up only seconds apart but miles away from each other. What does a Schnauzer, a baby squirrel, a motorcycle gang, a homeless man and a million-dollar life insurance policy have in common?  Sounds humorous doesn't it?It's Brandy's job to see the connection and solve the crime before one of Jiff's friends is wrongly accused of murder and faces serious criminal charges in 'The Big Easy'.
Watch And Wait: An addictively suspenseful and gripping thriller
"Rosalie?" she cried. I hugged her as she ran into me. She bawled. "I need you to do something for me," I whisper as I pull away. "Tell Greyston I love him." "What?" she says frantically as Yorkie grabs her and the tall kidnapper grabs me. "No!" she screams and I turn away, unable to watch her as she realizes what's happening. "No! Don't take her! No! Rosalie!""A twisted psychological thriller you'll have trouble putting down."—Goodreads
Once Solved (A Riley Paige short story)
$

0.99
"A masterpiece of thriller and mystery! The author did a magnificent job developing characters with a psychological side that is so well described that we feel inside their minds, follow their fears and cheer for their success. The plot is very intelligent and will keep you entertained throughout the book. Full of twists, this book will keep you awake until the turn of the last page." --Books and Movie Reviews, Roberto Mattos (re Once Gone) ONCE SOLVED is a companion short story to the bestselling Riley Paige mystery series, which begins with the #1 bestseller ONCE GONE (Book #1)—a free download with over 1,000 five star reviews! Veteran FBI Special Agent Riley Paige, one of the FBI's most brilliant and decorated agents, has devoted her life to hunting down serial killers. Suffering from PTSD, she now spends her time teaching other FBI agents, offering a window into the mind of...
The Early Classics of Agatha Christie
$

9.99
Agatha Christie was a British author of crime fiction. Christie's career spanned over 50 years and featured over 60 novels. Christie's book The Mysterious Affairs at Styles, was the first to feature the legendary character Hercule Poirot. This collection includes the following:NOVELS:The Mysterious Affair at StylesThe Secret Adversary
Lockdown
$

14.99
Christmas Eve in New York, but for ex-military bodyguard Ryan Lock it's business as usual. His task: to protect the head of one of America's most powerful corporations. But when a bloody massacre leaves bodies littering the streets of midtown Manhattan, Lock's hunt for the killers turns into an explosive game of cat and mouse.
The Second Encounter
This story involves a young attorney who meets a beautiful blond woman, has a short affair, and then, reluctantly agrees to represent her in a murder trial. The woman is destroyed and the attorney feels it may be his fault, and leaves the practice of law. Five years later the attorney, now a small college law professor, is surprised by the woman's daughter who arrives and asks the attorney to represent her in a second murder trial. Again, the attorney is trapped by his guilt, and he agrees to represent the daughter which commences a mystery that must be solved if the daughter is to be acquitted. Perhaps even the mother can be saved. Personal relationships become intense and shift as the action and unraveling develop, and nothing is clear until the end of the story. This book involves two criminal trials, deceiving participants, car chases, mysterious notes, an unexplained...
White Lines (Frank Harper Mysteries Book 3)
He tried to make things better...and failed. Miserably. Ex-cop Frank Harper is battling his addictions and wondering if his missteps in a recent case caused the horrific death of an innocent family. Meanwhile, a Dayton drug task force is struggling to contain hostile street gangs engaged in a surging drug trade that is spinning out of control. When Frank steps in to investigate the family's deaths, can he avoid a desperate standoff between warring factions that may cost him his life?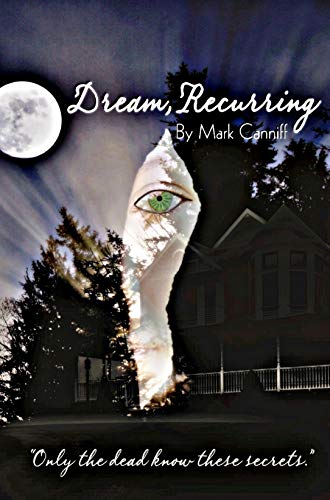 Dream, Recurring: Can A Recurring Dream, With A Dark Secret, Save Lucy From Her Haunted Past? (Island River Tales Book 1)
$

4.99
Lucy and Samantha are a two-person team of paranormal investigators, dedicated to discovering the secrets of their home in Island River. Cynical by nature, and after the collapse of her marriage, Lucy doesn't believe in the stories of ghosts and spirits - despite Samantha's superstitions.But when a recurring dream appears in her sleep night after night, Lucy soon finds herself questioning her convictions. As she falls deeper into her dreams, the strange world beyond begins to reveal itself. She uncovers a darkness which is only known by those that have passed on long ago, and the mysterious house at the heart of it all.With old demons resurfacing to haunt her, Lucy must discover the truth about the world in her dreams - and in the process face the dark entity who is determined to keep it hidden no matter the cost...If you like a paranormal mystery with a dash of...
Alex Hoffmann: Five Exciting Thrillers, One Riveting Series
If James Bond were an American woman who preferred angry mojitos to martinis, her name would be Hoffmann. Alex Hoffman. "In Alex Hoffman, Leslie Wolfe has created a character the equal of Clive Cussler's Dirk Pitt and John Sanford's Lucas Davenport." – Five-star review on Amazon. Five full-length, exciting action thrillers, one seriously gripping series. Discover Alex Hoffmann, the fearless rookie private investigator, and join her on a breathtaking ride that culminates with her facing off with the most dangerous intelligence asset the Russians have ever produced. It's a hell of a ride. ExecutiveA rookie private investigator. An unexpected killer. Espionage, current technology, warfare, and a hint of greed. A friendly fire incident in Afghanistan takes a serious toll. A drone, out of control, brings death and wreaks havoc on a Florida highway. An apparently successful corporation comes under scrutiny. Devil's MoveHere, at home, the enemy has a new target....