Bearly Rivals: BBW Bear Shifter Romance (Bears of Southoak Book 1)
$

0.99
When two rivals fall for the same woman, she must make a choice that will shape the future of their clan.Bailey has given up on ever finding love. So when her best friend sets her up on a blind date, she's more than just a little skeptical. But all doubt is pushed aside after she meets Jaxon, a bear shifter who is everything she could ask for—strong, handsome, and kind.But Jaxon has a rival for leadership of his clan, another bear shifter named Levi who is thrilling and mysterious with an air of danger that draws Bailey in. Levi also becomes a rival for Bailey's affections. She tries to resist him, but the allure is too strong.Things become even more complicated when she discovers the two of them have a romantic history. With passions on the rise, they find themselves tangled up in a vicious battle for leadership and Bailey....
Power Surge (Anna Jennings Super Novel Book 1)
$

0.99
Anna Jennings is no superhero. In fact, had you asked her about superheroes a week ago, she would have called you crazy. She believes in routine, working hard and playing harder.But that all changed one night when she and her wayward sidekick Carl discovered several of her co-workers engaged in some decidedly non-run-of-the-mill human activities.Now her life is in a whirlwind as she finds herself caught up in the superhero world of her super-sexy boss and her long time crush as they battle the evil Captain Zinger (yes, really).Will Anna find a way to save her superheroes (even with the disastrous help of the spandex-loving Carl), her sanity, her new found love, and - oh yeah - the world?Find out in Power Surge - Book 1 in the Anna Jennings Super Novel Series!
Dream Huntress (A Dream Seeker Novel Book 1)
$

2.99
St. Louis narcotics detective Jordan Delany has a gift. Not one she's particularly happy about. Through her dreams, she connects with dead victims of violent crimes. Her isolated life as a drug cop is perfect for hiding the freakish gift—until an investigation leads her to rural Titus, Missouri. While posing as a cocktail waitress in the town's corrupt strip joint, she's saved from a drunken customer by a handsome stranger. The chemistry that erupts is exactly why she plans to keep Mr. Arrogant at bay. But learning he's the new bouncer for the down-and-dirty nightclub might be the one reason why she can't. Tyler McGee suspects a drug ring operating out of Buck's Nightclub is flooding the streets of his hometown with heroin. Determined to seek justice, he plays the part of a fallen cop and lands the job of head bouncer. What he discovers is that the club owner...
Called by the Bear – The Next Generation – Part 1
$

2.99
Audrey - I'm not sure what I was hoping to find when I returned to my mother's hometown in California twenty-five years after she'd moved to Maine. It sure wasn't the hot stranger I had to leave behind when I got word my brother had been kidnapped. The guy was supposed to be a one-night stand, but even though I'm three thousand miles away from him, he's crowding my mind with memories when my focus needs to on my brother Connell's rescue. Even more importantly, I should be thinking about the implications of the Eradicators' return for vengeance against werebear.Max - Audrey Le Roux had no idea her carefree days were about to come to an abrupt halt the night we met. But I did. I shouldn't have let her see me… or have me. I was caught in her spell the way she was in mine, and my weakness...
The Wilde Crew: Rhett (The Shifters of Wilde Ranch Book 1)
$

0.99
New crew! New characters! Same town!Skin Shifter, Rhett Jones, is the new shifter cop in Colwood, Montana. His first day on the job has him going toe to paw with a truly dominant grizzly bear shifter and the beautiful girl who is desperately trying to keep the fierce animal under control. He thought the bear was tough but she was nothing compared to the feisty girl hiding inside.Bear shifter, Joan Heller, is just trying to find a new home but her out of control grizzly bear is ruining everything once again. She's one phase away from being kicked out of town until she meets up with the sexy cop with the entourage of ravens who offers his help and his home to her.Things get wild when the Wilde Crew get thrown into the mix and threaten to make the unstable situation explode. Will the new boys in town be the...
Illuminate: Upper YA Paranormal Romance
$

4.99
No one deserves to be left in the dark...Hot-headed Luminary Merrin is an outcast Tracker guarding one of borders closest to Tartarean's stronghold. Called a reckless rogue by the other Luminaries, she'll do whatever it takes to prevent another stolen Luminary from sliding back to the dark. Tarquin is a Hunter who survives with no memory of who he was before Lucius Tartarean coerced him into service. Forced to kill on demand and to utilise his manipulation skills on weaker Luminaries, he's nothing more than a slave to the dark that controls his every move.When Merrin is called to Track a fallen Luminary, she isn't prepared for her attraction to a half-light who shouldn't exist.Tarquin may have found the light stolen from him, but the return of his memories and new abilities ushers in a battle between light and dark he's not strong enough to face without her.For fans of...
Shifter Untamed (Aspen Valley Wolf Pack Book 1)
$

0.99
Shifter Untamed: Aspen Valley Wolf Pack Book One ~ New & Lengthened 2017 EditionFrom the co-author of the bestselling Caedmon Wolves series comes a brand new wolf shifter paranormal romance set in the world of Aspen Valley. Shifter Untamed is Pack Alpha Dane Magnus's story.Dane Justice Magnus fought for and won the position of Pack Alpha, but to legally inherit the land left by his late human mother, the shifter needs to marry a human. His plan is easier said than done, especially when not just any woman will do.
Trina Daniels needs six figures to pay for her dad's surgery. Money she doesn't have. She's willing to do whatever it takes. Even if it means pursuing drastic measures, such as entertaining a scandalous, but lucrative offer by the womanizing Dane Magnus. One steamy night leads to another. With the mate bond intact, there's nothing either of them can do to...
Outlaw Unleashed (Aspen Valley Wolf Pack Book 3)
$

0.99
A bad boy outlaw who will do what is necessary to protect and keep what he holds dear and a college student who is ready to ditch her drab dating life for something daring makes for a sizzling, paranormal romance adventure.Brock Justice is a wolf and an outlaw. He's known inside and outside of his community for being active in the movement for shifter equality. His current mission is to stop the ownership reversion of shifter lands to the State. The outlaw and his band of brothers cultivate a plan to halt the proceedings by targeting the Governor. During a raid and in a twist of events, Brock ends up taking the Governor's daughter. Chelsey is spoiled, wayward, and breathtakingly beautiful. He wants to do more than keep her all to himself. His wolf wants to lay claim to her. But how can he be a true mercenary when the...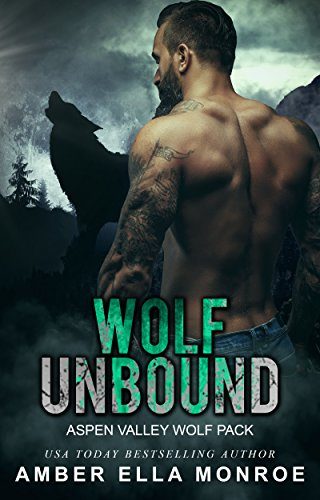 Wolf Unbound (Aspen Valley Wolf Pack Book 2)
$

0.99
A woman determined to save her tavern after the loss of her father and a sexy shifter outlaw who thinks he's undeserving of a woman's love makes for one smoking hot, action-packed paranormal romance story.Autumn North would never marry a man for money or mate a shifter she despises. Although, she doesn't have a lot of options and she's been backed into a corner one too many times. To save herself and protect her family, she just might have to give up what she can't bear to let go of.Garrett Justice will do anything to protect Autumn—even from the dangerous shifter who has already laid claim to her. But if he can't contain the mating urges of his inner beast when he's with her, how can he keep her safe indefinitely?Garrett and Autumn don't exactly meet on peachy terms, but once they discover just how much they need each other,...
Bear Necessities (Bear Fursuits Book 1)
$

0.99
Bear Necessities: A BBW/Billionaire Bear Shifter Romance After years of silence, Jack's curvy fated mate believes he's dead.This hard-muscled Marine has returned from his top-secret undercover mission in Uzbekistan just too late. Can he track BBW Hannah down before she shares her buxom delights with some other bear?If she-bear Hannah can't forget her sexy bad-boy, she can still have a romp with some other shifter and make the babies she longs for.But ruthless mob soldiers tracking a fortune in heroin and guns are on Jack's trail. Is dominant alpha male Jack bear enough to protect his pregnant fated mate? And can Hannah trust her inner bear when it tells her to forgive Jack's lies? Or will a life-time of doubting her own beauty, cause her to lose her chance to be loved by this red-hot patriot?Steam, adventure, sparkling dialogue and believable characters combine in this page-turning romp. Start reading the...