For Fox Sake: A Why Choose Shifter Romance (The Chaos of Foxes Book 1)
$

6.99
What should you do when you're outfoxed?Kenzie is the only non-witch in her family. When her younger sister's powers end up stripped from her, Kenzie promises to find a way to get them back - after all she has a very specific set of skills after trying to make up for not having any powers of her own.When Kenzie finds something to restore her sister's powers, the only way to obtain it is to steal it from the Alpha of the West Coast Pride. Right as she's about to succeed three sexy foxes snatch it right from under her nose. Will Kenzie be able to take it from them before they steal her heart as well?This is a steamy reverse harem shifter romance. All paranormal books by Emma Dean exist in the same paranormal world - the Council of Paranormals.
Chase'n'Ana (Hot in the Saddle Book 1)
$

0.99
Ciana Stone turns on the heat in this funny, sexy and imaginative set. It's a rolicking good read that's fun and definitely hot, and highly recommended.-Candid Book Reviews This book is part of the Hot in the Saddle Box SetChase Hawks had a good handle on life. Between his small spread in Arizona, his success on the rodeo circuit and a bevy of beautiful women always available to satisfy his urges, he figured he had control over his life.Then fate intervened. He ran over a woman. Literally. Hit her with his truck. Ana Stillwater had no control over her life. She'd skipped out on an abusive husband with three hundred dollars, a car that was on its last leg and a hawk named Fergi. She figured life couldn't get any worse. Then it did. Her car breaks down in Arizona and if that isn't enough, she gets hit by a...
Furever Mated (Furever Series Book 1)
$

0.99
Kurt Donnelly is broken.Losing the love of his life in college caused him to be consumed by rage leading him on a path that made him a bear shifter. Years later after his anger is under control by his bear, all he is left with is sadness and the fear that he will never be able to love again. He needs a vacation, somewhere to take his mind off things.Scarlett Jones has bad luck when it comes to finding love. She always falls for the wrong guy. After another relationship ends in disappointment, she looks to her best friends to help boost her confidence. A vacation to Bear Ridge resort, the infamous matchmaking hotel, sounds like the perfect getaway.Kurt and Scarlett both expect to hide out in their rooms and avoid participating in the events. Little do they know, that a chance meeting in the library will start a path...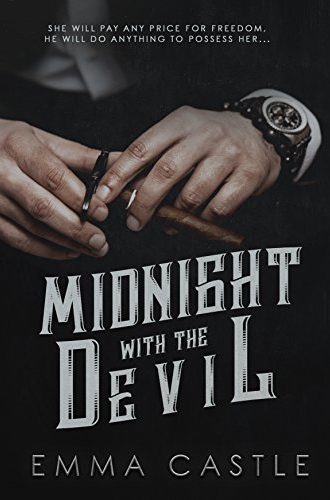 Midnight with the Devil (Unlikely Heroes Book 1)
$

8.99
He's sexy as sin and hotter than hell and—oh wait.What would you do to save a loved one's life? Make a pact with the Devil?In Diana Kingston's defense, it was the middle of the night in the deserted hospital chapel… surely it was just a dream. She hadn't really sold herself to a brooding stranger to save her father's life, right? Then she wakes and her father is fully recovered and a mysterious letter arrives from the tall, dark, handsome—um, Devil? Yep, it was right there on the contract, Lucien Star, aka Lucifer Morningstar, that had been his name in the dream… Gulp. What would the Devil himself want with her? Sex. Three months of hot, sweaty, Friday night sex.Ooookay. Breaking a pact with the Devil doesn't seem like a smart move. So she'll do it—but she won't like it. Not much anyway. But she starts liking it – a...
Atonement (Heaven Sent Book 1)
$

12.99
To Hell, this world is fractured and faithless, perfectly ripe for the picking. Sent by Heaven, Guardians defend against a malevolent onslaught of demonic intrusion. For hundreds of years the nine siblings of the O'Mara family have been engaged in this merciless battle, fighting to protect the souls of all humanity.Heaven and Hell have been waging this infernal war bound only by the rules of a contentious accord. On the anniversary of her husband Gabriel's disappearance, Genevieve O'Mara's lingering sorrow manifests into a murderous rage unfurled upon a demon. Vengeance is coming, not just for Genevieve, but for all those she loves.
Santa's Wolves
$

13.99
It never occurred to Meghan Casey that she would be the key to helping four wolf shifters save Christmas.Santa is missing, and reporter Meghan Casey heads to the North Pole to investigate the big guy's disappearance.When she reaches the winter wonderland, she meets four strapping members of Santa's special guard. And while they don't think they need her assistance, Meghan insists on joining the search for their boss.Each of the four men tempts her in his own way, but after being cheated on by her former fiancé, Meghan isn't ready to open her heart.Little does she know Santa's guards are part of a pack, and whoever is intent on stopping Christmas is not about to let them or Meghan get in his way.When Meghan is kidnapped, her men will do anything to get her back,and they just might save Christmas in the process.Santa's Wolves is a paranormal romantic suspense stand...
Redemption (League of Vampires Book 1)
$

9.99
A vampire slayer by necessity.Anissa Garnet is a vampire. She's also a slayer. Anissa is no stranger to taking out the enemies of her clan leader. Her assignment is simple. Jonah Bourke is not to attend the League of Vampires. Ever. It should have been an easy kill. It should have been one and done. It would have been, if Jonah Bourke hadn't saved her life. An assignment like no other. Vampire clan leader Jonah Bourke is that one. He didn't plan to be a hero. He didn't want to save the life of the slayer that was sent to kill him. Maybe he wouldn't have, if he'd known. Too late now. Anissa just compounded his problems. Not that he didn't have plenty: A rebellious twin who wants to claim leadership of their clan and a litany of supernaturals that want him dead.So what's a vampire to do when he...
Love Bleeds (Thicker Than Water Book 2)
$

9.99
I used to think vampires were the stuff of fiction. Now my brother has a baby with fangs and there's bottles of blood in our fridge, so obviously, I was wrong about that. It's not the only thing I was wrong about, either. I'm a nerd, I'm supposed to be smart, but honestly? I'm starting to realize I can be pretty darn clueless.For one, I never realized that my best friend was in love with me. Not until after he died in a vampire attack. To protect me.His death shattered my whole world. Seeing him again is like a miracle.Even if he has fangs now.Even if he doesn't remember his own past--or me.His new name is Crimson, and he's not who he used to be. I know that, really, I do. But I have to believe that I can remind him of all the memories we shared, all the years...
New Beginnings: Hollow Crest Wolf Pack Book 1
$

7.99
In a desperate bid to escape the fate that her pack has planned for her, Lori makes a run for freedom the night of her 18th birthday. But she has no idea just how high the cost of her freedom will be...Lori finds herself lost and alone until she comes upon a town that is seemingly perfect on the outside, but the pleasant exterior hides darkness within.Grayson, Corey, Wyatt, and Kannon are banished from their home after a violent takeover from a rival pack. They find sanctuary in a small town far from any other wolves and never expected a lone female to wander into their territory. *This is the first book in a slow burn reverse harem series. Updated version uploaded 4/3/19Books by C.C. MastersSeaside Wolf Pack SeriesBook 1: Finding Somewhere to BelongBook 1.5: Finding AnnaBook 2: Finding the Fire WithinBook 3: Finding the Power WithinBook 4: Finding Truth...
Savage Nights: Paranormal Romance Collection
$

3.99
Spice up your day with this collection of spooky hot romantic menage short stories! A collection you can really sink your teeth into...Savage Nights BittenThe Dragon SlayerSaved by the Gorgeous SpecimenMy Boss' SecretTaken By Two GhostsShadow ShiftersGhosts Inside