Pack Run: Werewolf Shifter Romance (Highlander Wolf Series Book 1)
$

9.99
Gràdh gu bràth …Love Forever (Scottish Gaelic) Ailsa Montgomery thought she had everything in life figured out.As a nurse, she thought she'd seen everything possible. Until one night when a patient is brought in who's been attacked by some kind of animal and dies on the operating table.While the animal attack isn't completely unbelievable, she's shocked when the deceased patient, Brochan Braxley, miraculously shows up at her place.Ailsa will discover that her world is nothing as she thought it was.When the people after Brochan come after her, she's forced to run with him. Can Ailsa stop her growing feelings for Brochan or is she willing to risk everything for a man she barely knows?Highlander Wolf SeriesBook 1 – Pack RunBook 2 – Pack LandBook 3 – Pack Rules
Stricken (The War Scrolls Book 1)
$

14.99
It took only four months to bring the angels to their knees…With a virus ravaging the fallen angels on earth, mankind's symbol of love and hope is at risk of extinction.Centuries ago, a group of angelic warriors known as The Fallen risked everything to save themselves and carve a future for their kind. Hope slips away as The Fallen and their kin are cut down by an ancient menace, La Morte Nera—and no one saw it coming.Only one immortal can save them, and only one mortal can stand in his way…When Nephilim warrior Killian St. James sets out on a quest to find a cure, he and his blade-brothers discover nineteen-year-old Aubrey Carter—a human with a past as dark as it is mysterious—cowering in an abandoned house in the heart of Memphis, Tennessee. The corrupted races are chasing her, and Killian is determined to find out why…But neither he nor...
Wolf's Mate: Texas Ranch Wolf Pack Story (Texas Ranch Wolf Pack Short Stories Book 2)
$

0.99
Made-wolf. Changeling. Shifter.VioletWhatever she called it, Violet still had trouble accepting that she was a werewolf. All she ever wanted was to be a teacher. Teaching shifter children? Not even on her radar. Until her former fiance tried to kill her and the pack alpha changed her to save her life.PhillipAs a former Huntsman and a human, Phillip has been taught to hunt and kill wolf shifters. Now, he's learned shifters aren't the killers he was taught they were. He's surprised to find himself drawn to a wolf shifter, even if she was recently human. But her gorgeous red hair and dark, mysterious eyes pull him to her.Can Phillip convince her that he's the mate for her?This story occurs during the first half of book 11 in the Texas Ranch Wolf Pack Series, Wolf's Guard.
Scarlet: Taming The Thirst (MYSTERY – MEDICINE – ROMANCE) (Shades of Red – Moroi Society Book 2)
$

2.99
Sarah's determined to cure the vampire plague…if she can control her bloodlust. To keep her in line, sexy, soldier Karsten has been assigned to her. He may be just what the doctor ordered... ⭐️⭐️⭐️⭐️⭐️Fans of Sookie Stackhouse (True Blood) or Vampire Academy will love this paranormal romance series. Scarlet is a must read if you like a little mystery with your paranormal romance! A rogue scientist is infecting the Moroi of the world with a deadly disease, and one woman is willing to risk it all for the cure. Dr. Sarah Shepard doesn't let anything get in her way. She's a renegade virologist who's on a mission to find a cure. However, as a new vampire, her out-of-control bloodlust has ruined her marriage, taken her kids and continues to plague her at every turn. Karsten Ingvar is an elite Danish soldier who specializes in taming new vampires. When he takes...
Moonlight Serenade (Toke Lobo & The Pack Book 1)
$

14.99
Alpha male werewolf Tokarz de Lobo Garnier will do anything for his headstrong human bride . . . except trust her. She's a reporter, and she's on the trail of a story that could destroy the sanctuary his pack has enjoyed since the American Revolution. But she's in danger, and risking her safety goes against everything he believes. When the evil turns its sights on him, he must make a decision: the safety of his mate or the security of the pack he leads.
Heartbeat (Morta Fox Book 1)
$

13.99
Almost twenty years ago, earth shook from explosions that killed billions, and wiped away civilization. Only a small part of the city of Boston remained intact. To Morta Fox, a twenty-year-old girl living all alone outside the Wall of Protection, waking up with a craving for blood is something she never imagined could happen. To make matters even worse, a vampire who calls himself Hammer takes away her last attempt at self-destruction. Hammer has been chasing Everard – the vampire last seen with his missing mate – for a year. Right before he finds him, he witnesses a girl jump off the tenth floor of a building. Though her bones break, she heals just as fast. When she stands up, she runs as fast as only vampires can. But she can't possibly be one, because…she has a beating heart. When Hammer saves Morta against her will, she's furious. Until he...
Beautiful Demons Box Set: Books 1-3
$

0.99
When evidence ties newcomer Harper Madison to the gruesome murder of a Demons cheerleader, she discovers this small town has a big secret.
Blood Lust (The Preternaturals Book 1)
$

15.95
Everybody is the hero of their own story... and the villain of somebody else's.BOOK ONE: Blood Lust:A book in 3 parts that introduces the world of the Preternaturals (all couples appear throughout the series):Kept:When werecat, Greta learns her tribe plans to sacrifice her on the next full moon, unleashing the potent magic of her blood, a dark sorcerer is the only one strong enough to protect her. Will Dayne kill her as he has so many others of her kind? Or is his grudge against her family strong enough to save her? Claimed:In the midst of a power struggle for vampire king, it soon becomes clear to Anthony that the only way to protect a fragile human in his care is to claim her as his mate. Meanwhile, his deepest wish is to have his lover awakened from the memory loss that took everything... not just the memories he meant...
Lilith Mercury, Werewolf Hunter Series (Boxed Set, Books 1-3, Werewolf Romance)
Amazon Best Seller!**This collection is being offered at a special price.**Looking for some sexy shifters and hot southern nights? This might be the series for you.This is a collection of the first three books in the Lilith Mercury, Werewolf Hunter series. This series focuses on the life of Lilith Mercury, a werewolf Hunter who is also half werewolf. Did I mention there are several sexy men in her life? This story has graphic violence, and graphic sex. It also has a new take on the origins of werewolves and vampires. There are many ups and downs in Lilith's life and much more to come. This series gets hotter as it goes. No werewolves were harmed in the making of this series. This set includes:1. Red2. Object of My Affection3. The Dread MoonRedThis is Book One in the Lilith Mercury Series.Dr. Alfred Moody saved her life, but the werewolf, Marco may hold the...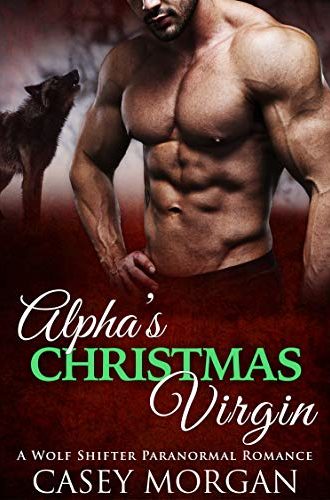 Alpha's Christmas Virgin: A Wolf Shifter Paranormal Romance (Alpha's Virgin Book 3)
$

2.99
On Christmas, the first play I ever wrote is being performed.The problem is I can't keep the stagehands in line and they keep quitting on me.Cole shows up and he is my dream come true.Tall, strong and muscular. He promises to help me finish sets.But he really wants to take my innocence.Cole knows I am a werewolf when I do not.He brings out my inner wolf and makes me crave him.I want to give into him and give him all of me. But can I handle his dominance in the bedroom and in my life?I've been in control my whole life.This man makes me feel wild with desire.Can we make our love work or will our fight for supremacy tear us apart forever? This steamy paranormal werewolf shifter romance is a full length novel with no cheating and a guaranteed happy ever after.