Ball & Chain: A Second Chance Romance (Small Town Bad Boys Book 1)
$

0.99
He asked me to marry him so I did the only thing I could. I disappeared.DAHLIAI never told anyone what I went through at home. Not even Asher, the only one who loved me. If I didn't escape Cloverville I'd end up like my mother or worse. Getting the hell out was my only choice. Ash deserves better than me anyway.When I have to come back, he makes me weaker in the knees than he ever did before. He's taller, broader, hotter, and he wants me just as much as he did back then. Every day the memories get stronger and it's harder to resist him.But I can't give him what he wants. The answer to that question he asked me four years ago...ASHEROnly one girl could make me move mountains to please her. With her big doe eyes and sweet lips, Dahlia made me drop my bad boy reputation...
Changing Lanes (Highway 17)
$

1.99
Change. It's change and how well you handle it which defines a person. Three times in my life, I have been faced with such changes. Once when I was fourteen. Again, at eighteen. And now again at twenty-eight.Twice, she was there.Ten years ago, I gave up everything, including her. At the time, it was the right thing to do, for both of our sakes. Walking away from her isn't what I wanted, it's what had to be done.Now, she's here. People like me don't always get second chances, this happens to be mine. That's if she'll have me. If she'll accept why I left and the fact, she'll always be second.You see, I have a secret. It could change everything when she learns the truth. She may be the one walking away this time.We're about to find out.
Carter: The Sinner Saints #1
$

3.99
After years of heading an elite Special Forces unit, nothing ever gets past Carter Macmillan…until the night slick-talking reporter, Ally Weaver, gives him the slip.Ally Weaver is used to following the story, but she's never had a lead blow up on her before…literally. Now one of her confidential sources has been murdered, and she's determined to find out why. But Ally can't risk drawing anyone else into this violent mess…no matter how skilled--or gorgeous--he may be.But a girl can't always get what she wants. And when the pair find themselves thrust into the crosshairs of a corrupt politician who would do anything to stay in power, they must work together to expose a deadly conspiracy before they become the next victims. But while both Ally and Carter are willing to put their lives on the line to discover the truth, neither is prepared for the danger the other poses to...
Lakeshore Secrets (The McAdams Sisters)
$

0.99
Kate McAdams was forced six years ago to leave her beloved hometown of Willow Valley, leaving behind her family and the only man she's ever loved, Marc Caliendo. Although she has created a new life for herself away from the drama, secrets and stress of the small town, she must return upon her grandmother's death. Her return brings back wonderful memories, especially of Marc, but also horrible fears from the past. When fate throws her and Marc together once again, how can they ignore the everlasting love and desire between them? Will Kate stay and face her demons or will the deceit and secrets of the past destroy any future they may have and force her to leave again? This book can be read as a stand alone, but for more enjoyment read them in the order of the series, as all the characters appear in future books. Read the full BY THE...
Wallflower (Old Maids' Club)
The choice between adhering to a long-held pact and finally accepting love could prove Lady Tabitha Shelton's unhinging. She is plump, plain, pleasant . . . and thoroughly unappealing to any of the men of the ton—apart from fortune hunters. A self-appointed wallflower, she has every intention of remaining one. Tabitha made a vow of spinsterhood with her cousins when they were girls, and she refuses to go back on her word. So far, she's proven herself quite adept at warding off the blasted fortune hunters' pursuits.Noah deLancie, Marquess of Devonport, would prefer to marry for love and companionship—he's a gentleman through and through—but circumstances have forced his hand: he needs money as badly as he needs a bride. When Noah's brother-in-law suggests pursuit of his sister, Tabitha, a woman with a dowry large enough to cause even Croesus to blush and who is tantalizingly good company to boot, Noah...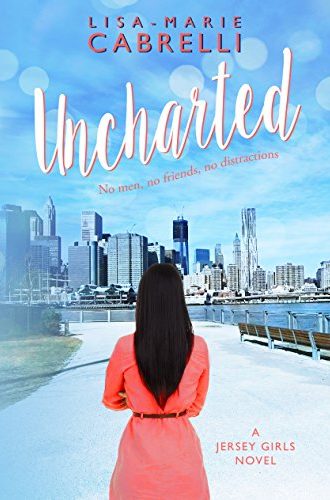 Uncharted (Jersey Girls Book 3)
$

4.99
She has rules, "No men, no friends, no distractions." He's about to make her break them. Since the day she came close to losing everything, straitlaced Nan lives by her rules. But on college graduation day her life starts careening downhill. She gets rejected from the graduate program of her dreams which means she has six months to leave the country. Things go from bad to worse when her best friend decides a green card marriage is the answer. Creepiest of all, she has a stalker. A man with dark penetrating eyes is following her everywhere.Will Nan break her rules and risk uncharted territory? Or will she follow them and end up right back where she started? If you like coming of age romance with a little mystery that keeps you turning pages in the tradition of Sophie Kinsella or Emily Giffin, you'll love Uncharted. Uncharted is Book Three in...
True Identity (The Lost and Found series Book 1)
$

3.99
I don't know who I am. I can't remember my name, where I come from, or how I ended up in the hospital with a bullet wound to my chest. When I think back, searching for a memory, all I see is a big black hole of nothing.But I recall her voice…the sweet, angelic sound that reached out to me through the coffin of black, pulling me back to the light. I might not know anything about my past, my life, my identity—but the moment I opened my eyes and stared straight into hers, I knew I wanted her. I knew there was no way in hell I would let her go. Now I need to piece back together the missing fragments of my life so I can figure out where she fits into it—or if she fits into it at all.The only problem is if your past is buried...
A Perfectly Split Christmas: A Split Short Story
$

0.99
**THIS SHORT STORY IS FREE! PLEASE WAIT UNTIL THE PRICE SAYS $0.00 TO DOWNLOAD**New York Times and USA Today bestselling author JB Salsbury ignites this holiday season with a short story so addictive you'll hate to see it end. Can Christmas survive the split?Only a couple months after Lucas and Shyann met, they're faced with their first Christmas as a couple. While Shy tries to convince Lucas to relax and enjoy his very first holiday, he struggles with what it means to be loved for exactly who he is. Surprises await for the unique couple making this Christmas one they won't soon forget.
The Brands Who Came For Christmas (The Oklahoma Brands Book 1)
$

0.99
Caleb didn't know that one night of bliss last spring with small town beauty Maya Brand had resulted in a pregnancy, until the blackmail attempt arrived on his desk in an unmarked envelope, complete with photos of Maya with a belly out to there.When he learns the truth, Caleb rushes back to Big Falls, determined to make it right despite what the scandal will do to his high profile career–the family legacy he had never truly wanted. All he wants is Maya, and their child. But can a girl whose father abandoned and betrayed her, ever truly believe in the goodness of a man who left town the morning after their one night stand? How can he convince her that he hasn't stopped thinking about her since then, much less, do so with the whole world watching? He has to prove himself to a woman he's not even sure he's...
Making Her His: MC Biker Romance (Beating the Biker Series Book 1)
$

0.99
Can he convince the woman of his dreams to look past his family's dark connections and take a chance on a lowly motorcycle mechanic? And if he does, can he look past hers?From USA TODAY Bestselling author, Lexy Timms, comes a spin off from the Hades' Spawn MC series – Beating the Biker.Saks' StoryAnthony Parks, AKA Saks, straddles two worlds and neither one is very reputable. By day, he's a motorcycle mechanic and Road Captain of the Hades' Spawn, a none-too-squeaky-clean motorcycle club. By night, he's the scion of an organized crime family who wants him to join the family business full time. Recent events with the Spawn MC have soured his community reputation, and while certain women like bad boys that's not the kind Saks is looking for. Add in pressure from his family to marry, and Saks is faced with an impossible situation. His wise-guy uncle proposes an...