The Last Offer (The Dunne Family Book 1)
$

9.99
Miss Olivia Dunne was the darling of society until a thwarted abduction and elopement scheme by an unscrupulous man left her reputation in tatters. But having moved from paragon to pariah, Olivia realizes that there is no reason for her to continue abiding by society's mandates. In fact, she decides to embrace her scandalous nature and do the very thing she's been accused of… take a lover. The man she's chosen is one she's secretly loved for years, but she'll need to employ the aid of an unlikely ally to carry it off. Lord Burke, Viscount Holland, has loved Olivia for years. He even offered for her once, only to be summarily dismissed by her older brother, his oldest friend. With his pride still stinging, Burke is confronted with the horrible truth that Olivia had never rejected him at all. Her brother never told her of Burke's interest in her....
Will: Ingram Brothers #1
$

9.99
Will Ingram has nothing to his name but a shattered career, a few art supplies he can't bring himself to sell, and a boarding pass for home. When a gorgeous woman propositions him in the airport, he thinks his luck might finally be on the upswing, but when she turns up again in his small town the only thing he isn't questioning is the physical attraction sizzling between them. Is she the muse he thought he'd lost forever or just another woman with betrayal on her mind?The sex was mind-blowing. Life-altering. But MacKenzie Carlysle won't know the life-altering part until days later when the sexy stranger she seduced in the airport turns out to be W.H. Ingram, the famous artist, and the one man on the planet she should stay far away from. She should tell him who she is, and own the part she played in destroying his career,...
Made For You
$

3.99
Aubrey West is the President and CEO of the Atlanta Redbirds and is truly her billionaire father's daughter, having started and sold several businesses and become a multi-millionaire herself by the age of 30. While conquering the business world has come easily thanks to her father's upbringing and guidance, finding love has been elusive: As one of Atlanta's wealthiest Black women and heir to her father's professional football empire, Aubrey just can't date anybody: she longs to find a woman who matches her lifestyle but doesn't worship it, and is genuinely interested in her, not her wealth.London LaRue has dreams of starting her own clothing company and a plan to make it a reality, working three jobs to save enough money to finally get her fashion line off the ground. A relationship is the last thing on her mind, having tired of the Atlanta dating scene that has left her...
Love Comes for the Cowboy: A Sweet and Clean Small Town Contemporary Romance (Love Stories from Magnolia Grove Book 4)
$

12.99
A lonely cowboy trying to wrangle a new future. A disillusioned dancer searching for a fresh start. A blossoming love put on hold…Although Grant Hembree's ranch in Magnolia Grove is finally turning a good profit, his family life is a wreck. Desperate to save his troubled daughter after his wife walks out on them, he decides to hire a nanny for the summer to see if a female influence will help bring the girl out of her depression.Carla Crespo is on a mission to set her life back on track after her uncle used her dancing talents for his own gain, then asked her to delve even deeper into his seedy business. Determined to live a better life, she leaves New Jersey to take business classes so she can open her own dance studio. But making ends meet is not easy in a new town, so she needs to find...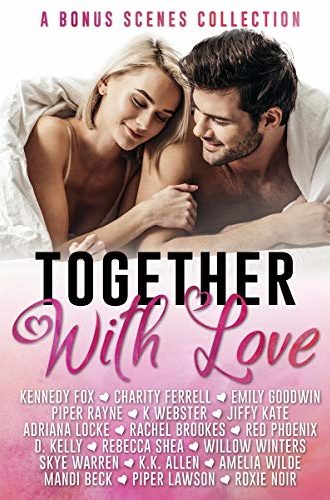 Together with Love: Bonus Scenes Collection
$

0.99
Eighteen romance authors teamed up to give you the escape you need even when their characters can't escape each other. Ever wonder what your favorite characters would do in various lockdown situations? From being stuck on an island, snowed in, sheltering from a tornado, or even locked in a wine cellar—you know whatever they're going through, they'll do it together! These can be enjoyed without reading the original stories or after. We hope you enjoy these exclusive bonus scenes visiting old characters or meeting new ones!Authors featuring: Kennedy Fox | Stuck in ParadiseCharity Ferrell | Twisters, Cavities, and Dirty Little SecretsEmily Goodwin | TogetherPiper Rayne | Blue Collar QuarantineK Webster | Quarantined with CoachJiffy Kate | Coming Together in the French QuarterAdriana Locke | Love & LandryRachel Brookes | Be My ComfortRed Phoenix | A Brie-a-licious HideawayD. Kelly | Wine Cellar Rendezvous Rebecca Shea | Undeniable LoveWillow Winters | The...
Make Me Forget (It's Kind Of Personal Book 1)
$

12.99
"O.M.G!!! I have found myself a new FAVOURITE author in Anna Brooks!!!! MAKE ME FORGET is the kind of story that had me swooning from the very first page; gave me a permanent lovesick grin; and had my heart fluttering!!!" ~Sam KOne lie can destroy everything...After enduring years of manipulation and an immeasurable amount of loss, Charlotte Kelly makes one last ditch effort to change her life and try to find happiness again. She knows she'll see him when she moves back to Wisconsin. She's planning on it, the connection she still feels to him after all these years is undeniable. But one lie tore them apart years ago, and she's afraid some mistakes can't be forgiven.Travis Parker doesn't like liars. When he was younger, lies burned him in a bad way. It only took one summer with Charlotte's innocence to know that she was it for him.When he thought...
Forbidden Love (Billionaire Venture Capitalist #1): A Billionaire Office Romance
$

12.99
She's off limits, but worth the risk.Dillon:Women have always been simple for me. Seduce her, bed her. Repeat. Until I met Emerson. She was off limits. No problem, I had plenty of discipline. I could handle mind over matter.When I recognized the brains inside the seductive package, she became my personal black hole.With her I was losing the battle. I don't know if it was hormones, or pheromones, or black magic.No matter what the rules said, I couldn't pull away.Damn the rules.Emerson: I had everything I ever wanted - at least I thought I did. Then I met Dillon. I feel the pull, but I can't let myself get distracted. Not now.He has eyes of the hunter, and when he looks at me, I know I'm the prey.He's dangerous and all wrong for me. I thought I could stay strong and resist him.I was wrong. Forbidden Love is the first...
The Seacrest: A love story (Paines Creek Beach Book 1)
$

15.99
They say it's better to have loved and lost than never to have loved at all. Finn McGraw disagrees.He was just seventeen when he had a torrid summer affair with the girl who stole his heart—and then inexplicably turned on him. Finn may have moved on with his life, but he's never forgotten her.Now, ten years later, he's got more than his lost love to worry about. A horrific accident turns his life upside down, resurrecting the ghosts of his long-dead family and taking the lives of the few people he has left.Finn always believed his estranged brother was responsible for the fire that killed their family—but an unexpected inheritance with a mystery attached throws everything he knows into doubt.And on top of that, the beguiling daughter of his wealthy employer has secrets of her own. But the closer he gets, the harder she pushes him away.The Seacrest is a...
Grace's Fake Groom (Beach House Memories Book 1)
$

2.99
An ambushed boss, a women with a dilemma, and the make-believe engagement that goes very, very wrong ...Grace Morelli needs to go home, but the timing could not be worse: She has finally landed her dream job. Oh why had she promised her siblings she would take this month off to fulfill their parents' quirky last wishes in Colibri Beach?Chase Ryan walked in to his office on a Monday morning to find his entire staff gone. Everyone except a couple of new recruits--including the pretty blonde he had yet to meet. He had tough decisions to make now. Not only had he been betrayed by a former business partner, but an even more pressing matter overshadowed him.When Chase delivers Grace some very bad news about her job, and she learns of what's at stake for him, Grace finds a way to solve her problem--and his.But will they be able to...
Jasmine Kisses: (Southern Comfort Series Book 2) A Romance Novel
$

11.40
Ellie Ford's life is moving along beautifully. In three days, she will become the wife of her longtime fiancé, Luke Baker. There isn't any downside to that until she finds that dreaded note in Luke's pants pocket.Her romantic ideal of marital bliss becomes her worst nightmare, with Luke in the leading role as a two-timing cheater. To Ellie, the idea of canceling the wedding without notice is unthinkable. But on their special day, Luke is the one absent from the ceremony.The honeymoon Ellie was so looking forward to suddenly becomes a vacation with Gina—her dearest friend—to Charleston, her favorite city. Within a month, Ellie loads up her beloved jasmine plant and moves south.Falling for Donovan Winthrop, the gallery owner and accomplished artist, isn't on Ellie's bucket list, but she can't help herself. He's gorgeous, sweet, and a true southern gentleman—or is he?Donovan has a few secrets of his own that...