Live Like a God: big adventure in a tiny world
$

13.99
"action-packed and entertaining" Onlinebookclub.orgJosh Ridley is an overworked, underappreciated accountant caught up in life's grind. All that changes when he is offered an adventure vacation that allows him to be miniaturized and placed in an unforgiving terrain filled with demons and demon lords, or to laymen… killer insects.In Betaloome, an infested terrarium with a land area equivalent to hundreds of square miles, Josh's new god-like abilities make him adored by women, admired by men, and able to slay monsters.After the initial buzz of his trip dies down, Josh must choose to return to his safe life, or risk everything to help a foreign people.
The City Below (The Great Blue Above Book 1)
$

17.99
The Great Blue Above… The White Nothingness… The Sky People… These only exist as whispered stories for those who live in the City Below, humanity's final habitat located far beneath the snowy surface. Ruled by the ruthless Jonas family for generations, its citizens are fed lies by King Edmond, who controls the largest section of city and its army of guards. But the leaders of other sections begin to question the city's history and King Edmond's divinity, and their children dream about escaping through the guarded tunnels to find out the truth...
Olde Robin Hood
$

12.99
Rebel. Outlaw. Hero. Exiled for an unjust crime and forced to use whatever means necessary to survive, a figure of hope emerges from Sherwood Forest.But what most people know about Robin Hood (the enemy of Prince John and nobleman loyal to King Richard) was an invention of a playwright nearly three hundred years after Robin Hood died. However, there are older stories about the real Robin Hood.USA Today bestselling author Kate Danley weaves the original 13th century ballads, Robin Hood traditions passed down through ancient pagan rites, and historical evidence together into a swashbuckling epic fantasy. Enter a world of adventure and chivalry as you discover the man behind the myth, as you meet the Olde Robin Hood.
Alpha Centauri – Rise of the Kentaurus AIs (Aeon 14: Enfield Genesis Book 1)
$

10.99
The Sentience Wars may be won, but the battle is not over...The Sentience Wars in Sol have come to an end. In the wake of war, refugees still flee to nearby stars, but there are sinister forces at work in Alpha Centauri who would turn their plight into profit.None of this is apparent to an easygoing, self assured pilot-for-hire named Jason Andrews. Recently arrived from Proxima Centauri to visit his sister, he is sucked into a covert operation by a brother-in-law who is not who he seems. But then again, neither is Jason....But the enemy they face has grown more powerful than any had expected, and the fate of the star systems' humans and AIs are at stake. Jason must engage in an all-out bid to save a world he's just getting to know, in a war he only just learned about.
The Hidden King (The Coming of Áed Book 1)
$

12.99
Fans of Holly Black, Leigh Bardugo, and Sarah J. Maas should buy this book...A mad king. A powerful, inhuman heir.A young man endures the unimaginable to save his only family and unite a kingdom.Áed dreams of escaping the misery of the Maze, the dismal city of his birth, but his love for his makeshift family—his partner, Ninian, and an orphaned boy named Ronan—compels him to stay.When a crushing tragedy forces his hand, Áed breaks out of the Maze once and for all—but not before deeply buried secrets flare up with formidable consequences.Setting out for the legendary White City fueled by hopes of a better life, Áed discovers a beautiful world hiding unexpected danger. While he navigates a treacherous path of friendship and deception, Áed must embrace a legacy he had never imagined in order to protect the only family he has left.The Hidden King is the first book in the...
Limbo (The High Comedy Book 1)
$

2.99
What's it like to go to Hell?First, you start out in Limbo.Dan Twersky, TSA officer at Newark International Airport, was dealing drugs and living large when he made a fatal mistake and ended up in front of the Devil, aka Your Majesty, and began his strange journey into Hell, a bleak world of relentless challenges. And the ultimate challenge is not to end up in Hell Central, the location of the dreaded Fire Pit. After arriving in Limbo, Twersky is assigned to the Eighth Circle, the Fraud Depot, where he meets his new boss, Pablo Emilio Escobar Gaviria, the notorious Columbian drug lord, who gives him a title and his first assignment. As Lieutenant of Immigration and Deportation, Twersky travels to Earth where he participates in the Devil's war on goodness, and he must succeed or else … He gets off to a bumpy start, but that's not unusual for...
The Ghosts of Asteraceae
$

2.99
Out on the toilet rim of The Fringe, Kade flips eggs and bacon for a living, under the radar and off the grid—no one bothers him, and he bothers no one. Until an old woman, burnt-out on char, walks through the diner doors…Now on the run for his life, Kade searches for a woman offering freedom, while haunted by the ghostly image of a little girl who proves the key to a problem he didn't know he had.
Resurrection (Immortal Soulless Book 1)
$

12.99
Her gifts will be her salvation… or her downfall.No one gave Aviva a choice about becoming a monster. Since the night of her murder she's been forced to accept a new reality—burned by sunlight, dependent on the blood of the living, searching for her place in a dark world she didn't believe existed until she awoke as a vampire.She's still struggling to accept her fate and master her dark powers when the news arrives: rogue vampires are torturing and killing human residents of the city, threatening the secrecy and uneasy peace of the supernatural world.As the hunt begins, Aviva's deliciously distracting trainer, Daniel, helps her seek out her unique strengths. The gifts she discovers are shameful in the eyes of vampire society—and they may be the only thing standing between a pack of ruthless paranormal killers and the unsuspecting humans they prey on.One-click Resurrection today and sink your fangs into...
Hard Favored Rage: An EMP Apocalypse Story
$

9.99
What would life look like after an Electromagnetic Pulse (EMP) robs Southern California of electricity, communications, and utilities while cars are starved of fuel? Ventura County, just north of Los Angeles, planned for a nuclear attack, but not a devastating EMP.In the jail, deputy Mika Fischer is left in the dark as the lights suddenly go out and the cell doors won't lock. As inmates are released, the sheriff's office must face the realities of the collapse of the modern world. In the aftermath of the apocalypse, the deputies' honor is tested, but honor can't fill empty bellies and soon their ranks begin to thin.After retreating to a well-prepared ranch with family and friends, deputies David Palmer and Sam Church realize that they cannot abandon the public. Soon they find that they have to make hard decisions that challenge the "latte and yoga pants" morality of the former world in...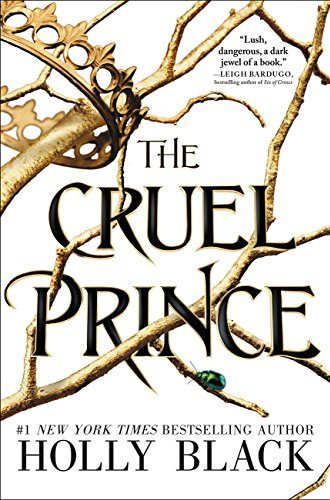 The Cruel Prince
$

12.99
By #1 New York Times bestselling author Holly Black, the first book in a stunning new series about a mortal girl who finds herself caught in a web of royal faerie intrigue.