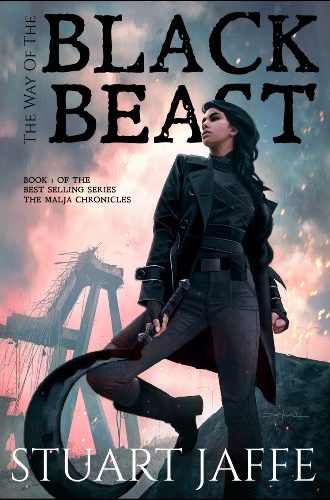 The Way of the Black Beast – A Post-Apocalyptic Fantasy (The Malja Chronicles Book 1)
$

2.99
Start your adventures with Malja in this action-packed, post-apocalyptic fantasy!In a parallel world destroyed by magic, one woman fights all odds to survive and find the answers behind her mysterious past.Malja searches for the two magicians who stole her at birth, trained her to be a killing machine, and then tossed her away at ten. She wants to know why this happened and most importantly, who she really is.But facing unrelenting challenges - crazed magicians, guitar-playing assassins, mutated beasts - she pushes through with a single-mindedness that may destroy all she holds dear.Find out why Fictitious Chronicle called The Way of the Black Beast "incredible and impressive" and Workaday Reads called it "a great start to a series, and I can't wait to see where it goes next."Interview with the AuthorQ - So, what makes The Malja Chronicles special? A - I've been a published writer for almost 20 years,...
Matched (Galactic Battle Series Book 1)
$

3.99
Golan is pillaging the galaxy, Harvesting planets for their Synthnic, and destroying entire civilizations. The Renegade, a loose-knit band of thieves, warriors, and refugees, are the only force standing in his way.Lily is a commander in the Renegade and leads a small team that focuses on relocating civilizations before their planets are destroyed. During an ambush Lily comes face to face with Ulrick, one of Golan's strongest generals, and a fire ignites inside her that threatens to consume her. Ulrick has lived his life trying to redeem himself; to ensure that his sacrifices were not for nothing. He has grown tired of the fear he sees in people's eyes, and of the destruction, but the time has come when he will finally make his move.Ulrick had long ago given up on the idea that his match existed, until one day the stagnant markings on his arm begin to churn. While...
Stone Cold (Melissa Kennedy Book 1)
$

0.99
After years of working for an insufferable boss at Seattle Private Eye, Melissa Kennedy is finally able to start up her own Private Investigating business. Searching for her new office, little did she know that one of her very first clients would be a dead teen, who is set on helping her find other victims.During her first case she gets sucked into a feud between two brothers, accusing one another of trying to take their Masonry company for themselves. Along the way she ends up pairing with a snippy Homicide Detective, who coincidentally is working the murder case of her ghost. Somehow her Masonry case gets caught in the crosshairs. Could it be possible that one of the brothers are responsible for the murder of local teenage boys?
Windows Out
$

0.99
Two rival robotics engineers visit an abandoned Martian battlefield and discover they are not alone. A scientist flies an electric crow through time to steal a breakthrough device only to find his moves are being countered by a future version of himself. A reporter doubts a scientist's claim of teleportation until he meets the scientist's son over a cup of strange tea.From the edge of space to the depths of the sea, these tales are windows to worlds beyond our own. These worlds are bounded only by the drive and imagination of those who inhabit them.
Pay to Pray – Book One of the Amanda Love Trilogy
$

0.99
Joss Whedon's Firefly meets Flash Gordon as con-artist and adventurer Amanda Love travels the star systems of the frontier. Amanda's ample charms include the face of an angel, the bluest eyes west of Delta Vega, and a body that could give a pious man a wet dream in a skin-tight spacesuit.She and her crew of loyal misfits take their traveling 'pay to pray' Salvation Show out to the lonely, backwater alien planets that dot fringe space. But her latest 'pay to pray' con nearly becomes her last, when she and her crew are attacked by mercenaries sent by Malco Trent, a man who runs the galaxy's most corrupt company: Mal Corp.Amanda discovers that Trent and her father had been partners in crime before a falling out over Amanda's mother. Now that Amanda's grown into the spitting image of that woman, Trent swears to possess the beauty that eluded him before.
The Path to Horn Cottage: A Cunning Folk Mystery
$

4.99
A missing woman, a charming, untrustworthy lord. The mystery deepens at every turn. Horn Cottage, an ancient cave house, has been home to the cunning folk of Thornton Cleveleys for generations. The early death of her mother left Meryall as the cunning woman for her village before her training was complete. A young man seeking Meryall's help to find his missing sister draws her into an ever more complex and sinister mystery. Can she use her divination skills to help solve the mystery of the missing woman and avert a tragedy?An atmospheric journey through a mystical land, The Path to Horn Cottage is the first book in the Cunning Folk Mysteries series.
Kharon: The Journey of Kyle Gibbs (A Kyle Gibbs Action Thriller – Book 3)
$

4.99
Book 3 in the Kyle Gibbs series.The year is 2033. A ship docks in Scotland's Glasgow Harbour. Men in hazmat suits stand guard as hundreds of figures dressed in rags trudge off the ship and are forced into trucks destined for the European continent.Following the three-metre sea level rise, the world is a changed place. Flooded megacities run by Warlords help the New Governments of America, Europe and Asia to keep control of the poverty-stricken masses. This dystopian existence is now vulnerable to a deadly contagion threatening every Floodlander living in the megacities. A virus that will kill millions and topple the fragile New Governments from power. Desperate leaders are forced to recruit someone who can hunt down the brains behind the sinister organisation, hell-bent on holding the world to ransom.Ex-SAS soldier, Kyle Gibbs is living in a commune in the tranquil English countryside, oblivious to the fact that someone...
Reliance (The Elemental Witch Series Book 2)
$

3.99
Dystopia, greed, and witchcraft.USA Today bestselling author Fiona Angelica Quinn brings you a fast-paced action adventure.Sterling, a Metal Witch with the Resistance creates a strategy to save the Range from starvation. Her sharp mind, her courage and resourcefulness are all called upon to protect the mission.>>>Sterling teams up with the enemySterling engages in a daring robbery, teamed up with the enemy. It can all go so very wrong.>>> Sterling has Ember and Piper with her to weave the magic they hope will bring them success.Sterling's world is tilted as what she thought was the truth turns out to be a ruse and secrets are revealed.Download now to let the magic happen. ˃˃˃Scroll Up And Grab Your Copy Today!
The Most Awfullest Crime of the Year: Gawd Almighty and the Corn: A Massanutten Tale (Artsy Chicks Mysteries Book 2)
$

2.99
From WSJ and USA Today Bestselling Author Judith Lucci!>>>Will Lily and LauraLea Ever Learn?It was hot. Too hot. The Dog Days of Summer always were. The Artsy Chicks had been painting, teaching classes, crafting and blending the Art Gallery's famous Wine Slushees for hordes of thirsty customers. Things seem okay until Lily notices that Gawd Almighty, the Gallery's pet possum has disappeared.>>>A Murdered ProfessorA short time later, Dr. Kenzie Zimbro, the medical examiner for the mountain area, stops by the Gallery and tells the Chicks about the strange murder of a Virginia Tech Biology Professor at the tip-top of the mountain. His dead body was surrounded by kernels of corn. Lily and LauraLea put on their detective caps to search for Gawd Almighty and find themselves tangled-up with the Hillbilly Clan and in a life-threatening position.Scroll Up and Grab Your Copy Today!
Trigger Warning
$

16.99
Multiple award winning, #1 New York Times bestselling author Neil Gaiman returns to dazzle, captivate, haunt, and entertain with this third collection of short fiction following Smoke and Mirrors and Fragile Things—which includes a never-before published American Gods story, "Black Dog," written exclusively for this volume.