Prometheus Rising (Prometheus Dystopian Trilogy Book 1)
$

12.99
★★★★★ "Nothing like you think it is going to be, but way way better.""That's the kind of stories I look for and Prometheus Rising, DELIVERS!!!!!""A real page-turner, unapologetic and fascinating. The kind of book you cannot put down and will find you re-reading all over again."Adama, a doctor in a perfect Global world, enjoys a comfortable life until the woman he loves, Rahab, is labeled a terrorist. She is imprisoned in a labor camp that has been erased from the maps. As the truth becomes a mere mirage and his past a fake recollection of memories, Adama is forced to decide which side he stands on. In his quest for Rahab, he unwillingly becomes a revolution leader to cause a war that slowly slips out of his control. He discovers secrets about the world and himself that force him to make impossible decisions. Meanwhile, Rahab is psychologically broken piece by piece – programmed...
Never Dead (Welcome To Dead House Book 1)
$

9.99
"Why does the ghost have his head in the oven?" I groaned at the sight of Joey's bony ass sticking out of the appliance. He hadn't even opened the door.Ex-burlesque dancer and aspiring author Tamara Garvey just had her world turned upside down.Her best friend died and leaves her as guardian to a teenager. Now, not only is Tamara struggling with her new role but she is also charged with caring for the family home, the Ridaught Plantation known by the locals as the Dead House.To her surprise, the place is already occupied by an angsty ghost named Joey who has a penchant for wearing her clothes and a fascination for paranormal movies and television shows. Tamara and Joey develop an unexpected friendship but questions remain about how and when he got there.In an attempt to fit in with the suspicious small town residents, Tamara turns on the charm and...
The Ember War (The Ember War Saga Book 1)
$

14.99
The countdown to the invasion of Earth has begun. A merciless alien race bent on human extermination has pointed its armada towards Earth. The countdown to their arrival begins. A mysterious intelligence warns only a young scientist, Marc Ibarra, of our impending doom. Together, the two create a plan for humanity to survive the invasion. Even with the aid of advanced new technology, Marc is faced with a major problem. The plan—if it works—can only save a fraction of us.Who survives? Who dies? How can humanity win the battle against almost certain annihilation? With what will only be an ember of humanity left, will it be enough to rekindle our chance for survival and strike back at the Xaros?The Ember War is the first novel in an epic military sci-fi series. If you like The Legacy Fleet by Nick Webb or Omega Force by Joshua Dalzelle, then you'll love this...
His Name Was Death (Dead Man's Tale Book 1)
$

10.99
Shouldn't life get easier when you die?Henry Richards is having a really bad day. It started with his own murder, and it's gone steadily downhill from there. Forced into a new life as the Grim Reaper, he must collect the souls of the dying—stubborn, lost and dangerous souls that don't want to be collected.When Henry is sent to collect the soul of a middle-aged housewife, he decides to save her instead; but ignoring the rules has dire consequences, and he soon finds his name on an assassin's hit list. Isolated from his friends and family, he turns to the only help he can: the seductive demoness that lives across the hall, a big black cat with an even bigger attitude, and three mysterious goddesses in white.But will they be enough to help Henry stop the assassin before every name is crossed off his list, or will Henry's enemies manage to...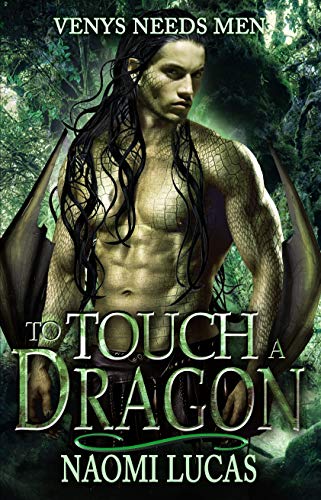 To Touch A Dragon: A Venys Needs Men Book (Tropical Dragons 1)
$

8.99
The tribes have wilted. The last of the menfolk have grown old. The human race has been dying since the red comet first soared through the skies above.My name is Issa, and as the youngest huntress and the only one left within childbearing age, I'm doomed to be the last matriarch of my people. Which would be a great honor, if there were a male to be mine from another tribe. But none have been born, none but my younger brother. It's been my life duty to protect him.When the time comes to escort my brother to a neighboring tribe, my friend tells me a rumor of a huntress finding a dragon in the northern plains. And when that huntress touched the dragon's hide, the beast transformed into a virile, possessively bonded male.With a thundering heart and nothing left to lose, I venture into the Forbidden Jungle to find such...
Runes of Truth: A Reverse Harem Urban Fantasy (A Demon's Fall series Book 1)
$

10.00
Thief. Runaway. Assassin. What happens when your rumoured name destroys your life? When the very runes engraved on your skin since birth, are a death sentence? Evie doesn't remember a life before she was on the streets, a life before thieving to live and killing to stay alive.When a royal family she didn't know anything about go missing, Evie finds herself thrown into the royal court of the protectors, and they demand her help.Help in exchange for a chance at freedom and the name that's haunted her, forgotten. A name she can't even read, a name she doesn't understand.But when three Royal protectors are tasked with helping her, her demon ex who is literally from hell, stalking her...will Evie ever be free?17+ Reverse harem romance.
Runes of Black Magic: A Reverse Harem Urban Fantasy (A Demon's Fall series Book 3)
$

10.00
Defending my claim to the throne will be easy, but defending my heart? That's where everything could go wrong.Entering the royal court of the protectors was never going to easy for someone like Evie, but at least she isn't alone. Trex, Connor and Nix are determined to show everyone who Evie really is. Not just the heartless assassin they all believe and fear.With whispers of war, the angels going missing, and tests that are far more deadly than anyone could have predicted…who will win the throne?The protectors aren't the only ones that are whispering because demons don't forget. Death is not the end…and demons will survive. 18+ RH series. Book three of four.
Escape The Deep (The Heinous Crimes of Sara Slick Book 1)
$

12.99
I was innocent, and they called me a monster. Maybe a monster is exactly what the earth needs. ​My name is Sara Slick, and I was an average teenager. I worked hard. Followed the rules. Took care of my family. But normal dissolved the night that the hidden world of The Far showed up to accuse my dad of heinous crimes against the magical community. To protect the ones I loved, I took the blame and the sentence of ten lifetimes in The Deep. No human had ever been sent to this paranormal prison.They didn't think I'd last the night. They couldn't have been more wrong.I survived by becoming the kind of human the magical world feared. Now, a decade later, I need to escape from hell before the home I sacrificed everything for meets its end at the hands of a maniacal, master wizard and his army of fanatics. What's one army against the heinous...
Ember: A Fantasy Austen Retelling (Magical Regency Book 2)
$

9.99
Depend upon it: a lucky guess is never merely luck.Ember Woadley's life is perfect. Fresh off the success of a romantic match she orchestrated for a friend, she wastes no time planning her next project.Her magical ability to sense others' emotions will help in this endeavor. After all, her subtle meddling does nothing but improve the lives of everyone around her. Forget what Mage Gideon Noughton says—he never likes any of her ideas.When her father relapses into a mysterious illness, Ember's idyllic life is thrown into turmoil. Add in a delightful new friend, a charming rogue, and some magical misadventures, and Ember wonders if she's as in control of things as she always believed.Things are about to get a lot more exciting in Highbury.If you like your romance with a dash of magic and a few hijinks, then get ready for Ember, part of the Magical Regency series, which can...
The Mounds Anomaly
$

14.99
An ancient gold coin, a mysterious American Indian burial ground, and a Colorado canyon all have something in common—and brilliant archaeologist Mathilda Howard holds the key to solving the puzzle. Warned to keep quiet or lose her job, Mathilda risks her life to expose the truth that could change the entire history of the world in this fascinating mystery.