Featured Kindle Book Deals
The Glass Spare
$

17.99
The first in a new fantasy duology, The Glass Spare is a gorgeously told tale of love, loss, and deadly power from Lauren DeStefano, the bestselling author of the Chemical Garden series. Perfect for fans of Shannon Hale and Renee Ahdieh.
Jawbreaker: The Attack on Bin Laden and Al Qaeda
$

16.00
Gary Berntsen, the CIA's key commander coordinating the fight against the Taliban forces around Kabul, comes out from under cover for the first time to describe his no-holds-barred pursuit—and cornering—of Osama bin Laden, and the reason the terrorist leader escaped American retribution. As disturbingly eye-opening as it is adrenaline-charged, Jawbreaker races from CIA war rooms to diplomatic offices to mountaintop redoubts to paint a vivid portrait of a new kind of warfare, showing what can and should be done to deal a death blow to freedom's enemies.
Grizzly Cove Anthology: Vol. 1-3
$

7.99
Welcome to Grizzly Cove, where bear shifters can be who they are - if the creatures of the deep will just leave them be. Wild magic, unexpected allies, a conflagration of sorcery and shifter magic the likes of which has not been seen in centuries... That's what awaits the peaceful town of Grizzly Cove. That, and love. Lots and lots of love.
Primal Fear
$

6.99
Martin Vail, the brilliant "bad-boy" lawyer every prosecutor and politician love to hate, is defending Aaron Stampler, a man found holding a bloody butcher's knife near a murdered archbishop. Vail is certain to lose, but Vail uses his unorthodox ways to good advantage when choosing his legal team--a tight group of men and women who must uncover the extraordinary truth behind the archbishop's slaughter. They do, in a heart-stopping climax unparalleled for the surprise it springs on the reader...
A Fatal Winter
$

15.99
In A Fatal Winter, Max―Anglican priest, former MI5 agent, and village heartthrob―investigates two deaths at Chedrow Castle. But his growing attraction to Awena Owen complicates his case, as does the recent arrival at Chedrow Castle of a raucous group of long-lost, greedy relatives, any one of whom has a motive for murder. With a cozy setting, intricate puzzles, and a handsome (non-celibate) priest doing the sleuthing, the books in this series are destined to become instant classics in the mystery world.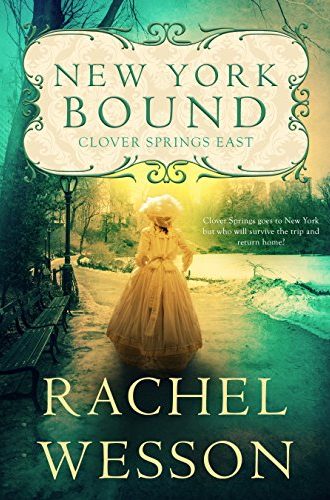 New York Bound: Clover Springs East Book 1
$

2.99
Erin Quinn, Clover Springs, Colorado's beloved doctor, and her party arrive in New York to meet her past—just when the most devastating blizzard ever recorded is about to hit the city. Nora Doherty has spent years hearing tales of Doc Erin's skill and kindness, but she anticipates her arrival with mixed feelings. She can't wait to meet the amazing woman her gran worked for, but isn't at all thrilled with her mother's insistence that she return with Doc Erin to Clover Springs—as a mail order bride.
Midnight Confessions
$

6.99
In Virgin River, holiday kisses don't end with Christmas—there's still the inaugural New Year's Eve party at Jack's Bar to attend. Locals and newcomers alike find themselves eager for that special countdown...and that midnight kiss. Drew Foley and Sunny Archer are each visiting Virgin River for the holidays. Sunny was dumped at the altar the previous New Year's Eve and is in no mood to celebrate. But her uncle and his fiancée drag her to Jack's Bar. Drew, getting over his own heartbreak, sees Sunny across the crowded room and he's instantly smitten. As the townspeople gather, two lonely revelers decide the best balm for their broken hearts might just be each other.
Happiness for Beginners
$

15.99
In this exuberant novel, a thirtysomething-year-old woman embarks on a wilderness survival course and discovers that sometimes you have to leave things behind in order to find yourself.
The Vatican Children
$

3.99
After the events of in Everett Washington, Father Niccolo Paladina decides to assist Arthur in hunting down the Bishop and bringing him to justice for the crimes he has committed. He knows that the Bishop has something big planned against the Church.  Arthur, on the other hand, is hoping to find some redemption for his actions against The Ninth Circle and atone for his mistakes. Atonement, however, can be difficult to come by...  Especially when the stakes are so high.
Grammar Girl's Quick and Dirty Tips for Better Writing
$

15.99
Mignon Fogarty, a.k.a. Grammar Girl, is determined to wipe out bad grammar―but she's also determined to make the process as painless as possible. A couple of years ago, she created a weekly podcast to tackle some of the most common mistakes people make while communicating. The podcasts have now been downloaded more than twenty million times, and Mignon has dispensed grammar tips on Oprah and appeared on the pages of The New York Times, The Wall Street Journal, and USA Today. Written with the wit, warmth, and accessibility that the podcasts are known for, Grammar Girl's Quick and Dirty Tips for Better Writing covers the grammar rules and word-choice guidelines that can confound even the best writers.
Caraval
$

16.95
Welcome, welcome to Caraval - Stephanie Garber's sweeping tale of two sisters who escape their ruthless father when they enter the dangerous intrigue of a legendary game. Scarlett has never left the tiny island where she and her beloved sister, Tella, live with their powerful - and cruel - father. Now Scarlett's father has arranged a marriage for her, and Scarlett thinks her dreams of seeing Caraval, the faraway once-a-year performance where the audience participates in the show, are over. But this year Scarlett's long-dreamt-of invitation finally arrives. With the help of a mysterious sailor, Tella whisks Scarlett away to the show. Only as soon as they arrive, Tella is kidnapped by Caraval's mastermind organizer, Legend. It turns out that this season's Caraval revolves around Tella, and whoever finds her first is the winner.
Redeployment
$

16.00
Redeployment takes readers to the frontlines of the wars in Iraq and Afghanistan, asking us to understand what happened there, and what happened to the soldiers who returned.  Interwoven with themes of brutality and faith, guilt and fear, helplessness and survival, the characters in these stories struggle to make meaning out of chaos. Winner of the 2014 National Book Award for Fiction, this work marks Phil Klay as one of the most talented new voices of his generation.
Instant Pot Miracle
$

16.99
Tasting Table calls the Instant Pot "the hottest kitchen tool since George Foreman's pint-size grill" and everyone from Ruth Reichl to top food bloggers rave about its efficiency, convenience, and affordability. Now, with this licensed cookbook—one of the most comprehensive published to date—you can discover exactly how much this miracle appliance can do.
Due Justice: Judge Willa Carson Mystery Novel
$

0.99
When a famous plastic surgeon's decomposed body surfaces in Tampa Bay with a bullet in its head, Federal Judge Willa Carson's "little sister" is caught in a high-stakes game of greedy lawyers, blackmail and deceit. Fiercely independent Carly is the number one suspect. When Carly asks Willa for due justice, Willa has everything to lose. But she risks it all to uncover the conspiracy and keep Carly alive. Can Willa possibly win?
Interest
$

0.99
It's all the news channels can talk about: the White House has been bombed, there's chaos in the streets, and the United States has found itself in the throes of a violent revolution. The mysterious leader of the rebels kidnaps journalist Len Savitz and forces him to go on investigative mission, where he uncovers ancient secrets and unwittingly triggers a chain of disturbing events that will determine the future of humankind.