The Extraordinary Tale of the Rebellious Governess: A Historical Regency Romance Novel
$

0.99
Changing the past is not an option, but you can always try to define the future...The poisoned needle that threatens a little child's life is the only clue for Miss Lucretia Brent to solve the puzzle of a deadly disease that comes upon the Dukedom of Breckenridge.Sampson Claridge, the fraught Duke of Breckenridge has to manage not only his dukedom but also his little sister. Completely enamored by the new governess, he needs her help to find the way out of the impending tragedy that threatens his kin.Sins of the past awake and they are all used for blackmail. As time runs short, Lucretia and Sampson have only a few hours to solve the puzzle or forever be gone.*If you like powerful Dukes, loving Duchesses and a marvelous depiction of the majestic Regency and Victorian era, then The Extraordinary Tale of the Rebellious Governess is the novel for you. Emma...
Emeralds Are Forever (Love on the Run Book 2)
$

2.99
The man of her dreams, and a quest to save her best friend. What could possibly go wrong?Dee has always been jealous of her best friend Carlie's adventures, but she never imagined actually going on her own. But when Carlie goes missing searching for a 300-year-old emerald, Dee is willing to do anything to get her back.Newspaper reporter by day, handler by night, Ben has plenty on his plate, which means no time for relationships. That is, until he runs into Deirdre—or Dee, as her friends call her—at the local grocery store.Together, Ben and Dee must find their friend and uncover the mystery surrounding the elusive three million dollar emerald before it's too late. Can they complete their rescue in time, or will Dee's first adventure be her only adventure?Enjoy this fun, action-packed adventure today!Read all the novels by Jaclyn Hardy:Silver Script NovelsRing of TruthA Christmas Worth BillionsFashioned for LoveChange...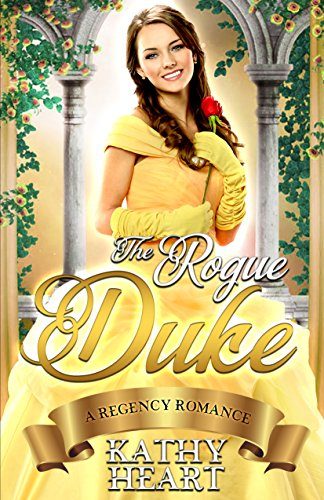 The Rogue Duke: A Regency Romance
$

0.99
Lady Madalene James does not want to be in Scotland. When her family's carriage is waylaid by brigands, she thinks that that will be the most exciting thing to happen to her for the summer. Until she meets Andrew Dunn, Duke of Annadale, and her whole world is turned upside down. He is the son of noble houses in both England and Scotland. He has a great deal of influence and a large circle of friends, among whom is numbered an infamous highwayman. As he works to help his friend, he falls deeply in love with Maddi. But when she sees him with a strange woman with two children in tow, she thinks Andrew is committed to another, and so she refuses his proposal of marriage. Will she discover her mistake before she makes a fool of herself? And once he discovers what the cause of the misunderstanding is, will...
The Duke and His Scoundrel: A Regency Romance (Clean and Wholesome Series Book 1)
$

0.99
A long-lost son.An elderly Duke.The chance to inherit everything.Thomas Copper is a man struggling to survive. When he hears about an elderly Duke looking for his long-lost son, he decides to throw caution to the wind and try to wheedle his way into the Duke's graces.When things go better than expected, Thomas is quite content to continue with his new life as the heir to the Dukedom. He is easily able to ignore the stab of guilt whenever the Duke looks at him with fondness in his eyes, telling himself that it's a good outcome for them both.But then a stranger appears at the house. One neither the Duke or Thomas were expecting.
Lady Mina Fullworth doesn't want to be here. She doesn't want to do what her father has demanded but she has very little choice. The last thing she expects is to fall in love with the new heir...
Hearts Stolen (Texas Romance Series Book 2)
$

4.99
Unbeknownst to loved ones, a headstrong young wife is snatched off the prairie by two Comanche braves, carried north of the Red River, and traded to their war chief for ponies. After five years, a small detail of Texas Rangers rides into camp, and she determines that day will bring freedom or death. She'll remain captive no more. Sassy Nightengale almost gives up hope until a company of Texas Rangers rides into Bold Eagle's peace camp. She learns they've come for the negotiated exchange of stolen white women, except her name isn't on their list. Purposing in her heart to escape captivity with her blue eyed, four- year-old that day, she does everything she can to be noticed. Famed Texas Ranger Levi Baylor spots the red headed beauty and agrees to the war chief's price adding his personal horse and weapon to the Republic agents' offerings. The trade propels the...
Phoebe The Mail Order Bride: A collection of Mail Order Bride & Christian Romance
$

9.95
Tales of historical sweet romances...The 19th century isn't a kind place for newly widowed mothers and Phoebe is no different. She answers a mail order advertisement from Luke who seems like a good enough fellow. He owns a farm in California but with the Gold Rush in full bloom, decent women are hard to find. Phoebe arrives but doesn't tell Luke about her pregnancy. He falls in love with her but soon realizes that she's keeping something from him. How will he react when he discovers the truth? Will he reject the woman he quickly grew to love?
The Tiger Temple: A Hiram Kane Adventure (The Hiram Kane Adventure Series Book 1)
$

2.99
A betrayed criminal. A kidnapped child. A deadly race against time. On the Island of the Gods, expedition leader Hiram Kane is on holiday after a long season guiding in the Peruvian Andes.When a good friend's greed leads him to betray Bali's most notorious gangster, their peaceful community is left shell-shocked after the six-year-old daughter of its leader gets kidnapped in a vicious and violent raid. What follows is a whirlwind race across the paradise island to rescue the girl before 'The Rooster' takes his sadistic revenge, and with the waking giant of volcanic Mt. Agung threatening to destroy them all, Kane risks everything to prevent a devastating tragedy.The Tiger Temple is the exciting new starter to the Hiram Kane adventure series. For fans of Russell Blake and Clive Cussler, Steven Moore's action thriller will leave you breathless. To delve into the globetrotting world of Hiram Kane, buy your copy...
Adela's Prairie Suitor (The Annex Mail-Order Brides Book 1)
$

0.99
A clean, Christian romance novella about a Victorian era, western mail-order bride.Most of the ladies attending the Harvard Annex hope to attain a quality education and advance the status of women--except Adela Mason. All she wants is marriage and a home of her own. After corresponding with Byron Calhoun, a Kansas farmer, for several months, she's convinced he's the man God has chosen for her. She accepts his invitation to visit the farm so he can "court her properly."Byron finds Adela as sweet and charming as her letters have indicated, but will she marry him when she finds out he's in danger of losing the farm?Worse, how can he even convince sweet Adela to stay when his ex-fiance and mother are doing everything they can to run her off?Prequels to the long historical novel series, "Intrigue Under Western Skies", the Annex Mail-Order Brides novella series follows three courageous young women...
The Amazing Adventures of Kavalier & Clay
$

18.00
A young escape artist and budding magician named Joe Kavalier arrives on the doorstep of his cousin, Sammy Clay. While the long shadow of Hitler falls across Europe, America is happily in thrall to the Golden Age of comic books, and in a distant corner of Brooklyn, Sammy is looking for a way to cash in on the craze. He finds the ideal partner in the aloof, artistically gifted Joe, and together they embark on an adventure that takes them deep into the heart of Manhattan, and the heart of old-fashioned American ambition.
Children of the Night: A Novel
Children with no identity, come alive during the nightChina, a small village, the 1980's. Ming was an only child born to loving parents during the 'one child per family' regime ,known as the "one child policy",. She was lucky enough to be an only child but many in her village were not! Second-born children were hidden by their families from the authorities – kept up at night and hidden asleep under their houses during the day. "Children of the Night" fascinated Ming and she sneaked out to join them. She began staying up at night and playing with her friends until she too, started sleeping during the day. One night, the authorities raided her village, and brutally removed all the 'identity less' children who were playing outside at night, including Ming, despite her mother's screams that she is an only child. The militia took them to a remote children's house...