The Disappearing Man
$

14.95
"Go and get a box and put yourself in it."Henry Brown heard these words, but he didn't know if he could believe them. Avoice was telling Henry, a slave from Virginia, to climb into a wooden box and mail himselfto freedom.The Disappearing Man is based on a true story—one of the most incredible escapeattempts in the history of the Underground Railroad. In 1849, with the help of two friends,Henry Brown was placed in a box marked THIS SIDE UP WITH CARE. Then he was shippedfrom Richmond to Philadelphia, a harrowing, 27-hour ordeal at the mercy of cargo handlersand rogues of all sorts.This was the ultimate disappearing act. He intended to make a man disappear inRichmond and miraculously reappear in Philadelphia. He aimed to turn a dead man into a living man, a slave into a free man.
Her Duke in Shining Armor: A Historical Regency Romance Novel
$

0.99
So dark, so deep, the secrets that you keep…Eleanor Stanley, daughter of the Duke of Brisdane, is certainly not the apple of her father's eye.Rebellious and blatantly outspoken about her dislike for the hypocrisy of the ton, she's earned herself not only a bluestocking reputation but also the nickname 'Lady Disdain."Aaron Bravolt, Duke of Oberton, never expected to catch one Lady Eleanor sneaking a servant child out at night in order to spare her from her father's wrath. But his determination to decrypt the puzzling lady has consequences he couldn't have foreseen.With his own assets under attack by a mysterious adversary, Aaron has only eighteen hours to discover what really happened to the Duke of Brisdane's late wife and to keep Eleanor from being taken away from him forever.*If you like powerful Dukes, loving Duchesses and a marvelous depiction of the majestic Regency and Victorian era, then Her Duke in...
An American In Duke's Clothing (An Unlikely Match Series Book 1)
$

9.99
She loves him. He loves her. Too bad he is engaged to her sister.When unexpected deaths leave Tad Wentworth as the heir to an English title, he leaves his American homeland to fulfill his duty. Upon arriving in the country, he discovers an arranged marriage is part of the plan. But when his affections guide him toward a different lady, he must decide if he will follow his heart or his head. Violet Allen's questionable past has left her with few friends. When she meets a dashing stranger who shows interest in her, she allows herself to dream of a future with him. Until she discovers the stranger is not only a Duke but is also engaged to her sister. As her feelings for him grow, she must decide if she will be loyal to her sister or her heart.
The Amish Choice
THE AMISH CHOICERachel and Peter have spent their young lives together in their rural Amish village. They approach adulthood and Peter asks Rachel's father for her hand in marriage. But Rachel does the unexpected. Her Rumspringa is around the corner and she's unsure about marriage. They decide to spend some time apart and see if God will bring them back together. What will their future hold?AMISH HOPERachel is a young Amish woman who is determined not to become like her parents who married each other out of obligation rather than love. She has a crush on a young man in town and she thinks he feels the same way until he inexplicably announces that he is to marry one of her rivals. As if that wasn't an insult enough, the bishop wants her to plan the wedding! Will the two realize they are meant for each other before it is...
Creed's Confidant (The Pistol Ridge Series Book 4)
$

2.99
A secretive woman in hiding - A man unwillingly chosen to protect her - Can they find love and overcome the enemy before it's too late? Pearl Summers is not who everyone in Pistol Ridge thinks she is. Pretending she can't speak keeps her from answering any questions. In order to protect Pearl from her father's enemies, she tries to hide out where she won't be found. Except there is one person who doesn't believe her and vows to get to the truth of the matter.Reid Wallace, better known as Creed, has a hard time trusting others except for his comrades. His days as a spy in the war are long over and he thinks maybe someday he'll settle down if he finds the right person. But, there is a woman he can't keep his eyes off of lying through her teeth. Because she made a vow not to speak,...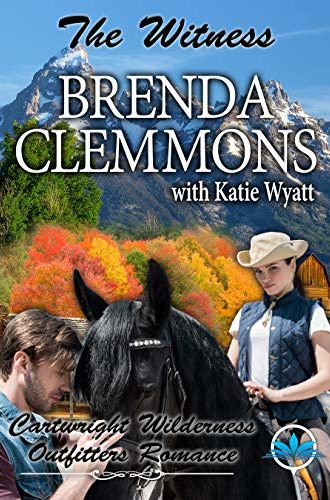 The Witness (Cartwright Wilderness Outfitters Series Book 2)
$

7.99
Available as a value box set (Cartwright Wilderness Outfitters Complete Series)amazon.com/dp/B07Z4KVCCY (copy and paste the link into your browser)Kevin is attracted to his female client, unaware that he doesn't know the truth about her or her supposed 'fiancé', Kyle. Until he finds out he's been lied to.Until someone starts taking pot shots at them. Until he finds himself on the run with Vicky, hoping and praying that Kyle survives long enough to get them help.Vicky Brooks, a San Francisco native, saw something she shouldn't have. In an effort to protect her, the county DA assigned Kyle Rivers to protect her. Which worked out fairly well until Kyle arranged a week-long hunting and horseback ride with the Cartwright Wilderness Outfitters.The couple is assigned to Kevin MacDonald, a Cartwright cousin and lead guide for mountain trips. From the moment they head up into the mountains, nothing goes right.Kevin and Vicky run for...
In Fire and Snow: Memoir By Jewish Warsaw Ghetto Fighter During WW2 (World War II Survivor)
$

15.99
A unique Memoir of the Warsaw Ghetto fighter"The Germans marched, and their singing echoed between the walls. That same moment, we were ordered to attack the marchers, to throw bombs at them and then grenades and Molotov cocktails. When the air cleared, we saw German blood on the pavement. This was our finest day."In his book "In Fire and Snow," Yaacov Putermilch describes his life in the Warsaw Ghetto as a member of the Jewish Combat Organization (JCO).The Warsaw Ghetto uprising was set off by combatants and commanders of various Jewish youth movements in several foci throughout the Ghetto. Together with the stories of other witnesses, Yaccov's testimony completes the historic picture of the Warsaw Ghetto uprising and throws light on the dramatic events that occurred in the specific sector where he fought.After the Ghetto was destroyed, Yaacov escaped to the forests and continued to fight as a partisan. The...
The Viscount and the Vicar's Daughter
$

8.99
After years of unbridled debauchery, Tristan Sinclair, Viscount St. Ashton has hit proverbial rock bottom. Seeking to escape his melancholy, he takes refuge at one of Victorian society's most notorious house parties. As the Christmas season approaches, he prepares to settle in for a month of heavy drinking...until an unexpected encounter changes his plans--and threatens his heart.
Love on Trial (Rivals in Love Book 1)
$

7.99
Two lawyers on opposite sides of the aisle despise one another...at first.When Jude Crandall fights for justice, she is a formidable opponent. Malik Moore may hate his job as an attorney for a prestigious Chicago law firm, but he stands up to the force of prosecutor Jude in the battle of opposites.They disagree on most everything, except the love they both feel for their dogs, a Boston terrier and a Jack Russell terrier. When their mothers meddle, Jude and Malik find it impossible to avoid one another.But his Persian heritage and her father's political aspirations and biases throw the biggest barrier of all between them.Their dogs, Clyde and Suzanne, show them how to love. It's up to the two lawyers to overcome culture, religion, and their families to find happiness.The two lawyers are forced together by their dogs and their mothers and discover they have more in common than not.Love...
Duval at Waterloo (Napoleon's Police Book 15)
$

1.99
Duval must foil another plot to assassinate the Emperor!If he does not succeed, Imperial France will fall.Alain Duval resigns from the police after fourteen years and goes home to Grenoble with his family. They are happily settling into their new life when the Emperor Napoleon rides into town, after escaping from the island of Elba. Swept into the uproar of the Hundred Days, Duval and his friend Lefebvre must try to prevent Napoleon's assassination before he can take command of his army. Duval rejoins his old regiment and fights at Waterloo. Afterwards he must make the long and difficult journey home. Injuries, the English army, Prussian soldiers and Royalist agents get in his way. Will he find the strength and courage to reach his family again?Duval in Napoleon's Police SeriesDuval and the Infernal Machine (1800)Duval and the Empress's Crown (1804)Duval at Waterloo (1815)Duval and the Italian Opera Singer (1805). Coming...