My Ántonia
$

3.99
The novel tells the stories of an orphaned boy from Virginia, Jim Burden, and the elder daughter in a family of Bohemian immigrants, Ántonia Shimerda, who are each brought as children to be pioneers in Nebraska towards the end of the 19th century. Both the pioneers, who first break the prairie sod for farming, as well as of the harsh but fertile land itself, feature in this American novel. The first year in the very new place leaves strong impressions in both children, affecting them lifelong.
Beth's Journey West: Mail Order Bride
$

3.99
Beth McThorn is a simple Georgia woman who runs her own dress shop. Life is simple and the days are lazy. But when Charlie Whitfield, a man who is fond of Beth, walks into her shop upset about an old drunk being hung, Beth's world is turned upside down. Instead of listening to Charlie's honest voice about the hanging she dismisses him with a hot temper and goes about her daily business. When Charlie is found dead Beth is quickly rushed out of town by the local Sheriff for her own protection, believing the man who killed Charlie would come after her. Stricken with guilt and a broken heart Beth heads west where she meets a lovely woman named Mille. Beth ends up staying with Millie and meets a broken Sheriff who lost his family during a bank robbery. Both Beth and the sheriff are broken inside. The situation turns...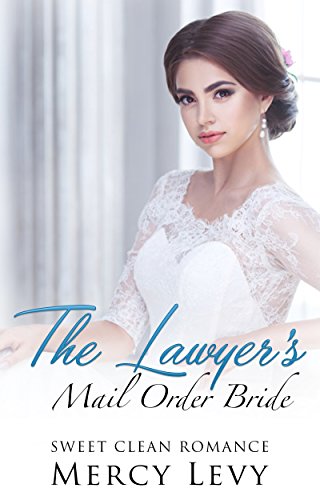 The Lawyer's Mail Order Bride: Sweet Clean Romance
$

3.99
Craig Ferguson is a sheriff in the Cowtown of Abilene. His charge, to head off the civil unrest between railroad and cattle drivers. He sends for Candace as a mail order bride, offering to care for her brothers, once he hears of her struggles in Boston. Orphan Candice Shepherd and her younger brothers, Sil and Darren, are struggling to make ends meet in the city of Boston. When Candace is assaulted by her employer, she has to find a safer place to raise her siblings and start a new life. Through the letters he sends, Candace comes to know and respect the small town sheriff. It is when she sees his honorable nature in action, that she realizes she truly desires the man behind the words she's fallen in love with.The sheriff looks to mend the rift between the cattle drivers and the railway men. When one of those men...
Maddie's Christmas Miracle: Holiday Mail Order Bride Romance
$

3.99
Maddie is a widow who is struggling with the past. She lost her husband and her child both to scarlet fever around the holidays a few years ago, and she has never forgiven the world for what happened to her. She has become a recluse, and only wants to be left alone, but the need for money drives her out into the world. When she loses the only job she could find in months, Maddie knows she has to think of something, and fast, or she's going to end up on the streets in the middle of winter.Out of desperation, she becomes a mail-order bride and heads to the plains of Wyoming. She marries a man who is kind and sweet, and reminds her of her husband. But, her new groom seems to hold a secret that she can't uncover, and she begins to become suspicious of him.Then, when they...
A Mysterious Disappearance: Detective Claude Bruce Murder Mystery
$

3.99
This carefully crafted ebook: "A Mysterious Disappearance" is formatted for your eReader with a functional and detailed table of contents.Claude Bruce is a barrister and an amateur detective who is caught unaware into the mysterious disappearance and the subsequent murder of Lady Dyke, his friend's wife. Together with White, in an amateurish Sherlock Holmes' fashion, Bruce must use his power of deduction to find the culprit. But unlike Sherlock, Bruce is fallible and makes some costly mistakes which results in a humorous but enjoyable murder mystery. The power of this novel lies in its expression and the layout of the puzzling case which has endeared this novel to the mystery lovers for generations!
Ethel's Inspirational Journey: Sweet Mail Order Bride
$

3.99
Ethel Miller is in love with horses. She lives to ride, even though her governess considers her riding to be an unsuitable boyish habit. Ethel dreams of winning a race, but she knows that as a woman, she will never be allowed to even enter one.When her father announces that he is going to sell their horses, Ethel becomes desperate. Becoming a mail order bride, she moves across the country to marry a man she has never before met.But, like her father, he considers riding to be for men and expects her to keep to the kitchen.Will Ethel convince him that she is able to ride? Will she prove she can be a housekeeper and horse trainer? Will her dream ever come true?
Susan's Surprise Marriage: Mail Order Bride Romance
$

3.99
Susan Greene is a beautiful, young woman living with her wealthy old grandmother. Even though Susan is a sweet girl with a kind disposition, her grandmother is hard on her; she is selfish, and only cares for money. Susan misses her sister, who left the state to become a mail-order bride a few years ago.When Susan learns she is to be forced into a marriage with one of her grandmother's friends, she decides to become a mail-order bride herself, and maybe even find her sister in the process.But life in the West isn't what she imagined, and the man she has married is keeping secrets from her. What happened to his first wife? Will she ever find her sister? And what does he keeps in that locked room?
Sinister Goings-on in Room Seven: A Jane Carter 1920s Historical Cozy (Book Two) (Jane Carter Historical Cozy Mysteries 2)
$

9.99
Jane investigates a series of mysterious disappearances from a small hotel, a stolen houseboat, a bunch of counterfeit paintings, and a jewelry salesman on the lam. Note: By Celia Kinsey writing as Jane Simpson.About the Jane Carter Historical Cozy Mystery Series: This charming historical cozy mystery series is set in the fictional American city of Greenville during the 1920s and features Jane Carter, a young widow who returns home to live with her father after the tragic death of her journalist husband. Jane's father owns a local newspaper and wants Jane to take it over someday, but Jane is adamant that she has no desire to be a reporter. Instead, she turns her talent for writing to concocting melodramatic romances for fly-by-night rags who almost never pay on time. Jane claims that she's holding out for a millionaire before she marries again, but the only man who makes her heart...
The House Built on Sand
$

12.99
What does it take to radically alter the course of someone's life? In the case of Emad Almasry, an archeologist with the Egyptian Ministry for Antiquities, it took a clay jar. Its discovery, under Egypt's oldest mosque, set in motion a series of events that threatened the very existence of Egypt's Coptic community. Emad very quickly learns that the only way he could keep the hammer blow from falling was to dig deep into the origins of Islam.Will he be able to force the past to yield its secrets? Would he have the courage to follow the evidence wherever it leads? What happens when firm foundations turn out to be built on sand? Join Emad and his friends as they chase after truths that would not only alter the course of their own lives but that would ripple out from Egypt to affect all who turn to the 'mother of...
Saving Time: The Memoirs of Keegan Miles
$

0.99
If you could go back in time and kill Hitler, would you?Keegan Miles is a former Marine and current history student who is recruited to work for Spero - a secret organization that sends people back in time to fix history's "mistakes." The stakes are high and the missions are deadly, but Keegan is determined to create a better world than the one he's currently living in.At the top of the list is assassinating Adolf Hitler. Many Spero agents have tried, but none have been successful. Adam Nowak is tasked with recruiting and training Keegan to reach that goal, but before he can do that, he wants to take Keegan somewhere to show him what real history is like.And it doesn't get more real than Auschwitz, the infamous concentration camp that was responsible for over a million deaths.What will Keegan see when he gets there and how will it change...