Welcome, book lover! Are you looking for Kindle book deals? OHFB features limited-time sales of the best free and bargain Kindle books from the biggest publishers and bestselling independent authors. These are today's featured books: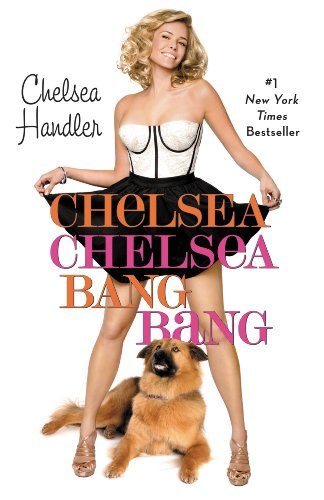 Chelsea Chelsea Bang Bang
by Chelsea Handler
$

15.99
Life doesn't get more hilarious than when Chelsea Handler takes aim with her irreverent wit. Who else would send all-staff emails to smoke out the dumbest people on her show? Now, in this new collection of original essays, the #1 bestselling author of Are You There, Vodka? It's Me, Chelsea delivers one laugh-out-loud moment after another as she sets her sights on the ridiculous side of childhood, adulthood, and daughterhood.
KINDLE
Einstein's Shadow
by Seth Fletcher
$

16.99
Einstein's Shadow follows a team of elite scientists on their historic mission to take the first picture of a black hole, putting Einstein's theory of relativity to its ultimate test and helping to answer our deepest questions about space, time, the origins of the universe, and the nature of reality.
KINDLE
Economics in One Lesson
by Henry Hazlitt
$

16.00
With over a million copies sold, Economics in One Lesson is an essential guide to the basics of economic theory. A fundamental influence on modern libertarianism, Hazlitt defends capitalism and the free market from economic myths that persist to this day.
KINDLE
Self-Inflicted Wounds
by Aisha Tyler
$

24.99
In her book Self-Inflicted Wounds, comedian, actress, and cohost of CBS's daytime hit show The Talk, Aisha Tyler recounts a series of epic mistakes and hilarious stories of crushing personal humiliation, and the personal insights and authentic wisdom she gathered along the way.
KINDLE
La Bella Lingua
by Dianne Hales
$

16.00
A celebration of the language and culture of Italy, La Bella Lingua is the story of how a language shaped a nation, told against the backdrop of one woman's personal quest to speak fluent Italian.
KINDLE
Wild
by Cheryl Strayed
$

16.95
At twenty-two, Cheryl Strayed thought she had lost everything. In the wake of her mother's death, her family scattered and her own marriage was soon destroyed. Four years later, with nothing more to lose, she made the most impulsive decision of her life. With no experience or training, driven only by blind will, she would hike more than a thousand miles of the Pacific Crest Trail from the Mojave Desert through California and Oregon to ...
KINDLE
Love Earth Now
by Cheryl Leutjen
$

16.99
Do you find yourself wondering what on Earth you can do about the very serious environmental challenges we face on our planet today? Most people say that they would like to do something to make the world a better place, but they just don't believe they have the time, energy, money, or power to make a real difference. Environmental activist Cheryl Leutjen's powerful book of inspired ideas and eco-mindfulness calls upon us all to Love Earth ...
KINDLE
The Clothes Make the Girl (Look Fat)?
by Brittany Gibbons
$

16.99
A sartorial follow-up to her hilarious memoir in stories, Fat Girl Walking, internet personality Brittany Gibbons once again deep dives into the world of the plus size woman, this time chronicling her love/hate (but mostly hate) relationship with what fashion.
KINDLE
Simple Joys
by Candace Payne
$

15.99
Who hasn't struggled with discontent, being overwhelmed, and the fight to be happy? You know that you have much to be grateful for, but sometimes the world feels so heavy and it's hard to recognize the good stuff, let alone find and experience true, lasting joy. Candace Payne, better known as "Chewbacca Mom," is here to help you find the secret to happiness, satisfaction, joy, and more in Simple Joys.
KINDLE