Welcome, book lover! Are you looking for Kindle book deals? OHFB features limited-time sales of the best free and bargain Kindle books from the biggest publishers and bestselling independent authors. These are today's featured books:
The Ghostly Howl (The Talking Dog Detective Agency Book 4)
by M K Scott
$

9.99
A missing girl. An urban legend. A long-held fear.The last thing Nala wants to do is chase ghosts, but when a girl vanishes without a trace, that's exactly what she'll have to do to find answers.With no clues about the Ashlee's whereabouts and few people interested in getting to the bottom of the investigation, Nala and Max may be her last hope, but Nala's fear of ghosts and an ornery Maine Coon aren't making things ...
KINDLE
No Place to Run: Home should hold back the shadows
by Craig Stephen Copland
$

0.99
Home should hold back the shadows not create themAnna Felby has fled her wealthy privileged life for peace in the countryside. There, for the first time in her life she finds peace and unconditional love. From her dog, her old horse and her little herd of llamas.Her idyll is shattered when she finds the body of her estranged aunt Geraldine in her vegetable garden.Because Geraldine was a famous television star, Anna is invaded by the ...
KINDLE
The Adventure of the Notable Bachelorette: A New Sherlock Holmes Mystery (New Sherlock Holmes Mysteries Book 13)
by Craig Stephen Copland
$

9.95
THE ADVENTURE OF THE NOTABLE BACHELORETTE. A NOBLE ENGLISHMAN ASKS SHERLOCK HOLMES TO HELP FIND HIS MISSING AMERICAN WIFE. THE NEXT DAY, HE IS DEAD AND HIS WIFE CHARGED WITH MURDER.A blue-blooded snobbish English lord come to 221B Baker Street. His much younger wife, a beautiful, independent American, has vanished and he knows she has been kidnapped. Sherlock Holmes has to find her.Three days later a terrible crime take place and the wife is accused ...
KINDLE
Murder & Spice and Everything Nice: Ivy Bloom Mysteries
by Caryn Thomas Mitchell
$

6.99
Ivy Bloom wants to believe you can go home again and so she does, leaving her work as a writer in NYC and returning to Hydrangea Bay on Cape Cod to start the next chapter of her book-loving life. She and her sister Gigi work to turn the rambling old mansion they have inherited into a bookstore. Baby books in the nursery, entertaining books in the dining room and romance reads in the ladies boudoir. ...
KINDLE
The Black Tsar (Jack Bonafide Book 1)
by Jordan Vezina
$

15.99
Jack Bonafide thought being a founding member of Delta Force would be the most important thing he ever did - but he was dead wrong.Now the Soviets have a gun to America's head and only he can stop them from pulling the trigger!Even within the intelligence community, the Black Tsar was considered to be a myth - the most powerful hydrogen bomb in human history, secretly constructed by the Soviets and capable of near-Biblical levels ...
KINDLE
Spencer University Cozy Mystery Boxed Set (A Spencer University Cozy Mystery)
by Kathleen Suzette
$

6.99
This boxed set contains all 4 of the Spencer University Cozy Mystery booksDeath by Suspenders Spencer University Cozy Mystery Book 1The exciting first day of school turns to murder!Olivia and Polly get to Spencer University ready for the first day of fall classes. They are excited about meeting new students and kicking off a fantastic year when instead, one of their co-workers, David, is found hanging in the academic building.David wasn't always the most well-liked ...
KINDLE
Apple Pie a la Murder: A Freshly Baked Cozy Mystery, book 1
by Kathleen Suzette
$

7.99
Ever decide to do a good deed and it ends up making people suspect you of murder? No? Just me, then?I blame my best friend, Lucy Gray. She encouraged me to ask Henry Hoffer to sell my pies in his restaurant, so I brought him an apple pie to try, on the house. Unfortunately, after trying my pie, Henry ended up dead. I didn't do it, I swear.It's bad news for me. Turns out the ...
KINDLE
Operation Zigzag: Eve's War (The Heroines of SOE Series Book 1)
by Hannah Howe
$

0.99
Eve's War is a series of twelve novellas. Each book contains approximately 20,000 words and a complete story. Kindly note that the price throughout the series will be set at the minimum level and that Eve's story arc will be concluded at the end of the series.Marseille, December 1942"We're in a fix," Vincent said. "The Gestapo have captured a British agent, code name Zigzag. They picked him up through his false identity papers, only the ...
KINDLE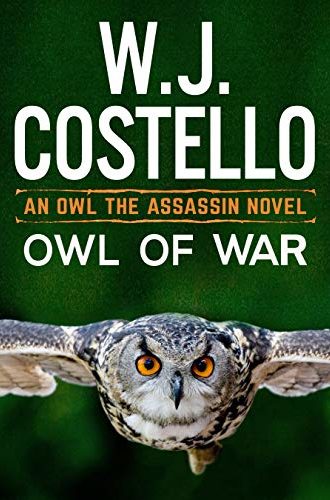 Owl of War (Owl the Assassin Book 2)
by W.J. Costello
$

12.99
A spy on the run.Stolen government secrets.America vs. China vs. Russia.The artificial-intelligence arms race.Owl must extract a spy from China. A spy with valuable intelligence. Intelligence about the development of China's AI-powered weapons.Will Owl and the spy escape China? Or will they die trying?
KINDLE
Ethan Justice: Origins (Ethan Justice – A Private Investigator Series Book 1)
by Simon Jenner
$

9.99
In the morning, he's struggling to remember. By the evening, he's struggling to survive. John Smith's risk avoidance policy just expired!Waking up beside the gorgeous Savannah Jones, John is shocked to learn she was for hire, and he can't pay the price - a thousand pounds or broken legs. In desperation, he turns to best friend, Mark, for the money. Only one problem - Mark has a dagger in his back. John and Savannah are ...
KINDLE