Welcome, book lover! Are you looking for Kindle book deals? OHFB features limited-time sales of the best free and bargain Kindle books from the biggest publishers and bestselling independent authors. These are today's featured books:
Just This Once (An F6 Novel Book 1)
by Diana X. Dunn
$

10.99
Adopted by an international multi-governmental agency that doesn't officially exist, her only genuine identity is "F6" - the sixth female baby adopted into the program. Now she changes identities regularly, moving through the world completing top-secret missions and keeping her distance.A chance meeting with a handsome stranger tempts her to lower her guard. A second encounter turns up the heat until he finds himself in the middle of a murder investigation being conducted by one ...
KINDLE
Made A Killing (Alex Warren Murder Mysteries Book 1)
by Zach Abrams
$

9.99
Nobody sheds a tear when Scott Stevenson, a local troublemaker, is found with an ivory tusk driven through his torso.D.C.I. Alex Warren is tasked with bringing the killer to justice. The case turns out to be more complicated than expected, as they begin to investigate the numerous people Stevenson has harmed. When they stumble upon a web of crimes motivated by sex and greed, it becomes clear that there's much more to the case than ...
KINDLE
Written Off (Forensic Handwriting Mystery Book 7)
by Sheila Lowe
$

12.99
In the dead of winter, handwriting expert Claudia Rose flies to Maine to interview convicted serial killer, Roxanne Becker. There, she is exposed to a shocking secret about a group of grad students dubbed "Maynard's Maniacs." Was Professor Maynard—herself brutally murdered—conducting research that turned deadly? Swept up in the mystery of Madeleine's life and death, Claudia soon realizes that the professor left behind more questions than answers, and no shortage of suspects. After the police ...
KINDLE
Rescue (Codename: Chandler Book 8)
by Ann Voss Peterson
$

2.99
Her Codename is Hammett. She assassinates targets for a secret government agency.But sometimes work becomes personal.His name is Tequila. He's a leg breaker for the mob, currently retired. But sometimes retirement doesn't stick.They say that no one knows what happens when an unstoppable force meets an immovable object. They also say that bad attracts bad.Hammett and Tequila are about to find out if those old sayings are true.RESCUEHe's a stone cold killer. She's even worse.RESCUE ...
KINDLE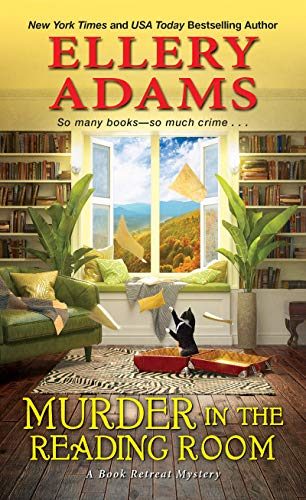 Murder in the Reading Room
by Ellery Adams
$

7.99
Storyton Hall, Virginia, is a paradise for book lovers who come from all over for literary getaways. But manager Jane Steward is temporarily leaving for another renowned resort—in hopes of solving a twist-filled mystery . . .
KINDLE
Aegis League Series Boxed Set: Books 1-3
by S.S. Segran
$

5.99
Are we capable of higher evolution, or are we destined for annihilation? Two powerful forces battle for the fate of humanity. Five friends hold the key to salvation. "Astonishingly imaginative and thoughtful..." - Samuel F. Pickering, Inspiration for Academy Award-winning Film, Dead Poets Society. Movie Rights Optioned! Price returns to $6.99 after this introductory promo, or read for FREE on Kindle Unlimited today!
KINDLE
The Mystery of Julia Episcopa
by Diane Cummings
$

14.98
In ancient Rome, Julia flees for her life. Hidden beneath her robes are secrets men will kill for. Men she once called 'brother' have stripped her of power, murdered her child, and will stop at nothing to perpetuate their vile heresy. When Julia's secret is revealed, those in power will stop at nothing to silence her. How far will men go to destroy a woman who has been dead for centuries? Two-thousand years of history, ...
KINDLE
The Trap: Bratva Vows Prequel
by Joseph Badal
$

0.99
The Trap: A Bratva Vows PrequelI saw a possible threat; he saw a victim in waiting.Violet:I had a plan. A naïve and dangerous plan. Get the mob boss to notice me, seduce the mob boss, kill the mob boss. Except the elderly mob boss wasn't the only one to notice me.He did.Andrius.Beautiful. Cold. Deadly.He's a monster amongst men.I crave him. I fear him.Then one day…I'm taken and given to him.The trap is set.This is a ...
KINDLE
The Motive (The Curtis Chronicles Book 1)
by Joseph Badal
$

15.99
2016 Winner of the Tony Hillerman Prize for Best Fiction Book of the Year.In "The Motive," Joseph Badal presents the first book in his new series, The Curtis Chronicles. This latest addition to Badal's offering of acclaimed, best-selling thrillers delivers the same sort of action and suspense that readers have come to expect and enjoy from his previous nine novels.Confronted with suspicious information relating to his sister Susan's supposed suicide in Honolulu, Albuquerque surgeon Matt ...
KINDLE
TRAFFICKED: A Mex Anderson Novel
by Peg Brantley
$

13.99
Winner of the 2018 Colorado Authors' League award for Mainstream Fiction.Winner of the 2018 Colorado Book Awards for Thrillers.Sex trafficking.Not Thailand. Or the Philippines. Or Russia. America.Rich or poor, black or white, girls disappear across this country every day, pulled into the nightmarish world of prostitution and drugs.Mex Anderson is back, tasked with finding three missing girls before it's too late. Three girls. Three girls who could live in your town, your neighborhood, or in ...
KINDLE