Welcome, book lover! Are you looking for Kindle book deals? OHFB features limited-time sales of the best free and bargain Kindle books from the biggest publishers and bestselling independent authors. These are today's featured books:
The Stalker
by Sally Spencer
$

3.99
Since her husband's suicide, Beth Baker has been living a life of quiet desperation… She knows she is not spending enough time with her young children, nor enough at the law firm in which she is a junior partner. The roof of her house leaks, the bills keep pouring in, and however hard she works, there is never enough money to go round. The future looks bleak.Then – totally unexpectedly – life improves. Her creditors ...
KINDLE
Killer Pose (A Hollywood Murder Book 1)
by Cynthia Hickey
$

9.48
From NYT and Amazon best-selling and award-winning author.Kelly Canyon wants to be an investigative journalist and takes photos of celebrities to pay the bills. When an actress is murdered following an interview by Kelly, she and Brock Handsome, uh, Hanson are the primary suspects. Mishap and hilarity ensue as Kelly is roped into clearing her name, helping the police catch a killer, and keep herself from being another notch in the belt of Hollywood's Golden ...
KINDLE
The Beholder (A Maddie Richards Mystery Book 1)
by David Bishop
$

9.99
* AMAZON LIST OF TOP-RATED MYSTERY SERIES* AMAZON LIST OF BEST-SELLING MYSTERY SERIESMaddie Richards is an efficient and resourceful detective with a secret wish that she could handle her messy personal life as well as she handles her work life. As a homicide sergeant for the Phoenix, Arizona Police Department, she has one of the highest solve rates in America. Her success leads her chief of police to assign her a serial killer case. Some ...
KINDLE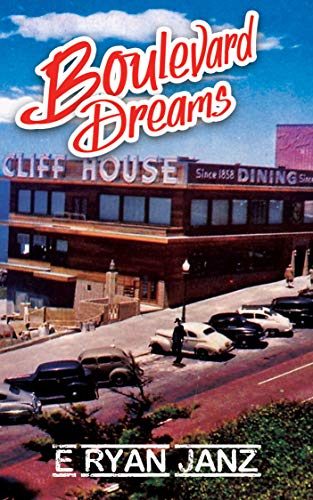 Boulevard Dreams
by E Ryan Janz
$

13.99
Private Eye, Joe Nails, has a problem. In this intelligently written, and darkly comic, anti-noir mystery set in the smoky world of 1958 San Francisco, Joe experiences a series of surrealistic yet disturbing dreams, in which his once best friend pleads for Joe's help, before turning a gun to his own head and firing. To ease his lingering doubts, Joe sets out to locate him, only to discover he disappeared without a trace weeks before ...
KINDLE
Murder at the Filmore (A Virginia Holmes Cozy Mystery)
by Zelda White
$

0.99
A murder has occurred at the Filmore Hotel, one of Madison, Wisconsin's most discreet lakeside resorts. It looks cut and dry: a suspect fleeing the scene, a scorned wife, a mythical murder weapon. But then a retired detective by the name of Virginia Holmes arrives. There's more to this mystery than meets the eye ... and the murderer might still be inside the hotel.
KINDLE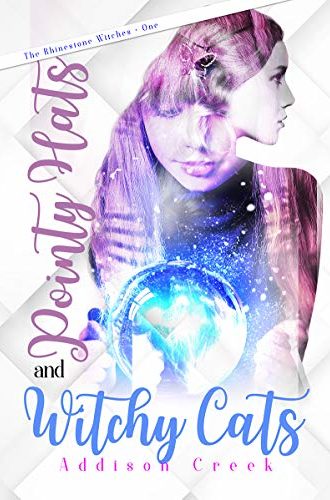 Pointy Hats and Witchy Cats (The Rhinestone Witches Book 1)
by Addison Creek
$

0.99
Jade Rhinestone is not looking forward to her stepsister's extravagant wedding. Her only consolation is that once the wedding was over, Bailey will be someone else's problem. The wedding itself promises to be incredibly dull. On the actual day, though, something incredible happens. An old woman disrupts the ceremony. Then she tells Jade that she's her long lost grandmother and asks Jade to go away with her to an unspecified destination. Now Jade has a ...
KINDLE
Deal Gone Dead: A Lily Sprayberry Realtor Cozy Mystery (The Lily Sprayberry Realtor Cozy Mystery Series Book 1)
by Ridder Aspenson, Carolyn
$

10.99
Meet Lily Sprayberry. Selling homes is her career. Solving crimes, her calling. There's money buried somewhere on Myrtle Redbecker's property, and people are dying to find it.Literally. When Bramblett County, Georgia's number one realtor, Lily Sprayberry, finds her cantankerous older client dead on the kitchen floor, she lands herself smack dab in the middle of a long-running property battle and a one-hundred-year-old rumor. Lily made a promise to sell Myrtle's land, even if Myrtle wasn't ...
KINDLE
Sunny Side Up (A Deadline Cozy Mystery Book 1)
by Sonia Parin
$

10.99
"He deserves to be murdered." "Who said that?""Apparently, you did."With her bitter divorce behind her, Eve Lloyd wants to relax and think about her next step. Paying her aunt, Mira Lloyd, a.k.a. Elizabeth Lloyd, renowned historical romance author, a long overdue visit, she plans to spend a month on Rock-Maine Island lounging around and plotting the launch of her new life. Her ex-husband, however, has other ideas. As for her aunt… she's gone missing. And ...
KINDLE
Dog Collar Crime
by Adrienne Giordano
$

12.99
Out of work and down on her luck, Lucie Rizzo is forced to do the one thing she's long avoided—come home to her nutty, mob-infested family. A move that brings her back into the tempting arms of Frankie Falcone, the smoldering Italian ex who's no stranger to living with the mob.When Lucie parlays her temporary dog-walking gig into a legit career, Frankie becomes her number one supporter. Suddenly, shaking her mob princess reputation doesn't seem ...
KINDLE
The Gangster's Wife
by Anne Brooke
$

6.99
When 53-year-old Elise Walker returns home after a day at the office to find her husband Gerald dead of a heart attack, she doesn't expect a visit from the police with revelations about Gerald's secret life.Soon, however, her own life takes a distinctive turn for the surreal, with missing loot, online crime and curious neighbours the least of her problems. Not to mention trying to deal with never-ending funeral arrangements and stay on top of ...
KINDLE