Welcome, book lover! Are you looking for Kindle book deals? OHFB features limited-time sales of the best free and bargain Kindle books from the biggest publishers and bestselling independent authors. These are today's featured books:
High School Magical Book 3: March, April, May
by Deirdre Riordan Hall
$

2.99
Book 3 in the High School Magical series brings Maija and JJ together to defeat their enemies, bringing them closer together. Now, they face the biggest risk of all.In the wake of disaster, the Applemoor community mourns—they're upset, scared, and feeling helpless. That is until Maija has a powerful idea to combat the attacks by the Soul Snatchers. She must find a missing wand and a missing person, sending her to the underworld. Postcards from ...
KINDLE
Kissed by Fire (Dragonkeepers Book 1)
by Kimber White
$

3.99
A dragon shifter on the verge of death. A woman being hunted by wolves. The oath he swears to protect her may be his last. Xander Brandhart is running out of time. He and his brothers are the only dragon shifters left alive, but if the billionaire Xander doesn't find a mate soon, his last shift will be permanent. As he looks for a magic stone to prolong his three-hundred-year life, he can feel himself ...
KINDLE
Bitten: Contemporary Paranormal Romance
by Piquette Fontaine
$

2.99
Meet Isabella Cole: loner, painter, broke, and dog walker for the rich and famous. Isabella is used to just surviving, but when an unusual painter couple hires her to walk their dog, she finds herself growing in ways she never expected. Will she go beyond her call of duty with this sexy couple who sleep all day and wake all night long?This eBook is intended for adult eyes only.
KINDLE
Guilty Pleasures
by Laurell K. Hamilton
$

7.99
Anita Blake is small, dark, and dangerous. Her turf is the city of St. Louis. Her job: re-animating the dead and killing the undead who take things too far. But when the city's most powerful vampire asks her to solve a series of vicious slayings, Anita must confront her greatest fear—her undeniable attraction to master vampire Jean-Claude, one of the creatures she is sworn to destroy...
KINDLE
Secret Seduction: BBW Werewolf Romance (Wolf Pack Protectors Book 1)
by Liv Brywood
$

0.99
When a tall, dark and dangerously sexy Alpha werewolf rescues Diana from a vicious attack, she doesn't know who to fear more - her attacker or the wolf. She's heard whispered legends of a powerful werewolf but never believed such a creature could exist. Captured by the wolf, she's taken to his den, and to his bed.Five years ago, a tragedy shattered Ryker's heart. As Alpha of the Silver Creek Pack, his duty to protect ...
KINDLE
Elizabeth and the Clan of Dragons: a Paranormal Romance (Fated Alpha Book 1)
by Ava Mason
$

0.99
A female Wolf in danger. Four Sexy Dragons determined to protect her. A paranormal romance.Elizabeth is certain she's not meant to rule the Southeastern White Tooth Pack. Since birth, she's been told she was the wolf pack's fated leader. She is, after all, the first-born of the pack Alpha. But how can she lead them if she's never shifted? She doubts herself, but her fate is tied to the moon and Elizabeth is honor-bound to ...
KINDLE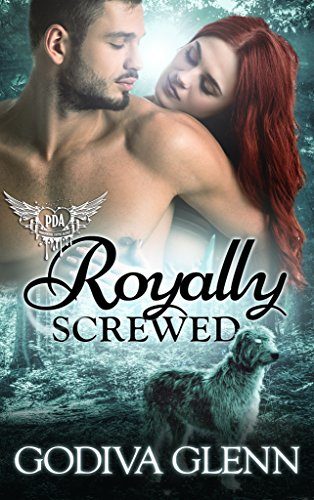 Royally Screwed: Paranormal Dating Agency (Otherworld Shifters Book 1)
by Godiva Glenn
$

2.99
Otherworld Shifters #1 - STANDALONEღ*¨¨*•.¸★¸.•*One sultry BBW + A too hot to resist fae shifter duke = Pure Magic*•.¸★¸.•*•ღBrook Donovan isn't looking to settle for a 'possible' happily ever after. She wants all or nothing, and all includes charm, intellect, frequent flier miles, and hot sex. Unfortunately, her high demands haven't attracted anyone even close.A chance encounter introduces her Gerri Wilder, and next thing Brook knows, she's Earth's liaison for a fae duke.Duke Kerren Aodhán ...
KINDLE
A Little Scratch: A Retelling of A Little Mermaid (Twisted Fairy Tales)
by Kyleigh Castronaro
$

2.99
Once Upon a Time... That's how these stories tend to start. But this isn't one of those stories...Enna and Ford are childhood sweethearts. They've been together for as long as anyone can remember. Two halves of a whole. Then one day Ford leaves in the middle of the night, burning down his childhood home so Enna has no way tracking him. Or so he thinks.But Enna is stubborn and determined to prove to her boyfriend ...
KINDLE
Heart of the Highland Wolf
by Terry Spear
$

7.99
In the rugged highlands of Scotland, romance writer (and red werewolf) Julia Wildthom has a serious case of writers block. But when handsome gray wolf Ian MacNeill catches her trespassing on his property, the chemistry between them in downright inspiring!
KINDLE
A Kategan Alphas Christmas Special – Book #7 (The Kategan Alphas series): featuring Vane and Sarina
by T. A. Grey
$

0.99
Sarina and Vane reconnect this winter in a heart-warming and sexy Christmas tale.Sarina Kategan is having a difficult time this holiday season. Not only does she have one-year old baby Vince to deal with, but her mate Vane insists on caroling to all of the pack members (and drinking spiked egg nog along the way!), which leaves her to stew on their recent troubles. Sarina is unhappy because her husband refuses to even discuss having ...
KINDLE