Welcome, book lover! Are you looking for Kindle book deals? OHFB features limited-time sales of the best free and bargain Kindle books from the biggest publishers and bestselling independent authors. These are today's featured books:
Yesterday's Mail
by Chautona Havig
$

0.99
Five of today's Best-selling Christian Authors weave five unique, connected stories where lost mail finds unexpected purpose.
KINDLE
90 Day Meditation Challenge: How To Build A Daily Mindfulness Practice
by Tim Ebl
$

4.99
Have you thought of Meditating, but don't know where to start? Or do you struggle to Meditate consistently? Does the whole thing just seem too time-consuming?Then this book is for you! Meditation has a countless list of scientifically proven health benefits to help you overcome negativity, live happier and healthier, strengthen your immune system, boost your creativity, and more! It's time for you to push past those mental blocks with the 90 day Meditation challenge!Written ...
KINDLE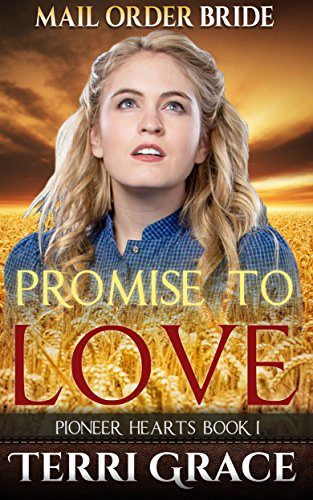 PROMISE TO LOVE (Pioneer Hearts Book 1)
by Terri Grace
$

7.00
With her father's plummeting business and health, 21 year old Josephine Hayden is urged to ease her parents burden and accept an invitation to join hands with an unknown Western man in Cowtown, Kansas. Her first sight of blue-eyed Clae McKinley and his twin brother, Harland, is encouraging, but when she is presented with a contract outlining her responsibilities as a Mail Order wife overwhelming fears of a loveless marriage besiege her tender heart.Josie's nervous ...
KINDLE
Finding Your Grace Place: Discover God's Purpose for your Life and Flourish
by Ryan Reger
$

5.99
Who is this book for?It's for the person that desperately wants to play the part God intended for them to play.Or maybe you're the person that knows there is more for you in life, but aren't sure how to get there. Either way, hopefully by the end of this book you'll know that you are so loved by God and that He has an amazing plan for you and that you can walk out that ...
KINDLE
The Soul & The Brain: A Conversation
by Aurora Hanson
$

9.95
As the ego of a brain analyzes why things have not been going as expected in life, the Soul shows up and explains things in a way that the brain has yet to realize; leading the brain through an experience of surprising revelations that alter the course of its journey forever. A powerful and masterful dialogue between a curious mind and the Soul, with valuable insights into humanity's spiritual boundaries.
KINDLE
Runaway Heart: A Clean and Wholesome Sweet Romance Contemporary Christian Romance
by Jeffrey S. Crawford
$

12.77
"Present day fairy tale" "Heartwarming" "Delightful" "Another amazing Christian fiction novel"Running at the first sign of opposition is nothing new to Kyla Parrish. She's never held onto a relationship for more than a few months, and she's quit more jobs than most people apply for. Until Will Lachland. He's the first man who ever made her think of getting serious about something, about putting down roots. But she can't forget her mother's ominous warning; Men ...
KINDLE
Finding Eden
by Jeffrey S. Crawford
$

12.99
When he is asleep he is tormented by nightmares. When he is awake he is driven by an obsession. Dr. Phineas Crook is convinced that the Garden of Eden still exists and that it can be found. Ridiculed by colleagues, his friends warn that his career and health are in danger. But Phineas won't rest until he finds the mysterious Garden and mines its secrets. When the beautiful Ruth LaPhage enters his life with unlimited ...
KINDLE
No Greater Love
by Anne Patrick
$

10.99
For the most part, Kirby Shelton is content with her life. She's building a new law practice in Colorado Springs, after losing her first in a bitter divorce, and loves to skydive in her spare time. Then she meets Leah Dalton, the computer software queen, and her world is suddenly turned upside down. Leah, facing a losing battle with cancer, comes to Kirby with a plan to end her life on her terms. Inviting Kirby, ...
KINDLE
Brownstone: A Jack Elliot Thriller (The Jack Elliot Thriller Series Book 1)
by Jo Fenton
$

9.99
One Secret--Devastating consequences.Jack Elliot isn't an ex-cop or marine. He doesn't know martial arts, hand-to-hand combat, or even how to fight. He's just a journalist from Montreal returning home to NYC to pay respect to a dying uncle.An uncle with a secret.It isn't long before Jack is twisted into a plot so thick with murder, mystery, and deceit that he's racing just as hard to save his life as he is to find the truth.If ...
KINDLE