Welcome, book lover! Are you looking for Kindle book deals? OHFB features limited-time sales of the best free and bargain Kindle books from the biggest publishers and bestselling independent authors. These are today's featured books: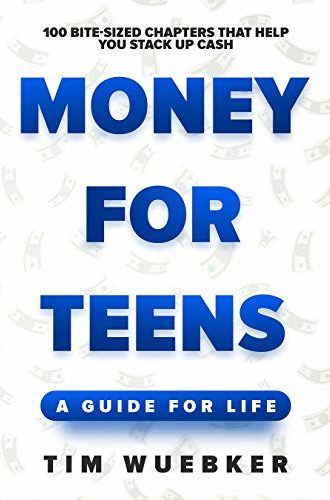 Money for Teens: A Guide for Life
by Tim Wuebker
$

10.95
This book grew out of teaching a class on Personal Finance. Every week, I asked teens what they wanted to learn. After they told me, I went to work: I interviewed everyone from self-made millionaires to happy couples. I scheduled over 60 guest speakers on every money and relationship topic imaginable. I read, researched, and experimented. And then I asked the teens again! And again. Result: parent and student demand for the class went up, ...
KINDLE
Snow Pup (Holiday Heartwarmers Book 2)
by Mimi Barbour
$

9.99
In this delightful Christmas love story, Deputy Shawna Mallory finds Billy McCrae - a runaway boy sleeping in a mound of snow with an anxious puppy guarding him. He's a sad child surviving a terrible existence until she puts a stop to it and becomes his foster parent. She's drawn to the snarky kid and just wants his life to be happier, his and the stray mutt who won't leave his side. Not that the ...
KINDLE
Her Selkie Harem: A Steamy Reverse Harem Paranormal Romance
by Savannah Skye
$

3.25
That summer in Ireland was like a dream. Full of magic and mayhem I'd never quite managed to forget. But when three compelling males—far more than mere men—come to tell me they need my help to rescue their sister? Past and present merge together, dragging me into a dark, underground world where fairies and mermaids are real, and they're in grave danger…
KINDLE
MURDER USA: True Crime, Real Killers
by Ken Rossignol
$

19.95
WARNING! DEPRAVED HEARTS, BEASTLY EVIL These are their stories.These stories of murders and of a few cases of attempted murder over sixty years include vivid descriptions of ghastly crimes with explicit photos not intended for the faint of heart or children. Parental Guidance is mandatory. Many of these murders went unsolved for long periods, some still have not been solved, and justice obtained for the victims. One case of a killer allowed out of a ...
KINDLE
Intertwine (House of Oak Book 1)
by Nichole Van
$

14.99
Time is not a river. It is a vast cosmic sea. Where each life exists as rippling circles on its surface, past and future being eternally present. And occasionally, one expanding ring intertwines with that of another, weaving the lives of two people together. . . . In 2012, Emme Wilde can't find the right guy. She wants to feel that swept-off-your-feet dizziness of true love. But so far, her dating life has come up ...
KINDLE
Refine (House of Oak Book 4)
by Nichole Van
$

14.99
Each life is tethered to others, tendrils wrapping through time itself . . . drawing people to each other . . .In 1815, Timothy, Viscount Linwood--handsome, arrogant, privileged--never veers from the refined rules of his world. Cheerfulness and other unsavory emotions are for lesser persons. Anything that smacks of trade is to be shunned. Honor and pride above all else. Consequently, when he discovers his estates are bankrupt, he decides to woo and marry an ...
KINDLE
The Facility: Book 1, The Breeder Files
by Eliza Green
$

19.99
For fans of The Hunger Games and Divergent comes a story of lies, betrayal and heartbreaking choices.The innocent decisions of one teenager could kick start a war with the machines.Seventeen-year-old Anya Macklin believes a machine-run facility is keeping her and other orphaned teens safe. Having escaped execution after rebels murdered her parents, Anya is lucky to be alive and learning how to live alone.Each of the facility's nine floors holds a trial more challenging than ...
KINDLE
Raven: a Coming of Age Urban Fantasy (The Raven Saga)
by Heather Hildenbrand
$

0.99
"I want to start by saying how epic this book was! I'm a teenager (I'm using my mum's account) and I felt this is (almost, it's definitely in the top 3) the best book I've read""Refreshingly different from the usual YA novels""There are so many feelings you want to get back to. With books I want that Twilight feeling back, that Harry Potter feeling-and RAVEN gives it! I'm so happy I get to look forward ...
KINDLE