Welcome, book lover! Are you looking for Kindle book deals? OHFB features limited-time sales of the best free and bargain Kindle books from the biggest publishers and bestselling independent authors. These are today's featured books: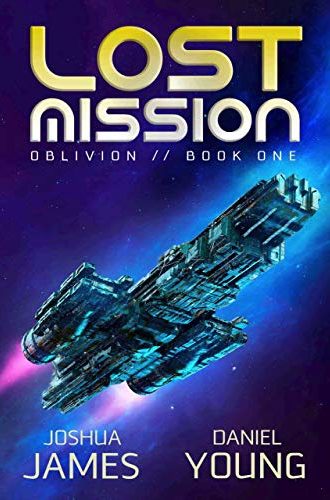 Lost Mission (Oblivion Book 1)
by Daniel Young
$

11.99
A mission of peace hides a terrible secret.Two decades of bitter war between Earth and her furthest colonies is finally at an end. Captain Lee Saito's massive new starship is sent to seal the uneasy truce.But a series of terrorist attacks on Earth and the mysterious acts of a strange cult threaten to derail the fragile peace.When the mission goes awry, Saito must try to salvage what he can in deep space while his estranged ...
KINDLE
Deception! (Outcast Starship Book 3)
by Daniel Young
$

2.99
One conspiracy deserves anotherEli and the crew of the Boomerang think they finally have a handle on what they're up against.A surprising new revelation shows that things are about to get much worse.Deception! is fast-paced space opera at its best, perfect for fans of golden age pulp stories full of action, drama, and fun!
KINDLE
Wrapped Up in Beau
by Mia Heintzelman
$

0.99
It's beginning to look a lot like Christmas for financial advisor Beau Redgrave. The position he's been working toward just became available, but the only person he wants to celebrate with walked out of his life six months ago. When Beau receives word of his grandmother's failing health, he quickly books the last flight to Chicago out of Las Vegas—a redeye with more than one connection in common. All Aubrey Green wants for Christmas is ...
KINDLE
Liar Liar
by L A Cotton
$

12.00
For eighteen-year-old Becca Torrence, the chance to finish high school in a new town, where no one knows her or the secrets of that night, should be a dream come true. But when the first day of school rolls around, something is wrong.Instead of being greeted with warm smiles and reassuring hellos, Becca finds herself on the receiving end of icy stares and cruel whispers. Putting it down to her status as an outsider, she ...
KINDLE
Freshman Sidekick (High School Sidekick Book 1)
by Ron Tucker
$

12.99
Robbie Garcia isn't your ordinary high school student. He can teleport. And in King City, if you've got a superpower, that means you can sign up to be a sidekick, so he does just that. Wanting to become a sidekick (and hopefully a fully-fledged superhero one day) was all Robbie dreamed about. But, like they always say, be careful what you wish for.No sooner than his first day of high school, does the balancing act ...
KINDLE
The Truth Lucy Saw (The Truth Turned Upside Down Book 1)
by Penelope J Bristol
$

0.99
Lucy wasn't sure she understood about sex, yet. Her parents already had problems, more problems wouldn't help. And Anne, their mother's favorite, was above being questioned.Lucy stopped abruptly and thought about what she was seeing. Her left hand began to throb as she crouched down, hidden by the bushes, watching her sister closely from the edge of their porch.She felt her heart beating fast inside her chest, and suddenly, she was overwhelmed with a burning ...
KINDLE
My Ex From Hell
by Tellulah Darling
$

11.99
Sixteen-year-old Sophie has mastered the art of troublemaking. And her next stunt promises to take down her boarding school's leading mean girl. Locking lips with bad-boy Kai is all part of the plan, but Sophie never imagines his supernatural smooch will awaken her inner goddess.
KINDLE
100 Proof Stud: A Teen Mystery Book (Darcy Walker High School Mystery 3)
by A. J. Lape
$

16.99
AN AMAZON #1 BESTSELLER IN TEENS MYSTERIES & THRILLERS, SPIES AND DETECTIVE STORIESSometimes life smacks you right in the kisser with a whole lot of ohhhh craaaaap. Ask Darcy Walker…or the guys trying to date her…100 PROOF STUD picks up four months after summer break. Darcy discovers the aftermath pales in comparison to the crisis her heart is in. It's raining men, and the teenage heroine's personal life turns her inside out. Before she can ...
KINDLE
Out of the Shadows (Broken Gears Book 1)
by Dana Fraedrich
$

14.99
Pride and Prejudice meets H.G. Wells with a dash of The Hunger Games.Lenore, a thief, is on the run from the law, from the brutal Enforcers. Just when she thinks she's found safety by assuming a new identity with a wealthy but eccentric family, she discovers they've got secrets of their own. Big ones. As does everyone in this series. And, of course, someone who knows her real identity is chasing after her. Will Lenore find the courage to forge her ...
KINDLE
THE HOUND OF THE BASKERVILLES (Mobi Classics)
by Arthur Conan Doyle
$

3.59
This eBook has been formatted to the highest digital standards and adjusted for readability on all devices.Dr. James Mortimer asks Sherlock Holmes to investigate the death of his friend, Sir Charles Baskerville. Sir Charles was found dead on the grounds of his Devonshire estate and Mortimer now fears for Sir Charles's nephew and sole heir, Sir Henry Baskerville, who is the new master of Baskerville Hall. The death was attributed to a heart attack, but ...
KINDLE