Welcome, book lover! Are you looking for Kindle book deals? OHFB features limited-time sales of the best free and bargain Kindle books from the biggest publishers and bestselling independent authors. These are today's featured books:
The Shackled
by Devon De'Ath
$

13.99
What happens if you die, but you can't let go? Samantha Riley let go, but found herself sent back. Now she is estranged from her religious family. Cast out for wayward behaviour. Cut off for holding to a near-death experience that questions the certainty of their faith. Saddled with a new, unwanted gift to guide earthbound spirits to the light, Samantha lives a hand-to-mouth existence as she walks out a mandate she can't escape. Meanwhile, ...
KINDLE
Alice Isn't Dead
by Joseph Fink
$

16.99
From the bestselling co-author of It Devours! and Welcome to Night Vale comes a fast-paced thriller about a truck driver searching across America for the wife she had long assumed to be dead.
KINDLE
Murder Any Witch Way: A Cozy, Cat-Filled Magical Mystery (Brimstone Bay Book 1)
by N.M. Howell
$

12.99
Being a witch is hard. It's even harder when you live in a town that doesn't believe in witches.When young witch River Halloway moves to sleepy Brimstone Bay for her very first journalist job, she doesn't expect to cover anything ground-breaking. That is, until a paranormal festival comes to town and a body is found on opening night. Now, with all evidence pointing towards a witch, River must find the true killer before she becomes ...
KINDLE
GOTHIC & HORROR – Edgar Allan Poe Edition (Illustrated): The Fall of the House of Usher, The Tell-Tale Heart, Berenice, Morella, Shadow, Silence, Ligeia, … Hop-Frog, The Masque of the Red Death…
by Edgar Allan Poe
$

17.50
This is edition presents to you Edgar Allan Poe's greatest gothic & horror stories. His most recurring themes deal with questions of death, including its physical signs, the effects of decomposition, concerns of premature burial, the reanimation of the dead, and mourning.MetzengersteinThe AssignationBereniceMorellaKing PestShadowSilenceLigeiaThe Fall of the House of UsherWilliam WilsonThe Man of the CrowdThe Oval PortraitThe Masque of the Red DeathThe Pit and the PendulumThe Tell-Tale HeartThe Black CatThe Premature BurialThe Oblong BoxThe Imp ...
KINDLE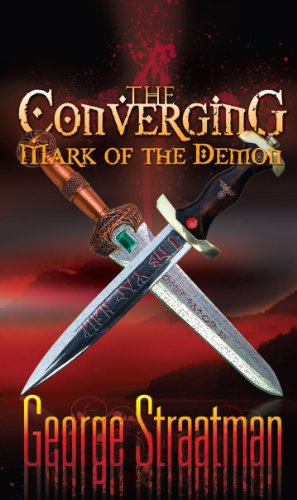 The Converging: Mark of the Demon
by George Straatman
$

17.50
After laying waste to the small Washington town of Semelar, the Demon Cynara Saravic leaves the United States with her coveted prize firmly in her grasp. Paving a bloody road of death and despair, that leads her from a remote village in Northern Mexico through the very home of the Roman Catholic Church, Cynara returns to her ancestral homeland of Romania to bask in her triumph and enjoy the spoils of her conquest. The ancient ...
KINDLE
The Omen Tree
by Fredrick Niles
$

10.99
A sleepy town.A missing person.A strange figure lurking in the woods.The small town of Poplar is a quiet, comfortable, and respectable place to raise children. The neighbors are decent and the seasons are beautiful. All is well until the night young Ian Whelan glimpses something moving around in his backyard. Then everything begins to change. Lies are exposed, bodies are uncovered, and a well-hidden killer is finally dragged out into the light. Slowly, the stark ...
KINDLE
Montenegro Book One: Cemetery Candles
by Estela Vazquez Perez
$

22.95
Victor Montenegro is a respected diplomat, a revered illusionist, and a treasure hunter who is applauded and envied for his uncanny ability to find historical treasures. In the town of Montenegro, California, Victor hires Valentina Santa Cruz, an aspiring anthropologist, to educate his nephew Teo. Victor and Valentina's mutual love of the dead opens up an intimate ethereal realm. They share many passions: sunken treasures, cemeteries, and ancient burials, but can Valentina's passion for Victor ...
KINDLE
The Dragon Heiress: The Dragon Realms, Book 1: A Reverse Harem Fantasy
by Eve Newton
$

7.99
A woman born to rule an Empire.The three Dragons destined for her.Can they overcome the obstacles in their way?Or will her family put an end to their happily ever after?I am Delinda. I'm the True Heir to the Dragon Empire. I have no say in it. My uncle thrust the title upon me twenty-two years ago, but I'm not ready to rule an Empire.Until it becomes the answer to my problem.Two suitors have been presented ...
KINDLE
Better Watch Out
by Willow Rose
$

6.99
He sees you when you're sleeping, he knows when you're awake.Some kids are scared of the dark, others of monsters living under their beds. Some are even afraid of clowns.None of those things scare Sara. But she is terrified of one man, who comes to her house every year, in the middle of the night.Santa.Curl up with some frightening Christmas horror from the Queen of Scream, Willow Rose. Warning: you might not feel like putting ...
KINDLE
Witches of Wyvern's Landing: Discovery
by Jenna Ocean Meadows
$

0.99
Violet and Scarlet are just like every other child their age: energetic and excitable. Being twins means having a constant playmate, and they've been thick as thieves since the moment they were born, balancing each other and playing confidante or co-conspirator as needed. Violet, older by a few minutes (and don't you forget it) is her father's daughter; level-headed, curious, eager to learn. Scarlet is the fierier and more whimsical of the two, always getting ...
KINDLE