Welcome, book lover! Are you looking for Kindle book deals? OHFB features limited-time sales of the best free and bargain Kindle books from the biggest publishers and bestselling independent authors. These are today's featured books:
Primals: Reverse Harem Paranormal Shifter Romance (Reverse Harem Series Book 1)
by Lexy Timms
$

0.99
Torn between two worlds. And four men.Sebastian. Toshi. Theo. Kyle. I thought that plane crash would be the end of my life. Instead, it turned out to be just the beginning.Now, I'm on a race to find out who—and what—I really am, with four men to help me. Sexy Sebastian who can be a jerk sometimes but actually means well. Kind Theo whose heart is as big as that chest I want to cozy up ...
KINDLE
Ignite (Midnight Fire Series Book 1)
by Kaitlyn Davis
$

0.99
**Over 200,000 Copies of The Midnight Fire Series Sold!****Over 2000 5-Star Reviews on Goodreads!**Kira Dawson has the power to burn vampires to a crisp. The problem is, she doesn't know it yet. The even bigger problem is, she's dating one.When Kira Dawson moves to South Carolina, she meets Luke, a blond goofball who quickly becomes her best friend, and Tristan, a mysterious bad boy who sends shivers down her spine. Kira knows they're keeping secrets, ...
KINDLE
Starfire Angels (Starfire Angels: Dark Angel Chronicles Book 1)
by Melanie Nilles
$

0.99
2011 EPIC ebook award finalist!They've been coming here for thousands of years, using Earth as a sanctuary to escape threats from their own kind. Mankind knows them as angels, and one of them left a child upon her death to be raised as a human. Raea is now a high school senior and her life as a human is about to end. The crystal shard she bears is not a pretty pendant; it's a collective ...
KINDLE
Facade: Steamy Billionaire Romance (Billionaire in Disguise Series Book 1)
by Lexy Timms
$

0.99
The light at the end of the tunnel is not an illusion. The tunnel is. I didn't become a billionaire sitting on the couch.Sure, I come from money, but I turned that money into millions and billions more.Somehow though, I've landed myself in hot water and someone wants my money, or me dead. Probably both. I hired a bodyguard from an agency that assured me they only work with the best. Their best is a ...
KINDLE
Ever Shade (A Dark Faerie Tale Book 1)
by Alexia Purdy
$

2.99
Magic and malice abound in the Land of Faerie. This is book 1 of A Dark Faerie Tale Series. For Shade, a chance meeting with a powerful Teleen Faery warrior who wields electrical currents and blue fires along his skin, has her joining him on a treacherous mission for the good Seelie Faerie Court across the land of Faerie. Book 2: Ever Fire is Now Available.Books in this series: Prequel: EvangelineBook 0.1: The Withering PalaceBook ...
KINDLE
Doppelgänger: The Legend Of Lee Harvey Oswald
by Mona Ingram
$

7.95
Third edition,expanded and annotated, November, 2017ONE OF THE GREAT MYSTERIES - THE ENIGMA OF LEE HARVEY OSWALD - HAS BEEN SOLVED! TWO 'LEE HARVEY OSWALDS' WERE AT THE TEXAS SCHOOL BOOK DEPOSITORY ON NOVEMBER 22, 1963 – ONE WAS AN ASSASSIN ON THE SIXTH FLOOR, THE OTHER WAS A PATSY DOWNSTAIRS ON THE FRONT STEPS! INCLUDES PREVIOUSLY UNPUBLISHED - EXPLOSIVE - MATERIAL!The photographs on the cover show the right side of Lee Oswald's face (from ...
KINDLE
Lady of Devices: A steampunk adventure novel (Magnificent Devices Book 1)
by Shelley Adina
$

0.99
Book One of the Magnificent Devices series. London, 1889. Victoria is Queen. Charles Darwin's son is Prime Minister. And steam is the power that runs the world. At 17, Claire Trevelyan, daughter of Viscount St. Ives, was expected to do nothing more than pour an elegant cup of tea, sew a fine seam, and catch a rich husband. Unfortunately, Claire's talents lie not in the ballroom, but in the chemistry lab, where things have a ...
KINDLE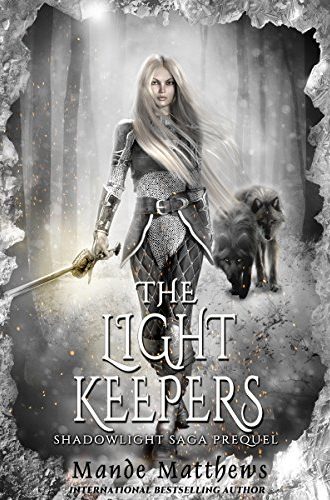 The Light Keepers (ShadowLight Saga Book 0)
by Mande Matthews
$

1.99
From the #1 Bestselling Norse Fantasy Author, comes The Light Keepers, a short story prequel to the ShadowLight SagaIsolated because of what she is—because of the power she holds inside—Astrid longs for contact with another human being. Her well-intentioned mother locks her away from society in order to protect her from an evil that seeks to use Astrid's abilities for his own means. But the resulting loneliness drives Astrid deeper into the shadowwalk—a power she ...
KINDLE
The Eyes That Moved (The Porcelain Souls Book 1)
by Rachelle M. N. Shaw
$

0.99
Kendra Merrick has a knack for spotting unusual trinkets and treasures, and she isn't afraid of using unconventional—or illegal—methods to obtain them. When she meets Adam, a fellow sleuth and collector, they embark on their biggest adventure yet: the Whitson house. The house is a marvel, and its secrets are even stranger than she imagined.Kendra stumbles upon the find of a lifetime. But she may have signed on for more than she bargained. There's a ...
KINDLE
Mothers of Sparta Sampler: A Piece of Pie
by Amy Einhorn
Download a free essay from Dawn Davies's Mothers of Sparta.If you're looking for a parenting book, this is not it. This is not a treatise on how to be a mother.This is a book about a young girl who moves to a new town every couple of years; a misfit teenager who finds solace in a local music scene; an adrift twenty-something who drops out of college to pursue her dream of making cheesecake on ...
KINDLE