Welcome, book lover! Are you looking for Kindle book deals? OHFB features limited-time sales of the best free and bargain Kindle books from the biggest publishers and bestselling independent authors. These are today's featured books:
What is The Church? (Crucial Questions Series Book 17)
by Wanda E. Brunstetter
$

3.99
In this booklet, Dr. R. C. Sproul carefully and clearly explains that the church is a body of people saved by Jesus Christ and regenerated by the Holy Spirit who live to glorify and enjoy God. Beginning with the ancient Nicene Creed, which affirms that the church is "one, holy, catholic, and apostolic," Dr. Sproul provides accessible teaching on one of the most misunderstood of all Christian doctrines.
KINDLE
The Beloved Christmas Quilt (Free Preview): Three Stories of Family, Romance, and Amish Faith
by Wanda E. Brunstetter
$

3.99
FREE Extended Preview! One Quilt Binds Three Generations of Amish Women Enjoy the gift of a brand new romance from New York Times bestselling author Wanda E. Brunstetter, along with stories by her daughter-in-law, Jean and granddaughter, Richelle.For thou art my rock and my fortress; therefore for thy name's sake lead me, and guide me. Psalm 31:3 The scripture embroidered on the back of a beloved quilt brings hope to three generations of Pennsylvania Amish ...
KINDLE
Can I Have Joy in My Life (Crucial Questions Series Book 12)
by R.C. Sproul
$

2.99
Joy is a popular topic in Western culture today. Books explain how to find joy in a wide variety of activities. We speak of "joyous" occasions such as weddings and births. We sing about "Joy to the World" at Christmas. "Joy" remains a popular name for girls. But given the extent to which joy seems to be on our minds, few people seem to have it or even know what it is. In this Crucial ...
KINDLE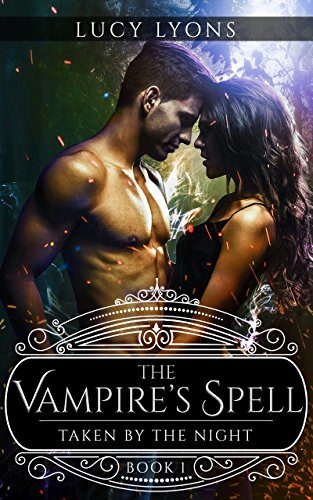 The Vampire's Spell: Taken by The Night (Book 1)
by Lucy Lyons
$

2.99
The Best-Selling vampire series that has all the paranormal romance fans raving Caroline has been a ward of the Venatores lamiae (vampire hunters) ever since a vampire brutally murdered her parents in front of her as a toddler. On vacation with David, her best friend and secret crush, Caroline gets separated from her friends. All alone, she's overpowered and kidnapped by a vampire to serve as a gift to his master.Terrified at first that her ...
KINDLE
The Alpha's Bed: Huntsville Pack Series Free Werewolf Romance
by Michelle Fox
$

0.99
"The books in Michelle Fox's Huntsville Pack Series are sexy paranormal romances full of twists that will keep your heart on edge." NY Times bestselling author Milly TaidenLia has lost her memory and her wolf while Ryder's just trying to keep his pack alpha from killing him. The even bigger problem? Somehow Lia's troubles are mixed up with his. He'd walk away if he could, but his wolf has claimed Lia as their mate.For good ...
KINDLE
Fever Claim (The Sigma Menace Book 1)
by Marie Johnston
$

0.99
Can he turn one night into forever?After being ditched only weeks before her wedding, Cassie Stockwell wasn't out looking for a hookup. Then the devastatingly handsome bartender she'd been trying not to obsess over for months offered to give her a ride home. What could one night hurt?When his future was almost taken away after one impulsive decision, wolf-shifter and ex-con Jace Miller waited patiently for months before making a move on the woman he ...
KINDLE
Beast Billionaire #1 (Bad Boy Alpha Billionaire Werewolf Shifter Romance)
by Mac Flynn
$

3.99
Fate has much in store for Maggie O'Hara as her journey into the paranormal begins with a pink slip. When her father is wrongfully fired from his job she's determined to right the wrong and takes the drastic measure of visiting her father's employer, the reclusive Randall Forrest. Her escapades into espionage get her caught, but the consequences are not what she expects.
KINDLE
Greensmith Girls: A Supernatural Witch Cozy Mystery (Lainswich Witches Series Book 1)
by Raven Snow
$

0.99
The town of Lainswich is a bizarre place. It's an insular community and home to a lot of strange happenings. It's also home to the Greensmith family. Rumor has it that they're a family of witches. The rumors are right.Rowen Greensmith moved away to escape her crazy family. She has her own place and a job in tabloid journalism. Things aren't perfect, but she's hopeful they'll improve. When Rowen's Aunt Lydia calls her with news ...
KINDLE
Highland Moon #1: BBW Scottish Werewolf Shifter Romance
by Mac Flynn
$

2.99
Life is short in the old village where Muira, a young girl blossoming into womanhood, has spent all her days, but her life is about to begin when she begins her new position as servant to Castle Campbell. The old laird and the old castle are cold compared to her home with her mother and brother, but the innocent girl will learn the pleasures of womanhood when she stumbles on a dark secret. The secret ...
KINDLE
Fighting Destiny (The Fae Chronicles Book 1)
by Amelia Hutchins
$

2.99
Have you ever heard of the old Celtic legends of the Fae - beautiful, magical, deadly and a love of messing with humans just for kicks and giggles?Welcome to my world.What started out as a strange assignment, leads to one of the most gruesome murder mysteries of our times and my friends and I are set and determined to find out who is killing off Fae and Witches alike.Couple of problems in the way – ...
KINDLE