Welcome, book lover! Are you looking for Kindle book deals? OHFB features limited-time sales of the best free and bargain Kindle books from the biggest publishers and bestselling independent authors. These are today's featured books:
Guardians: The Girl (The Guardians Series, Book 1) (A Paranormal Romance)
by Lola StVil
$

0.99
***** With two million copies downloaded and over 500 five-star reviews, The Guardians series is a must read for fans of A Shade of Vampire, Twilight and The Mortal Instruments.******Fifteen year-old Emmy Baxter is certain nothing exciting will ever happen to her. That is until she is viciously attacked by hoards of demons on her way to class. A team of powerful angels, who earlier posed as her classmates, comes to her rescue.Emmy soon learns ...
KINDLE
The Mind Readers
by Lori Brighton
$

0.99
On Sale For A Limited Time Only! Cameron Winters is a freak. Fortunately, no one but her family knows the truth …that Cameron can read minds. For years Cameron has hidden behind a facade of normalcy, warned that there are those who would do her harm. When gorgeous and mysterious Lewis Douglas arrives he destroys everything Cameron has ever believed and tempts her with possibilities of freedom. Determined to embrace her hidden talents, Cameron heads ...
KINDLE
Faery Worlds: Six First-in-Series Urban Fantasy Novels
by Alexia Purdy
$

0.99
*Over 85,000 copies sold worldwide!* A stunning collection featuring the first books in six different fan-favorite series by bestselling, award-winning fantasy authors! Discover the many worlds of Faerie in these novels filled with adventure, love, and – of course – Fae Magic. (Best for readers 14 and up) Cover by Howard David JohnsonTHE UNFINISHED SONG (Book One): INITIATE - TARA MAYADindi longs to become a Tavaedi, one of the powerful warrior-dancers who secret magics are ...
KINDLE
Blood and Justice: A Private Investigator Serial Killer Mystery (A Jake & Annie Lincoln Thriller Book 1)
by Rayven T. Hill
$

3.99
      When sixteen-year-old Jenny James goes missing, and the local police are unable to find her, the girl's frantic mother hires private investigators Jake and Annie Lincoln to search for her daughter.      When the body of Jenny's boyfriend is discovered, the mystery of her disappearance deepens. Shaken out of their comfort zone of Internet searches and poring over public records, the couple soon find themselves facing the frightening possibility they are looking for the latest victim of ...
KINDLE
Starstruck
by Brenda Hiatt
$

3.99
The middle of nowhere just got a lot more interesting!Nerdy astronomy geek Marsha, M to her few friends, has never been anybody special. Orphaned as an infant and reluctantly raised by an overly-strict "aunt," she's not even sure who she is. M's dream of someday escaping tiny Jewel, Indiana and making her mark in the world seems impossibly distant until hot new quarterback Rigel inexplicably befriends her. As Rigel turns his back on fawning cheerleaders ...
KINDLE
Project Mnemosyne (When No One Was Looking Book 1)
by Kim Frauli
$

3.99
After terrorist attacks reshaped the world in which she lived, an orphaned Julianna Brenner was taken to live in the Scholars Compound. There, she and her best friend Declan work on medical advancements to benefit the world outside. Everything they do is dictated by the rules of the New Regime. When Guardian Costma, the leader of the New Regime, summons them to assign a new project, Julianna has serious objections to the nature of the ...
KINDLE
Daughter of the Red Dawn: A Young Adult Fantasy Romance (The Lost Kingdom of Fallada Book 1)
by Alicia Michaels
$

0.99
A young adult spin on the classic tale of Little Red Riding Hood with a werewolf shapeshifter twist! Perfect for fans of the hit television series Once Upon a Time, or twists on classic fairy tales.On the outside, seventeen year-old Selena McKinley is like any other teenage girl. Yet, Selena has always felt as if she doesn't belong and is counting the days to graduation and her freedom from the small town that makes her ...
KINDLE
Prom Impossible
by Laura Pauling
$

0.99
1 girl + 1 prom + 3 guys = Prom Impossible!Prom Impossible is a romantic comedy in the world of teens, true love, and life.Cassidy decides her senior year, including prom, will be about Michael, the boy destined to be her soul mate. One problem. He hasn't figured that out yet.But certain events meant as innocent pranks (that weren't completely her fault) introduce her to Zeke, the reformed bad boy. And cutting deals in the ...
KINDLE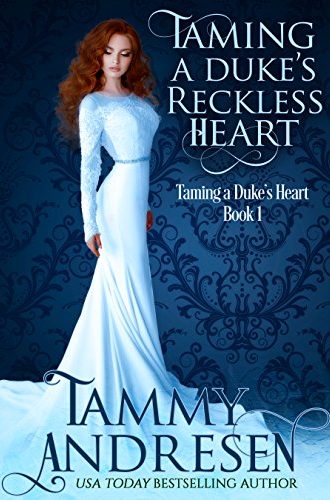 Taming A Duke's Reckless Heart: Taming the Duke's Heart (Taming the Heart Book 1)
by Tammy Andresen
$

3.99
With her mother gravely ill, Piper Baker's situation grows desperate in a world unfriendly to women. Time and money dwindle to naught, and marriage is Piper's lone option. Although potential suitors circle her skirts, none but Barrett Maddox, Duke of Manchester, captures her heart, after he saves her from a band of thieves. It is just her luck that the man Piper wants is the only one she cannot have.For wealthy, titled bachelor Barrett Maddox, ...
KINDLE
The Legacy Human (Singularity Series Book 1)
by Susan Kaye Quinn
$

3.99
What would you give to live forever? Seventeen-year-old Elijah Brighton wants to become an ascender—a post-Singularity human/machine hybrid—after all, they're smarter, more enlightened, more compassionate, and above all, achingly beautiful. But Eli is a legacy human, preserved and cherished for his unaltered genetic code, just like the rainforest he paints. When a fugue state possesses him and creates great art, Eli miraculously lands a sponsor for the creative Olympics. If he could just master the ...
KINDLE