Welcome, book lover! Are you looking for Kindle book deals? OHFB features limited-time sales of the best free and bargain Kindle books from the biggest publishers and bestselling independent authors. These are today's featured books:
Holy Hip Hop in the City of Angels (Music of the African Diaspora)
by Michael W. Simmons
$

6.99
A free ebook version of this title is available through Luminos, University of California Press's Open Access publishing program for monographs. Visit www.luminosoa.org to learn more.   In the 1990s, Los Angeles was home to numerous radical social and environmental eruptions. In the face of several major earthquakes and floods, riots and economic insecurity, police brutality and mass incarceration, some young black Angelenos turned to holy hip hop—a movement merging Christianity and hip hop culture—to "save" themselves ...
KINDLE
The Naked Truth About Self-Publishing: Updated & Revised Second Edition
by Jasinda Wilder
$

4.99
The Naked Truth is not just another book about self-publishing. Nine New York Times Bestselling authors share their knowledge, their experiences, and their souls. Jana DeLeon- A former CFO discusses taxes, corporations, LLCs, employees, deductions and many other things to help form your own author co-op.Tina Folsom- An expert and bestseller in the foreign market. What to watch out for when dealing with translators, how to attract foreign readers, what countries are hot, foreign rights ...
KINDLE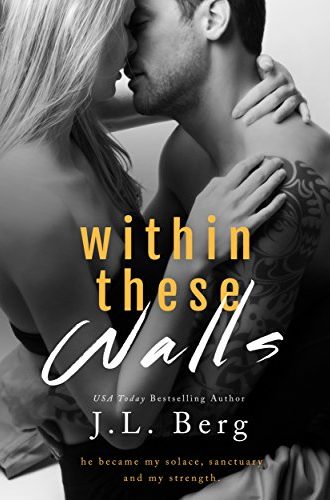 Within These Walls (The Walls Duet Book 1)
by J.L. Berg
$

3.99
From USA Today Bestselling author J.L. Berg, comes a breathtaking story that shows us how love truly can conquer all…even the most damaged of hearts. Within these walls, he became my solace, my sanctuary and my strength. I am not strong. I am just a survivor of circumstance.Isn't that what we all do? Survive?Each of us has our own set of circumstances to muddle through. Mine are just more…complicated. Born with a severe heart defect, ...
KINDLE
Simply Anna: She was simply furious, but he was simply divine…
by Cristina Hodgson
$

0.99
How could a dinner date with the handsome Niccolo possibly go wrong? Or perhaps, how could it possibly go right for Anna, who suddenly finds herself behind the wheel of a probably stolen car, driving down a dark and eerie country lane in the company of a complete stranger? This certainly isn't her idea of romantic. What is Niccolo's real motive? Are his feelings genuine, or is she just a pawn to be used in his game ...
KINDLE
Every Night: Romantic Suspense (The Brush of Love Series Book 1)
by Lexy Timms
$

1.99
USA Today Bestselling Author, Lexy Timms, delivers a beautiful tale about a young man who finds love in the least expected place.I loved this man with every fiber of my being and with every atom that vibrated to bring my body to life. Bryan McBride is a disappointment to his parents. Doesn't matter he's a successful architect and that in his spare time he builds homes for the homeless. His tattoos disrespect his family name, ...
KINDLE
The Black Death: A History From Beginning to End
by Hourly History
$

2.99
The Black DeathSweeping across the known world with unchecked devastation, the Black Death claimed between 75 million and 200 million lives in four short years. In this engaging and well-researched book, the trajectory of the plague's march west across Eurasia and the cause of the great pandemic is thoroughly explored. Inside you will read about...✓ What was the Black Death?✓ A Short History of Pandemics✓ Chronology & Trajectory✓ Causes & Pathology✓ Medieval Theories & Disease ...
KINDLE
Daffodils (The Katherine Wheel Book 1)
by Alex Martin
$

2.99
Short description: Katy, maidservant at Cheadle Manor, longs to escape her narrow life but events unfold slowly in her rural village. Finally, frustrated by personal tragedy and the shackles that continue to bind her, she becomes a mechanic in the WAAC as part of the British Expeditionary Force. Through the horrors of WW1 she discovers only love brings freedom.Long description: In this heartbreaking romance, feisty heroine, Katy, dreams of a better life than just being ...
KINDLE
Releasing Rage (Cyborg Sizzle Book 1)
by Cynthia Sax
$

2.99
Half Man. Half Machine. All Hers.Rage, the Humanoid Alliance's most primitive cyborg, has two goals--kill all of the humans on his battle station and escape to the Homeland. The warrior has seen the darkness in others and in himself. He believes that's all he's been programmed to experience.Until he meets Joan.Joan, the battle station's first female engineer, has one goal--survive long enough to help the big sexy cyborg plotting to kill her. Rage might not ...
KINDLE