Welcome, book lover! Are you looking for Kindle book deals? OHFB features limited-time sales of the best free and bargain Kindle books from the biggest publishers and bestselling independent authors. These are today's featured books:
150 Easy Classic Chicken Recipes
by Bonnie Scott
$

10.99
Are you looking for new recipes to add some variety to mealtimes? Chicken is one of the most popular meats in the world. You can eat it hot or cold, as a starter or main dish, in soups, stews and a multitude of other dishes. Now, with 150 Easy Classic Chicken Recipes, you have a whole new range of recipes that are quick to make, delicious and nutritious too, including chicken recipes like:Zesty chicken and riceBombay ...
KINDLE
HEALTHY SLOW COOKER COOKBOOK: CHEAP, FAST AND THE BEST SLOW COOKER RECIPES FOR MEN AND KIDS
by William Brooks
$

2.99
This SLOW COOKER COOKBOOK Will Provide You Entire New Cooking ExperienceYou will find the best ever recipes in this book which are not only cheap but also healthy ones. This recipe collection is perfect for men and kids and some of them can be prepared very fast as compared to traditional slow cooker recipes. The amazing part of this book is that the recipes are delicious and mouth watering. The main focus of this cookbook ...
KINDLE
Peanut Butter Goodness: Delicious Sweet and Savory Recipes that are Chockful of Peanut Butter Flavor!
by Allie Allen
$

12.95
It's safe to say that almost everyone loves peanut butter. Smooth or crunchy, nutty and utterly versatile, peanut butter is good for more than just your go-to PB&J sandwich. It's a yummy and nutritional ingredient that works well with almost everything. In this recipe book, you'll find 30 delicious recipes that showcase peanut butter and are relatively easy to make. With a mix of sweet and savory recipes, you'll find something for almost every occasion.
KINDLE
101 Quick & Easy 5 Ingredient Recipes
by Victoria Steele
$

8.95
Do you seem to have less and less time to make great tasting food? Would you like help to prepare recipes that are quick and easy? You can put these 5 ingredient recipes together in minutes, not hours, so you have time for the important things in your life. With 101 Quick & Easy 5 Ingredient Recipes, you'll find everything from soups and appetizers, entrees and side dishes, to breads, salads and desserts - all with ...
KINDLE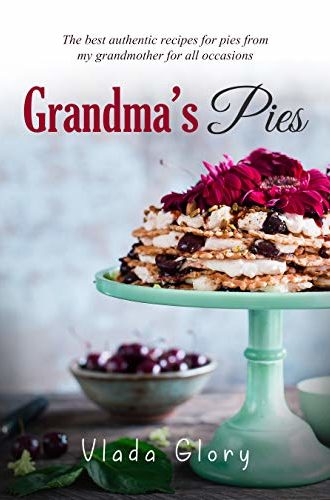 Grandma's Pies: The best authentic pies recipes from my grandmother for any occasion.
by Vlada Glory
$

11.99
Discover a mind-blowing treasure trove of old-school pie recipes and master the art of pie-making with this pie cookbook!Do you want to learn how to bake scrumptious pies to perfection every time you hit the kitchen? Are you tired of the regular pies you're used to baking and are looking for old-school, savory ideas to surprise your family and friends with?If you want to finally learn how to make perfect, homemade pies from scratch, then ...
KINDLE
Camping Recipes – 2 Cookbook Set: Over 200 Easy Recipes to Take Camping
by Bonnie Scott
$

15.95
The newest edition to the Camping series! Camping Recipes - 2 Cookbook Set is a collection of 200 recipes to take camping.Nothing is better than preparing a meal over a campfire. Preparing quick meals on camping trips is easy if you have the right recipes and ingredients. This two cookbook set of Bonnie Scott's camping books includes the titles:100 Easy Camping RecipesCamping Recipes: Foil Packet CookingWith recipes for campfires, grills and foil packets, tips for ...
KINDLE
Chocolate Bliss: 150 Easy Chocolate Recipes
by Bonnie Scott
$

10.99
Who doesn't love chocolate? Now you can indulge yourself and your family with amazing recipes found in Chocolate Bliss: 150 Easy Chocolate Recipes.This great addition to your cookbook library provides you with dozens of chocolate ideas, including:Chocolate Cinnamon RollsTen Dollar BarsRocky Road CandyCoconut SwirlsChocolate PretzelsDouble Chocolate NuggetsAnd many more...It isn't just cakes, bars, brownies, muffins and cookies that are featured in this chocolate cookbook. There are also unusual recipes as well, like chocolate pizza and chocolate covered ...
KINDLE