Welcome, book lover! Are you looking for Kindle book deals? OHFB features limited-time sales of the best free and bargain Kindle books from the biggest publishers and bestselling independent authors. These are today's featured books:
The Supreme God of Martial Arts 12: The Story Of That Drop Of Gold Blood
by Mian Bao, Wo Chi
$

3.99
After a tragic accident, the young Austin's spirit was transmigrated into an ancient world and started his cultivation. As a talented cultivator, he grew at a fast pace while his enemies showed up one after another. He had escaped from death dozens of times and became stronger each time he fought. Finally he would take the path of the cultivation and become the martial god of the world.
KINDLE
The Seventh Sense (Mystics Book 1)
by Kim Richardson
$

11.99
If you love Harry Potter, Percy Jackson and Magnus Chase, try The Seventh Sense, the first installment in the the action-packed series by the award-winning author.Zoey St. John has always been a troubled kid. As an orphan, she's lived alone on the streets, surviving by her wits, always keeping one step ahead of the police… and the monsters. But when a mysterious group of people known as Agents show up, everything changes…Wrenched from everything she ...
KINDLE
Eddie Versus the Shadow Shifters: in the Battle for Christmas (The Adventures of Eddie Book 1)
by Brandon Stevenson
$

9.99
After moving to a new town days before Christmas, an adventurous boy named Eddie becomes suspicious after learning that no one in the town seems to be aware of the fact that Christmas is just around the corner.Always the curious adventurer and young spy, Eddie decides that he must investigate this suspicious situation. It doesn't take him long to stumble upon some "shady characters" and accidentally take a whirlwind ride through a portal that lands ...
KINDLE
The Rose and the Snake
by Mark Restaino
$

11.99
Am I beautiful? Am I loved?These are the two questions that little girls are always thinking about. And from family and friends to magazines and billboards, the answers are endless. But there is only one response that matters. This children's book, written by youth minister, Mark Restaino, is a biblically symbolic story of a rose who is manipulated by a snake, struggles with her appearance, and eventually finds her confidence in the wise words of a ...
KINDLE
God Creates a Snake (God Creating Animals)
by Brian Russell
$

3.99
Snake! The Boss will see you now!Today is Snake's creation day at the Creation Station and God has a meeting planned to discuss the way ahead. Snake quickly finds out just how much he can do while also learning about some of his—uh—shortcomings. Now you can be a fly on the wall to this hilarious creation story!
KINDLE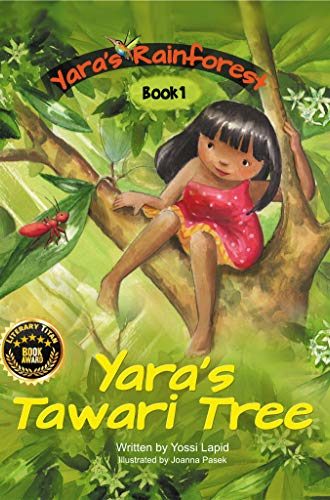 Yara's Tawari Tree (Yara's Rainforest Book 1)
by Joanna Pasek
$

9.99
Yara lives with her Mama in the lush Amazon jungle. She wants to rescue her beloved but increasingly besieged rainforest home. When Yara falls gravely ill, the forest returns the love and saves Yara's life. "A story with a good ecological message and vibrant paintings..." - Kirkus Reviews Written in rhyme and featuring gorgeous watercolor illustrations by Joanna Pasek, this is the first volume in a new series showing children how all living things on our beautiful planet ...
KINDLE
Under the Light of the Fool Moon
by D.A. McGrath
$

6.49
Clara doesn't think she's special, until she starts having terrifying nightmares and hearing voices in the night. Then her great aunt Selina tells Clara something incredible. Clara is a shape-shifter. But with this extraordinary, inherited gift comes a dangerous curse. Clara thinks Selina is crazy and dismisses her great aunt's warnings. But no matter how hard she tries, the curse cannot be escaped.
KINDLE
Inky Makes New Friends (Inky's Bedtime Stories Book 1)
by Riley Morgan
$

10.99
Your kids will sleep much better!...and you will too...Inky Ink is a small and cute splashy creature made out of ink. He is looking to make friends and playmates but gets rejected because he seems weird and dirty. The book follows Inky in his quest to make new friends and feel loved and accepted.It's a cute, weirdly funny and socially sensitive tale of friendshipThe author displays a unique understanding of the child's mindset and masterfully ...
KINDLE