Welcome, book lover! Are you looking for Kindle book deals? OHFB features limited-time sales of the best free and bargain Kindle books from the biggest publishers and bestselling independent authors. These are today's featured books:
The Green Ember (The Green Ember Series Book 1)
by S. D. Smith
$

14.95
Heather and Picket are extraordinary rabbits with ordinary lives until calamitous events overtake them, spilling them into a cauldron of misadventures. They discover that their own story is bound up in the tumult threatening to overwhelm the wider world. Kings fall and kingdoms totter. Tyrants ascend and terrors threaten. Betrayal beckons, and loyalty is a broken road with peril around every bend.Where will Heather and Picket land? How will they make their stand?
KINDLE
Greta and the Goblin King
by Chloe Jacobs
$

16.99
While trying to save her brother from the witch three years ago, Greta was thrown into the fire herself, falling through a portal to a dangerous world where humans are the enemy, and every ogre, goblin, and ghoul has a dark side that comes out with the full moon.
KINDLE
Spark (Legends of the Shifters Book 1)
by J.B. North
$

14.13
For more than a decade, Ivy Oliver has lived in a dark, crumbling orphanage where she was sent after her parents' death. Her only hope for a life of simplicity and happiness is the trial, a test that frees her second form from where it's been buried since her birth.That hope is dashed, however, when she transforms into a creature that rips her away from the only friends she's ever had and ensures that her ...
KINDLE
Alien in My Pocket #1: Blast Off!
by Nate Ball
$

4.99
2015-2016 Florida Sunshine State Young Readers Award Winner!With engaging illustrations on every spread, a page-turning plot, a do-it-yourself experiment on building your own rocket, and fun science facts throughout, this is the perfect chapter book for young readers! And it's all from the amazing brain of MIT graduate Nate Ball, host of PBS's Emmy Award-winning Design Squad series.When a four-inch-tall alien crash-lands through Zack McGee's bedroom window, Zack is sure he's about to become the ...
KINDLE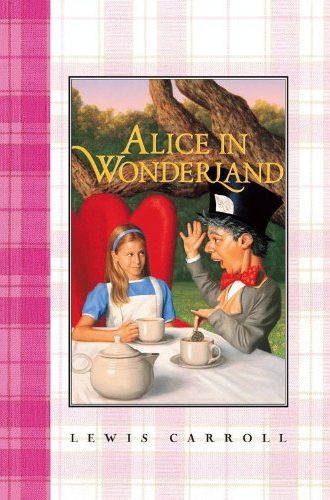 Alice in Wonderland Complete Text (Charming Classics)
by Lewis Carroll
$

2.99
Tumble down the rabbit hole with Alice for a fantastical adventure from Walt Disney Pictures and Tim Burton. Inviting and magical, ALICE IN WONDERLAND is an imaginative new twist on one of the most beloved stories of all time. Alice (Mia Wasikowska), now 19 years old, returns to the whimsical world she first entered as a child and embarks on a journey to discover her true destiny. This Wonderland is a world beyond your imagination ...
KINDLE
I Can Sleep When The Wind Blows
by Barnaby Taylor
$

9.13
I Can Sleep When The Wind Blows is a retelling of the classic story of Jim, a 17 year old boy who applies to work on a farm. His only qualification is that he can sleep when the wind blows. The farmer doesn't understand what he means but he hires him. When a terrible storm comes in the night, the farmer learns the value of this unusual skill.
KINDLE
Shakespeare Retold
by Barnaby Taylor
$

19.99
A beautifully illustrated collection of prose retellings of seven Shakespeare plays will bring the Bard to life for young readers. Not only is this a beautiful keepsake edition, full of gorgeous illustrations by Antonio Javier Caparo, but the prose retellings by beloved classic children's book author E. Nesbit are an excellent tool to introduce children to the complex language of Shakespeare.A foreword by John Lithgow touches on his own childhood as a Shakespearean actor and ...
KINDLE
VIRO
by Barnaby Taylor
$

6.52
As a viral pandemic turns the world into bloodthirsty creatures, a boy with special needs looks for his missing mum.'This review is for the series. Capturing the voice of a young character with special needs (I spent 25 years as a special education teacher/administrator), Taylor's story of a group of young people coping with a world disintegrating in front of them; with the loss of structure and trust, and with betrayal by the adults who ...
KINDLE
The Wind Mage of Maijev (Legends of Cirena Book 1)
by Stephanie Flint
$

0.99
A wind mage in a city that hates magic...Livena is a young woman living in Maijev's southern quarters, staying ahead in life by working odd jobs. When her brother entrusts her with selling a pile of books in the undercity, it seems like another normal day.Until she senses a dangerous storm brewing.Most would hunker down until the storm passes. But Livena's deplorable wind magic lacks control, and weathering out a storm inside only invites trouble.The ...
KINDLE