Welcome, book lover! Are you looking for Kindle book deals? OHFB features limited-time sales of the best free and bargain Kindle books from the biggest publishers and bestselling independent authors. These are today's featured books: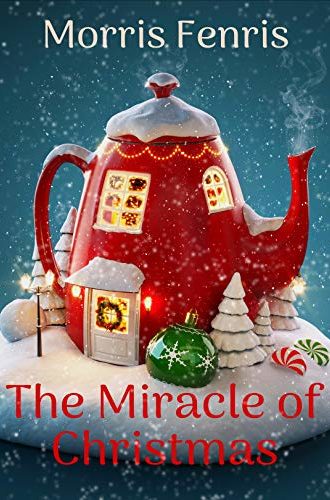 The Miracle of Christmas
by Morris Fenris
$

9.99
Christmas is the season of miracles…Robert and Emma are newlyweds who are deliriously in love and eager to create their own unique traditions as couples.All is rosy and smooth for this wonderful pair till Robert gets caught in a complicated dilemma at work where he has to choose between doing the right and moral thing as a Christian or following the easy path in his bid to give Emma the perfect Christmas present ever.Emma who ...
KINDLE
Eve Hallows and the Book of Shrieks (The Nightmare Series, Book 1)
by Robert Gray
$

9.70
For fourteen-year-old Eve Hallows, life can be summed up in one word—horrible. She has the most horrible friends. She lives in a horrible old castle. Even her family is a bunch of horrible monsters. However, in the monster-inhabited world of Gravesville—a world where messages are sent through Ouija boards, jack-o'-lanterns get facials to suit their moods, and the worst thing Eve has to deal with are those annoying zombie tourists who overrun her favorite graveyard ...
KINDLE
The Big Race. Who will Finish First!
by Joseph Rollins
$

2.99
Three fast cars are about to challenge one another as well as several other cars for the title of the fastest car and a spot on the podium! ?It's the D-day, the day of the big race!Sunny Sid, Red Rover and Grappler are about to race each other to the finish line, as well as several other cars in the competition. It turns out to be a tough race, with many of the racers running ...
KINDLE
The Toby the Trilby Trilogy Boxed Set
by Angela Castillo
$

2.99
Own all three of the books the Toby the Trilby adventure series. Join Toby, the boy with cat ears, as he learns lessons of faith and truth in a post-apocolyptic world. Includes "The Amazing Adventures of Toby the Trilby," "The Further Adventures of Toby the Trilby," and "Toby the Trilby and the Forgotten City." Recommended for ages 9 and up.
KINDLE
Twisted Space
by Irena Urosevic
$

2.99
It seems like a simple game of Laser Tag, except that Milo is the smallest in seventh grade. And he must avoid his nemesis, Carla Correga and her bullying friends, of course. And to complicate matters, his good friend Serge, blind since birth, has insisted on playing. Milo crafts an elaborate plan to help his friend survive. But when the lights go out and the game begins, everything goes wrong. Serge doesn't follow the plan. ...
KINDLE
Sight to See: Seeing is Believing (Fargone Book 2)
by Irena Urosevic
$

2.77
A children's book with a message to parents and young readers. Tode the Turtle is one out of every five children that will have a learning disability because of a correctable handicap, that he nor his parents know that he has. Discover the ease of correcting this universal plague in minutes as this beautifully illustrated story comes to life.
KINDLE
(Holiday Book Festival Grand Prize Winner!) Off the Hook: A Christmas Ornament Adventure
by Arvai III, John
$

12.99
"Off the Hook is a wonderful Christmas story that will endure the test of time becoming a new family traditional story to be shared with generations." -By Best Seller's WorldHave you ever wondered why there are ornaments on your tree? Or why there is a star on top of your tree? Now those questions have answers!Set in a world where a Christmas tree's star is actually a secret transmitter used by Santa Claus to identify ...
KINDLE
JULIA JONES – My Worst Day Ever! – Book 1: Diary Book for Girls aged 9 – 12 (Julia Jones' Diary)
by Katrina Kahler
$

7.50
Julia looks forward to the most exciting event of the year. As the countdown begins, her world fills with new friendships and surprises, especially when a very pretty girl unexpectedly joins her class and they become great friends. In addition, the cutest boy at school suddenly becomes a part of their group and Julia looks forward to the special occasion that they are all planning for. But without warning, the events that begin to unfold ...
KINDLE
Brave Benny
by Kristen Peterson
$

11.99
Benny is a brave brown bear traveling to find his cave. Would Benny find his cave before winter's first flurry? Join Benny and friends on a forest filled journey!
KINDLE
Telescope Jim : A Children's Pirate-Treasure Adventure (The Longfellow Adventures Book 1)
by J. S. Lome
$

4.09
The Buccaneer Left a Hatchet in My Guitar . . . When secret buccaneer Longfellow Jim includes a misfit teen in his conning scheme, sixteen-year old "Miles," who has been exiled to the South Seas for bad behavior, is unintentionally involved in a plot of stealing treasure. Miles is quickly mistaken by authorities to be a notorious pirate and forced to join Longfellow Jim in his treasure-stealing scheme. Little does he know, a giant by ...
KINDLE