Welcome, book lover! Are you looking for Kindle book deals? OHFB features limited-time sales of the best free and bargain Kindle books from the biggest publishers and bestselling independent authors. These are today's featured books:
The Holdout
by Graham Moore
$

16.99
One juror changed the verdict. What if she was wrong? From the Academy Award–winning screenwriter of The Imitation Game and bestselling author of The Last Days of Night. . . .
KINDLE
The Power of Ritual
by Casper ter Kuile
$

16.99
Casper ter Kuile, a Harvard Divinity School fellow and cohost of the popular Harry Potter and the Sacred Text podcast, explores how we can nourish our souls by transforming common, everyday practices—yoga, reading, walking the dog—into sacred rituals that can heal our crisis of social isolation and struggle to find purpose—a message we need more than ever for our spiritual and emotional well-being in the age of COVID-19.
KINDLE
Hemingway's Girl
by Erika Robuck
$

16.00
From the bestselling author of The House of Hawthorne comes a historical fiction novel that gives life to the women behind novelist Ernest Hemingway in a "robust, tender story of love, grief, and survival on Key West in the 1930s."
KINDLE
Run
by Jeremy Bates
$

2.99
During a camping trip to the Catskill Mountains, Charlotte's boyfriend Luke, a former soldier suffering PTSD, goes on a rampage, nearly killing Charlotte and her two friends. A year later Charlotte is a graduate student in the small college town of Ashenville, North Carolina. Yet her new life is shattered when Luke, recently released from prison, shows up on her doorstep, demanding to get back together. When it becomes clear to Luke that she is ...
KINDLE
The Ghost Hunter Next Door
by Danielle Garrett
$

9.99
The first rule of being a ghost whisperer: Don't tell anyone. Seriously. Don't. Sure, it might sound harmless. A fun party trick, even. I assure you, it's not. How do I know? Well, let's just say that I've had a lot of experience with this sort of thing, and nine times out of ten, it turns into an all-consuming disaster.
KINDLE
The Look of Love
by Meara Platt
$

10.99
Welcome to Book One in the fabulous new Book of Love series. A dingy old book tucked away in an old Regency London bookshop holds magic and love for those who use the 'recipes'!
KINDLE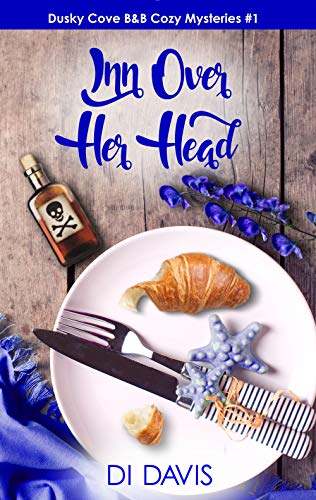 Inn Over Her Head
by Di Davis
$

9.99
Lori Keyes is ready to show some Southern hospitality as the new owner of a B&B—until her first guest winds up dead.
KINDLE
An Unwanted Guest
by Shari Lapena
$

9.99
A weekend retreat at a cozy mountain lodge is supposed to be the perfect getaway . . . but when the storm hits, no one is getting away.
KINDLE
The Ravens
by Kass Morgan
$

16.99
From New York Times best-selling authors Kass Morgan and Danielle Paige comes a thrilling, dark contemporary fantasy about a prestigious sorority of witches and two girls caught up in its world of sinister magic and betrayals.
KINDLE
Longbourn
by Jo Baker
$

16.95
In this irresistibly imagined belowstairs answer to Pride and Prejudice, the servants take center stage. Sarah, the orphaned housemaid, spends her days scrubbing the laundry, polishing the floors, and emptying the chamber pots for the Bennet household. But there is just as much romance, heartbreak, and intrigue downstairs at Longbourn as there is upstairs. When a mysterious new footman arrives, the orderly realm of the servants' hall threatens to be completely, perhaps irrevocably, upended.
KINDLE