Welcome, book lover! Are you looking for Kindle book deals? OHFB features limited-time sales of the best free and bargain Kindle books from the biggest publishers and bestselling independent authors. These are today's featured books: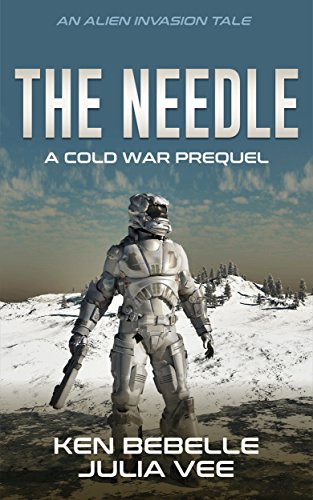 The Needle: An Alien Invasion Tale: The New Cold War Begins
by Julia Vee
$

4.49
The Needle is an action-packed first contact story that shares the battle for Earth through two soldiers' eyes.Josef is having nightmares about the alien tower that dominates the snowy landscape of Antarctica. The alien construct is turning Earth into an icy wasteland, day by day. His world unravels further when the alien tower opens to reveal its occupants.Keenan is the right guy in the wrong place. He will lead his pack of Union Wolves on ...
KINDLE
Metal Dragon (Warriors of Galatea Book 2)
by Lauren Esker
$

9.99
Stranded with an alien dragon!Meri is a widow, consumed by grief for the husband she lost ten years ago. She never expected to be stranded on an alien planet full of vicious dinosaur-like wildlife ... let alone with a tormented, silver-eyed dragon prince. He says he's rescuing her. He's definitely the only person who can protect her from this world's monsters. But there's no one to save her from her own treacherous heart, after she ...
KINDLE
Twenty Thousand Leagues Under the Sea (AmazonClassics Edition)
by Jules Verne
$

2.99
In 1866, sightings of a legendary sea monster prompt a daring expedition out of New York City. Professor Pierre Aronnax, his servant Conseil, and whaler Ned Land are among the crew of the United States Navy frigate Abraham Lincoln. Though they are fearless, nothing prepares them for the "creature" itself—the Nautilus—a powerful, destructive submarine years ahead of its time. At the helm of the vessel is the brilliant Captain Nemo, who pulls the men deep ...
KINDLE
The Final Wars Begin (Final Wars Trilogy Book 1)
by S. A. Asthana
$

12.95
ONE MAN SETS IN MOTION THE COLLAPSE OF CIVILIZATION.It's 2209. World War III has left humanity fragmented. Three colonies survive, each on a different world - Earth supports New Paris, its moon has become Nippon One, and Mars has Port Sydney. Trade and tensions bind them, keeping peace balanced on the edge of a precipice. A cruel dictator rages on one world. A failed experiment plunges another into financial ruin. Diplomatic pressures bear down on ...
KINDLE
Sword of Destiny
by James Hockley
$

0.99
The Sword of the Guardian must be forged of perfection.Kantal is a fighter, and he sings the warrior song. He has had to. Born with nothing more than a girl's name, he has endured a life of torment. But large obstacles do not imply small expectations. Quite the opposite in fact.And his country has long suffered too, investing five hundred fruitless years in trying to retake rich lands that were stolen by invaders from the ...
KINDLE
Ever After
by Kim Harrison
$

7.99
Witch-turned-daywalking-demon Rachel Morgan needs to save the demonic realm of the Ever After in the eleventh entry in the New York Times bestselling Hollows series from supernatural adventure master Kim Harrison.
KINDLE
Forging Divinity (The War of Broken Mirrors Book 1)
by Andrew Rowe
$

11.99
Some say that in the city of Orlyn, godhood is on sale to the highest bidder. Thousands flock to the city each year, hoping for a chance at immortality.Lydia Hastings is a knowledge sorcerer, capable of extracting information from anything she touches. When she travels to Orlyn to validate the claims of the local faith, she discovers a conspiracy that could lead to a war between the world's three greatest powers. At the focal point ...
KINDLE
Arise (Cruel and Beautiful World Book 3)
by L. Stoddard Hancock
$

19.95
Xander had known it was only a matter of time before his lies caught up to him. While awaiting his execution, ordered by President Saevus - the tyrant he once served - Xander finds solace in knowing Deryn has finally escaped Utopia. But Deryn won't give up on Xander quite so easily. After manipulating her own brother into helping her, she and her new comrades devise a plan to free Xander. The plan is set in ...
KINDLE