Welcome, book lover! Are you looking for Kindle book deals? OHFB features limited-time sales of the best free and bargain Kindle books from the biggest publishers and bestselling independent authors. These are today's featured books:
The Billionaires Blind Date. Bad Boy Billionaires
by Brittany Dreams
$

0.99
Bad Boy Alpha Billionaire RomanceNewly divorced, new-to-town Dana Miller goes on a date with a guy she meets on the internet. She is not looking for love. She is looking for a playmate who will play the male role of every fantasy she's had for the length of her loveless marriage.So when she meets Jeff Edgarian, a boyishly good-looking man with a wicked sense of humor she isn't expecting anything more. As they sit down ...
KINDLE
The R.E.M. Effect: A Thriller (The REM Series, Book 1)
by J.M. Lanham
$

14.95
One pill. Countless side effects.It's 2021 and Paul Freeman just landed a job with Asteria Pharmaceuticals, a world leader in revolutionary drug development. Paul knows the company's future is riding on the success of their latest product—a sleeping pill designed to interact with the human genome to deliver the perfect eight-hour sleep cycle.Just a few blocks from Asteria's Atlanta headquarters, troubled self-help guru Donny Ford is selling a different kind of drug, empowering followers to ...
KINDLE
Throne of Winter
by Sophie Davis
$

14.99
She's the headstrong Fire Fae of Legend. He's the sexy heir to the Caster throne. This won't end well.
KINDLE
Prena's Eye: Hard Science Fiction Adventure (The Fisher Chronicles Book 1998)
by Jeffrey Freedman
$

2.99
In the beginning, God had nothing better to do...Bob Fisher designs NASA software to predict what life might be like on a gas giant, and inadvertently creates a world:where sentient beings have evolved after millions of simulated generations; where exotic creatures swim in a thick alien atmospherewhere a tyrannical Bishop oppresses a noble Garn population; where a simple programming error is considered a holy magical artifact;Follow Tritarb's adventures across space and time to an unknown ...
KINDLE
Fly Me To The Moon: Sylvia Stryker Space Case #1 (Outer Space Mysteries)
by Diane Vallere
$

13.00
A cozy mystery set in outer space!When amateur sleuth Sylvia Stryker lands a job as Uniform Manager on a cruise ship in outer space, she jumps at the chance to leave her small planet behind. But when the ship's second navigation officer is found dead in the uniform closet shortly after departure, Sylvia's problems become bigger than folding the inventory. Juggling red shirts, white lies, and little green men, Sylvia now has to expose a ...
KINDLE
Magic Triumphs
by Ilona Andrews
$

9.99
Mercenary Kate Daniels must risk all to protect everything she holds dear in this epic, can't-miss entry in the thrilling #1 New York Times bestselling urban fantasy series.
KINDLE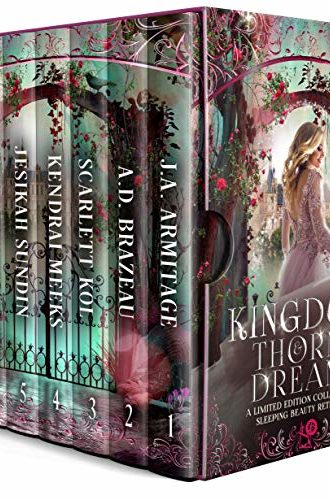 Kingdom of Thorns and Dreams: A Limited Edition of Sleeping Beauty Retellings
by Mila Young
$

3.99
Sleeping Beauty, but not how you remember it... One kiss.That's all. Just one kiss and the curse will be broken.But is love's true kiss a myth and will it be strong enough to break the curse that's held her in its grasp for a century?The compelling tale of a young princess fated to sleep forever and the prince destined to save her retold in this spellbinding collection by USA Today and Amazon bestselling authors.One click ...
KINDLE
Boneyard Dog: War Dog
by Andrew Beery
$

13.95
Did you ever wake up wondering where you were… and perhaps equally important, how you got there? Yeah, me too. The only the thing is, it usually happens when I've been drinking… and I'd been dry for the better part of two years. I'm Commodore Jeremy David Riker… my friends call me JD or just plain "Dog." I have the dubious honor of running a starship boneyard in the middle of nowhere.
KINDLE
Fae – The Wild Hunt (The Riven Wyrde Saga Book 1)
by Graham Austin-King
$

9.49
Patrick Rothfuss's Kingkiller Chronicles meets Peter V. Brett's Demon Cycle in this #1 Epic Fantasy Amazon International Bestseller.More than 100,000 books downloaded and over a hundred five star reviews. Available in digital, print and audiobook.Faeries, the fae - the stuff of myth and fables. But sometimes the faerie tales are true. Sometimes they are a warning. The fae have been locked away from the world for a hundred generations. They have languished, held back by ...
KINDLE
The Untethered
by S.W. Southwick
$

26.50
THE UNTETHERED is a philosophical techno-thriller that spans the globe, weaving five seemingly unrelated characters into a web of impossible conflict and unlikely friendship. And while they battle against their own internal demons in an attempt to achieve their selfish pursuits, the self-righteous mobs of the world are closing in to stop them.
KINDLE